Persian marinated olives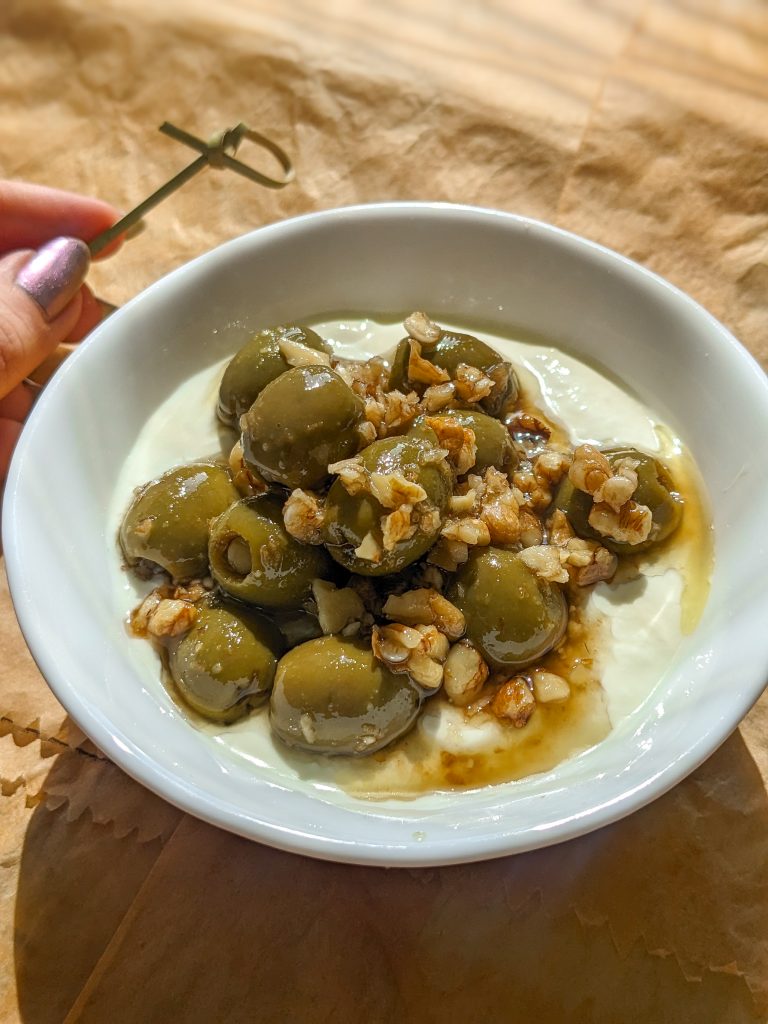 Persian marinated olives are an appetizer that I wanted to make for a very long time. But in a way, this recipe seemed so simple that I didn't think it needed a post of it's own. Today I've changed my mind. I wanted to share this appetizer with my readers because it is so undeniably delicious.
My blood pressure is very low, but I will never give up on this dish or skip any ingredients. And to be fair, there is only a few of them. You can skip the vegan yogurt and only have the persian marinated olives as they are. I do recommend using a yogurt that is a bit thicker. If you are not vegan at all, Greek yogurt would work here.
The measurements that I wrote down here are only approximations. I never really paid attention to how much of the ingredients I was using. It was more like common sense. And I always made a small amount, so I only used a drizzle of olive oil and pomegranate syrup. All of these ingredients are easy to come by. Pomegranate syrup is something you can find in supermarkets or stores with Turkish food.
I highly recommend this delicious appetizer, and I'll definitely make it for the next dinner party or gathering.
Some health benefits
Walnuts provide healthy fats, fiber, vitamins and minerals — and that's just the beginning of how they may support your health.
In fact, there's so much interest in this one nut that for the past 50 years, scientists and industry experts have gathered annually at the University of California, Davis, for a walnut conference discussing the latest walnut health research.
Walnuts can help fight oxidative damage in your body, including damage due to "bad" LDL cholesterol, which promotes atherosclerosis. They are a good source of the plant form of omega-3 fat, which may help reduce heart disease risk. Several plant compounds and nutrients in walnuts may help decrease inflammation, which is a key culprit in many chronic diseases. Eating walnuts not only nourishes you but also the beneficial bacteria that live in your gut. This promotes the health of your gut and may help reduce disease risk.
The polyphenols in walnuts may reduce your risk of certain cancers, including breast, prostate and colorectal cancers. However, more human studies are needed to confirm this.
Garlic is low in calories and rich in vitamin C, vitamin B6, and manganese. It also contains trace amounts of various other nutrients.
Garlic supplements may help prevent and reduce the severity of illnesses like the flu and common cold, but more research needs to be done before any conclusions can be made. High doses of garlic appear to improve blood pressure for those with known high blood pressure (hypertension). In some instances, supplements may be as effective as regular medications.
These supplements seem to reduce total and LDL (bad) cholesterol, particularly in those who have high cholesterol. HDL (good) cholesterol and triglycerides do not seem to be affected.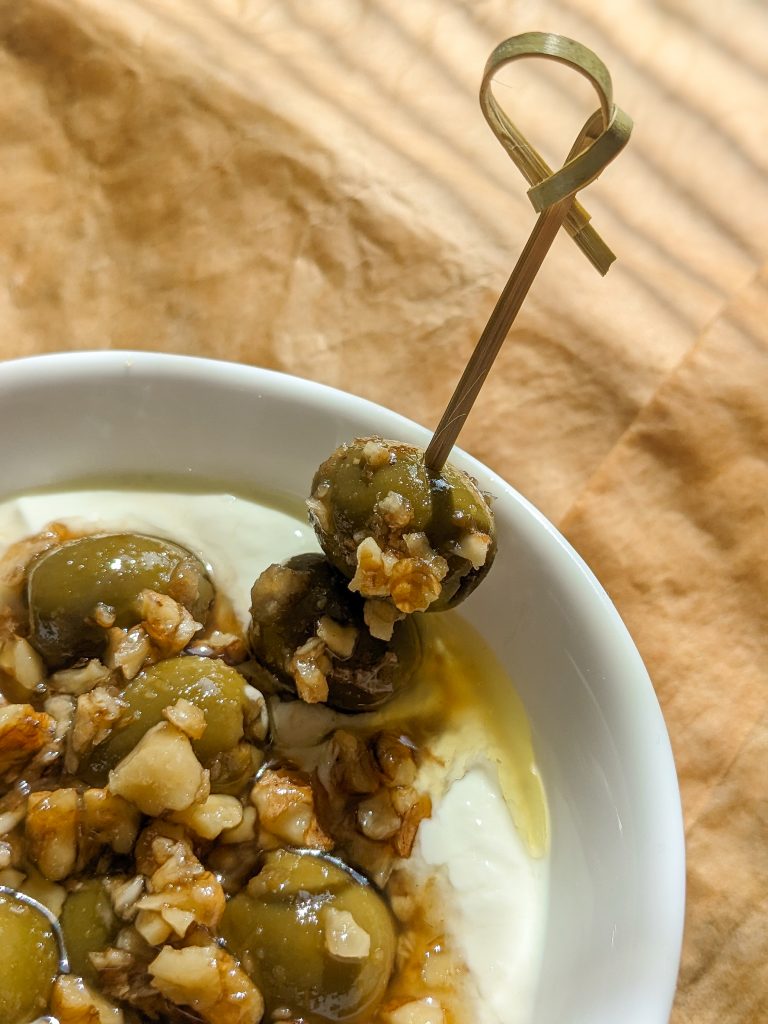 Persian marinated olives
Course: Salty, Salty
Ingredients
128 g of green olives

60 g of walnuts

2 garlic cloves

15 ml of pomegranate syrup

15 ml of olive oil

Mint leaves (optional)

Vegan yogurt (optional)
Directions
Drain the olives and put them in a small bowl. Crush the walnuts into very small pieces. Grate (mince) the garlic cloves. Chop the mint leaves into small pieces.
Add the walnuts, garlic, mint, pomegranate syrup and olive oil to the olives in the bowl. Mix everything together until well combined.
Leave the Persian marinated olives in the fridge for at least 2 hours. In a different bowl place the vegan yogurt. Spoon the olives and place them in the middle of the yogurt bowl. Drizzle with some more olive oil if you feel the need.
Serve them right away.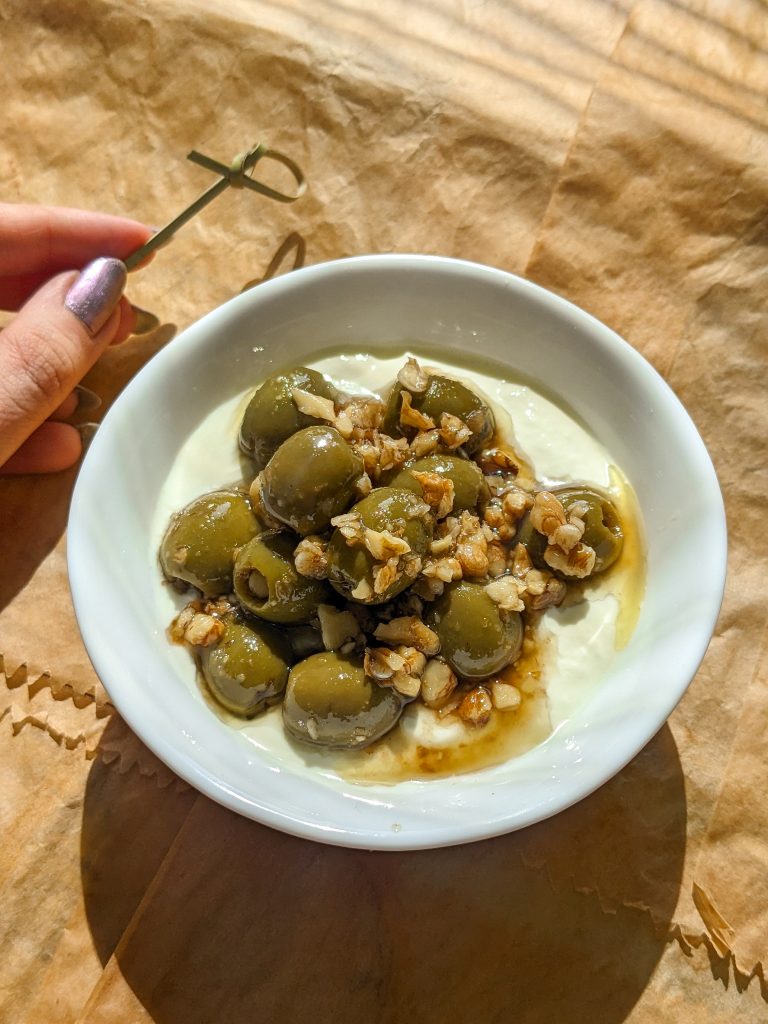 If you liked this recipe, make sure you check out my other recipes like:
Feel free to tell me what you think about this in the comments below, or send me the pictures of your own Persian marinated olives. If you did something differently, I would also like to hear that, I'd love to see the things you come up with.
P.S. for more recipes like this and a bunch of other stuff, follow me on instagram, @margo_drobi.
Also, I recently started a Patreon page, where you can subscribe and help me create more/better content. In return, you will get an exclusive piece of content (recipe) each month. My plan is to increase the amount of that content if I gain a few subscribers. If you are interested and you want to find out more, I will leave the link to my Patreon right – here.