Vegan mirza ghasemi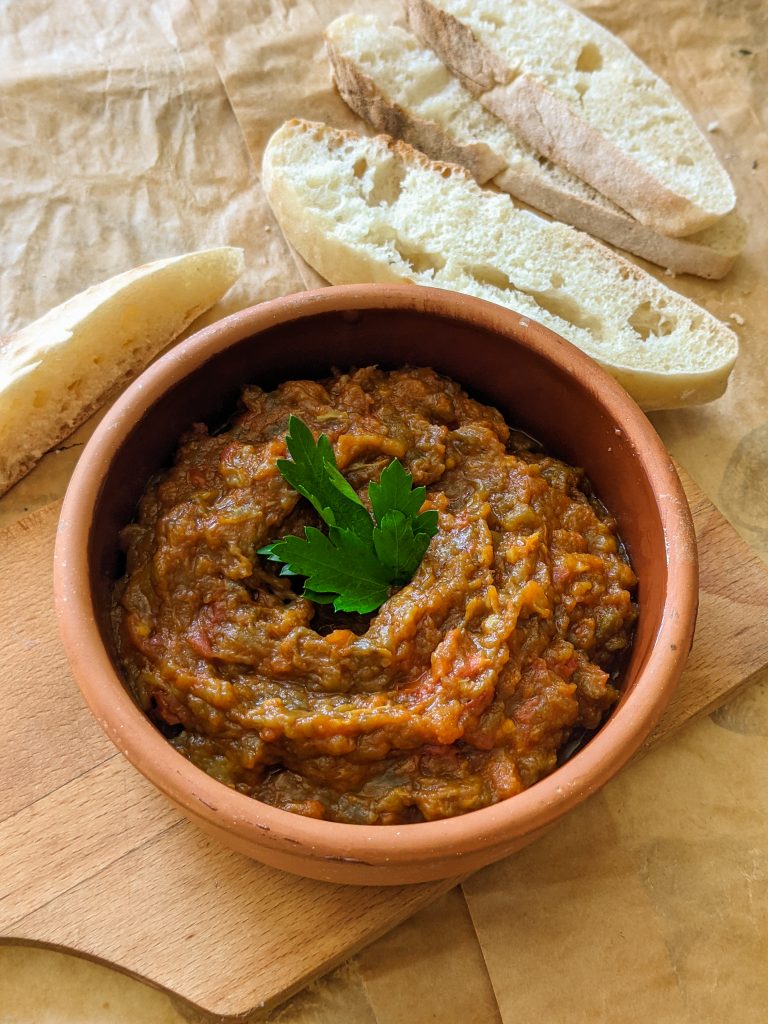 This dish is something that was recommended to me by an Instagram friend. He told me that mirza ghasemi is a Persian dish, made with roasted eggplant and spices. I was sold right away, mainly because it has been a long while since I made anything similar. I decided to make a vegan mirza ghasemi.
The authentic way to make this would be by blistering the eggplant over open flame, but because I wanted to do this at home, I chose to roast it in the oven. Also, the original version includes an egg, but since I chose to make this vegan I skipped the egg part. And it ended up being SO delicious.
This is definitely something I will keep coming back to. It was a perfect blend of flavors and not too spicy, which is right up my alley. I would highly recommend this to everyone, and if I peaked your interest, feel free to keep reading.
Some health benefits
As you may have noticed, this dish is full of great and healthy ingredients. But today I chose to write a thing or two about eggplants, since they make up the majority of the dish.
Eggplant provides a good amount of fiber, vitamins and minerals in few calories. They are high in anthocyanins, a pigment with antioxidant properties that can protect against cellular damage.
Some animal studies have found that eggplants may improve heart function and reduce LDL cholesterol and triglyceride levels, though human research is needed. They can help promote weight loss. It can also be used in place of higher-calorie ingredients.
Eggplants contain solasodine rhamnosyl glycosides, which test-tube studies indicate may aid in cancer treatment.
And as you might have noticed from the ingredient list, there are a few more healthy veggies included in this recipe, but more on them some other time. I think that these are some pretty good reasons to try and include eggplant into your meals every now and then. And if you are short on ideas, why not start with this wonderful vegan mirza ghasemi?
A piece of advice
This recipe is super easy as well as super delicious. You should not have any issues with the process, but still, I want to stress a few things that may be helpful.
You can use either olive oil or just regular oil you use to fry food. Also, I did not slice the garlic cloves, I just mashed them with a fork when they got soft. You can either slice them or do the same thing I did. Don't let them get brown at the very beginning , let them cook slowly. If that happens, remove them from the stove and reduce the temperature a little bit.
Feel free to mash everything in the pan (both the diced tomatoes and the eggplant) as it cooks with a fork. The eggplant is supposed to be cooked over a direct flame, but I could not do that in my house. So I chose the next best thing, which is my oven. And I don't have any complaints about this dish, it is so simple yet so delicious.
These measurements are enough for one person. I was alone at home when I made this. But if you need more than that, feel free to double or triple the measurements. I garnished it with a bit of parsley, but you don't have to do that. Serve this with some pita bread, or any bread of your choosing.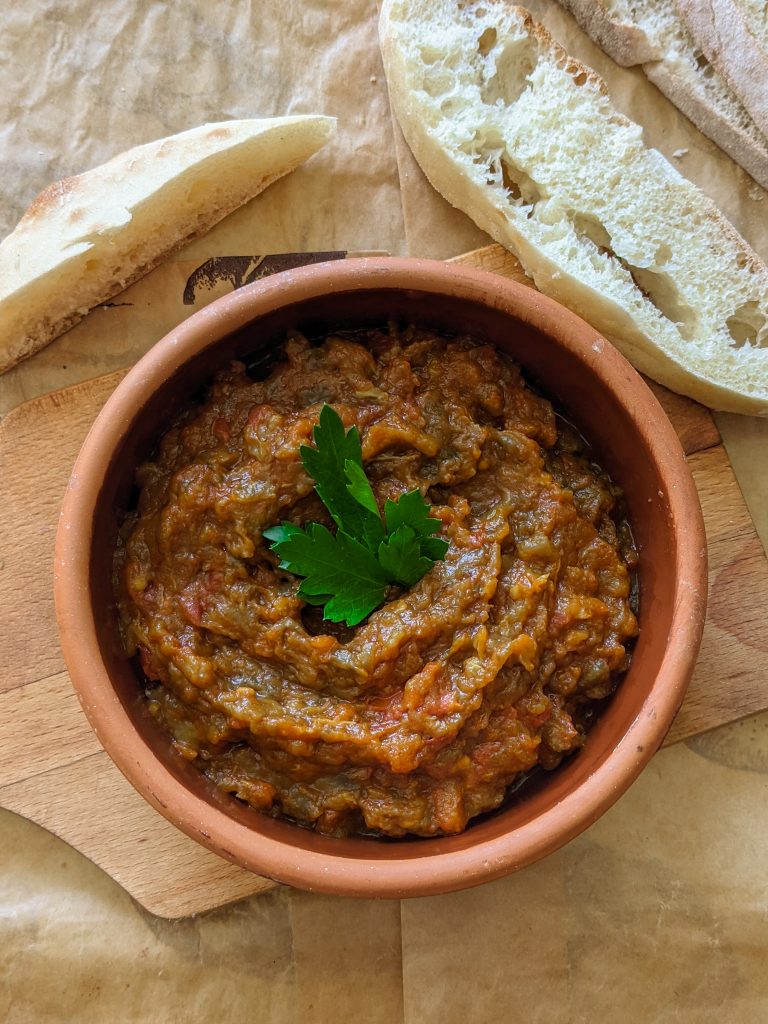 Vegan mirza ghasemi
Ingredients
1 large eggplant

1 large ripe tomato

3 garlic cloves (whole or thinly sliced)

½ tsp of turmeric

1 tbsp of tomato puree

½ tsp of salt

½ tsp of sugar

Oil

Bread for serving
Directions
Heat the oven to 220 degrees Celsius (425 F). Line a baking dish with some parchment paper and bake the whole eggplant in it for 45 minutes. Cut the tomato up into smaller cubes.
 Drizzle some oil on a non-stick pan and heat it over medium heat. Cook the garlic cloves  in the pan until they become soft and slightly brown. Add the turmeric and stir. Then add the diced tomato and cook for about 20 minutes or until everything breaks down. Mash it with a fork a little bit as you go. Remove the pan from the heat.
When the eggplant is cooked, take it out of the oven. Peel a part of the eggplant skin and scoop the eggplant from the inside with a spoon. Throw the skin away and put the scooped eggplant pieces in the pan with the tomatoes and put the pan on the stove.
Return the stove to medium heat. Add the sugar, salt and tomato paste to the pan and stir. Cook and mash a little bit as you go until everything is well combined. Remove the vegan mirza ghasemi from the stove. Serve while it is still warm with some pita bread (or a bread of your choosing).
These measurements are enough for one person. But if you need more than that, feel free to double or triple the measurements.
If you liked this recipe, make sure you check out my other recipes like:
Feel free to tell me what you think about this in the comments below, or send me the pictures of your own vegan mirza ghasemi. If you did something differently, I would also like to hear that, I'd love to see the things you come up with.
P.S. for more recipes like this and a bunch of other stuff, follow me on instagram, @margo_drobi.
Also, I recently started a Patreon page, where you can subscribe and help me create more/better content. In return, you will get an exclusive piece of content (recipe) each month. My plan is to increase the amount of that content if I gain a few subscribers. If you are interested and you want to find out more, I will leave the link to my Patreon right – here.