Moroccan stuffed eggplants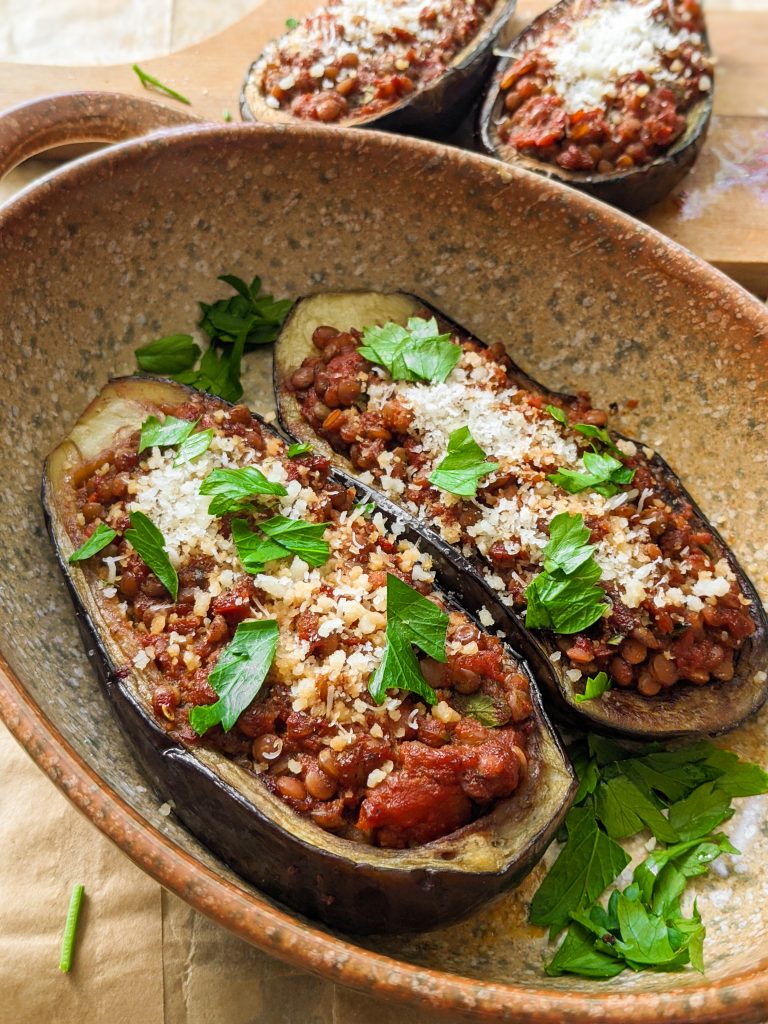 The other day I tried an instant burger patty mix that I really liked. It was Moroccan spiced. I noticed that I had all of these spices in my kitchen so I could make this spice mix myself, and cook something else with it. And so I made these Moroccan stuffed eggplants.
My readers seemed to like my last stuffed eggplant recipe, so I assumed it would be a good idea to share something similar. This recipe is vegan, spicy, super delicious and also very healthy. And I also think it can compete with the last one I published. If you did not use this spice mix before, it is bound to win you over. It smells and tastes absolutely wonderful.
And if you ran out of lunch/dinner ideas these days like I did, this is the way to go. As for those health benefits I mentioned earlier, I decided to point out the two main ingredients in this recipe.
Some health benefits
As you may have noticed, this dish is full of great and healthy ingredients. But today I chose to write a thing or two about lentils and eggplants. Lentils are an excellent source of B vitamins, iron, magnesium, potassium and zinc. They're also a great source of plant-based protein and fiber.
Lentils are a great source of health-promoting polyphenols, which have strong antioxidant and anti-inflammatory properties with potential cancer-cell inhibiting effects.They may protect your heart by supporting weight loss, preventing homocysteine accumulation in your body and improving cholesterol and blood pressure levels.
Eggplant provides a good amount of fiber, vitamins and minerals in few calories. They are high in anthocyanins, a pigment with antioxidant properties that can protect against cellular damage.
Some animal studies have found that eggplants may improve heart function and reduce LDL cholesterol and triglyceride levels, though human research is needed. They can help promote weight loss. It can also be used in place of higher-calorie ingredients.
Eggplants contain solasodine rhamnosyl glycosides, which test-tube studies indicate may aid in cancer treatment.
And as you might have noticed from the ingredient list, there are a few more healthy veggies included in this recipe, but more on them some other time. I think that these are some pretty good reasons to try and include eggplant into your meals every now and then. And if you are short on ideas, why not start with this wonderful Moroccan stuffed eggplant?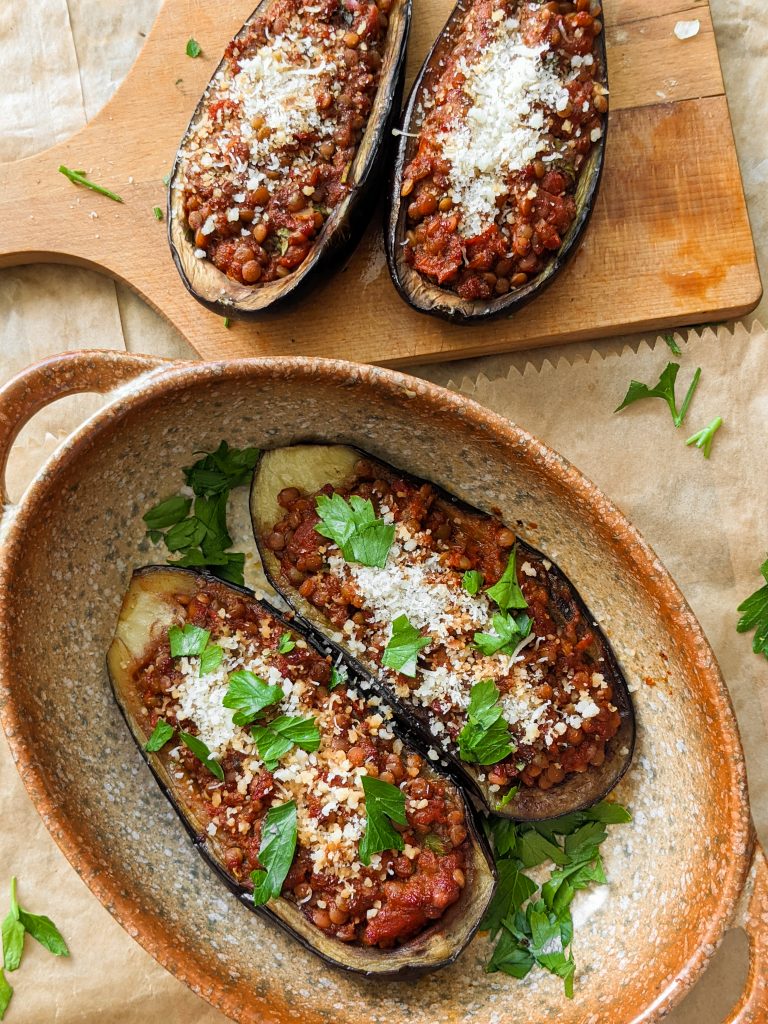 A piece of advice
The recipe is very simple, but as always, I am going to mention a few things that might help you along the way, especially if you are a beginner.
First of all, begin by cleaning the eggplants. Remove the leaves with the knife and cut them in half lengthwise. When you trace the part that you want to cut out, be careful not to cut yourself with a knife. Eggplants are soft, and the knife can go right through them easily.
Make sure you taste the filling towards the end of cooking and adjust the seasoning if needed.
The last step with the cheese is optional. If you can't find a good vegan parmesan cheese that you can use, it's okay. Moroccan stuffed eggplant will taste just as good without it.
Moroccan stuffed eggplant
Course: Salty, Salty
Ingredients
3 medium sized eggplants

100 g of lentils

300 ml of water

1 small onion

1 red bell pepper

3 tbsp of tomato paste

1 + ½ tbsp of maple syrup

1 tbsp of smoked paprika

½ tsp of salt

½ tsp of pepper

1 tsp of cumin

1 tsp of ground ginger

½ tsp of turmeric

1 + ½ tbsp of apple cider vinegar

fresh chopped parsley

200 g of chopped tomatoes

vegan parmesan (optional)

oil
Directions
Bring the water to boil. Rinse the lentils and add them to the water. Let it boil again, reduce the temperature to low and let them cook for 20 minutes (with no lid on).  Remove from the stove and drain the water.
Chopp the onion and the bell pepper. Put them in a blender along with tomato paste, vinegar, maple syrup and all of the spices. Blend everything together.
Add the mix, along with some chopped parsley,  to the cooked lentils and mix well. Put the chopped tomatos and the lentils in a deep pan and bring them to boil. Reduce the temperature to low and let them cook for about 5 minutes. Taste the mix to see if you need to spice it up some more.
Clean the eggplants and cut them in equal halves (lengthwise). Trace the part that you want to cut out from the middle of each half with a knife. Take a teaspoon and scoop out the eggplant from the middle.
Heat some oil in a non-stick pan and cook the eggplants on each side for 5 minutes. Remove from the stove and put them in a baking dish lined with some parchment paper. Fill the eggplants with the lentil mix. Bake them in the oven for 35 minutes on 190 degrees Celsius.
Sprinkle with some vegan parmesan and serve while they're still warm.
If you liked this recipe, make sure you check out my other recipes like:
Feel free to tell me what you think about this in the comments below, or send me the pictures of your own vegan Moroccan stuffed eggplants. If you did something differently, I would also like to hear that, I'd love to see the things you come up with. 
P.S. for more recipes like this and a bunch of other stuff, follow me on instagram, @margo_drobi.
Also, I recently started a Patreon page, where you can subscribe and help me create more/better content. In return, you will get an exclusive piece of content (recipe) each month. My plan is to increase the amount of that content if I gain a few subscribers. If you are interested and you want to find out more, I will leave the link to my Patreon right – here.