Vegan pumpkin pie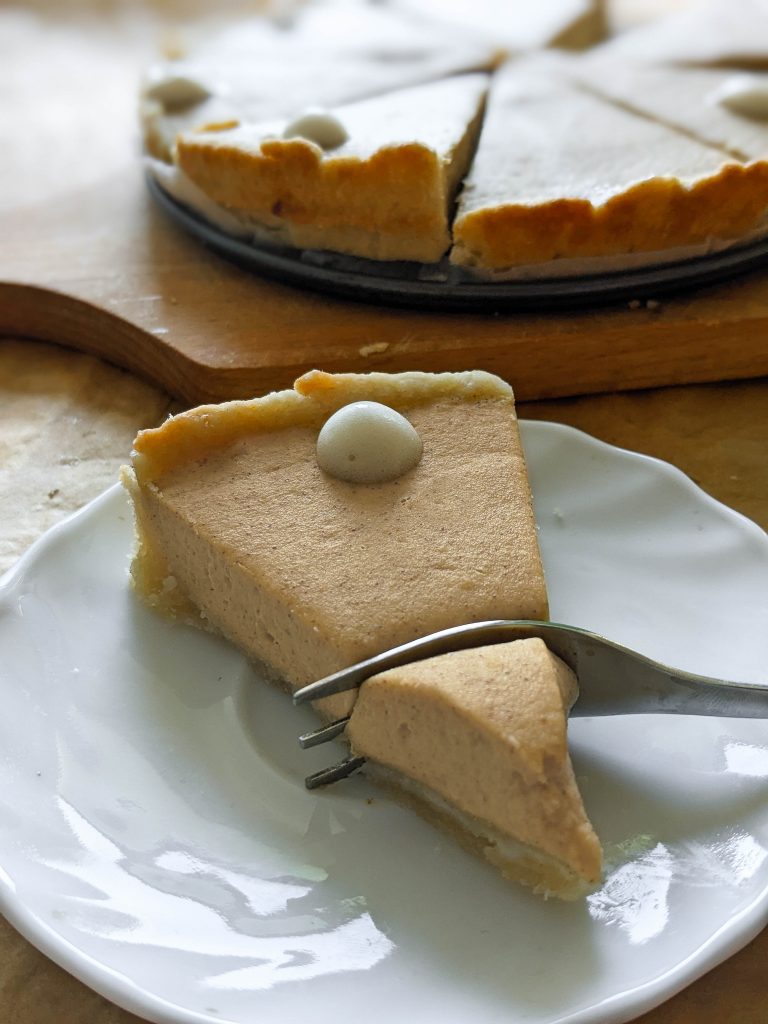 It's about time to start posting some new autumn recipes. I re-shared some older ones on Instagram these days, but this vegan pumpkin pie is a new one.
I haven't had pumpkin pie in years, but I still think that this version came pretty close to the non-vegan version. It was the first thing on my bucket list once I found pumpkin spice in a store
Now I know that some people don't really like pumpkin spice. I'm sure I heard someone say that it tastes like a candle. But I quite like it, and if you do too, this vegan pumpkin pie is a perfect autumn recipe for you. It is smooth, delicious, not too sweet and of course, completely vegan.
Not all ingredients that I use are easily available to everyone, so I will write about that and some other useful things in the next section of this post. Also, if you have ideas about what other autumn recipes I should make, feel free to leave a comment or message me.
A piece of advice
So, let's talk about the ingredients. Pumpkin puree is weirdly not easy to come by in Bosnia. While I am sure that my US readers will not have any problems finding it, for European folks it could be a problem. I found it in a store called dm, in the baby food section. This is also where I found the pumpkin spice.
Luckily, this store is present in most European countries. If you still can't find the puree, you can also make your own. Just dice your favorite pumpkin and steam it until it becomes fork tender. Than mash it into a puree. Make sure you don't leave any larger pieces behind, this could ruin your pie texture. This way you could also get a better pie color.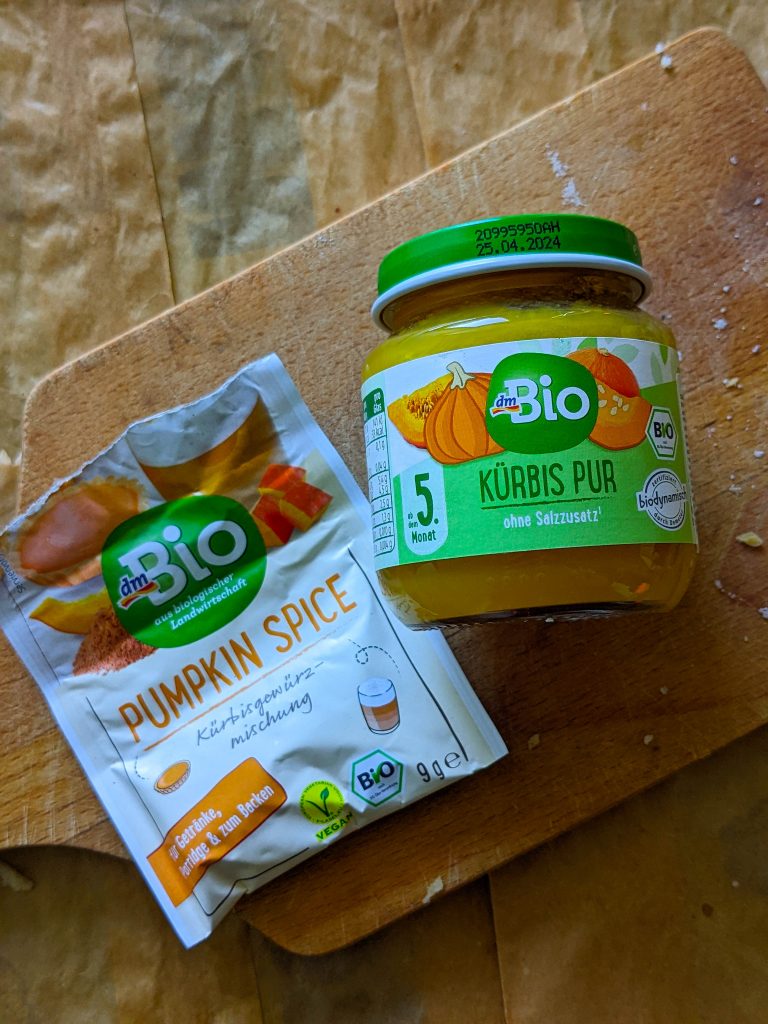 Also be careful when making the pie filling, do not leave any clumps behind. I would recommend that you keep the coconut cream in the fridge before using it. You can use full fat canned coconut milk instead. Just keep it in the fridge so that It becomes super thick and creamy.
Also, if that is available to you, you can use a pre-made, store bought pie crust. I have never seen it in stores, so I had to make mine from scratch. But do not worry, it is very simple. Just be careful with adding water, you don't want the pie crust dough to be too sticky.
When baking your vegan pumpkin pie, make sure to check on it every now and then, so you don't burn it. It should look slightly underdone.
These measurements are enough for one vegan pumpkin pie in a nine-inch baking dish. I tried to make some vegan whipped cream in order to decorate this pie (which is completely optional). I got tired in the middle of the process so it is not whipped well enough, as you can see from these pictures.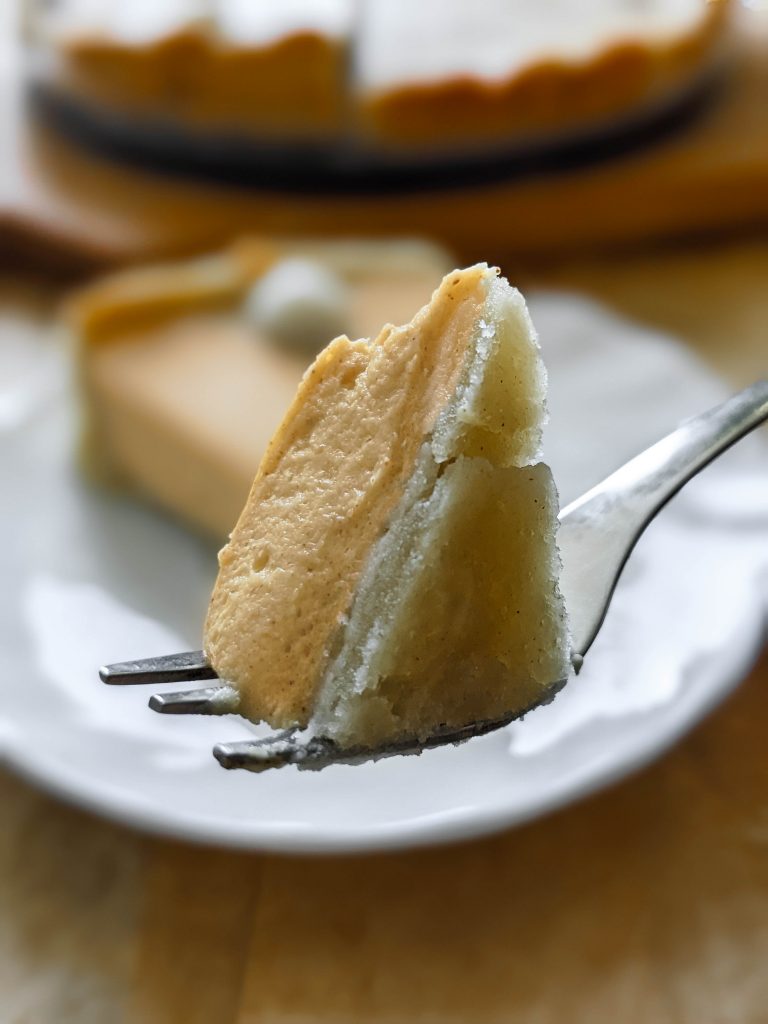 Vegan pumpkin pie
Course: Sweet
Ingredients
For the crust:

190 g of all-purpose flour

1 tsp of salt

40 g of sugar

60 ml of olive oil

few tbsp of water (if needed)

For the filling:

400 g of pumpkin puree

320 g of coconut cream

65 g  of sugar

2 tbsp of flax seed flour

3 tbsp of all-purpose flour

1 tbsp of vanilla extract

1 tsp of pumpkin spice

2 tsp of cinnamon

A pinch of salt
Directions
Start of by making the pie crust. Find a suitable (9-inch) baking dish, line it with parchment paper and lightly spray the inside of the dish with some non-stick spray. Set aside.
In a large mixing bowl mix together the all-purpose flour, sugar, salt and olive oil. Mix all of that together. If the mixture is too dry and crumbly, add one to two tablespoons of water and start to knead the dough with your hands. If you can not form the dough like that, add some more water.
Transfer the pie crust dough into the baking dish. Press it down with your fingers gently, in order to form the pie crust inside the dish. Set it aside. Then begin to make the filling.
In a small bowl whisk together the pumpkin puree, coconut cream, vanilla extract and flax seed meal. Let that rest for about 10 minutes. Heat the oven to 200 degrees Celsius (400 F).
Then combine the rest of the ingredients and pour that mixture into the pie crust. Bake the vegan pumpkin pie between 20 and 28 minutes. The crust should look underdone and only brownish at the edge. Take the vegan pumpkin pie out of the oven, let it cool down on room temperature and then transfer it to the fridge. Let it rest there for about 6 hours (or overnight).
When that is done, serve the vegan pumpkin pie with a bit of vegan whipped cream or vanilla ice cream.
If you liked this recipe, make sure you check out my other recipes like:
Feel free to tell me what you think about this in the comments below, or send me the pictures of your own vegan pumpkin pie. If you did something differently, I would also like to hear that, I'd love to see the things you come up with.
P.S. for more recipes like this and a bunch of other stuff, follow me on Instagram, @margo_drobi.
Also, I recently started a Patreon page, where you can subscribe and help me create more/better content. In return, you will get an exclusive piece of content (recipe) each month. My plan is to increase the amount of that content if I gain a few subscribers. If you are interested and you want to find out more, I will leave the link to my Patreon right –here.