Chestnut cocoa tarts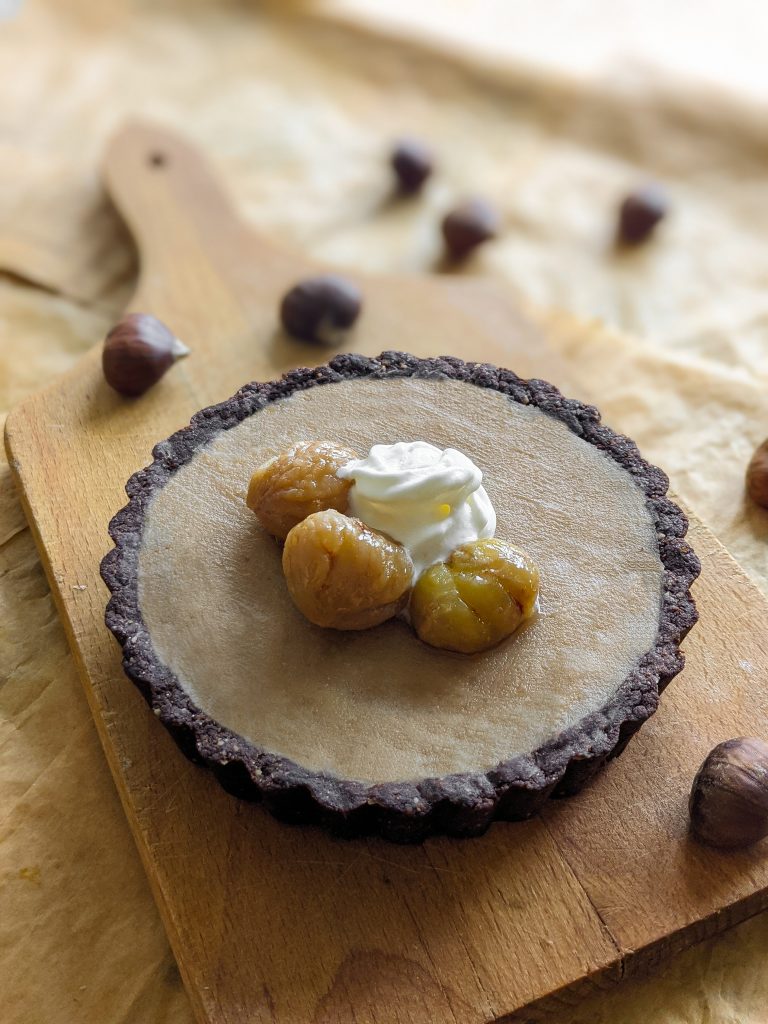 I kind of forgot how much I liked chestnuts, and my last recipe has helped me remember how delicious they are. Which is why I decided to make another one this week – vegan chestnut cocoa tarts.
I chose to keep these tarts as simple as possible. They are a nice combination of sweet chestnut filling and sweet whipped cream, with the bitterness of cocoa in the crust. If you like chestnuts, I highly recommend you try out this easy autumn recipe.
Some health benefits
We all know that sugary desserts are not healthy at all. But as you might know, I always make sure to inform you about the benefits of the healthy ingredients included in the recipe. That is the case here as well.
Chestnuts are a good source of many vitamins and minerals, such as copper, manganese, vitamin B6, vitamin C, thiamine, folate, riboflavin, and potassium. They are also a good source of fiber, with 15% of your daily needs in 10 roasted chestnuts.
Chestnuts contain gallic and ellagic acid, which may help protect the heart cells against oxidative stress. They are also a good source of potassium, which is beneficial for the heart.
They are high in fiber, which offers various benefits for your health. It aids digestion, nourishes your beneficial gut bacteria, aids in the production of short-chain fatty acids, and may help with weight management.
Also, the fiber may help balance your blood sugar levels and prevent spikes. In addition, studies have shown that chestnut antioxidants may help increase insulin sensitivity.
Test-tube and animal studies on chestnut antioxidants, such as ellagic acid, have shown they may suppress the growth and spread of tumor cells. However, human studies are needed to investigate this potential effect.
Chestnuts are delicious, versatile, and easy to add to your diet. They are easy to prepare by roasting or boiling.
A piece of advice
These chestnut cocoa tarts are pretty easy to make. You will spend some time on making the filling. I tend to make it the day before and store it, but if you have some time to spare, you can do it all at once.
If for any reason you end up with a filling that is too watery, this can be easily fixed. Just put it in a non-stick pan and heat it on low heat while stirring constantly. Remove it from the stove when the excess water has evaporated and the filling becomes thicker.
When you're in the process of shaping your crust, make sure that you poke a few holes in the bottom of the crust with a fork. If you don't the crust might rise and break while it's in the oven.
Do not try to take the crust out of the baking dish before it is completely cold. You will only break it. When the time comes for the entire tart to be taken out, use a fork for a little bit of help. Try to push it out from the edges.
Top the chestnut cocoa tarts with as much whipped cream as you like. I only controlled myself in order to take a cute photo. These measurements are enough for 2 small tarts.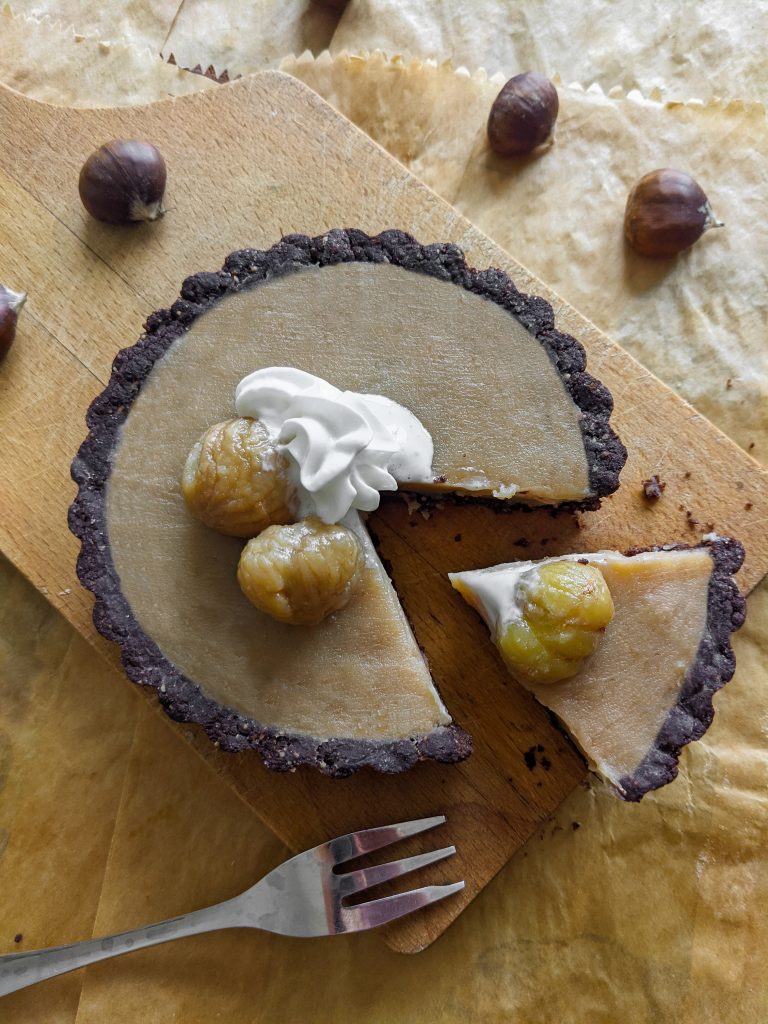 Chestnut cocoa tarts
Ingredients
For the chestnut filling:

320 g of cooked chestnut

400 ml of water

80 g of sugar

For the crust:

40 g of cashew butter

80 g of sugar

30 ml of water

20 ml of oil

40 g of ground almonds

80 g of all-purpose flour

20 g of cocoa powder

2 pinches of baking soda

Vegan whipped cream

A few whole cooked chestnuts
Directions
Take about 600 g of whole chestnuts and rinse them. Take a sharp knife and make a long horizontal incision on each chestnut skin.
Put cold water in a pot and place the chestnuts in the pot. Bring it to boil, then reduce the temperature to medium. Cover the pot with a lid but leave a bit of space open. Cook them for 30 to 35 minutes, then remove the pot from the stove.
Leave the chestnuts in the water and let it cool down. When it's cold enough to handle, take the cooked chestnuts and remove the skin (outer and inner) from each of them. Set aside a few whole chestnuts so you can use them for decoration later.
Transfer the chestnuts in a saucepan with the sugar and 400 ml of water. Bring everything to boil, reduce the temperature to low and cook until most of the water has evaporated (about 25 minutes). Transfer everything into a blender and blend until you get a puree. Set it aside
In a deep bowl put 40 g of cashew butter, sugar, water, oil and ground almonds and mix everything. Then add the flour, baking soda and the cocoa powder. Stir until it is combined and then knead with your hands until you get a brown dough.
Divide it into 2 equal parts. Take 2 small tart baking dishes and spray them with some non-stick spray. Take one piece of the dough and use your fingers to press it into the bottom and sides of the baking dish. You should end up with a thin and even crust.
Take a fork and poke a few holes in the bottom of the crust.
Heat the oven to 180 degrees Celsius (356 F). Place the baking dishes in the oven and bake the crusts for 10 minutes. Remove them from the oven and let them cool down completely. Do not try to take the crusts out before they are cold.
Put the chestnut filling inside the crusts. Gently remove everything from the molds. Top the chestnut cocoa tarts off with vegan whipped cream (as much as you like) and decorate with whole chestnuts.
If you liked this recipe, make sure you check out my other recipes like:
– vegan chocolate raspberry tarts
Feel free to tell me what you think about this in the comments below, or send me the pictures of your own chestnut cocoa tarts. If you did something differently, I would also like to hear that, I'd love to see the things you come up with.
P.S. for more recipes like this and a bunch of other stuff, follow me on Instagram, @margo_drobi.
Also, I recently started a Patreon page, where you can subscribe and help me create more/better content. In return, you will get an exclusive piece of content (recipe) each month. My plan is to increase the amount of that content if I gain a few subscribers. If you are interested and you want to find out more, I will leave the link to my Patreon right – here.