Mizu yokan (kuri)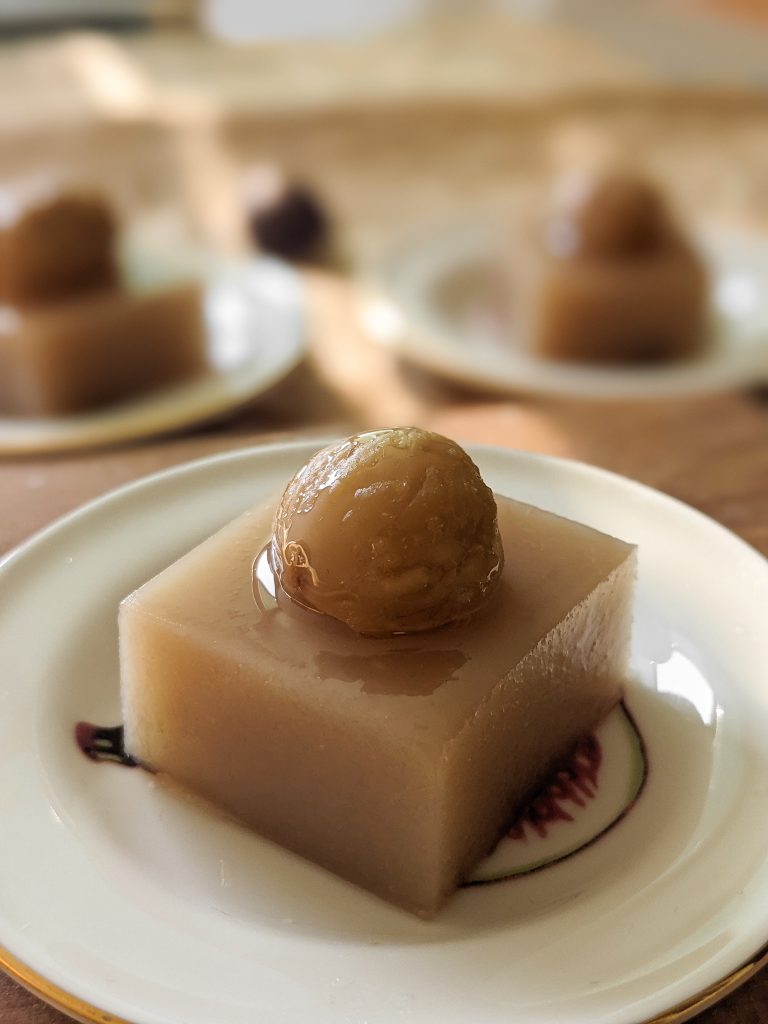 While researching some Japanese desserts a few months ago, I came across some interesting recipes. One of them was mizu yokan.
This is also a form of wagashi, that I made some time ago. So I figured, why not try another form of wagashi while I'm at it. The main difference with this one is – it is a lot easier to make. All the ingredients are easy to find and you do not have to follow any shaping tutorials.
Mizu yokan is a traditional Japanese treat, normally made with red bean paste and whole chestnuts. Sometimes it's made with matcha or chestnut flour. I figured since the red bean paste and the chestnut puree have the same texture, maybe I could make it in a different way. And I was right. I think that this turned out pretty great.
I will not claim it's my favorite thing in the world, but my goal is to explore as many traditional recipes as I can. And I have to say, I liked this one very much.
Some health benefits
Chestnuts are a good source of many vitamins and minerals, such as copper, manganese, vitamin B6, vitamin C, thiamine, folate, riboflavin, and potassium. They are also a good source of fiber, with 15% of your daily needs in 10 roasted chestnuts.
Chestnuts contain gallic and ellagic acid, which may help protect the heart cells against oxidative stress. They are also a good source of potassium, which is beneficial for the heart.
They are high in fiber, which offers various benefits for your health. It aids digestion, nourishes your beneficial gut bacteria, aids in the production of short-chain fatty acids, and may help with weight management.
Also, the fiber may help balance your blood sugar levels and prevent spikes. In addition, studies have shown that chestnut antioxidants may help increase insulin sensitivity.
Test-tube and animal studies on chestnut antioxidants, such as ellagic acid, have shown they may suppress the growth and spread of tumor cells. However, human studies are needed to investigate this potential effect.
Chestnuts are delicious, versatile, and easy to add to your diet. They are easy to prepare by roasting or boiling.
A piece of advice
This mizu yokan recipe is super easy. You only need a few ingredients. And if you can buy chestnut puree in a store it is going to be even easier. I could not find it so I had to make my own. I left the instructions below just in case.
You will however have to cook a few chestnuts for the decoration. Before you do that you will need to slice through the skin with a knife. Be careful not to cut yourself. Cut a straight horizontal line across the middle and you're good to go.
Agar agar is the ingredient you will use in order to get a jello-like texture. Do not forget to disolve it in some water before you add it to the mix. And follow the instructions carefully so you don't overcook it.
I only made a small amount of mizu yokan. These measurements are enough for about 9 squares of mizu yokan.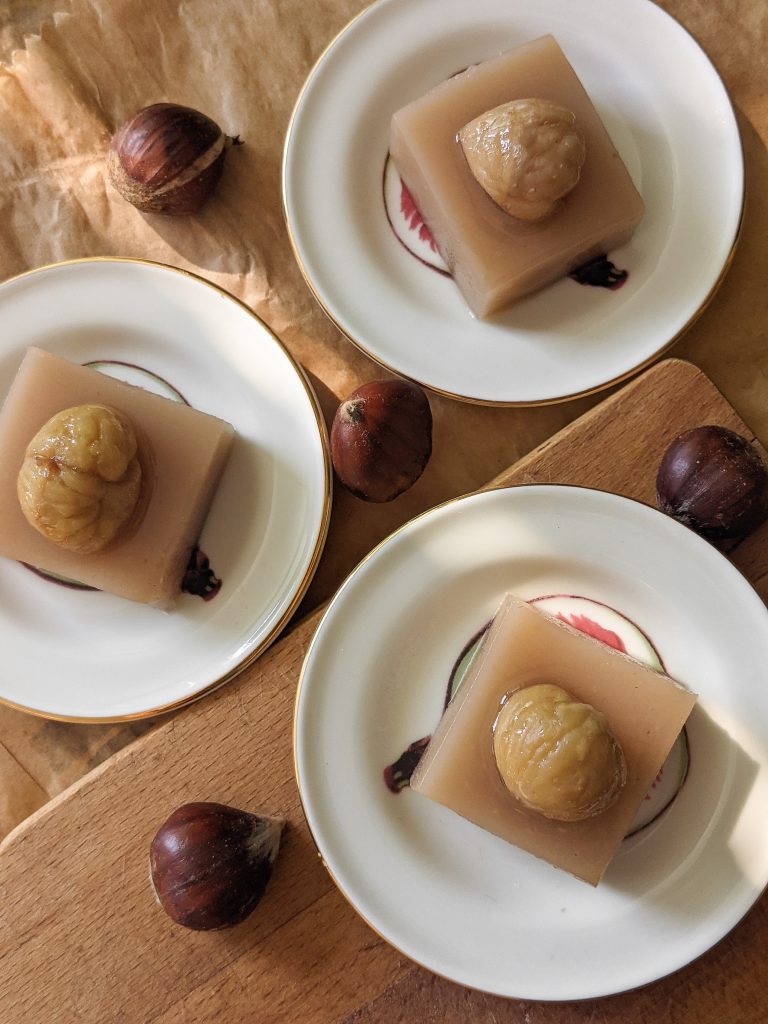 Mizu yokan (kuri)
Ingredients
For the chestnut puree:

160 g of cooked chestnut

200 ml of water

50 g of sugar

For the mizu yokan:

200 g of chestnut puree

250 ml of water

5 tbsp of sugar

1 tsp of agar agar

Several whole cooked chestnuts
Directions
If you don't have pre-made chestnut puree, this is how you make it. Take about 300 g of whole chestnuts and rinse them. Take a sharp knife and make a long horizontal incision on each chestnut skin.
Put cold water in a pot and place the chestnuts in the pot. Bring it to boil, then reduce the temperature to medium. Cover the pot with a lid but leave a bit of space open. Cook them for 30 to 35 minutes, then remove the pot from the stove.
Leave the chestnuts in the water and let it cool down. When it's cold enough to handle, take the cooked chestnuts and remove the skin (outer and inner) from each of them. Set aside a few whole chestnuts so you can use them for decoration later.
Transfer the chestnuts in a saucepan with the rest of the puree ingredients. Bring everything to boil, reduce the temperature to low and cook until most of the water has evaporated (about 25 minutes). Transfer everything into a blender and blend until you get a puree.
Now it's time to make mizu yokan.  Put the water, and sugar in a small pot and heat it over medium heat until the sugar has disolved. Add the chestnut puree and stir everything. Disolve agar agar in a little bit of water and add it to the pot. Bring it to boil over medium heat and let it boil for 2 minutes. Remove it from the stove.
Pour everything into a mold or a square pan. Let it cool down on room temperature and then transfer it to the fridge. Leave it there until it sets. Transfer mizu yokan to a plate, cut it into cubes and top off with whole chestnuts.
If you liked this recipe, make sure you check out my other recipes like:
– vegan wagashi (autumn)
Feel free to tell me what you think about this in the comments below, or send me the pictures of your own vegan mizu yokan. If you did something differently, I would also like to hear that, I'd love to see the things you come up with.
P.S. for more recipes like this and a bunch of other stuff, follow me on Instagram, @margo_drobi.
Also, I recently started a Patreon page, where you can subscribe and help me create more/better content. In return, you will get an exclusive piece of content (recipe) each month. My plan is to increase the amount of that content if I gain a few subscribers. If you are interested and you want to find out more, I will leave the link to my Patreon right –here.