Vegan asparagus tacos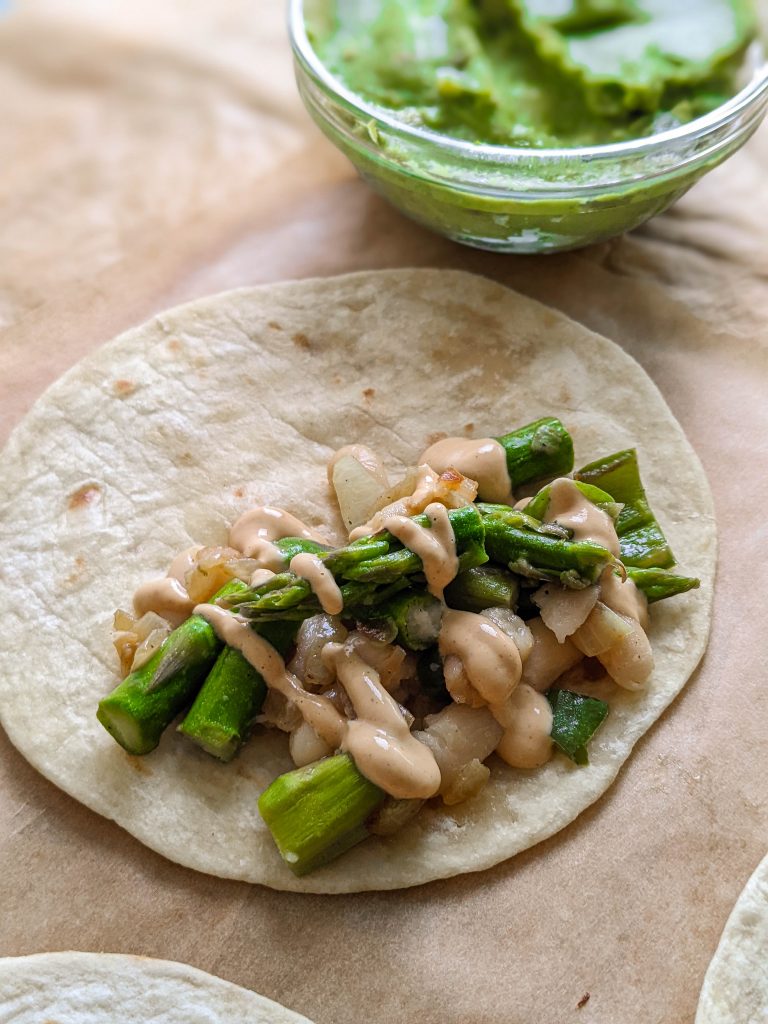 As I promised in my last post, I am sharing a yet another taco recipe with you. These vegan asparagus tacos are quite different from my last recipe, so I think it was really worth posting.
If you still can find asparagus in stores, don't miss out on these. While I do enjoy the roasted asparagus and asparagu soups, I wanted to do something different this time. It is safe to say that I made the right choice.
These tacos are soft, delicious, juicy and covered in creamy cashew/lime sauce. On top of that, they are completely vegan. As always, I wrote down some health benefits and some tips and tricks for you below.
Some health benefits
Asparagus is a low-calorie vegetable that is an excellent source of essential vitamins and minerals, especially folate and vitamins A, C and K. It is a good source of antioxidants, including vitamins C and E, flavonoids and polyphenols. Antioxidants prevent the accumulation of harmful free radicals and may reduce your risk of chronic disease.
As a good source of fiber, it promotes regularity and digestive health and may help reduce your risk of heart disease, high blood pressure and diabetes. Asparagus is high in folate (vitamin B9), an important nutrient that helps reduce the risk of neural tube defects during pregnancy.
It contains potassium, a mineral that can help lower high blood pressure. In addition, animal research has found that asparagus may contain an active compound that dilates blood vessels, thus lowering blood pressure.
Asparagus has a number of features that make it a weight-loss friendly food. It's low in calories, high in water and rich in fiber. All that being said, I am looking forward to buying it again, when I find it at a reasonable price of course.
A piece of advice
These tacos were super simple to make, and I think I wrote down everything in detail in the recipe. But I just wanted to clarify a few things in this section for those of you who do not cook that often.
First of all, don't forget to cut off the bottom of the asparagus. Use a small bunch for this recipe, I used about 200 g of asparagus. Don't forget to remove the seeds from the jalapeno pepper. You should check on your veggies from time to time, and add the canned beans in the end when when the asparagus becomes tender.
Adjust the amount of salt and pepper to your taste.
Vegan asparagus tacos can be combined with a variety of dips and sauces. In addition to the creamy cashew sauce, I made an avocado dip. You can get creative with these.
When heating the tortillas on a non-stick pan, do not let them swim in olive oil. Just add a small drizzle and that will be enough.
These measurements were enough for 5 to 6 mini tacos. But that will of course depend on the size of your tortillas and the amount of filling you are using. If you need more than this,adjust the ingredient measurements properly.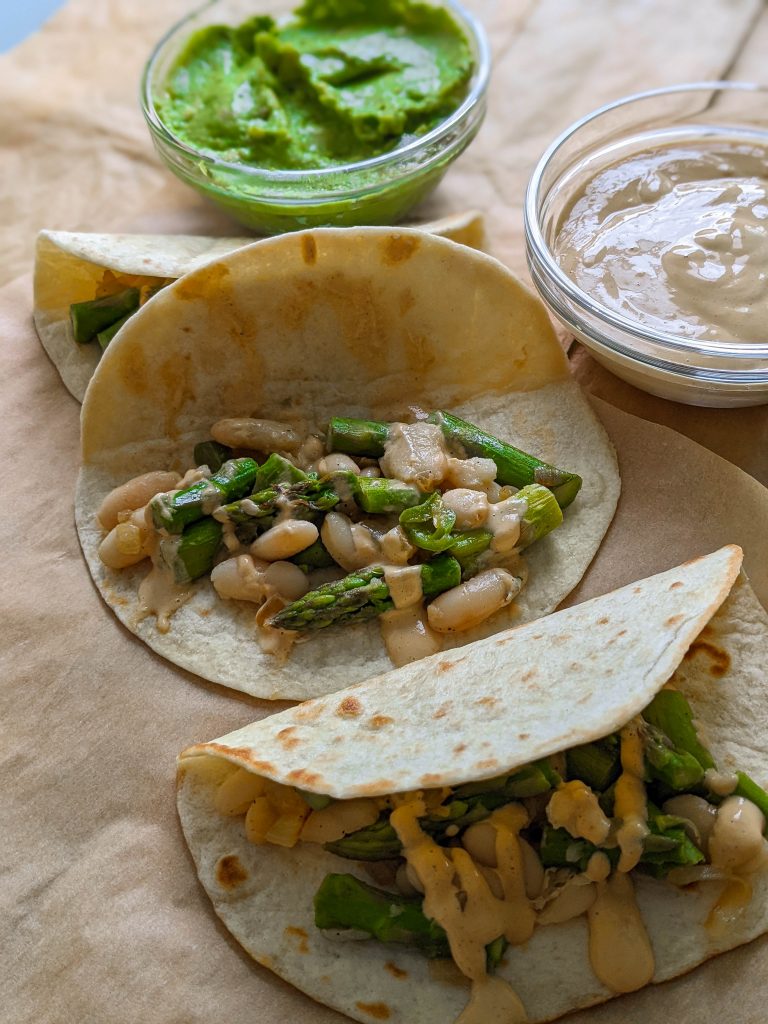 Vegan asparagus tacos
Ingredients
For the tacos:

1 tbsp of olive oil

½ of onion

1 small jalapeno pepper

A small bunch of asparagus (about 200 g)

100 g of canned white beans

4 to 8 mini tortillas

A few splashes of olive oil

salt

pepper

For the sauce:

60 g of toasted cashews

1/4 tsp of smoked paprika

1/4 tsp of chilli powder

1/4 tsp of pepper

1/4 tsp of garlic powder

1/4 tsp of salt

100 ml of water

juice of ½  lime
Directions
Begin by preparing the veggies. Dice the onion, cut off the bottoms of asparagus and cut them into small pieces. Remove the seeds and chop the jalapeno pepper into very small pieces. Drain the water from a white beans can.
On a non-stick pan heat 1 tablespoon of olive oil to medium heat. Sautee the onion until it becomes translucent. Then add the asparagus and jalapeno, cover and cook until asparagus becomes tender (about 10 minutes). Check on it and stir from time to time. Add the white beans, salt and pepper to taste and stir. Cook for another minute and then remove from the stove. Set aside.
While the veggies are cooking you can prepare the creamy cashew sauce. Just combine all of the sauce ingredients in a blender and blend until you get a creamy texture.
Put a splash of olive oil on a non-stick pan and heat it to medium heat. Put each tortilla in the pan and heat it from both sides until they become tender (but don't burn them). Spoon the filling into each tortilla and drizzle the creamy cashew sauce over them.
Serve the vegan asparagus tacos while they are still warm.
If you liked this recipe, make sure you check out my other recipes like:
Feel free to tell me what you think about this in the comments below, or send me the pictures of your own vegan asparagus tacos. If you did something differently, I would also like to hear that, I'd love to see the things you come up with.
P.S. for more recipes like this and a bunch of other stuff, follow me on instagram, @margo_drobi.
Also, I recently started a Patreon page, where you can subscribe and help me create more/better content. In return, you will get an exclusive piece of content (recipe) each month. My plan is to increase the amount of that content if I gain a few subscribers. If you are interested and you want to find out more, I will leave the link to my Patreon right – here.