Vegan taquitos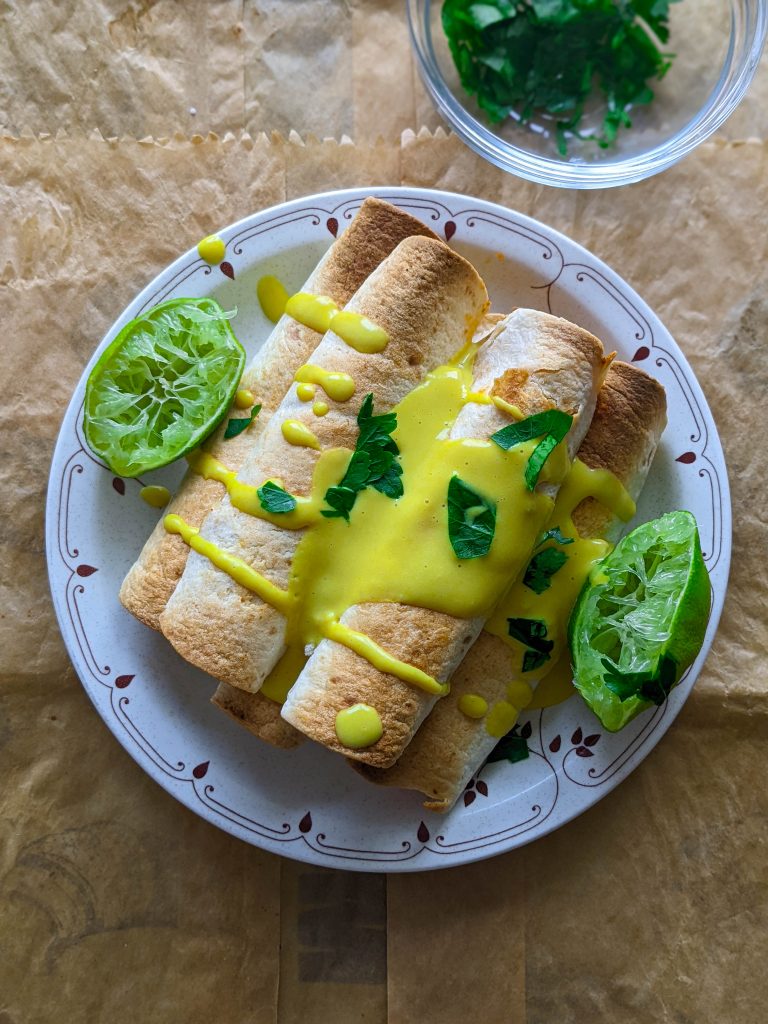 I have been wanting to post a taquito recipe for quite some time now. But I wanted them to be covered in delicious cheese sauce and for that I was missing one ingredient. Turns out they had it in a suparmarket near me and I never happened to notice it. So here they are, vegan taquitos with cheese sauce, featuring nutritional yeast that I just now discovered.
There are a bunch of things I love about this recipe and I could go on about it for ages. So I am just going to point out a few. It is very easy and quick to make, if you need a quick lunch idea this is the way to go. They are beyond delicious and filling and will satisfy all of your cravings. And the best thing about them – they are completely vegan.
A piece of advice
I did mention that this recipe is super easy. But I still want to resolve any confusion and answer questions you may have about these steps.
These measurements are enough for about 8 vegan taquitos with cheese sauce. This of course depends on the size of your mini tortillas or the amount of filling you are using in each. If you need more than that (or less), make sure you adjust the measurements accordingly.
If you don't own a high speed blender, you might want to soak the cashews in water for about 8 hours (or overnight) to achieve that creamy texture when you finally blend them. I own a Nutribullet and I found that soaking them in hot water for a half an hour does the trick. Of course, you will need to add a few splashes of water to the cashews. I only used a little bit of warm water (not even enough to cover them).
The amount of taco seasoning in this recipe is really up to you. So you should taste the filling by the end of cooking process just to see if you need to adjust the seasoning. Also, the baking time might depend on the oven you have. So I recommend checking up on your vegan taquitos every now and then. Just to make sure that you don't burn them. When you notice that they are slightly brown and crispy, you are good to go!
When it comes to cheese sauce, turmeric is only there to give it some color. So if you don't like it or can't have it, feel free to not add it to the recipe.
They will be covered in cheese sauce, but if you want you can play around and use different dips and dressings with this. I am going to post a delicious one next week, since I am making another taco recipe (yes). There's no turning back now, tacos are love, tacos are life.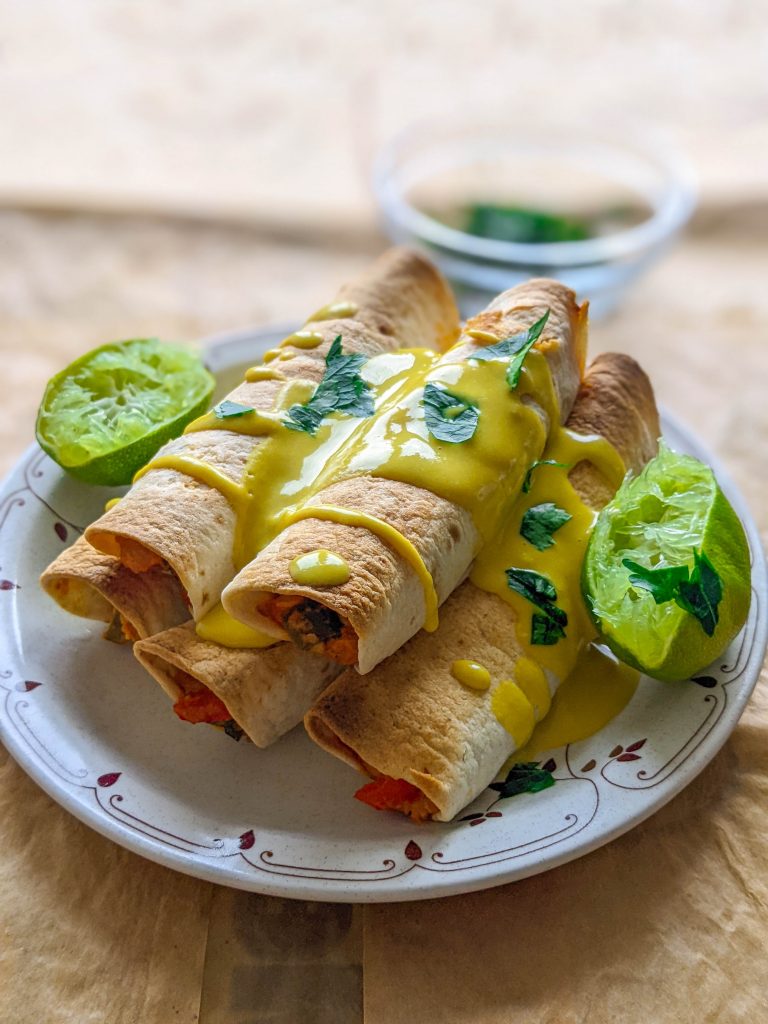 Vegan taquitos
Ingredients
For the taquitos:

8 mini tortillas

Olive oil

1/2 onion

1 red bell pepper

1 green bell pepper

100 g of tofu

65 ml of tomato sauce

Taco seasoning (as desired)

65 g of raw cashews

a splash of water

juice of ½ lime

a small bunch of parsley

For the cheese sauce:

65 g of white canned beans

65 ml of plant-based milk

2 + ½ tbsp of nutritional yeast

¼ tsp of turmeric

¼ tsp of salt

a pinch of garlic powder

1 tsp of olive oil
Directions
Soak the cashews in hot water. Chop the onion and the bell peppers into small pieces and grate the tofu.
Heat some olive oil to medium heat on a non-stick pan and add the chopped onion. Sautee it until it becomes translucent. Add the bell peppers and cook for a few more minutes.
Add the grated tofu, taco seasoning and tomato sauce to the pan and stir until everything is well combined. Cook for another 7 to 10 minutes on medium heat.
Meanwhile, transfer the cashews to the blender and add a few splashes of water. Blend them on high speed until you get a creamy texture. Add this creamy cashew sauce to the other ingredients in the pan. Then add a little bit of chopped parsley and lime juice and mix everything together.
Remove from the stove and set aside. Place 3 heaping tablespoons of the filling on one side of the mini tortilla and roll it up like in the pictures. Repeat this process until you run out of the tortillas. Line a baking dish with some parchment paper and brush it with olive oil. Place the taquitos in the dish and brush them with olive oil.
Heat the oven to 200 degrees Celsius (400 F) and bake them from 20 to 30 minutes, or until they become golden-brown and crispy. Meanwhile, make the cheese sauce.
Place all of the vegan cheese sauce ingredients in a blender and blend until you get a yellow creamy sauce.
When the taquitos are baked, take them out of the oven, place them on a serving plate and spoon some cheese sauce on top. Sprinkle some chopped parsley on top as well. Serve the vegan taquitos with cheese sauce while they are still warm.
If you liked this recipe, make sure you check out my other recipes like:
Feel free to tell me what you think about this in the comments below, or send me the pictures of your own vegan taquitos with cheese sauce. If you did something differently, I would also like to hear that, I'd love to see the things you come up with.
P.S. for more recipes like this and a bunch of other stuff, follow me on instagram, @margo_drobi.
Also, I recently started a Patreon page, where you can subscribe and help me create more/better content. In return, you will get an exclusive piece of content (recipe) each month. My plan is to increase the amount of that content if I gain a few subscribers. If you are interested and you want to find out more, I will leave the link to my Patreon right – here