Cream of asparagus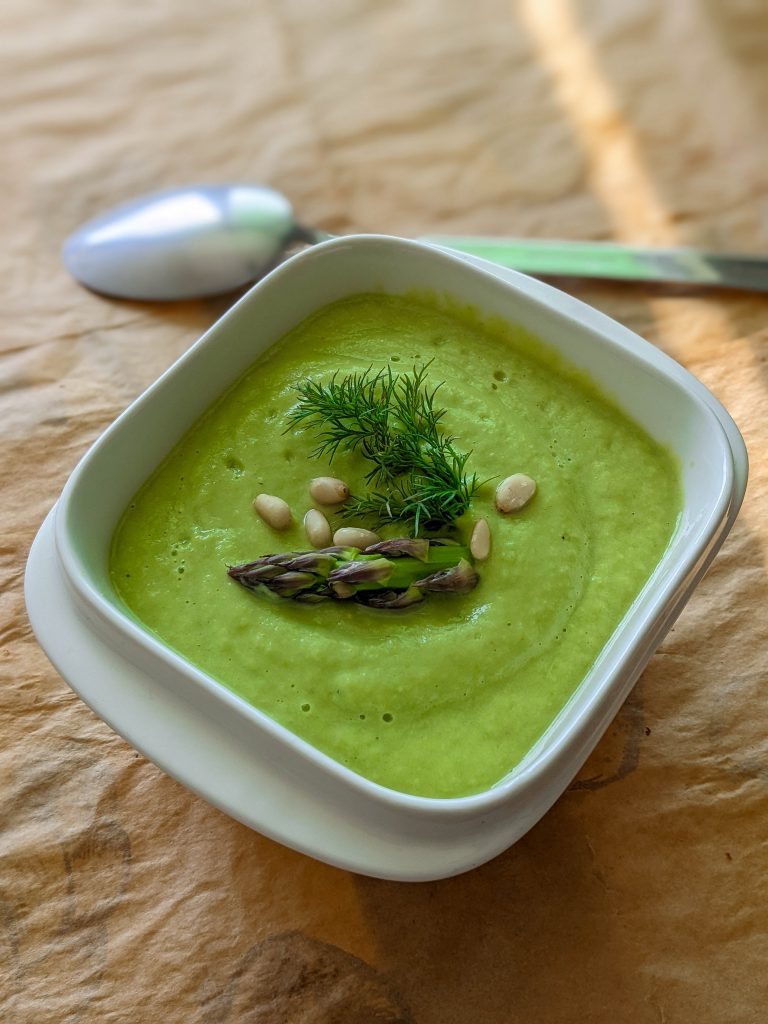 I don't know about you, but I don't get to find asparagus in stores very often. So when I spotted it the other day, I jumped at the opportunity. I had to make this cream of asparagus soup.
There are a bunch of roasted asparagus recipes out there, and they are quite simple. This one is simple too, but it is likely that not as many people have tried it. It certainly is new to me.
I prefer my cream of asparagus a bit thicker, but you can easily adjust the thickness to your liking. This recipe is easy and requires only a few ingredients. Asparagus can be a bit expensive because it is difficult to grow it, but don't worry, you will only need a small bunch for this one. Other ingredients are way more affordable.
Some health benefits
What would a post on this blog be without me mentioning the health benefits of at least one of the ingredients. And this is a unique oportunity to write about a vegetable that I never utilized before. So here we go.
Asparagus is a low-calorie vegetable that is an excellent source of essential vitamins and minerals, especially folate and vitamins A, C and K. It is a good source of antioxidants, including vitamins C and E, flavonoids and polyphenols. Antioxidants prevent the accumulation of harmful free radicals and may reduce your risk of chronic disease.
As a good source of fiber, it promotes regularity and digestive health and may help reduce your risk of heart disease, high blood pressure and diabetes. Asparagus is high in folate (vitamin B9), an important nutrient that helps reduce the risk of neural tube defects during pregnancy.
It contains potassium, a mineral that can help lower high blood pressure. In addition, animal research has found that asparagus may contain an active compound that dilates blood vessels, thus lowering blood pressure.
Asparagus has a number of features that make it a weight-loss friendly food. It's low in calories, high in water and rich in fiber. All that being said, I am looking forward to buying it again, when I find it at a reasonable price of course.
A piece of advice
As I said, this is a very easy recipe, as most soups are fairly easy to make. But I tried to think of a few things that you may have questions about and wrote them down in this section (just in case).
First of all, don't forget to cut off the bottom of the asparagus. Use a small bunch for this recipe, I used about 200 g of asparagus. The avocado you are using should be ripe. Feel it up and press it a bit to check if it is. But don't buy one that is way too soft and brown-ish in color. This may affect the color of your soup.
You do not have to use soy milk, any plant-based milk will be okay for this recipe. I prefer the cream of asparagus to be a bit creamier, so I kind of went overboard with this one. But if you want a slightly thinner soup, feel free to add more soy milk to the blender.
Adjust the amount of salt and pepper to your taste.
These measurements were enough for 2 smaller plates of soup. If you need more, feel free to adjust the measurements. I topped everything off with some pine nuts, a tip of an asparagus stick and some dill. But you don't have to do that if you don't want to.
I did not use a proper soup plate/bowl, I just thought that this one would look cute.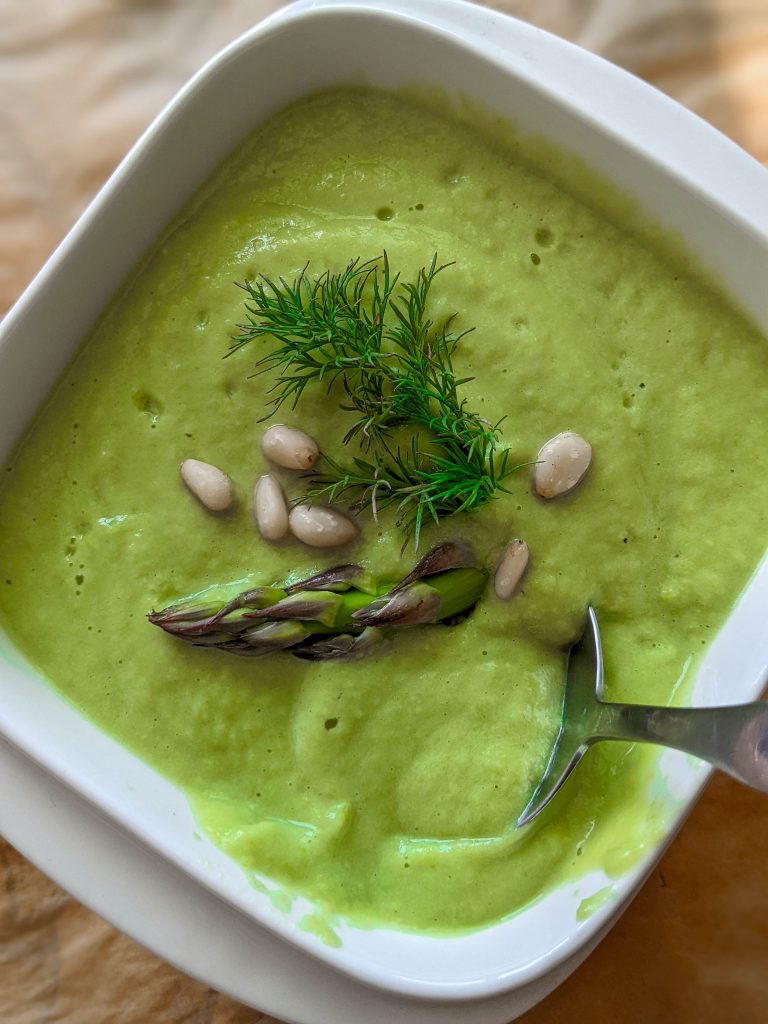 Cream of asparagus
Ingredients
a small asparagus bunch (200 g)

1 large celery stalk

1 medium-sized onion

270 ml of water

1 small ripe avocado

200 ml of soy milk

1 tbsp of lemon juice

salt and pepper
Directions
Chop the asparagus, celery stalk and the onion into smaller pieces. Put the water into a pot and add the chopped vegetables. Bring it to boil, reduce the temperature to medium and let everything simmer. Remove the pot from the stove when the veggies become fork-tender (it should take about 15 minutes).
Cut the avocado in half, remove the stone and scoop it out with a spoon into a blender cup. Add the lemon juice and transfer the cooked veggies and water into the blender cup. Add the soy milk and salt and pepper.
Blend everything until you get a soup of your desired texture. Taste it in order to see if it needs more salt or pepper. Divide the cream of asparagus soup between 2 small bowls or plates. Garnish and serve right away.
If you liked this recipe, make sure you check out my other recipes like:
Feel free to tell me what you think about this in the comments below, or send me the pictures of your own cream of asparagus soup. If you did something differently, I would also like to hear that, I'd love to see the things you come up with.
P.S. for more recipes like this and a bunch of other stuff, follow me on instagram, @margo_drobi.
Also, I recently started a Patreon page, where you can subscribe and help me create more/better content. In return, you will get an exclusive piece of content (recipe) each month. My plan is to increase the amount of that content if I gain a few subscribers. If you are interested and you want to find out more, I will leave the link to my Patreon right – here