Vegan ramen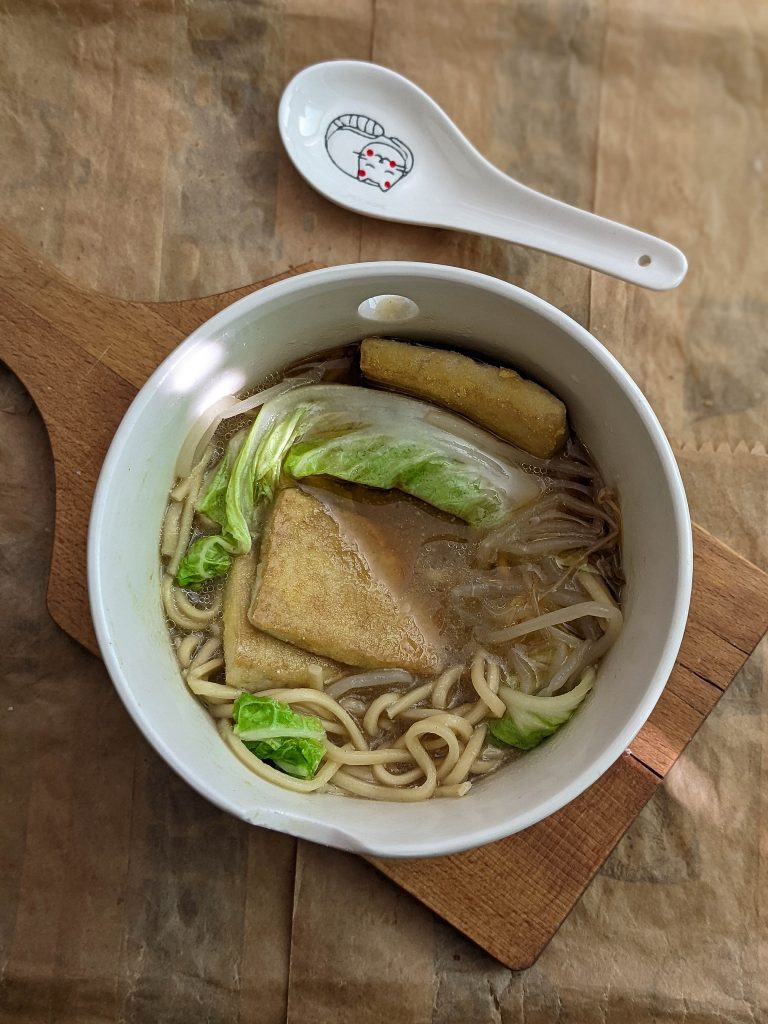 I have been meaning to post this vegan ramen recipe for some time now. But since I had a rather busy month, I decided to take some time off from posting on social media. I hope to slowly get back into my routine. A friend of mine gifted me this ramen bowl that I am obsessed with, and it was only fitting for it to appear on the blog.
This vegan ramen is rather simple to make, very delicious and does not require any ingredients that are difficult to come by. This vegan version of ramen is among the best ramens I have ever had. So I highly recommend it
Some health benefits
Normally you wouldn't expect a bowl of ramen to be very healthy. However, there are a few ingredients in this dish that are kind of healthy. I just thought that this is worth mentioning, so I picked out some of them and wrote down a few fun facts.
Tofu is one of the ingredients of this dish. It is low in calories but high in protein and fat. It also contains many important vitamins and minerals.
It contains antinutrients like trypsin inhibitors and phytates. Soaking or fermenting soybeans before making tofu reduces these antinutrients, increasing its nutritional value. All soy-based products contain isoflavones, which are believed to have various health benefits.
Whole soy foods like tofu can improve several markers of heart health. This may lead to a reduced risk of heart disease. Research indicates that soy has a protective effect against breast, digestive, and prostate cancers. Tofu may have positive effects on blood sugar control, but more studies are needed to confirm this.
Bok choy contains a wide variety of vitamins and minerals. It's particularly high in vitamins C and K. It also offers some fiber, an important nutrient for overall health, and may offer benefits for thyroid function, heart and bone health. It may even have anticancer properties.
You can consume bok choy raw, roasted, or cooked on the stovetop in a soup, stir-fry, or fried rice dish. You can incorporate it into your diet in Asian dishes and many other ways.
A piece of advice
You probably already know that this recipe is not that difficult to make. However, if you are a beginner, you might find this section somewhat helpful.
Start off by preparing all of the ingredients and dishes you will need. Slice/chop all of the vegetables.
I suggest you use your favorite ramen noodles for this dish. You can also prepare it with rice noodles. Cook them one minute less than indicated on the packaging. They should preserve a bit of a bite. When you drain them, leave some water behind (so that they don't stick together). You can transfer them in a pan that you cooked tofu in and keep them there.
When you roll tofu in corn flour, it only needs a few minutes to become slightly crispy. But only add it to the ramen bowl at the end.
Cook the bok choy and the spring onions only until they have wilted.
I intended to make only one vegan ramen bowl, but somehow it ended up being really big. So these measurements may be enough for 2 smaller vegan ramens. Or I just need a bigger appetite.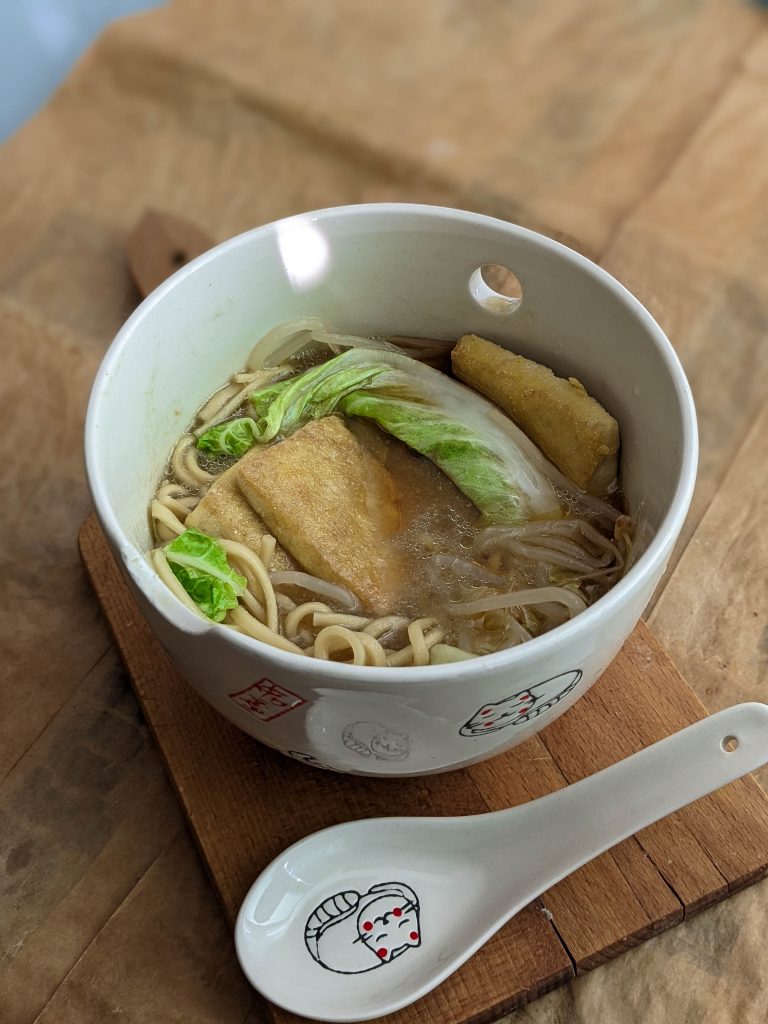 Vegan ramen
Ingredients
1 garlic clove

1 tbsp of white miso paste

1 small piece of fresh ginger

½ tbsp of tahini

15g of dried shiitake mushrooms

500 ml of veggie stock

1 tbsp of soy sauce

100 g of tofu

corn flour

ramen noodles of choice

bok choy

1 spring onion

bean sprouts

sesame oil
Directions
Mince the garlic. Peel the ginger piece and cut it into several slices. In a saucepan mix together the veggie stock, miso paste, soy sauce, tahini, dried shiitake mushrooms, garlic and ginger slices. Bring everything to simmer. Reduce the temperature to medium-low, cover with a lid and let it bubble for about 5 minutes.
Remove the saucepan from the stove. Pour everything through a strainer and only keep the liquid. Put it in a pot or a pan. Set it aside.
Then prepare the tofu. Cut it into several smaller square pieces. Pour some corn flour on a plate. Roll the tofu around until it is completely covered in corn flour. Heat some oil in a non-stick pan on medium heat. Fry the tofu from all sides until it becomes golden in color and only slightly crispy. This should take only a few minutes. Set the tofu aside.
Cook the ramen noodles for 1 minute less than instructed. Transfer them in the pan with a little bit of cooking water. Set aside.
Cut the bok choy and the green parts of spring onions into smaller pieces. Heat the ramen stock that you made before over medium heat. Add the bok choy and spring onions and cook only until they are wilted.
Divide everything between 2 small serving bowls (or one larger). Then add the noodles, and top everything off with some bean sprouts, tofu and a drizzle of sesame oil.
Serve the vegan ramen right away.
If you liked this recipe, make sure you check out my other recipes like:
Feel free to tell me what you think about this in the comments below, or send me the pictures of your own vegan ramen. If you did something differently, I would also like to hear that, I'd love to see the things you come up with.
P.S. for more recipes like this and a bunch of other stuff, follow me on instagram, @margo_drobi.
Also, I recently started a Patreon page, where you can subscribe and help me create more/better content. In return, you will get an exclusive piece of content (recipe) each month. My plan is to increase the amount of that content if I gain a few subscribers. If you are interested and you want to find out more, I will leave the link to my Patreon right – here