Vegan Cheung fun (rice noodles)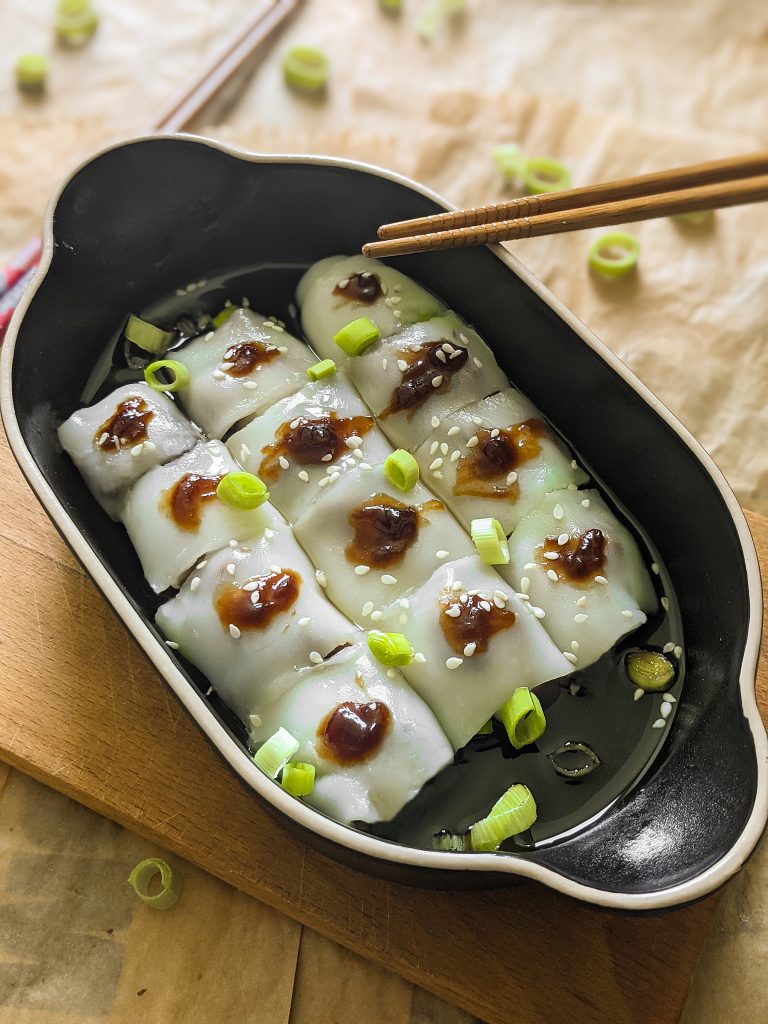 This dish is something that I was looking at for a while now. I really wanted to learn how to make it but I was just too lazy. Turns out, it is not that complicated and it is really worth your time. Vegan Cheung fun (rice noodles) is a dish that belongs to Cantonese cuisine (China). From what I gathered, it is mostly prepared with pork, but I am not going to do that.
I made Cheung fun with some veggies, and it was super delicious. This is also the first time I used hoisin sauce, and I really liked it. If you are a fan of Asian food in general, I highly recommend this recipe.
A piece of advice
As I already mentioned, this process is not very difficult, but it is a bit time consuming. Especially if you have relatively small pots and pans at home like me.
So this time, after I made 3 noodle rolls, I gave up, because I really wanted to eat them right away. I ended up with a small portion like you see in the picture. If you are curious about how many you can get from this batch, my best guess is – quite a few. But again, that depends on the size of the dishes you are cooking them in.
IMPORTANT: do not forget to stir the rice noodle batter every time before pouring it into the square dish. The starch travels to the bottom really fast.
As always, I improvised a steamer, only this time I bought a grid and placed it at the bottom (the round grid that people usually use for hot pots and pans). Another thing that you can use instead of a big pot, is a large wok pan. The principle is the same.
If you are interested in how this looks like, I am posting a reel on instagram one of these days, so you can check it out.
When you rolled all of the vegan Cheung fun, you don't have to cut them into small squares. I just did it because it looks pretty. But if you decide to do so, I advise you to do it with a large sharp spatula, and not a knife. You can get a cleaner cut that way and also cover more space.
You can also improvise with the sauce, there are several version of it on the internet that you might like. I just used one that does not require a lot of ingredients or time. But I am willing to try other recipes as well.
If my Bosnian/Serbian friends are wondering about the ingredients – I got them all in local suprmarkets.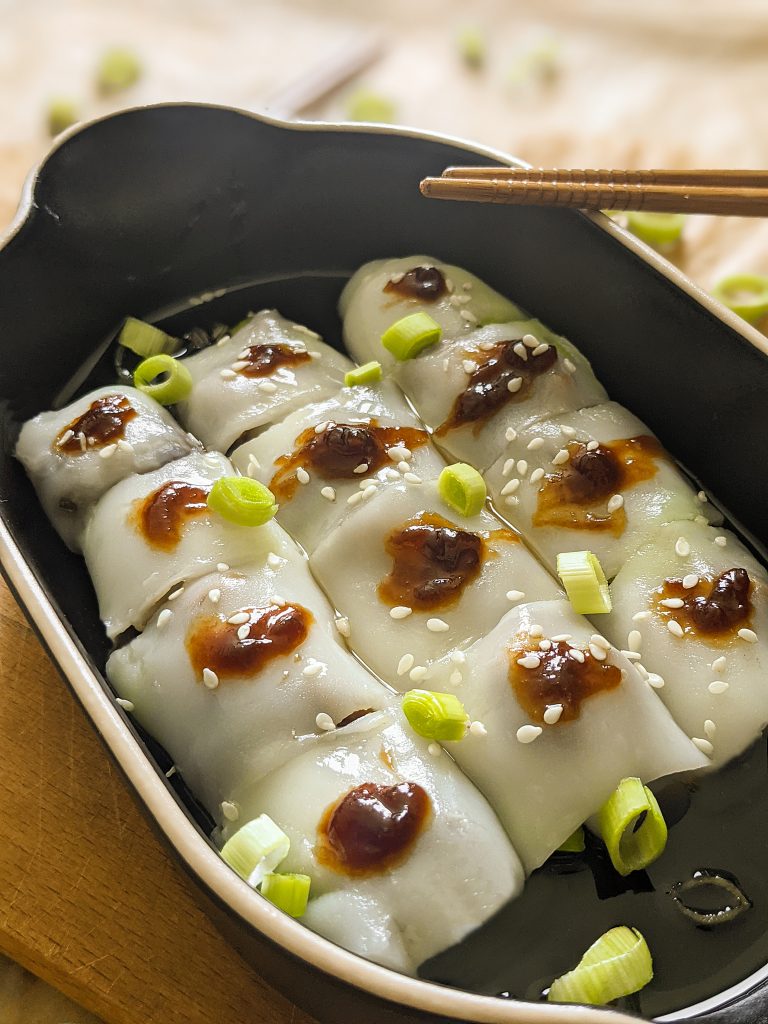 Vegan Cheung fun (rice noodles)
Ingredients
For the rice noodles:

55 g of rice flour

20 g of corn starch

25 g of tapioca starch

a pinch of salt

1/2 tbsp of oil

250 ml of water

Mushrooms

Scallions

For the sauce:

2 tbsp of light soy sauce

2 tbsp of dark soy sauce

2 tbsp of water

1 tsp of sugar

1/2 tbsp of sesame oil

Hoisin sauce

Sesame seeds
Directions
Chop the mushrooms and scallions into small pieces. Cook the mushrooms in a pan on a little bit of oil and soy sauce. Set them aside.
In a large bowl mix together the rice flour, corn starch, tapioca starch, salt, water and oil. Stir with a spoon or a wire whisk  until everything is well combined. Set it aside for about 10 minutes.
Meanwhile, prepare everything you need for steaming. Find a large pot and a square bowl that can fit into thas pot, and also a small grid for it to stand on. Fill the pot with a little bit of water and place the grid in the middle of it. Bring the water to boil.
Grease the square bowl with some oil. Mix the rice noodle batter again until the ingredients are well combined. Pour a thin layer of it into the square bowl (just enough to cover the bottom). Gently place the square bowl into the large pot, on top of the grid.
Put a lid on the pot and let the noodle steam for about 1 minute. Remove the lid, sprinkle some mushrooms and scallions on top of the rice flour sheet and close it again with the lid. Let it steam for another 3 to 5 minutes.
Remove the square dish from the large pot. Gently roll the rice noodle from one side to the other into a flat tube shape and put it in a serving dish. Repeat this process until you run out of the batter or the filling (or patience). Use a very large and sharp knife or a sharp spatula to cut the noodles into small squares, like in the picture.
Prepare the sauce. Put both soy sauces, 2 tbsp of water ands sugar in a saucepan and bring them to boil. Reduce the temperature to medium and let it simmer for about 3 minutes. Remove it from the stove, add the sesame oil and allow it to cool down.
Pour the sauce over the noodles or place the noodles on a plate over the sauce. Top them off with a little bit of hoisin sauce and sprinkle with some sesame seeds and chopped scallions.
Serve the vegan Cheung fun while they are still warm.
If you liked this recipe, make sure you check out my other recipes like:
Feel free to tell me what you think about this in the comments below, or send me the pictures of your own vegan Cheung fun. If you did something differently, I would also like to hear that, I'd love to see the things you come up with.
P.S. for more recipes like this and a bunch of other stuff, follow me on Instagram, @margo_drobi.
Also, I recently started a Patreon page, where you can subscribe and help me create more/better content. In return, you will get an exclusive piece of content (recipe) each month. My plan is to increase the amount of that content if I gain a few subscribers. If you are interested and you want to find out more, I will leave the link to my Patreon right – here.