Vegan ginger noodles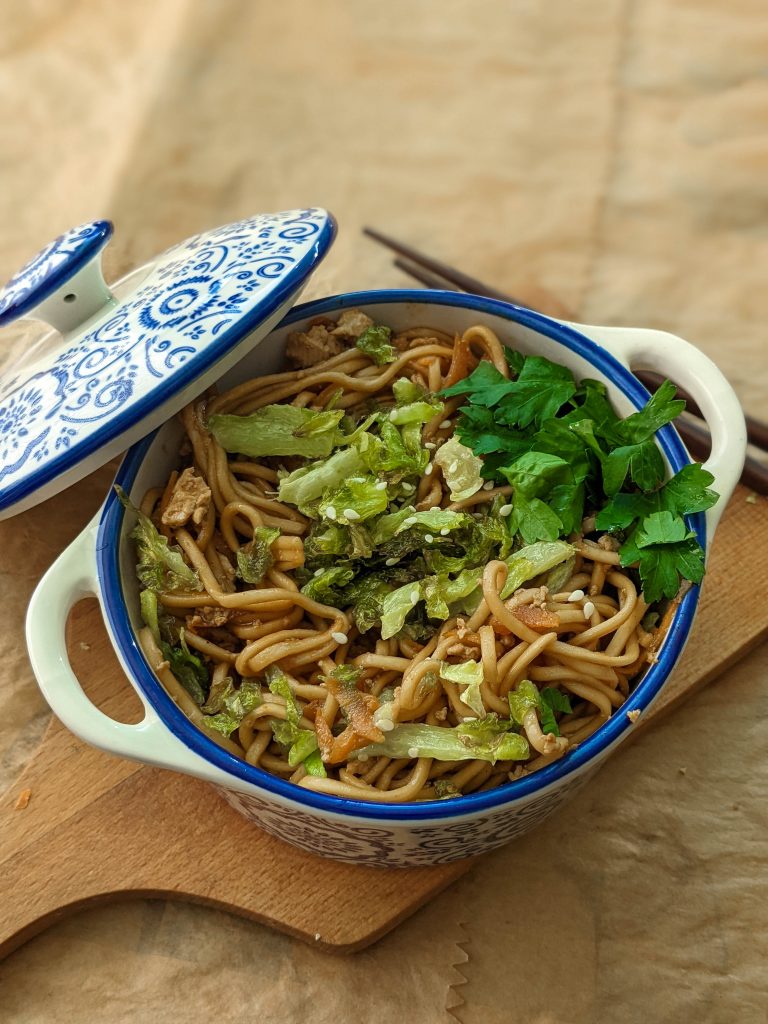 Once again I am posting something very quick and simple. Noodles are one of the few unhealthy foods that I can't stay away from. So why not make them a bit more interesting. Vegan ginger noodles are one of my favorite noodle dishes. Which is why I'm sharing this recipe with you today.
Vegan ginger noodles are definitely something to try if you enjoy a bit of ginger in your meals. It is a recipe that you can throw together rather quickly. And my favorite thing about them is that they do not require any crazy ingredients that are hard to find. Most of them I had in my kitchen already.
So if you want to up your noodle game, or just try to make something new, I highly recommend these vegan ginger noodles.
Some health benefits
Normally you wouldn't expect a bowl of noodles to be very healthy. However, there are a few ingredients in this dish that are kind of healthy. I just thought that this is worth mentioning, so I picked out some of them and wrote down a few fun facts.
Tofu is one of the main ingredients of this dish. It is low in calories but high in protein and fat. It also contains many important vitamins and minerals.
It contains antinutrients like trypsin inhibitors and phytates. Soaking or fermenting soybeans before making tofu reduces these antinutrients, increasing its nutritional value. All soy-based products contain isoflavones, which are believed to have various health benefits.
Whole soy foods like tofu can improve several markers of heart health. This may lead to a reduced risk of heart disease. Research indicates that soy has a protective effect against breast, digestive, and prostate cancers. Tofu may have positive effects on blood sugar control, but more studies are needed to confirm this.
Carrots are a particularly good source of beta carotene, fiber, vitamin K1, potassium, and antioxidants. They have some great health benefits. For example, they can help your blood pressure and cardiovascular health, your digestive health, improve bone health, and play a role in immune function and healing.
And as most of you probably know, ginger is one of the very few superfoods actually worthy of that term.
A piece of advice
As you might expect from a noodle recipe, this is as simple as it gets. I will only take a few minutes to write down a few tips that may make the process easier for you.
For this recipe I used enough noodles to fill a plate, it was like one large portion. I mashed the tofu with my hands, since I found that to be a much quicker method than anything else. I just pulled it appart.
Be careful when you cook the cabbage in the oil. When it starts to get a bit brown, remove it from the stove and from the oil right away. Do not burn it. The same goes for the ginger when you first sautee it in a pan.
You can use any type of noodles that you like. That being said, you must follow the instructions from the packaging when you cook them. This time I chose simple Mie noodles. In the end I topped everything off with some sesame seeds. If you don't like parsley in your noodle dishes you can leave it out.
These measurements were enough for me to enjoy one large portion of vegan ginger noodles. If you need more than that (or less), make sure to adjust the measurements.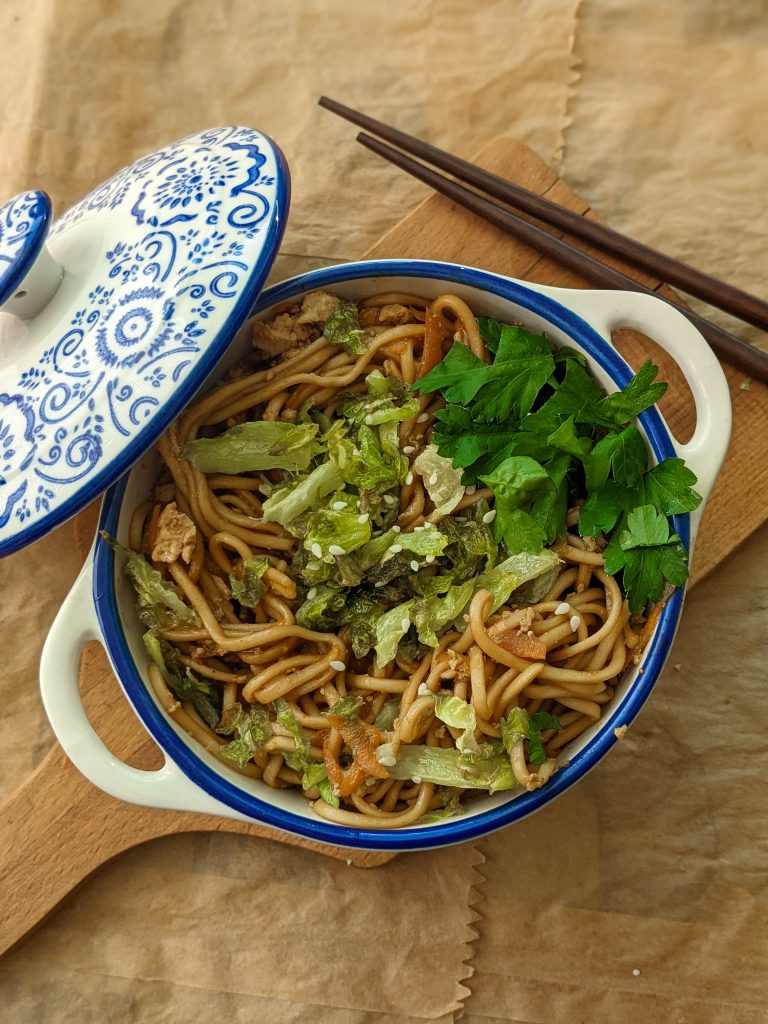 Vegan ginger noodles
Course: Salty, Salty
Ingredients
Noodles of your choice

Cabbage (as desired)

65 ml + 1 tbsp of oil

1 tsp of grated ginger

½ of a large carrot

90 g of tofu

65 ml of veggie stock

2 tbsp of soy sauce

1 tsp of dark soy sauce

A drizzle of sesame oil

Parsley
Directions
Chop the cabbage into small pieces. Grate the ginger and the carrot and mash the tofu. In a small bowl mix together the soy sauces and the sesame oil. Set aside.
Fill a small pot with 65 ml of oil and heat it on medium heat. Put the cabbage pieces in the pot and cook them until they become slightly brown. Remove from the stove and take the pieces out of the oil. Set them aside.
Bring a pot of water to boil and cook your noodles. Drain the water and rinse them out with some cold water. Set them aside.
Heat 1 tbsp of oil in a non-stick pan on medium heat. Put the ginger in the pan and cook for about a minute or two. Add the grated carrot to the pan and cook for another minute or two. Then add the mashed tofu. Cook everything for about 7 to 8 minutes (stop when the tofu becomes golden).
Pour the veggie stock in the pan and then add the cooked noodles.  Pour the soy sauce/sesame oil mix over them. Toss the noodles in the pan until they are completely covered with sauce and other ingredients.
Transfer everything in a serving plate and garnish with the cooked cabbage bits and some chopped parsley. Serve the vegan ginger noodles while they are still warm.
If you liked this recipe, make sure you check out my other recipes like:
Feel free to tell me what you think about this in the comments below, or send me the pictures of your own vegan ginger noodles. If you did something differently, I would also like to hear that, I'd love to see the things you come up with.
P.S. for more recipes like this and a bunch of other stuff, follow me on instagram, @margo_drobi.
Also, I recently started a Patreon page, where you can subscribe and help me create more/better content. In return, you will get an exclusive piece of content (recipe) each month. My plan is to increase the amount of that content if I gain a few subscribers. If you are interested and you want to find out more, I will leave the link to my Patreon right – here