Vegan pea soup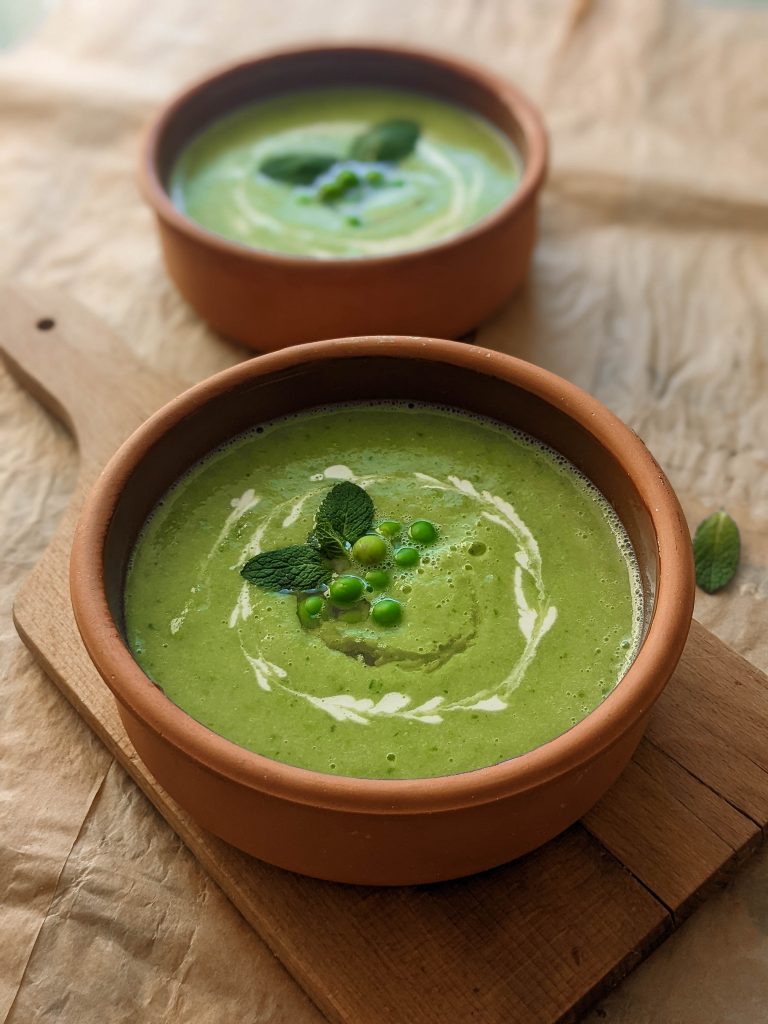 Every time I post a soup recipe, you can probably tell that I was sick recently. I stopped paying attention to what I eat (and drink) around Christmas. I had a lot of friends come by and bring me a lot of candy and alcohol, all of which I ate/drank for breakfast, lunch and dinner. And so, my immune system crashed a bit because of that. This vegan pea soup pulled me by my hair back from the dead.
And it was such a great feeling. I don't know if it really had something to do with me getting better, but I felt that way for sure. However, you don't have to be sick to make this soup. It is so delicious and filling that I could eat it every day. I am normally not a big fan of soups, so you can trust me on this one. I would not post it if it wasn't absolutely delicious.
I really do recommend this recipe to everyone, I made it two days in a row since I had leftover ingredients.
Some health benefits
While writing this recipe I realized that I wrote over 100 posts for this blog, and I never included peas in any of my recipes. That obviously has to change. For now, I chose the write a few fun facts about green peas here.
Green peas are fairly low in calories and contain several vitamins, minerals and antioxidants. They're also high in fiber and protein, which are important factors in blood sugar control. Fiber benefits digestion by maintaining the flow of waste through your digestive tract and keeping gut bacteria healthy.
Green peas have several properties that may help prevent and treat some chronic diseases, such as heart disease, cancer and diabetes. They contain antinutrients that may interfere with the absorption of some nutrients and cause digestive distress. However, this is not a problem for most people. Green peas contain FODMAPs and lectins, which may cause bloating, especially when they are consumed in large amounts.
A piece of advice
Making a soup is super easy, which is also true for this vegan pea soup. However, there are a few things that I want to mention here, that I might not had the chance to write down in the recipe. So here we go.
There are a few optional ingredients here, but they do really enhance this recipe in my opinion. One of them is vegan cooking cream. I always get asked what that is when I include it in the recipe. So let me try to explain. It is not whipping cream. It is just a thick, but still liquid white cream, made from soy, coconut or other ingredients. It is mainly used to make creamy soups or sauces. At least that's what I use it for.
The cooking cream and avocado oil make this vegan pea soup creamier and thicker in my opinion.
When you begin to make this, be careful not to burn the onion. Mix it from time to time while it is cooking. Taste the soup before you transfer it to the blender. Add some more salt and pepper if you want.
Not all blenders can hold hot liquid. Which is why this was a bit challenging for me. If you own a Nutri bullet like me, please be careful. Either let everything cool down before you blend it, or blend for a second or two and then remove and open the blender cup for a bit. Repeat a few times until you get a good result.
You can also top this soup off with some blanched peas. And here is how to do that. Pour three cups of water in a small pot, bring them to boil. Put some frozen (or fresh) peas in the water and let them cook for about 3 minutes. Take the peas out and transfer them to a bowl of iced water. Leave them there for about 5 minutes. After that you can remove the water and serve them on top of your soup.
These measurements are enough for 2 bowls or plated of vegan pea soup. That was enough to bring me back to life, but if you need more, feel free to adjust the measurements.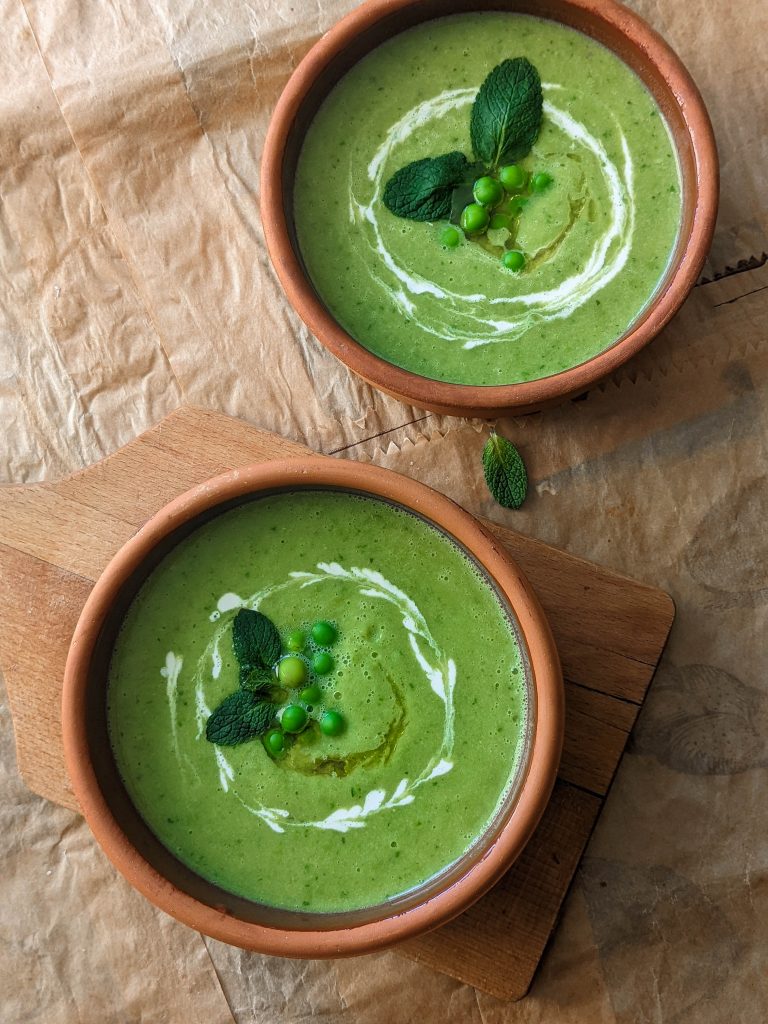 Vegan pea soup
Ingredients
½ of an onion

1 small potato (peeled)

300 g of frozen peas

390 ml of vegetable broth

1 small piece of fresh ginger

3-4 leaves of mint

a couple of leaves of baby spinach

oil

salt and pepper

½ tbsp of lemon juice

a few drops of avocado oil (optional)

vegan cooking cream (optional)
Directions
Dice the onion and the potato. Peel the ginger piece. Pour 1 tablespoon of oil in a small pot. Heat the oil on medium heat and put the diced onion in the pot. Cook until it becomes translucent. Then add the potato, the peas and vegetable broth.
Next, add the ginger, mint leaves and a few shakes of salt and pepper. Bring everything to simmer and lower the heat to medium.
Let everything simmer for about 15 minutes, or until the potato and the peas are fork-tender.
Transfer the soup to a blender, add a few raw leaves of baby spinach, and blend everything until you get a smooth, creamy soup.
Pour the vegan pea soup in 2 serving bowls or plates. If you want, you can add a few drops of vegan cooking cream and avocado oil. Take a toothpick and swirl them around. You can top everything off with a few leaves of mint and some blanched peas.
Serve the vegan pea soup while it is warm/hot.
If you liked this recipe, make sure you check out my other recipes like:
Feel free to tell me what you think about this in the comments below, or send me the pictures of your own vegan pea soup. If you did something differently, I would also like to hear that, I'd love to see the things you come up with.
P.S. for more recipes like this and a bunch of other stuff, follow me on instagram, @margo_drobi.
Also, I recently started a Patreon page, where you can subscribe and help me create more/better content. In return, you will get an exclusive piece of content (recipe) each month. My plan is to increase the amount of that content if I gain a few subscribers. If you are interested and you want to find out more, I will leave the link to my Patreon right – here