Pink potstickers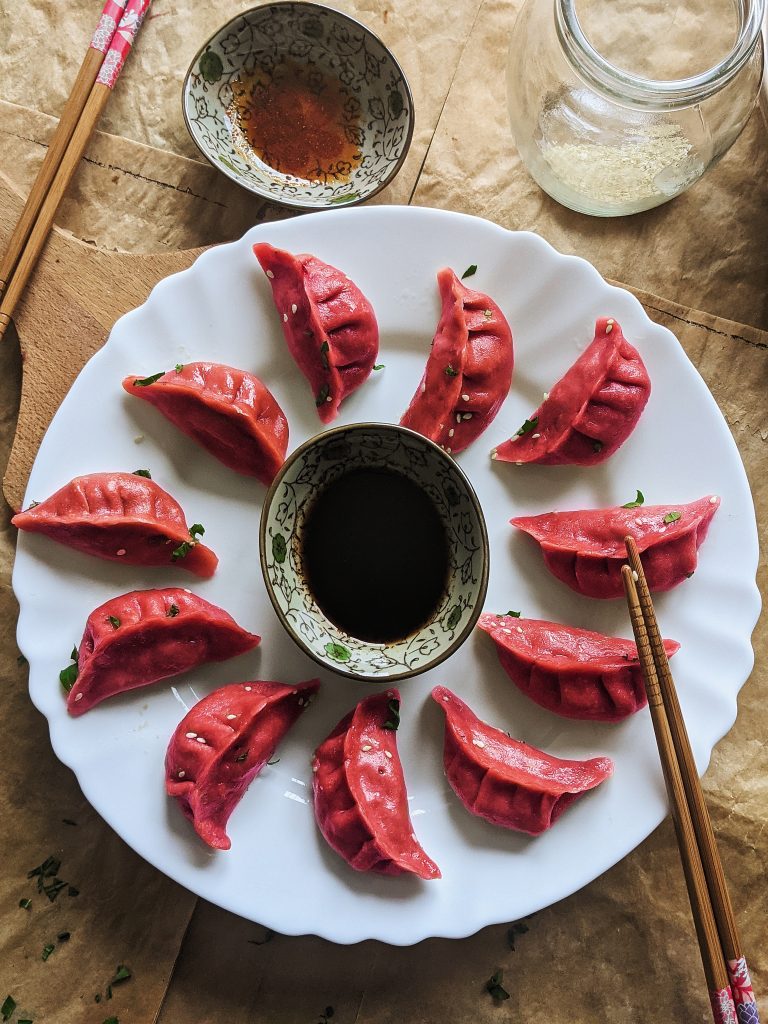 Today I am going to revisit my favorite dumpling recipe once again. I posted something similar some time ago, and I wanted to make that recipe in a different way. And these vegan pink potstickers are even better and cuter than the last version.
It is really super easy, and while many people might not want to bother with making these from scratch, I assure you – they are way better than the frozen ones or the ones you can get in many restaurants. You only need three ingredients for the wrappers and a few veggies for the filling.
These potstickers are soft and juicy on the inside with a beautiful pink color on the outside. I chose to steam these in a steamer and not in a pan like in my other recipe, mainly because I thought that the process might ruin the color.
And even if you are not into Asian cuisine, I have still to meet someone who doesn't like these.
Some health benefits
This is obviously not the healthiest meal out there, but there are some healthy ingredients in these potstickers that you don't want to miss out on.
The fiber, potassium, and vitamin C in mushrooms may contribute to cardiovascular health. They also contain a good portion of vitamin D, which is a bit hard to come by if you don't eat animal products.
And as most of you probably know, ginger is one of the very few superfoods actually worthy of that term. If not for nothing, these are some pretty good reasons to start incorporating these veggies into your diet. Especially if you are vegan.
The red beet powder is probably the best and healthiest alternative to regular food coloring that can be found in stores.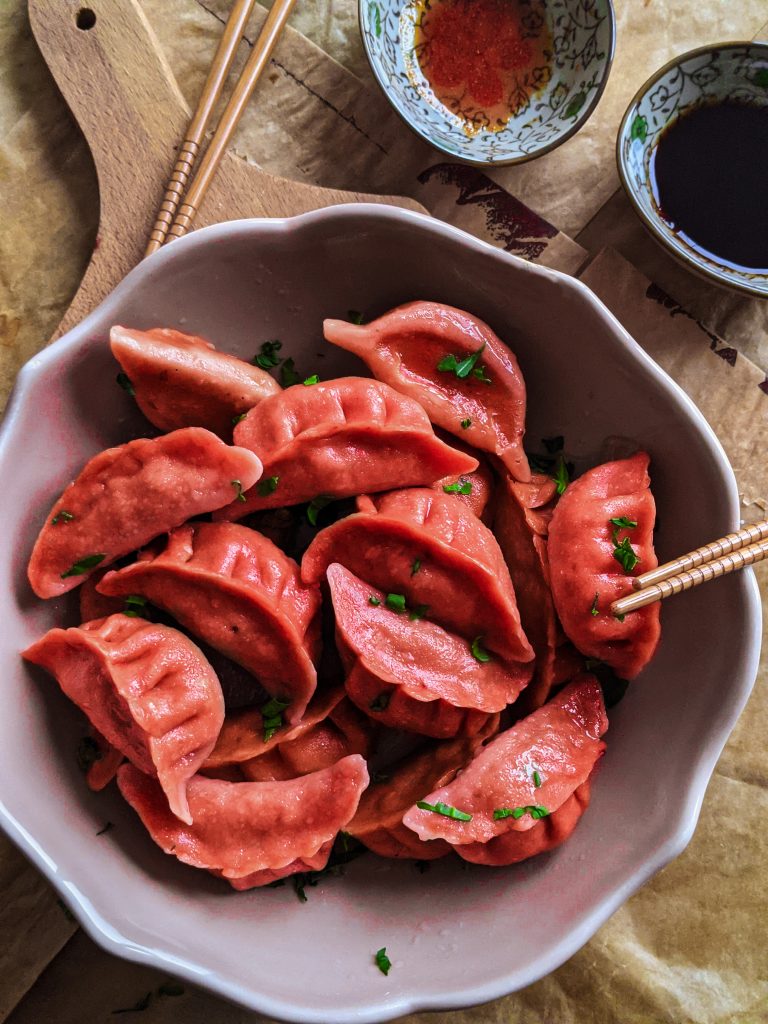 A piece of advice
As I already mentioned, these wrappers do not require a lot of ingredients. You only need all purpose flour, beet powder for coloring and hot water, that's it.
You do not have to use red beet powder, there are a lot of different vegan coloring or superfood powders that will do the trick.
The important thing here is to gradually pour the hot (not boiling) water into the flour/powder mixture and gently combine them. Also, keep the dough covered with a kitchen towel so it does not dry out. Roll the dough pieces out very thinly with a rolling pin, otherwise it may turn out to be a bit tough.
There are always tutorials that are really helpful for pleating. I will leave the link to one of them right – here.
Also, if you (like myself) don't have an actual steamer, you can improvise. I took a sieve with larger holes, lined it with parchment paper and put it in a large pot of water. Make sure the water is not touching the bottom of the sieve. Take the lid and wrap it in a kitchen towel. When the water starts to boil, put the pink potstickers in it and cover the pot with a lid.
Pink potstickers
Ingredients
For the wrappers:

238 g of all purpose flour

125 ml of hot water

2-3 tsp of red beet powder

For the filling:

some cabbage

chopped scallions

8 – 9 mushrooms

2 tsp of thinly sliced ​​ginger

3 cloves of finely chopped garlic

For the sauce:

2 tbsp of soy sauce

2 tbsp of wok sauce

1 tsp of sugar

1 tsp of grated ginger

a splash of sesame oil  
Directions
Mix all the sauce ingredients together. Grate the mushrooms and cabbage.
Sautee sliced ginger, garlic and mushrooms over medium heat. Add cabbage and sauce and cook for a few minutes. Add the scallions and cook for 1 minute, put everything in a larger bowl and mix well.Set aside.
Put the flour and the red beet powder in a large bowl. Mix them together well. Make a well in the middle of the flour and slowly pour the hot water inside. Take a spoon and slowly combine flour and water. Mix everything together and knead into a dough with your hands. Cover the rough dough with a towel and let it sit for 5 minutes. Knead the dough again on a floured surface for about 10 minutes (until it becomes smooth). Cover it again and let it sit for 20 minutes.
Take the dough and roll it into 2 logs. Chop it into smaller pieces and cover again with a towel. Take a piece and roll it very thinly on a floured surface with a rolling pin. It is supposed to be rolled in a circle shape, so you can also use a glass to shape it.
Fold the dough piece in half, pinch it on the edges and put some filling in. Then continue to pleat the potsticker. I will leave a useful pleating tutorial link right – here.
Prepare a steamer. Line the steamer basket with some parchment paper. Put the vegan pink potstickers in (place them a little bit appart) and steam them on medium heat for 8 to 10 minutes, or until the wrappers become shiny, soft and chewy.
Serve them with some chili oil, chopped scallions and/or wok sauce.
If you liked this recipe, make sure you check out my other recipes like:
– vegan potstickers with spinach
Feel free to tell me what you think about this in the comments below, or send me the pictures of your own vegan pink potstickers. If you did something differently, I would also like to hear that, I'd love to see the things you come up with.
P.S. for more recipes like this and a bunch of other stuff, follow me on instagram, @margo_drobi.
Also, I recently started a Patreon page, where you can subscribe and help me create more/better content. In return, you will get an exclusive piece of content (recipe) each month. My plan is to increase the amount of that content if I gain a few subscribers. If you are interested and you want to find out more, I will leave the link to my Patreon right – here.
And that would be all for today. If you are using Pinterest make sure to follow me on there, and feel free to pin this image: