Vegan potstickers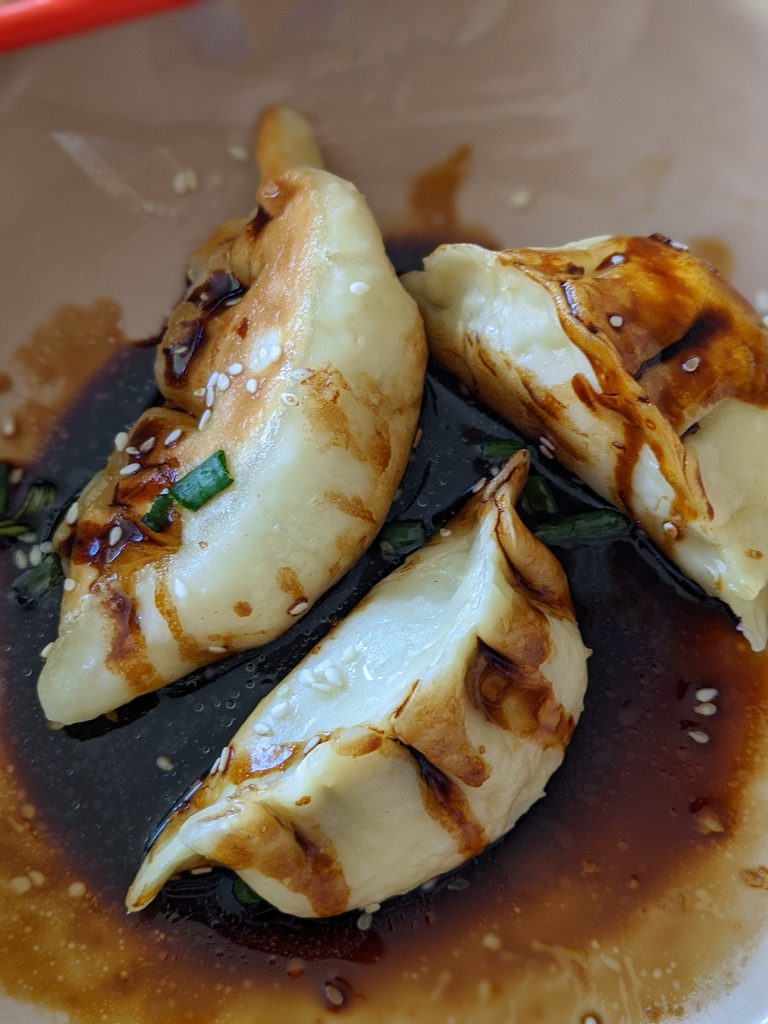 In one of my previous posts I have already mentioned that I am a huge fan of Asian cuisine. And today I continue the trend of veganizing these dishes that I like so much on this website. But regardless if you enjoy this type of food or not, these vegan potstickers are bound to win you over.
Every time I would read a similar recipe, I found myself quiting, since these wrappers (and all kinds of dumpling wrappers) seemed to require a lot of effort or ingredients that I did not have. This luckily is not the case with these potstickers. All of the ingredients are very simple and cheap, and they are also quite easy to make.
These potstickers are vegan, crispy, juicy, and very delicious. And I can't wait to make them again.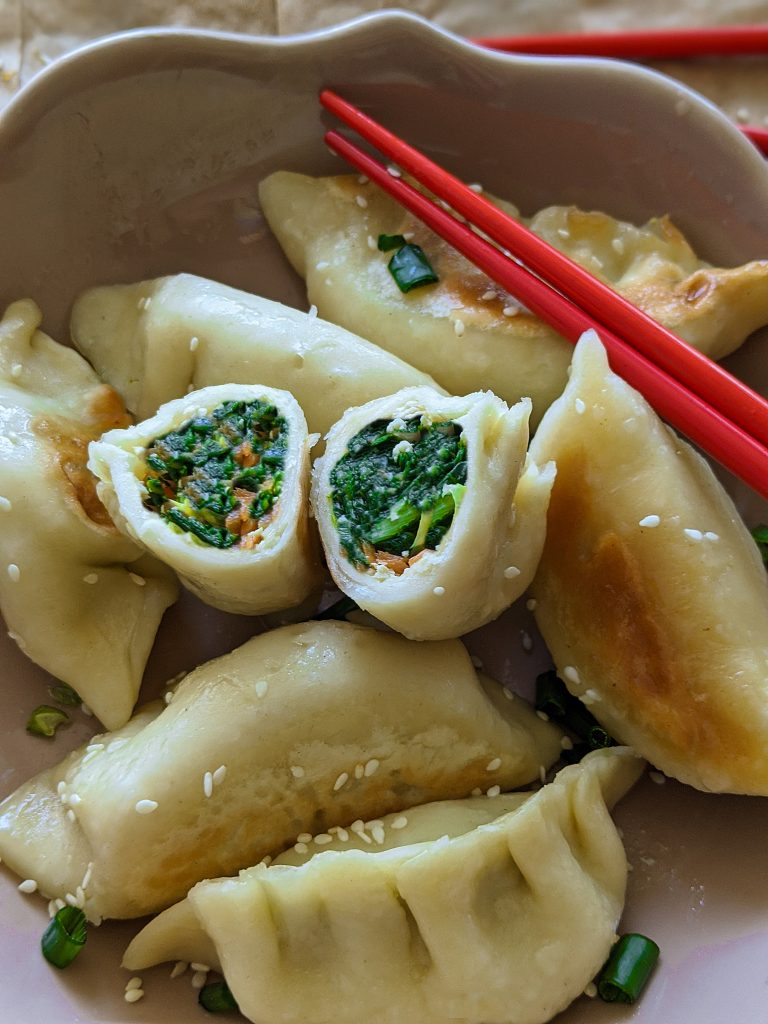 Some health benefits
As you can read in the list of ingredients, there are some very healthy veggies in the filling. Spinach for example, is extremely healthy and linked to numerous health benefits. It has been shown to improve oxidative stress, eye health, and blood pressure. Spinach contains antioxidants, which fight oxidative stress and help reduce the damage it causes.
It is rich in zeaxanthin and lutein. Human eyes also contain high quantities of these pigments, which protect your eyes from the damage caused by sunlight. Additionally, several studies indicate that zeaxanthin and lutein work to prevent macular degeneration and cataracts, which are major causes of blindness. These compounds may even be able to reverse existing damage.
Spinach contains two components, MGDG and SQDG, which may slow down cancer growth. It also contains high amounts of nitrates, which have been shown to help moderate blood pressure levels and decrease the risk of heart disease.
Tofu is also a good source of protein and iron, and a good thing to include in your diet, esspecially if you are vegan. But we will talk about this in a different article.
These are only a few reasons you should include a little bit of spinach and tofu in your meals. It is easy to combine them and there is a ton of great recipes out there that include these ingredients.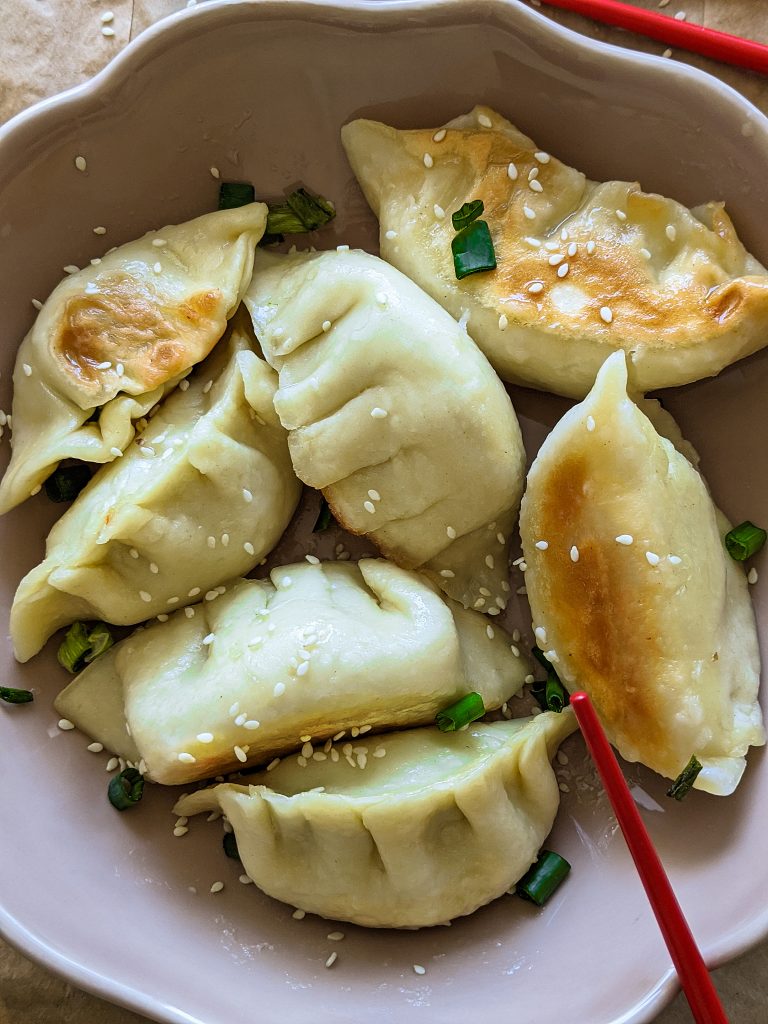 A piece of advice
As I already mentioned, these wrappers do not require a lot of ingredients. You only need all purpose flour and hot water, that's it.
The important thing here is to gradually pour the water into the flour and gently combine them. Also, keep the dough covered with a towel so it does not dry out. Roll the dough pieces out very thinly with a rolling pin, otherwise it may turn out to be a bit tough.
I suck at pleating (or shaping any type of dough), but there are always tutorials that are really helpful. I will leave the link to one of them right – here.
But it is really easy and you won't have any problems with it.
When I try to remove the liquid from a block of tofu, I usually cut it into pieces and put them on paper towels. So that's another thing you can try.
I served vegan potstickers with soy sauce, but you can also try chilli oil or wok sauce. You can also play around with the filling.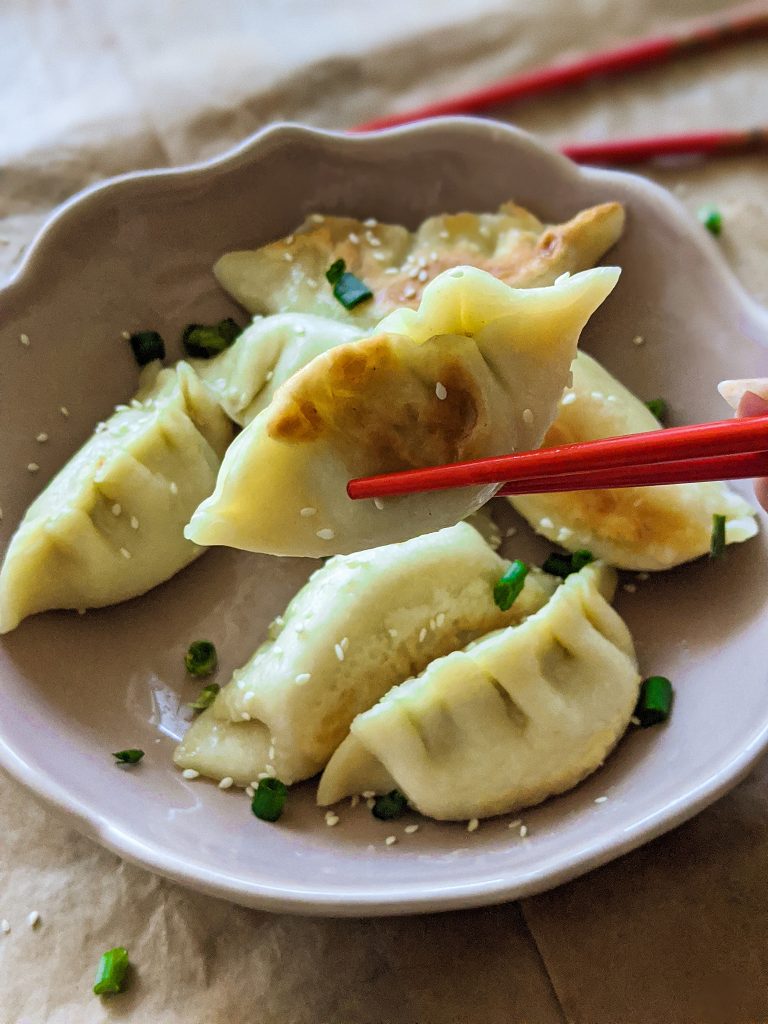 Ingredients
For the wrappers:
240 g of all purpose flour
125 ml of hot water
For the filling:
1 pack of tofu
125 g of spinach
75 g of cabbage
1 carrot
chopped scallions
1 tsp of salt
Some pepper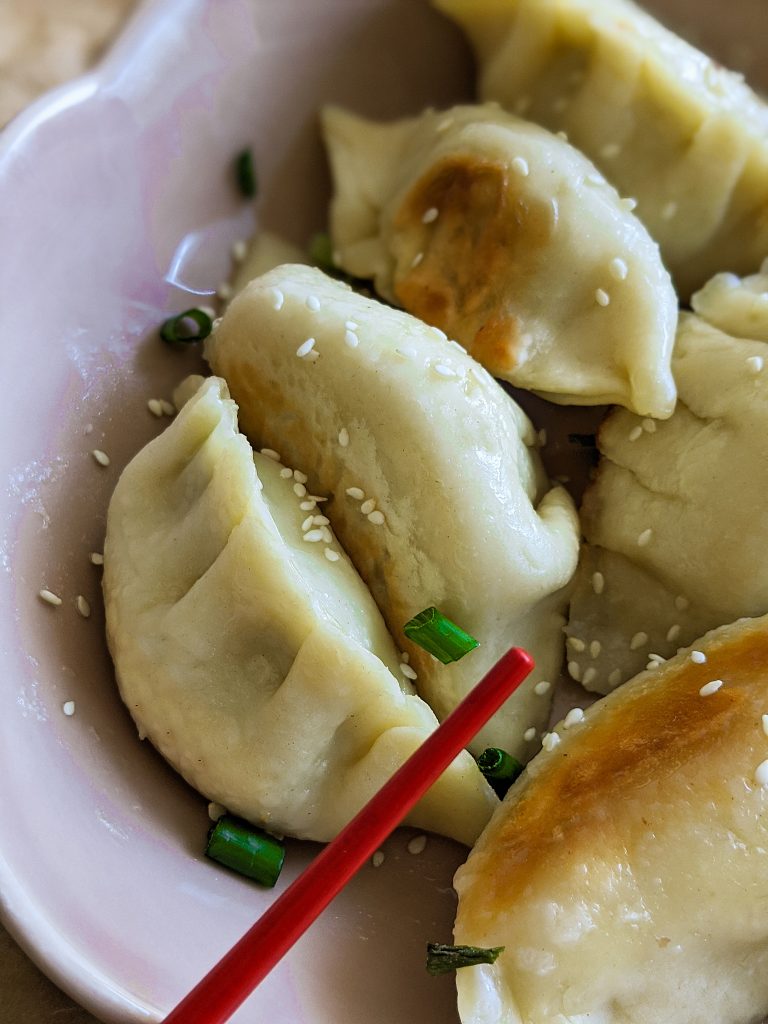 Instructions
Put the flour in a large bowl. Make a well in the middle of the flour and slowly pour the hot water inside. Take a spoon and slowly combine flour and water. Mix everything together and knead into a dough with your hands. Cover the rough dough with a towel and let it sit for 5 minutes. Knead the dough again on a floured surface for about 10 minutes (until it's smooth). Cover it again and let it sit for 20 minutes.
Shred the cabage and the carrot. Mix all the vegetables together. Take the block of tofu, wrap it in a towel and let it sit for a while so you remove the excess liquid. After that chop the tofu into smaller pieces and mash it.
Bring a pot of water to boil. Put the vegetables in and cook them for for 45 seconds. Rinse them with cold water. Squeeze out the liquid from the veggies and chop them roughly. Mix them with the mashed tofu and add salt and pepper.
Take the dough and roll it into 2 logs. Chop it into smaller pieces and cover again with a towel. Take a piece and roll it very thinly on a floured surface with a rolling pin. It is supposed to be rolled in a circle shape, so you can also use a glass to shape it.
Fold the dough piece in half, pinch it on the edges and put some filling in. Then continue to pleat the potsticker. I will leave a useful pleating tutorial link right here.
Heat  3 teaspoons of oil on a non-stick pan. Put the vegan potstickers in (place them a little bit appart) and  fry them on medium heat for a few minutes, only until they become golden-brown on the bottom. Then pour 120 ml of hot water in the pan,  and cover it with a lid. Reduce the heat to low and cook them until all the water has evaporated from the pan.
Serve them with some sesame seeds, chopped scallions and soy sauce.
If you liked this recipe, make sure you check out my other recipes like:
Feel free to tell me what you think about this in the comments below, or send me the pictures of your own vegan potstickers. If you did something differently, I would also like to hear that, I'd love to see the things you come up with.
P.S. for more recipes like this and bunch of other stuff, follow me on instagram, @margo_drobi.