Crispy tofu with ginger and scallions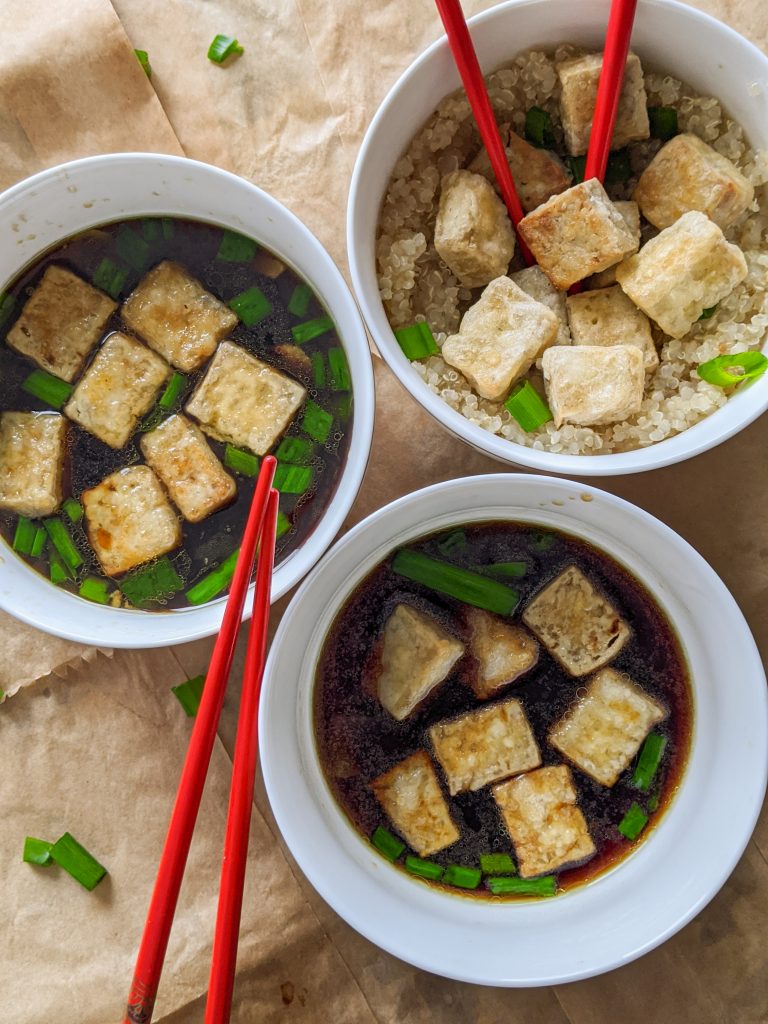 Most people I know are not huge fans of tofu. I didn't like it either in the beginning, but as time went on I learned that it can be very delicious if you prepare it right. On its own it is pretty tasteless (unless it's smoked), but today I am bringing you a recipe for crispy tofu with ginger and scallions, and it will make you fall in love with it.
I have prepared tofu in multiple different ways, sometimes when I'm too busy I just braise it in a small amount of soy sauce. But this is by far my favorite tofu recipe, and I believe that you will love it as much as I do. I also think it's fitting to post something that I absolutely love after the small hiatus I made.
This tofu with ginger and scallions is crispy, super delicious, and (as you can se from the ingredient list) very good for you. As always, I decided to write down the health benefits of the ingredients that this recipe includes. When I make crispy tofu with ginger and scallions I prefer to serve it with quinoa. Which is why I described it in the next section of this post.
Some health benefits
Tofu is of course the main ingredient of this dish. It is low in calories but high in protein and fat. It also contains many important vitamins and minerals.
It contains antinutrients like trypsin inhibitors and phytates. Soaking or fermenting soybeans before making tofu reduces these antinutrients, increasing its nutritional value. All soy-based products contain isoflavones, which are believed to have various health benefits.
Whole soy foods like tofu can improve several markers of heart health. This may lead to a reduced risk of heart disease. Research indicates that soy has a protective effect against breast, digestive, and prostate cancers. Tofu may have positive effects on blood sugar control, but more studies are needed to confirm this.
Quinoa is also pretty amazing in its own right. Quinoa contains large amounts of flavonoids, including quercetin and kaempferol. These are potent plant antioxidants with numerous health benefits. It is much higher in fiber than most grains. There is about 17–27 grams of fiber per cup (185 grams).
It is also high in protein compared to most plants. It contains all the essential amino acids that you need, making it an excellent protein source for vegetarians and vegans.
Overall, quinoa can help control blood sugar levels, improve metabolic health and help you lose weight.
And as most of you probably know, ginger is one of the very few superfoods actually worthy of that term.
These are only a few reasons to incorporate these ingredients into your diet. If I were to write down everything in detail this post would be very long. And if you are still not sure on how to use them, you can start by making this crispy tofu with ginger and scallions.
A piece of advice
I would like to mention a few things about tofu preparation here. First of all, when you cut tofu into cubes, make sure that they are not too small. They should get crispy on the outside and stay soft on the inside.
Take a few paper towels and leave the cubes on them to drain the water. I usually flip them on each side (using different paper towels each time) to make sure that most of the excess water is gone. When you do this it will be easier to fry them.
When you fry the tofu cubes, make sure that you flip them when they get golden/yellow. Don't fry them too much, you don't want them to be as hard as a stone. So that is something you should pay attention to, you can also press them lightly with a fork to check if they are still soft on the inside.
You will have to cook the tofu cubes in the sauce for a few minutes, but don't overdo it. You don't want them to get all mushy.
If you need advice on how to cook quinoa, make sure you check out my spinach/ginger bites recipe. I cook rice the same way, so it can be helpful either way.
Ingredients
1 pack of tofu
scallions (as desired)
garlic (as desired)
10 thin slices of ginger
cornstarch
quinoa or rice
For the sauce:
1 tbsp of soy sauce
1 tbsp of wok sauce
1 1/2 tsp of sugar
1 tsp of sesame oil
230 ml of water or veggie stock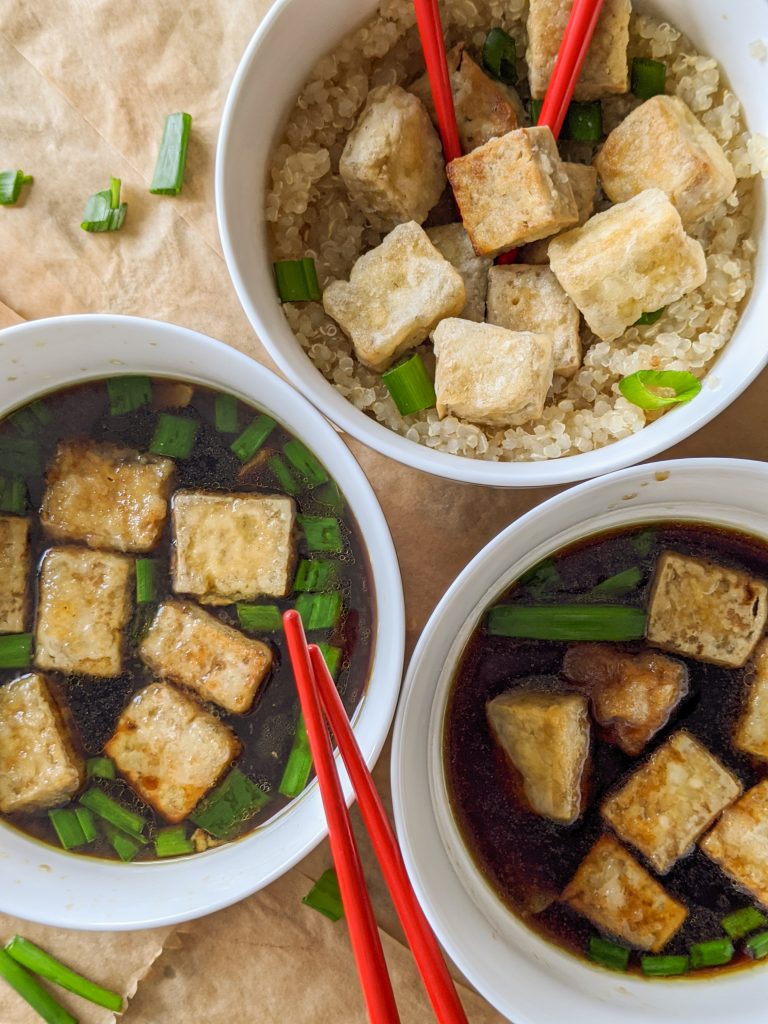 Instructions
Cut the tofu into cubes and let it dry on a paper towel. Cover the cubes in starch (on all sides) and fry until golden/yellow. Cut the scallions in small pieces and chop the garlic.
Put 2 teaspoons of oil in a non-stick pan and fry garlic and slices of ginger over medium heat for a few minutes.
Mix all the sauce ingredients in a small bowl. Pour the sauce into the pan and cook it for 1 minute on medium heat. Add the scallions and tofu to the pan and simmer for a few minutes.
Serve crispy tofu with ginger and scallions while warm with cooked quinoa or rice.
If you liked this recipe, make sure you check out my other recipes like:
– quinoa/spinach bites in ginger/orange sauce
Feel free to tell me what you think about this in the comments below, or send me the pictures of your own crispy tofu with ginger and scallions. If you did something differently, I would also like to hear that, I'd love to see the things you come up with.
P.S. for more recipes like this and a bunch of other stuff, follow me on instagram, @margo_drobi.
Also, I recently started a Patreon page, where you can subscribe and help me create more/better content. In return, you will get an exclusive piece of content (recipe) each month. My plan is to increase the amount of that content if I gain a few subscribers. If you are interested and you want to find out more, I will leave the link to my Patreon right – here.