Zucchini buns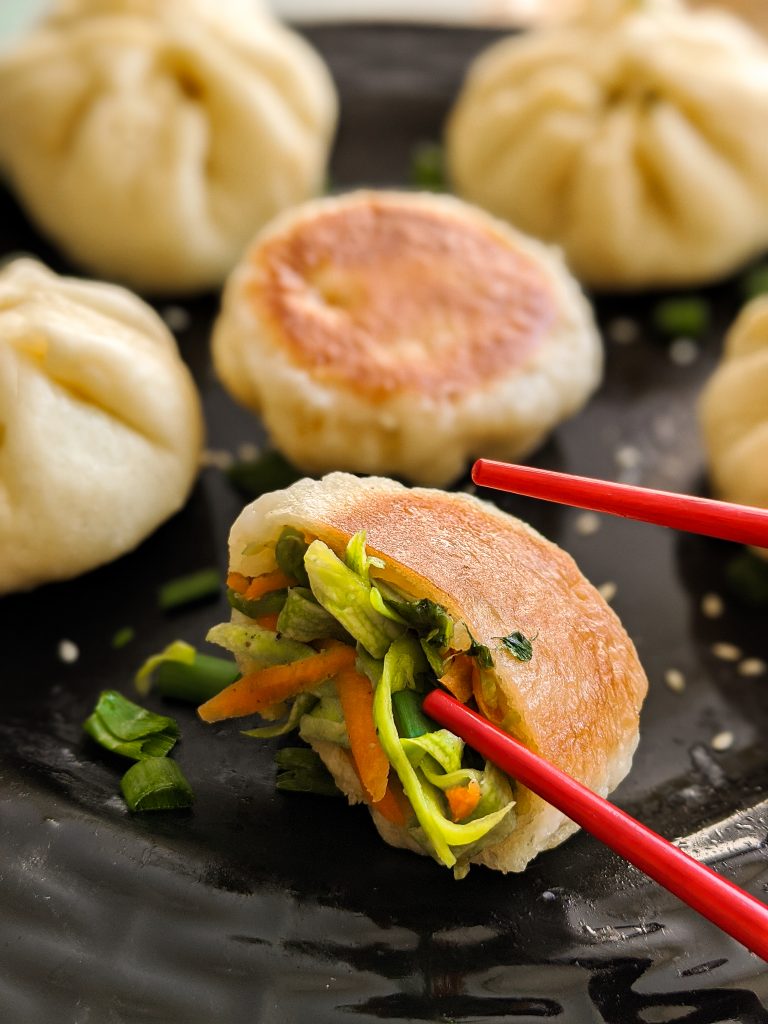 This is my all time favorite recipe. And it took me a while to get it right, but not because it is difficult to make, but because of the fact that I really suck at shaping dumplings (or any kind of dough). But it is really simple, and I believe you should not have any problems making these zucchini buns look like they should look.
The best thing about these buns (aside from the fact that they are super delicious) is that you don't need a steamer to make them. They are pan-fried and pan-steamed. You only need to fry them for about 30 seconds or 1 minute, until they get golden-brown and crispy on the bottom. Then you add some water, lower the heat and put the lid on a pan. This way they will be steamed and ready when all the water is gone from the pan.
Some health benefits
This is obviously not the healthiest meal out there, but there are some healthy ingredients in these buns (literally) that you don't want to miss out on. By now everyone probably knows that carrots are a particularly good source of beta carotene, fiber, vitamin K1, potassium, and antioxidants. They have some great health benefits. For example, they can help your blood pressure and cardiovascular health, your digestive health, improve bone health, and play a role in immune function and healing.
Zucchini is also pretty amazing in it's own right. It is high in the antioxidant vitamin C. Research indicates that the skin of the plant harbors the highest levels of antioxidants. Its ample vitamin A content may support your immune system. Carotenoids, such as lutein, zeaxanthin, and beta-carotene are particularly plentiful in zucchini. These may benefit your eyes, skin, and heart, as well as offer some protection against certain types of cancer, such as prostate cancer.
Overall, it contributes to healthy digestion, may reduce blood sugar levels, improve heart health, and aid weight loss. It also may have anticancer effects, improve thyroid function and research (on animal models) shows that seed extracts may help limit prostatic hyperplasia.
Some tips
To save your time and avoid the bun shaping mistakes that I made in the begining, I will leave the link to a very helpful pleating tutorial right – here.
As I mentioned earlier, a lot of zucchini nutrients are in the zucchini skin. The core has a lot of water in it, so if you use the core for this recipe, they might turn out a bit mushy. So, for this recipe you will have to grate the skin for the buns and save the core for a soup or some other dish.
These buns are vegan, crispy and delicious. Once I also made a version of zucchini buns where I added some thinly sliced and sauteed mushrooms. It worked out pretty well. I prefer to dip them in soy sauce, but you can use a sauce of your choosing, chilli oil and stir fry sauce should go nicely with this one.
In other news, I got a few great movie recommendations since the last post, so currently I am enjoying those. I also took a hike near the city and my legs are once again killing me. If you know a good remedy for that, I would love to hear it. This is making me feel really old.
Ingredients
For the dough:
230 g of all-purpose flour
3 tsp of sugar
1 tsp of active dry yeast
a pinch of salt
170 ml of soy milk (or any other plant-based milk)
3 tsp of oil
For the filling:
3 large zucchini
1 large carrot
1 tsp of salt
scallions
a pinch of pepper
Instructions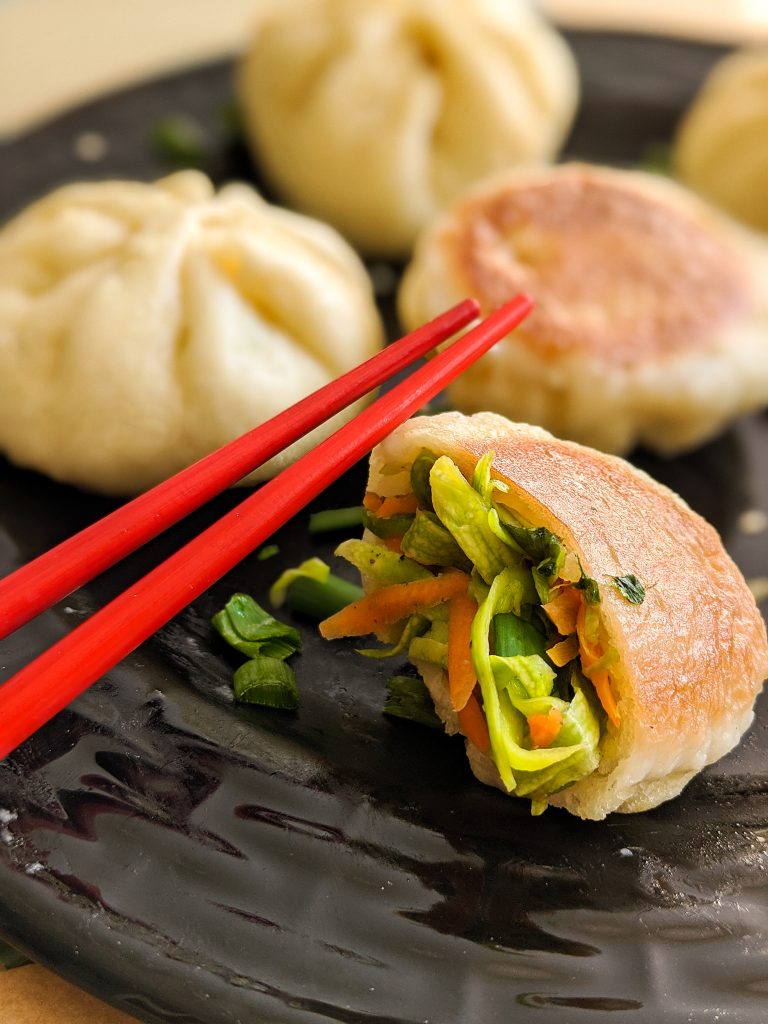 In a deep bowl place the flour, sugar, yeast and a pinch of sallt and mix. Heat the plant-based milk until it's just warm (not hot) and add the oil to the milk. Add the milk/oil mixture to the dry dough ingredients. Mix well and knead the dough with your hands. If the dough is too sticky, gradually add more flour while you knead it.
Form a ball, cover the bowl and leave in a warm place to rise, for about 30 minutes. Meanwhile, prepare the filling. Shred the skins from the zucchini while leaving the cores untouched, and place them in a smaller bowl. Add 1 teaspoon of salt to the grated zucchini skins and massage the salt in with your fingers. Remove the excess water from the grated zucchini.
Shred the carrot and chop the scallions (as many as you like). Add them to the bowl with the zucchini and mix everything together with a few shakes of pepper.
Divide the dough in smaller balls. Press each one down with the palm of your hand to a flat floured surface. Roll them with a rolling pin in the shape of a circle but leave the middle a bit thicker while the edge should be rolled thin. Each piece should be about the size of your palm.
Place the dough piece in your hand. Take a heaping tablespoon of the filling and place it in the middle of the dough piece. Then begin to pleat and pinch the bun shut, I will leave a helpful tutorial link here.
Keep the buns on a floured plate so they don't stick to the surface. Heat 1 teaspoon of oil on a non-stick pan. Place the buns in the pan (but make sure there is some space between them) and fry for 30 seconds or until the bottom becomes golden-brown.
Then add enough water to the pan to cover 1/3 of the buns. Switch the heat to low and place a lid over the pan. They are done when all the water has evaporated from the pan.
Top them off with some sesame seeds and chopped scallions and serve with chilli oil or soy sauce.
If you liked this recipe, make sure you check out my other recipes like:
– quinoa and chickpea dumplings in butternut tomato sauce
Feel free to tell me what you think about this in the comments below, or send me the pictures of your own zucchini buns. If you did something differently, I would also like to hear that, I'd love to see the things you come up with.
P.S. for more recipes like this and bunch of other stuff, follow me on instagram, @margo_drobi.