Quinoa balls in orange sauce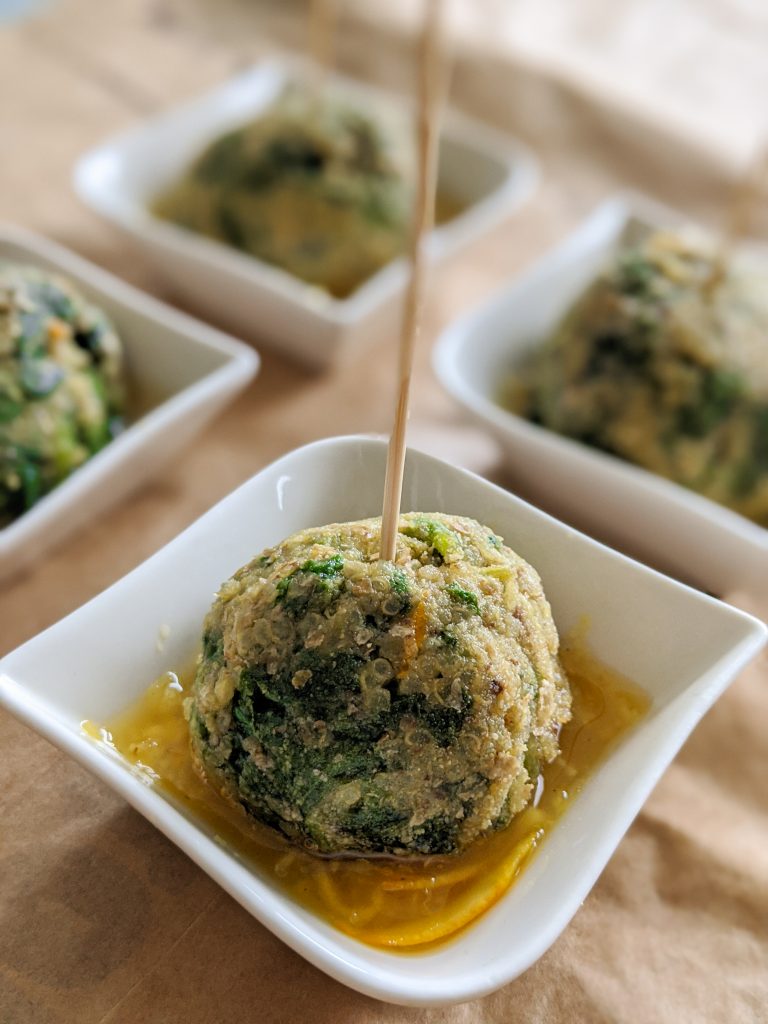 It took me a long while to start liking quinoa. Mainly because I did not know how to make good meals with it from the get-go. And these quinoa balls in orange sauce have helped me fall in love with it. A mix of spinach and quinoa dipped in a lovely orange and ginger sauce is something you do not want to miss out on.
I found out about this recipe years ago, and decided to make a vegan version of it. It was not difficult to do that, since it already used a flax egg, it only needed a small change in the sauce. And since, I have made it a bunch of times, and I recommend it to anyone who is not certain about quinoa. It only takes the right dish for you to start liking it.
It is also great if you want to try something new, or you have guests over. Most of the time I offer food that I make to different people (both vegan and non-vegan) to get some feedback, and it is safe to say that these quinoa balls have pased the test.
This dish is vegan, gluten free, healthy and super delicious. I have made a lot of meals with quinoa over the years, but this is most deffinitely in my top 3 recipes. Besides being very delicious, these truffles can also be very good for you. And today I'm going to write down why.
Some health benefits
We already talked about some health benefits of spinach, but just in case you missed that post, I am going to mention these things here again.
Spinach is extremely healthy and linked to numerous health benefits. It has been shown to improve oxidative stress, eye health, and blood pressure. Spinach contains antioxidants, which fight oxidative stress and help reduce the damage it causes.
It is rich in zeaxanthin and lutein. Human eyes also contain high quantities of these pigments, which protect your eyes from the damage caused by sunlight. Additionally, several studies indicate that zeaxanthin and lutein work to prevent macular degeneration and cataracts, which are major causes of blindness. These compounds may even be able to reverse existing damage.
Spinach contains two components, MGDG and SQDG, which may slow down cancer growth. It also contains high amounts of nitrates, which have been shown to help moderate blood pressure levels and decrease the risk of heart disease.
Quinoa is also pretty amazing in its own right. Quinoa contains large amounts of flavonoids, including quercetin and kaempferol. These are potent plant antioxidants with numerous health benefits. It is much higher in fiber than most grains. There is about 17–27 grams of fiber per cup (185 grams).
It is also high in protein compared to most plants. It contains all the essential amino acids that you need, making it an excellent protein source for vegetarians and vegans.
Overall, quinoa can help control blood sugar levels, improve metabolic health and help you lose weight.
These are some pretty good reasons to start incorporating these plants in your meals. And in case you need ideas, I think you are at the right spot.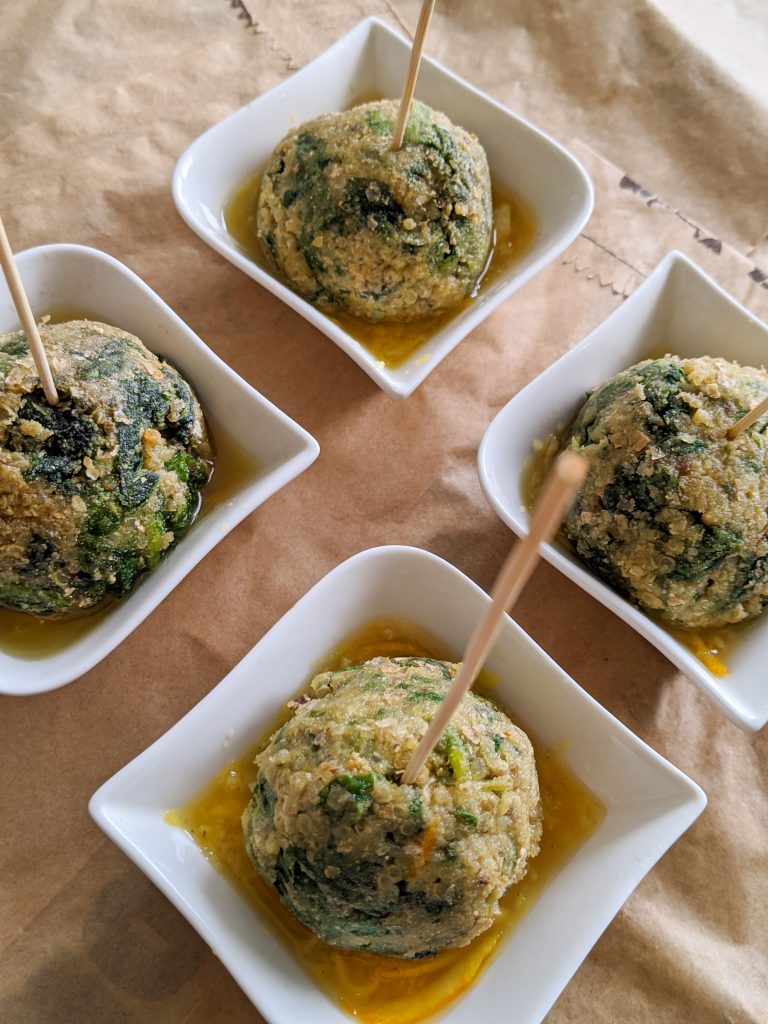 A piece of advice
This may not be the easiest recipe on this blog, but oddly I don't have a lot to add here. The thing I would mention is, don't skip the flaxseed and water mixture. This is also called a flax egg, since it is used as an egg replacement in vegan baking. You need to use this to bind everything together.
You can fry these, but I really prefer the baked version. They also may crumble a bit while you toss them around in the pan.
Also, you do not need to have these small bowls to serve these quinoa balls. You can put them all in one large plate and either dip them or cover them with the sauce. And that's it for today! I hope you enjoy the recipe.
Ingredients
For 7 quinoa balls:
250 ml of water
64 g quinoa
1 tsp of salt
1 garlic clove (minced)
300 g spinach
2 tbsp of ground flax seeds + 6 tbsp of hot water
255 g of chickpea flour
oil
For the sauce:
2 tsp of sugar
juice and pieces of 1 large orange
2 tsp of orange zest
4 tbsp of maple syrup
2 tsp of grated fresh ginger
Instructions
Put quinoa and water into the pot. When the mix starts to boil a little on the edges, cover it with a lid, reduce the stove to the lowest temperature and let it cook for 15 minutes. Fry the garlic and spinach in the pan on medium temperature.
Add the quinoa to the pan and mix for a few minutes, until spinach has wilted. Put the mixture in a bowl and place it in the fridge.
While the mix cools, make the sauce by mixing all the sauce ingredients in the same pan. Stir it on the medium heat until it thickens a little bit. Put the sauce in the fridge.
Mix flax and water (flax egg) together and set it aside for a few minutes. Add it in a mixture of quinoa and spinach and stir well until combined.
Make balls with your hands and roll them into chickpea flour. Fry the quinoa balls in a pan on medium heat until golden brown, or drizzle with a little olive oil and bake in the oven (on parchment paper) for 15-20 minutes, on 210 degrees Celsius.
You can pour the sauce over the quinoa balls or dip them into it.
If you liked this recipe, make sure you check out my other recipes like:
– chickpea/quinoa balls in tomato/butternut sauce
Feel free to tell me what you think about this in the comments below, or send me the pictures of your own quinoa balls in orange sauce. If you did something differently, I would also like to hear that, I'd love to see the things you come up with.
P.S. for more recipes like this and a bunch of other stuff, follow me on instagram, @margo_drobi.
Also, I recently started a Patreon page, where you can subscribe and help me create more/better content. In return, you will get an exclusive piece of content (recipe) each month. My plan is to increase the amount of that content if I gain a few subscribers. If you are interested and you want to find out more, I will leave the link to my Patreon right – here.