Vegan quesadillas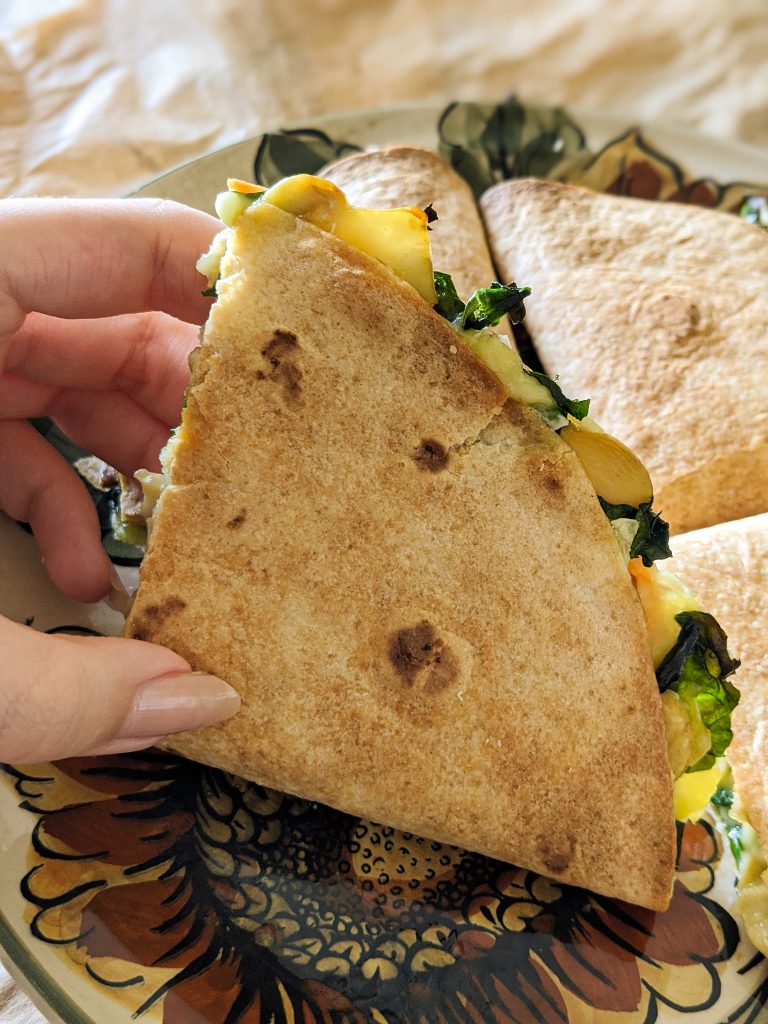 Finding and buying a good vegan cheese can be really difficult, or at least it was for me. For the longest time, I could not find a single brand in my city, and I could not even make one myself since all of them seemed to be made with nutritional yeast (which I could not buy either). Luckily, since veganism has had a rise in popularity in the past few years, all of this changed. So when I finally found a cheese that I liked, I knew what I wanted to make first – vegan quesadillas!
Quesadillas were something that I was craving for the longest time, but I just couldn't find a good, delicious cheese that melts. And if snacking like crazy and not going to the gym these past two months did not make me chubby enough, these definitely will. Because I can't stop eating them.
Since my country eased up on some restrictions recently (one of them being strict social distancing), I managed to make these vegan quesadillas for some friends. They loved them as much as I did, and that is one of the main reasons I decided to write down this recipe.
These vegan quesadillas are oven-baked, crispy and now one of my favorite things to make. Now, I know there are a bunch of quesadilla recipes out there, but this is by far one of the easiest to make. So you'll be able to make this recipe quickly and it will not give you a headache. It is one of those recipes you will keep going back to over and over again (as do I).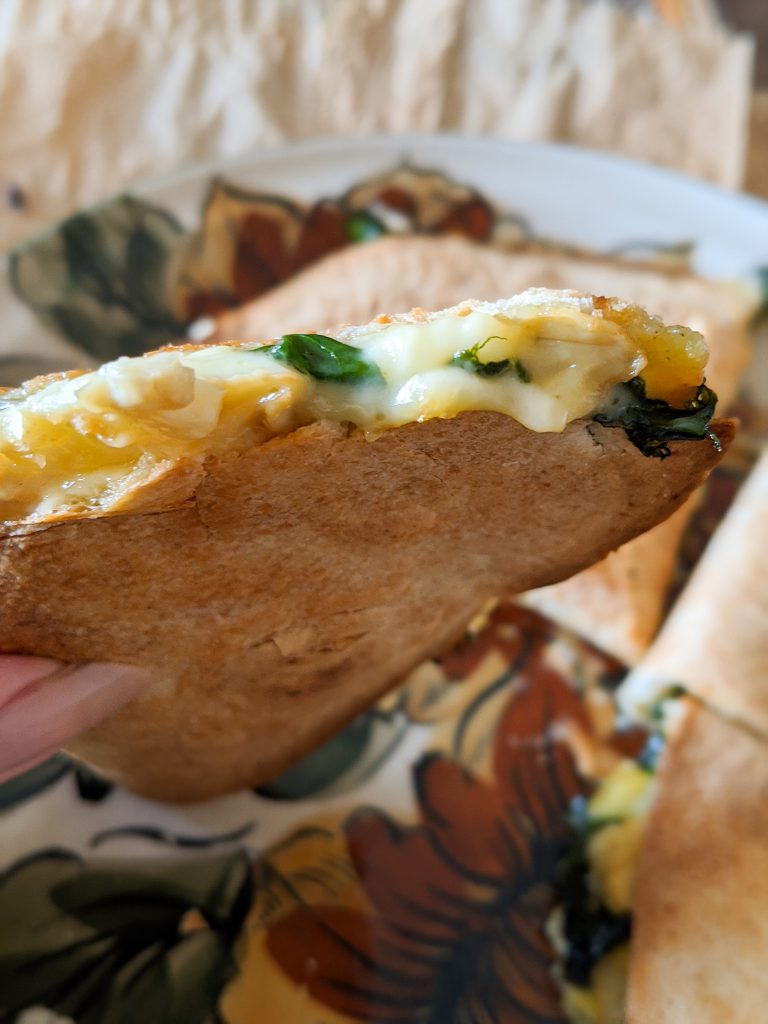 Some health benefits
You may not think there is a lot to gain by eating cheesy quesadillas (aside from some weight), but the veggies that these are filled with make it a pretty good choice.
For example, ever since I was a kid I was told that mushrooms were the"meat" among the plants, since they are a good source of protein. When I first went vegan, I did not have a lot of ideas on how to get some protein in my system, so they were my go to vegetable. Later I learned I had a lot of other options of course, but there are even more benefits that you can get from eating mushrooms.
The fiber, potassium, and vitamin C in mushrooms may contribute to cardiovascular health. They also contain a good portion of vitamin D, which is a bit hard to come by if you don't eat animal products.
We already talked about some health benefits of spinach, but just in case you missed that post, I am going to mention these things here again.
Spinach is extremely healthy and linked to numerous health benefits. It has been shown to improve oxidative stress, eye health, and blood pressure. Spinach contains antioxidants, which fight oxidative stress and help reduce the damage it causes.
It is rich in zeaxanthin and lutein. Human eyes also contain high quantities of these pigments, which protect your eyes from the damage caused by sunlight. Additionally, several studies indicate that zeaxanthin and lutein work to prevent macular degeneration and cataracts, which are major causes of blindness. These compounds may even be able to reverse existing damage.
Spinach contains two components, MGDG and SQDG, which may slow down cancer growth. It also contains high amounts of nitrates, which have been shown to help moderate blood pressure levels and decrease the risk of heart disease.
These are only some of the reasons you will want to make more dishes with these two vegetables, like for example, these vegan quesadillas.
A piece of advice
When you decide to make this dish, my advice to you is to find a vegan cheese that you really like. You can even use two types of cheese, for example, cheddar and mozzarella. For mine I used vegan gouda, and it turned out to be amazing. Just make sure that it is a cheese that melts.
Vegan quesadillas are baked on each side for only a couple of minutes, but it would be good to check on them toward the end, just in case. You can also use different types of mushrooms, I already did, and I pretty much loved every version.
If your tortillas tend to break when you fold them, try to heat them in a pan a little bit before using them.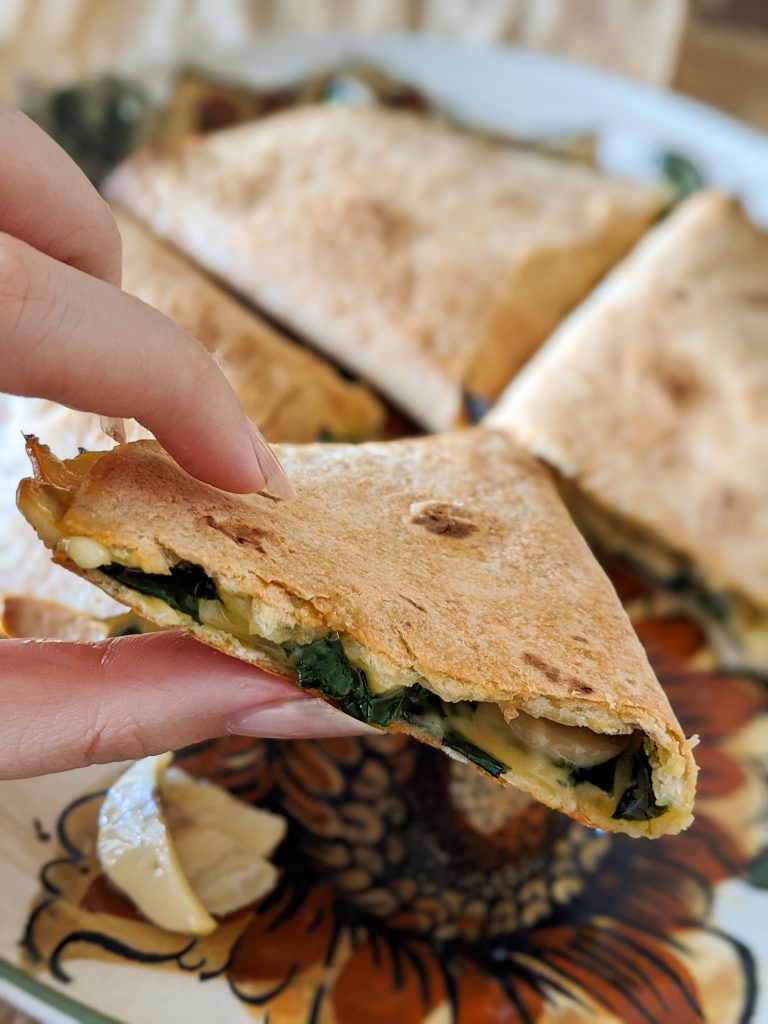 Ingredients
4 tortillas
200 g of vegan gouda cheese
some spinach (as desired)
300 g of mushrooms
oil
Instructions
Chop the mushrooms. Heat a pan on medium heat and fry them until they get soft. Take the spinach and give it a rough chop. Fold the tortillas in half and brush some oil on one half, then place them on some parchment paper (oiled side down).
On one half of the tortilla place one layer of cheese, one layer of spinach, then a layer of mushrooms, and finally, top it of with some more cheese.
Fold the tortillas again so that the veggie side is covered, put everything (with the parchment paper) in a baking tray. Heat the oven to 200 degrees Celsius and bake the vegan quesadillas for 6 minutes. Take them out of the oven, flip them on the other side and bake for another 6 minutes (or until they are brownish, crispy and the cheese has melted).
Cut each tortilla in half, let it cool of a bit and serve.
If you liked this recipe, make sure you check out my other recipes like:
Feel free to tell me what you think about this in the comments below, or send me the pictures of your own vegan quesadillas. If you did something differently, I would also like to hear that, I'd love to see the things you come up with.
P.S. for more recipes like this and bunch of other stuff, follow me on instagram, @margo_drobi.
Also, I recently started a Patreon page, where you can subscribe and help me create more/better content. In return, you will get an exclusive piece of content (recipe) each month. My plan is to increase the amount of that content if I gain a few subscribers. If you are interested and you want to find out more, I will leave the link to my Patreon right – here.