Lotus coffee tart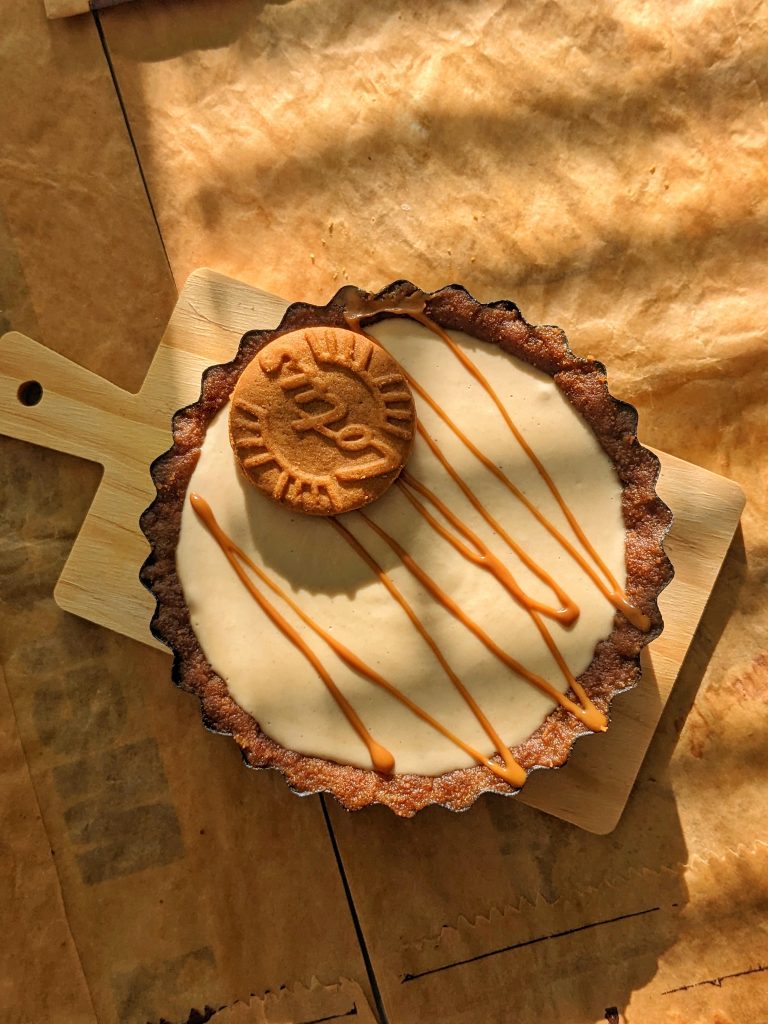 Guess who it is with another Lotus recipe. This recipe is something that I've see from another creator, but they didn't leave a recipe. I couldn't find it, so I had to imagine my own version of a Lotus coffee tart.
This dessert is as amazing as it looks, and perfect for those of you that don't mind a few calories more. As a hardcore fan of Lotus cookies and coffee, this was a massive win for me.
Making it vegan was super easy as well. I highly recommend this one. It was also about time that I make it. I have plenty of ingredients that I have to use, and these Lotus ones were among them.
A piece of advice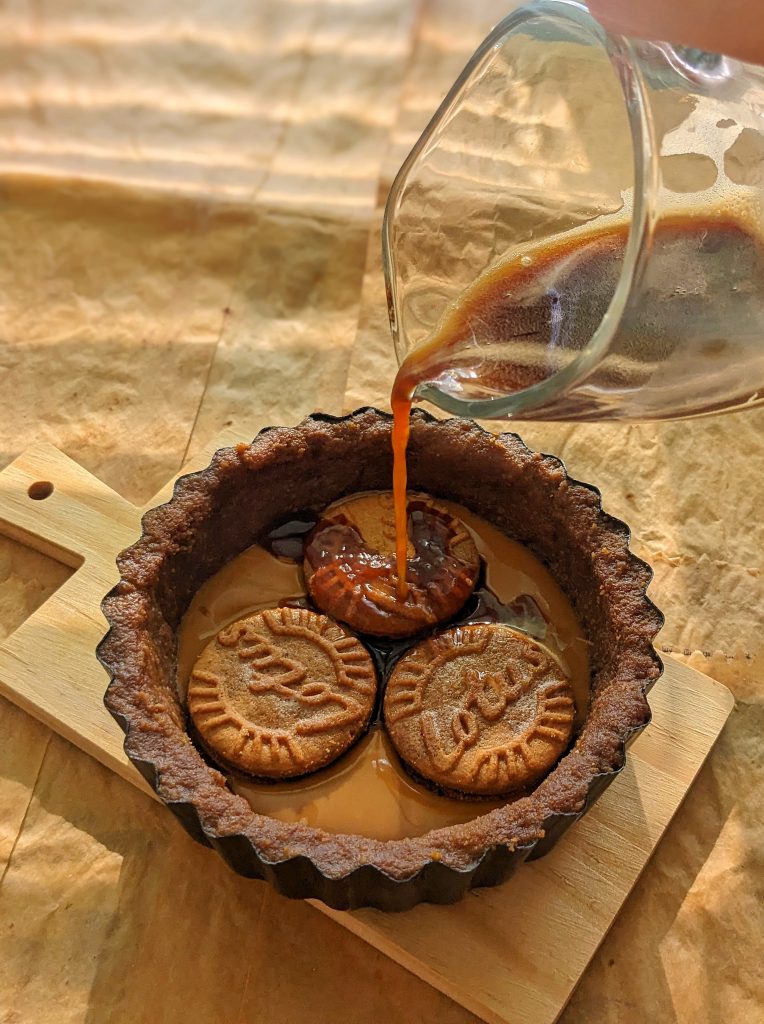 For this Lotus coffee tart recipe, I tried to take pictures as I go along, just to make things less complicated. Also to better show off what is on the inside. I wanted to make a separate section in this post to also give some tips and talk about the ingredients.
For the record, margarine isn't my favorite ingredient to use in recipes, but I don't know many vegan butter versions that would work in a recipe like this.
I always get questions about where I'm buying these Lotus cookies and spread. I know that they have them across Europe in supermarkets like Lidl, Billa, Hoffer and so on. My friends are buying them for me, or I do it when I'm traveling. They can also be ordered online. But as far as I know they are absent from stores in my country (Bosnia).
The filling for this tart is creamy and a lot like the filling for vegan cheesecake recipes. For it to be creamy, make sure to soak your cashews for long enough. The coconut oil is there to make it thicker as it cools down.
I would recommend you make this crust very thin. Also, I made one small tart, these ingredients are enough for that. But have in mind, I had a lot of trouble eating it by myself. This recipe is a killer. It is very delicious, but also very sweet.
I used a bit of remaining biscoff spread to decorate this Lotus coffee tart. Not very successfuly since I was taking pics at the same time. I also placed one Lotus vanilla cookie on top as a decoration.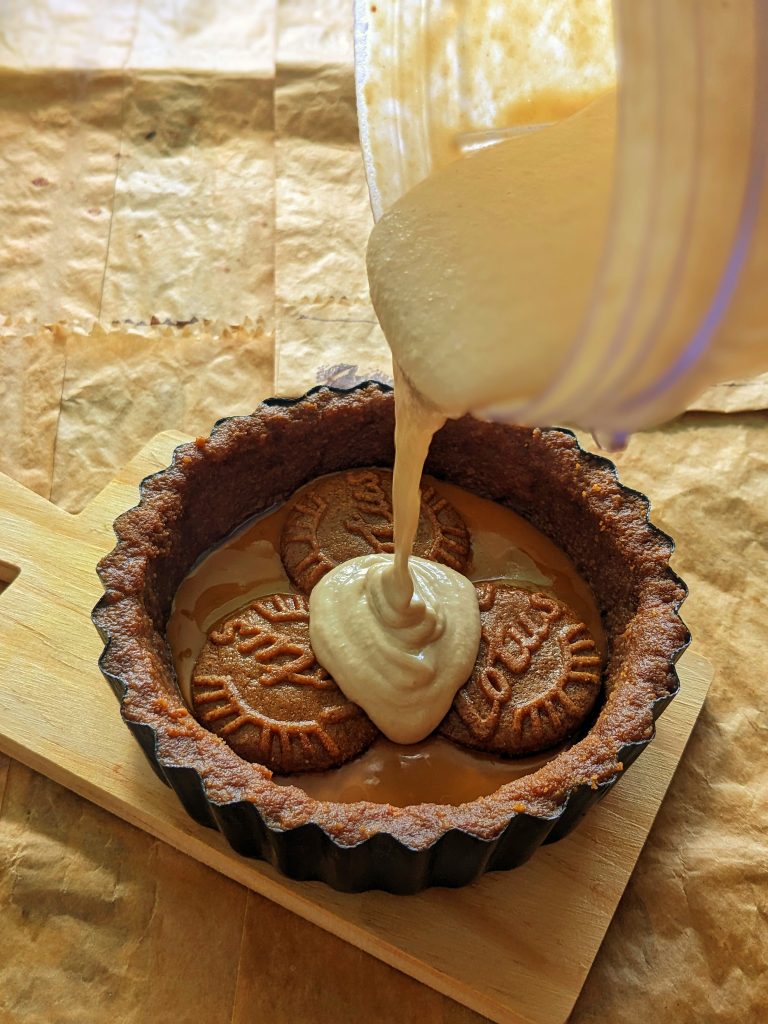 Lotus coffee tart
Course: Sweet, Sweet
Ingredients
140 g of Lotus biscoff cookies

65 g of margarine

3 heaping tbsp of Lotus biscoff spread

3-4 Lotus vanilla cookies

1 tsp of instant coffee

50 g of cashews

90 g of coconut cream cream

1 + 1/2 tbsp of maple syrup

1 tbsp of coconut oil

1 tbsp Lotus biscoff spread
Directions
Soak the cashews in water overnight (or for about 8 hours).
Start off by making the cookie crust. Break apart 140 g of Lotus cookies and put them in a blender. Blend until they are finely ground.
Melt the margarine on a stove on low heat. Pour it into the ground Lotus cookies. You will get a soft dough. Place it in a tart mold and use your fingers to press it down and shape a thin crust. Put that in the fridge.
Place 3 tbsp of Lotus spread in a ramekin. Turn the oven to 200 degrees Celsius. Place the ramekin inside and let the spread melt/become runny. This should take a few minutes. Pour a small amount of boiling water over 1 tsp of instant coffee. Set aside
Take the tart mold out of the fridge. Pour the melted Lotus spread inside, just enough to cover the bottom of the crust. Place 3-4 round Lotus vanilla cookies at the bottom, on the spread. Pour the instant coffee over the Lotus vanilla cookies. Continue by preparing the cream.
Discard the water from the cashews. Put them in a blender cup along with coconut cream, maple syrup, 1 tbsp of Lotus spread and coconut oil. Blend everything until you get a smooth cream. Pour that in the tart until it is full to the top.
Put the Lotus coffee tart in the freezer. Leave it there until it has hardened to your liking. If you freeze it too much, leave it in the fridge to rest before cutting. Gently remove it from the mold. Use some more melted Lotus spread and additional vanilla cookie to decorate it. Serve and enjoy.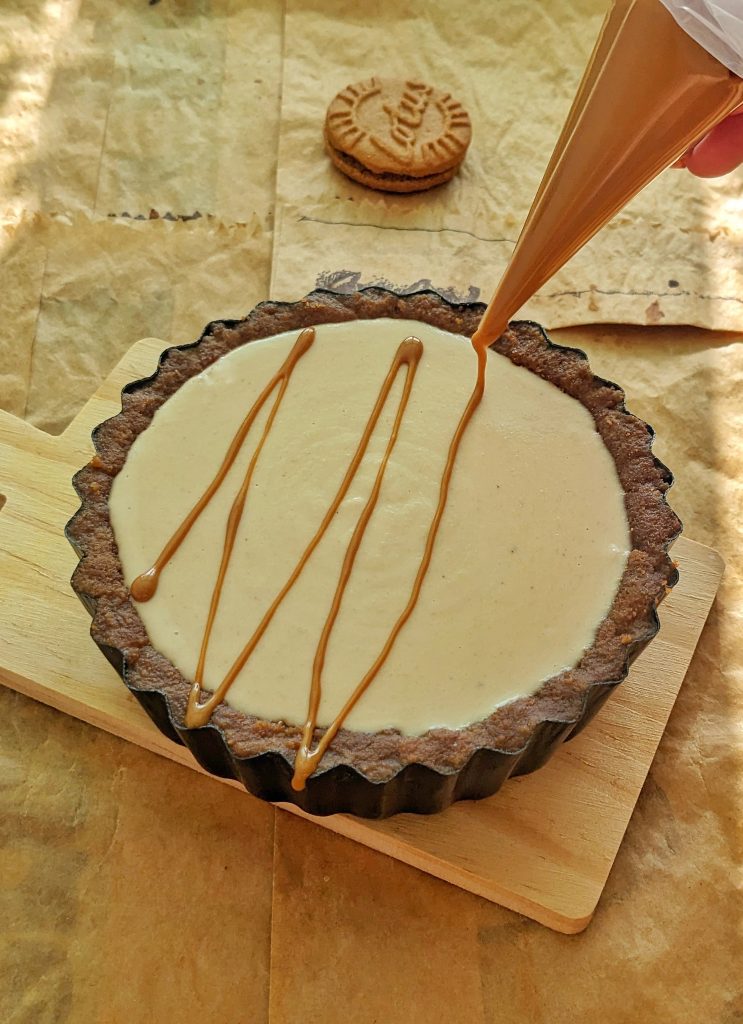 If you liked this recipe, make sure you check out my other recipes like:
– dark chocolate panna cotta in pistachio sauce
Feel free to tell me what you think about this in the comments below, or send me the pictures of your own vegan Lotus coffee tart. If you did something differently, I would also like to hear that, I'd love to see the things you come up with.
P.S. for more recipes like this and a bunch of other stuff, follow me on Instagram, @margo_drobi.
Also, I recently started a Patreon page, where you can subscribe and help me create more/better content. In return, you will get an exclusive piece of content (recipe) each month. My plan is to increase the amount of that content if I gain a few subscribers. If you are interested and you want to find out more, I will leave the link to my Patreon right – here.