Vegan pistachio pesto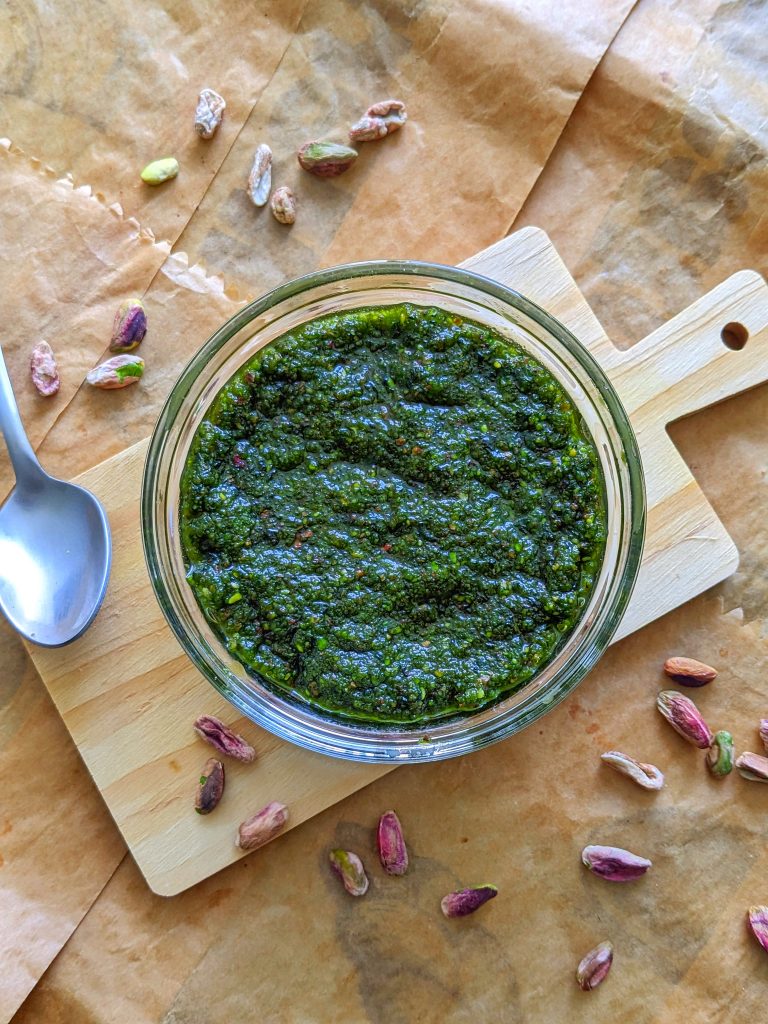 If you're a fan of traditional Italian pesto, you may already know that there are many vegan versions of it that are just as delicious and flavorful. The key ingredient in this vegan pistachio pesto is of course, pistachios, which give it a unique nutty flavor that is a perfect complement to the other ingredients.
Vegan pistachio pesto is incredibly versatile and can be used in a variety of dishes. It is delicious on pasta, spread on sandwiches or toast, as a dip for vegetables or crackers, or as a topping for roasted vegetables or grilled meats.
It is a delicious and nutritious alternative to traditional pesto that is quite easy to make. It is one of the first things I decide to make after I found raw pistachios in a store recently. By substituting raw pistachios for pine nuts, this recipe becomes more affordable and sustainable without sacrificing flavor.
In conclusion, if you're looking for a delicious and nutritious vegan pesto, give this pistachio pesto recipe a try. With its unique flavor and nutritional benefits, it's sure to become a staple in your kitchen.
Some health benefits
Pistachios are high in protein, fiber, and antioxidants. They also boast several other important nutrients, including vitamin B6 and potassium. They contain fewer calories and more protein than most other nuts. Also, their essential amino acid content is higher than any other nut.
Eating pistachio nuts may aid weight loss. Studies show that eating pistachios may help lower blood cholesterol. It may also lower blood pressure more than other nuts. They may play an important role in promoting blood vessel health. That's because they are rich in L-arginine, which, when converted into nitric oxide, helps dilate your blood vessels.
Pistachios have a low glycemic index, which might promote lower blood sugar levels.
I think these are some pretty good reasons to incorporate this ingredient into your meal plan. And if you need a good idea, I suggest you begin with this delicious vegan pistachio pesto.
Another interesting ingredient in this recipe is fresh basil. Basil is an aromatic herb that has been used for centuries in traditional medicine and cooking. It is a good source of nutrients, vitamins, and antioxidants that provide several health benefits. Fresh basil is a rich source of antioxidants, which can help protect your body against cellular damage caused by free radicals. Antioxidants also have anti-inflammatory properties that can help reduce the risk of chronic diseases.
It contains essential oils such as eugenol, citronellol, and linalool that have anti-inflammatory properties. Regular consumption of fresh basil may help reduce inflammation in the body, which is associated with various diseases such as arthritis, heart disease, and cancer.
Basil has been shown to have anti-bacterial and anti-viral properties. It can help fight off bacterial and viral infections, such as colds, flu, and other respiratory infections. Basil contains compounds that can help improve digestion and reduce bloating. It may also help relieve stomach cramps and constipation.
This plant contains flavonoids, which are known to help protect the heart and blood vessels. Regular consumption of basil may help reduce the risk of heart disease and stroke. It contains compounds such as rosmarinic acid, which has been shown to have anti-cancer properties. It may help prevent the growth of cancer cells and tumors.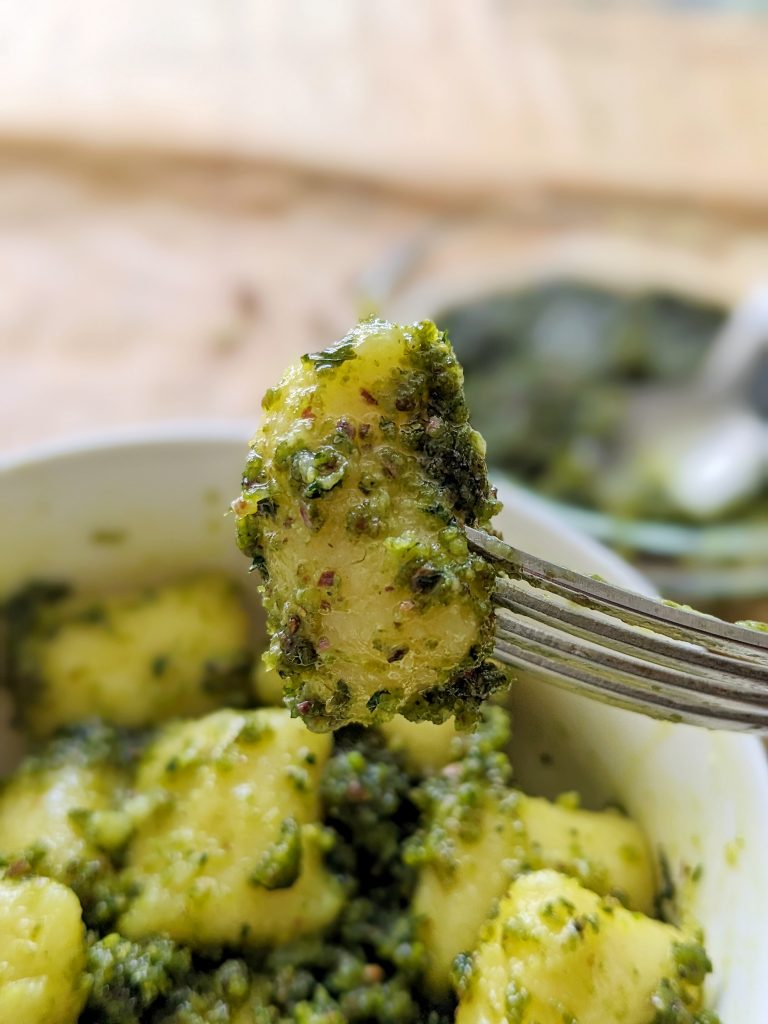 Vegan pistachio pesto
Ingredients
40 g of raw pistachios

50 g of fresh basil leaves

100 ml of extra-virgin olive oil

2 cloves of garlic, minced

25 g of vegan parmesan cheese (optional)

1 tbsp of lemon juice

Salt and pepper to taste 
Directions
Toast the pistachios in a dry skillet over medium heat until they are lightly browned and fragrant, for about 5 minutes.
Add the toasted pistachios, basil leaves, garlic, vegan parmesan, salt, and pepper to a blender. Pulse until the ingredients are coarsely chopped.
Drizzle in the olive oil, and blend everything until the mixture is smooth and well combined. Add the lemon juice and pulse a few more times to combine.
Taste the pesto and adjust the seasoning if necessary. Transfer it to a small glass jar or a different dish. Your vegan pistachio pesto is now ready to be enjoyed! Serve it in a pasta, as a dip for vegetables, or even as a spread on sandwiches.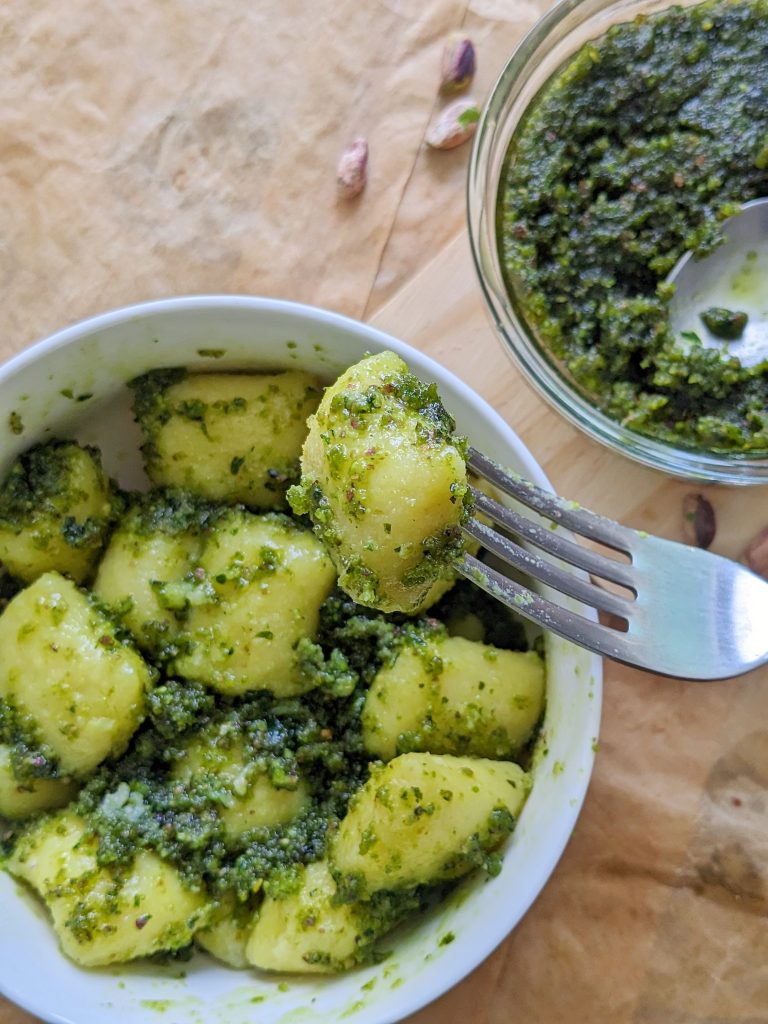 If you liked this recipe, make sure you check out my other recipes like:
Feel free to tell me what you think about this in the comments below, or send me the pictures of your own vegan pistachio pesto. If you did something differently, I would also like to hear that, I'd love to see the things you come up with.
P.S. for more recipes like this and a bunch of other stuff, follow me on Instagram, @margo_drobi.
Also, I recently started a Patreon page, where you can subscribe and help me create more/better content. In return, you will get an exclusive piece of content (recipe) each month. My plan is to increase the amount of that content if I gain a few subscribers. If you are interested and you want to find out more, I will leave the link to my Patreon right – here.