Vegan cig kofte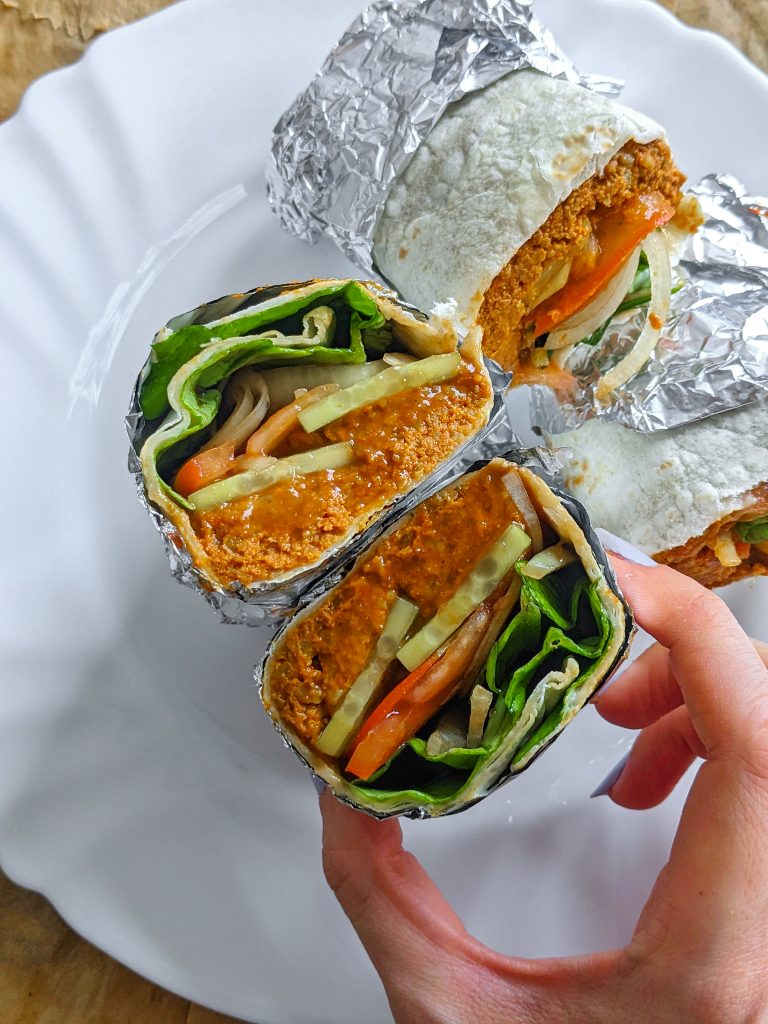 Turkish cuisine is full of delicious vegan recipes. I have tried several over the past few years and posted them on this blog. And vegan cig kofte is something my non-vegan friend introduced me to. A dish loved by both vegans and non-vegans.  
You can make this in a few different ways, but today I chose to make a cig kofte wrap. But of course, you can look up any other version you want.
I was introduced to this in Germany, weirdly, not in Turkey. The version that I made came pretty close to the one I tried there (a bit less spicy tho). It is super easy to make, and I highly recommend this dish.
A piece of advice
This section will be quite short today, since this vegan cig kofte recipe is pretty easy. I think I will mainly talk about some ingredients here.
I live in Bosnia, so a lot of times I can't find ingredients that I need for certain dishes. This time around, I found almost everything. I lacked only the red paprika paste, but that didn't make a lot of difference. I replaced it with some more tomato paste.
If you can't find fine bulgur, you can take any other bulgur, cook it according to the instructions and then blend it with other ingredients. But you should be able to get the fine one, I found it in a supermarket. As well as the pomegranate sauce.
These ingredients are enough for three to four vegan cig kofte wraps. It depends how much you use in each. If you are left with some of it, you can store it in an airtight container. I kept mine for two days, but I don't know what happens after that.
Some health benefits
Bulgur is an edible cereal grain made from parboiled, cracked wheat. It has a texture similar to quinoa or couscous.
Bulgur wheat is a low calorie whole grain that provides various nutrients and is an especially good source of manganese, magnesium, iron, protein, and fiber. It may have positive effects on heart health, weight loss, blood sugar control, and digestive health. Many of its health benefits are attributed to its fiber and plant compounds.
Another great ingredient in vegan cig kofte is the horn pepper. It's a plant rich in minerals and essential oils. It provides numerous health benefits: it is detoxifying, improves kidney function and reduces water retention, it has anti-cellulite properties and is an excellent anti-inflammatory.
And walnuts provide healthy fats, fiber, vitamins and minerals — and that's just the beginning of how they may support your health.
In fact, there's so much interest in this one nut that for the past 50 years, scientists and industry experts have gathered annually at the University of California, Davis, for a walnut conference discussing the latest walnut health research.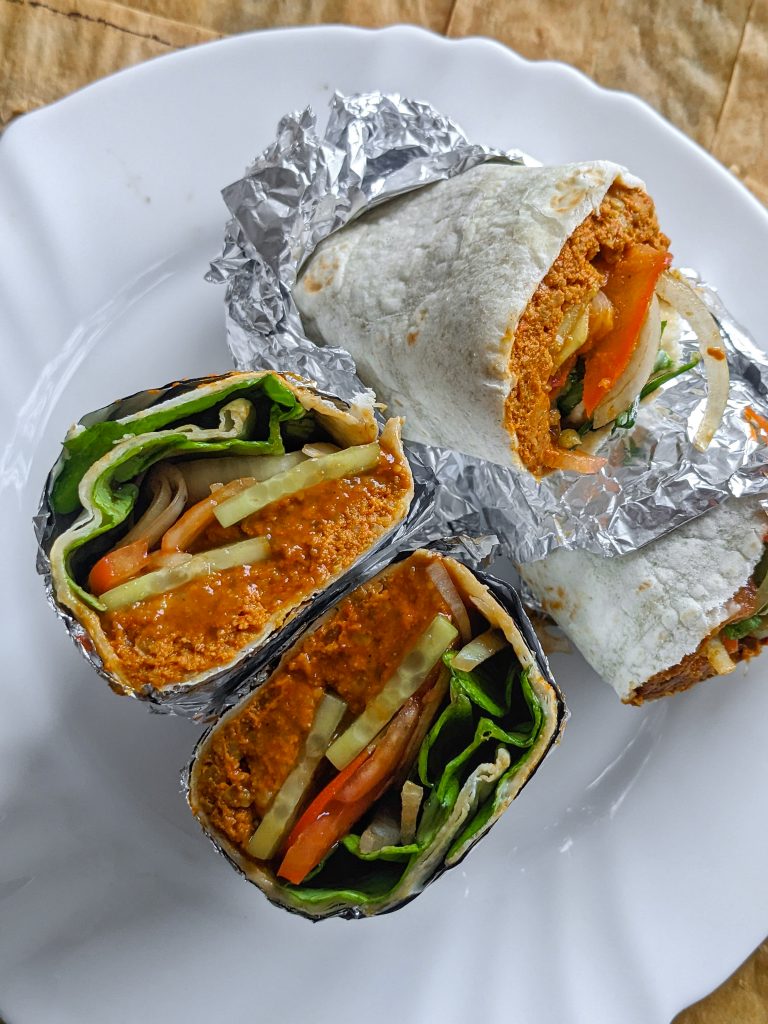 Vegan cig kofte
Ingredients
For the kofte:

125 g of fine bulgur

125 ml of water

25 g of tomato (diced)

1 small horn pepper

1/2 of spring onion

75 g of tomato paste

12 g of walnuts

12 ml of olive oil

1/2 tbsp of pomegranate syrup

2 stems of fresh parsley

1 tsp of curry powder

1 tsp of smoked paprika

1 tsp of ground cumin

Salt

Pepper

few shakes of chili powder

For the wrap:

3-4 durum flatbreads/tortillas

100 ml of vegan yogurt

juice of half of a lemon

1-2 tomatoes

lettuce

1 red onion

1/2 of a cucumber

a drizzle of pomegranate syrup
Directions
Begin by cutting the tomato, horn pepper and spring onion into small pieces.
Put the bulgur in a bowl. Bring the water to boil and pour it over the bulgur. Cover the bowl with a kitchen towel and let it rest for 10 minutes. Add all the other cig kofte ingredients in the bowl and mix until everything is well combined.
Transfer this mixture into the blender cup. Blend everything until you get a homogeneous mixture. If you need to, stop a few times to scrape down the ingredients and then blend again. Put everything into a bowl, cover it with aluminum foil and let it rest. Then assemble the wrap ingredients.
Cut the cucumber, tomato and the red onion into thin circles.  Wash the lettuce leaves. Put tge vegan yogurt into a small bowl and squeeze the lemon juice into it. Mix the two ingredients together.
Take a durum flatbread/tortilla and place it on a flat surface. Brush it with the yogurt and lemon mix. Put about four tablespoons of cig kofte in the middle of the dough. Place the cucumber, tomato and onion slices on top of that and drizzle with some pomegranate syrup. Cover everything with a few lettuce leaves and close the wrap as you normally would.
Repeat this process until you run out of the ingredients. Serve the vegan cig kofte right away.
If you liked this recipe, make sure you check out my other recipes like:
Feel free to tell me what you think about this in the comments below, or send me the pictures of your own vegan cig kofte. If you did something differently, I would also like to hear that, I'd love to see the things you come up with.
P.S. for more recipes like this and a bunch of other stuff, follow me on instagram, @margo_drobi.
Also, I recently started a Patreon page, where you can subscribe and help me create more/better content. In return, you will get an exclusive piece of content (recipe) each month. My plan is to increase the amount of that content if I gain a few subscribers. If you are interested and you want to find out more, I will leave the link to my Patreon right – here