Healthy vegan halva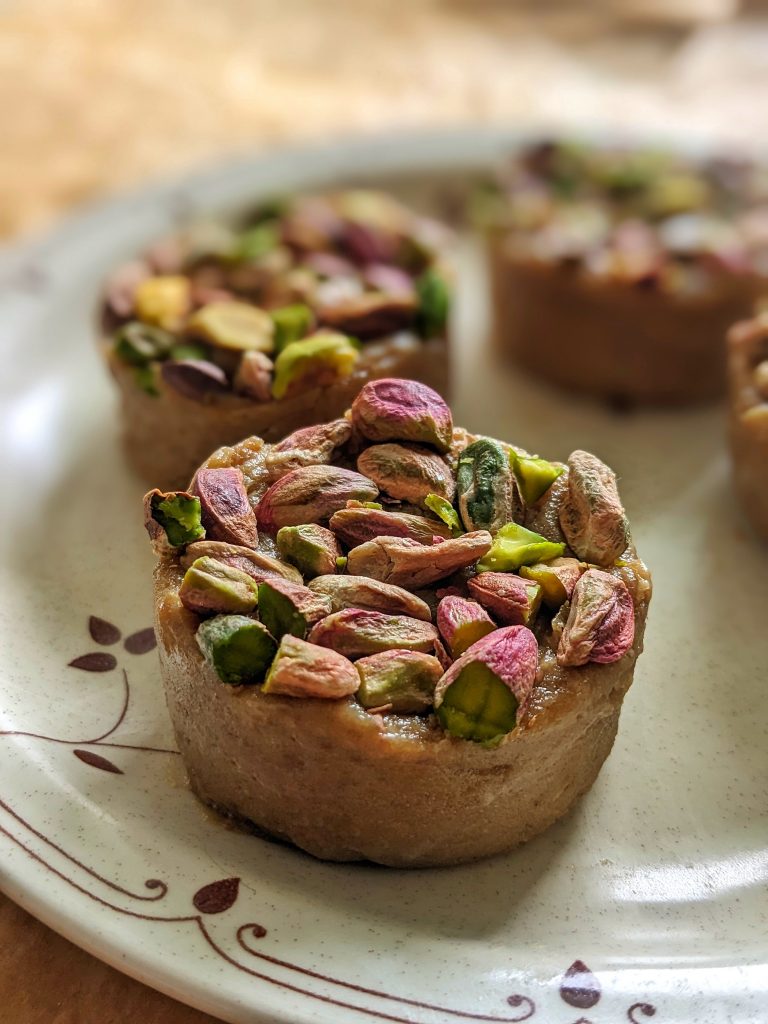 f you're looking for a healthy and satisfying vegan dessert, look no further than this healthy vegan halva! This delicious treat is easy to make and contains wholesome ingredients that will leave you feeling satisfied and nourished. And what better time to post this simple treat than during Ramadan. It is also something my mom enjoys on a regular with her morning coffee. I might offer this up as an alternative. My favorite thing about this healthy vegan halva is that it requires only 3 ingredients.
The combination of tahini and dates creates a rich, creamy texture that is sure to satisfy your sweet tooth. Plus, the addition of pistachios adds a crunch and a pop of color to the dish.
You can also experiment with different flavors by adding different spices like cinnamon or nutmeg, or swapping out the pistachios for other nuts like almonds or walnuts. Whatever variations you choose, you can feel good knowing that you're indulging in a healthy, vegan treat that's good for your body and your taste buds!
Some health benefits 
First, let's talk about tahini. This creamy paste is made from ground sesame seeds and is a staple in many Middle Eastern and Mediterranean cuisines. Tahini is high in protein, healthy fats, and minerals like calcium, iron, and magnesium. It also has a rich, nutty flavor that pairs perfectly with sweet dates in this vegan halva recipe.
Tahini is an excellent source of important nutrients such as protein, fiber, healthy fats, calcium, iron, magnesium, and zinc. It is also a good source of vitamin B1 (thiamine) and vitamin B6 (pyridoxine), which are essential for energy production and brain function. It is high in monounsaturated and polyunsaturated fats, which are known to reduce cholesterol levels and lower the risk of heart disease. Additionally, tahini is rich in antioxidants such as lignans, which have been shown to have protective effects against heart disease.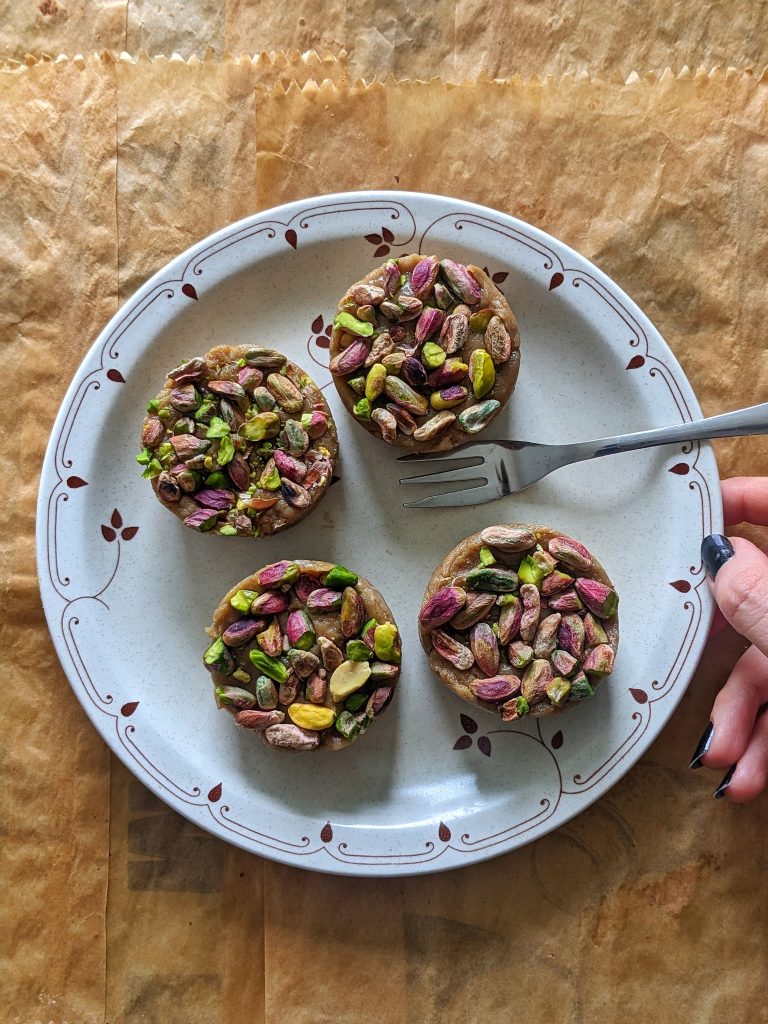 Tahini is an excellent source of calcium, which is crucial for strong bones and teeth. It also contains magnesium, which is essential for bone health and has been shown to reduce the risk of osteoporosis. Also, it is a good source of zinc, which plays a critical role in the immune system. Zinc helps the body fight off infections and viruses, and it also promotes the healing of wounds.
Tahini contains fiber, which is essential for maintaining a healthy digestive system. Fiber helps to keep the digestive tract moving smoothly and may also help to prevent constipation. It contains sesamol and sesamin, which are antioxidants that have been shown to have anti-inflammatory properties. Inflammation is a key driver of many chronic diseases, and consuming tahini may help to reduce inflammation in the body.
Dates are another star ingredient in this healthy vegan halva recipe. They are naturally sweet and contain fiber, vitamins, and minerals like potassium and magnesium. They also add a chewy texture to the halva, making it a satisfying dessert that won't leave you feeling weighed down.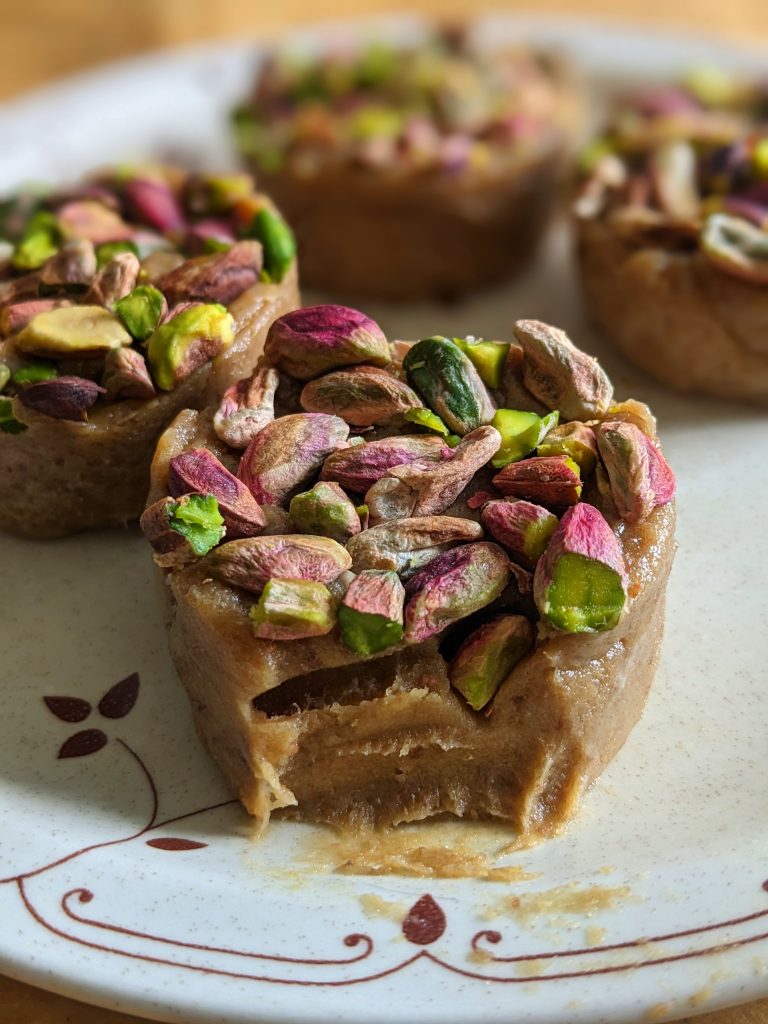 Healthy vegan halva
Ingredients
200 g of dates (remove the pits)

180 g of tahini

50 g of raw pistachios 

1/2 tsp of ground cardamom (optional)
Directions
Chop the dates into smaller pieces. Put them in a blender cup with tahini and ground cardamom. Blend until you get a smooth homogeneous mixture/dough. If you need to, stop a few times in order to scrape the ingredients from the blender cup walls. When done, set aside.
Take a silicone muffin (or panna cotta) mold, and put two heaping tablespoons of the batter in each mold. These measurements are enough to fill about five of them. Take the raw pistachios and press gently on the surface of each vegan halva piece. If it is too sticky and you can not even it out and press it down, leave it in a fridge for a little bit. It will be easier. 
Place the silicone mold in the freezer and freeze for about two hours. Or until you can easily remove them from the molds. Keep them in the fridge in an airtight container. This vegan halva makes a great dessert or snack that you can enjoy guilt-free. 
If you liked this recipe, make sure you check out my other recipes like:
Feel free to tell me what you think about this in the comments below, or send me the pictures of your own healthy vegan halva. If you did something differently, I would also like to hear that, I'd love to see the things you come up with.
P.S. for more recipes like this and a bunch of other stuff, follow me on Instagram, @margo_drobi.
Also, I recently started a Patreon page, where you can subscribe and help me create more/better content. In return, you will get an exclusive piece of content (recipe) each month. My plan is to increase the amount of that content if I gain a few subscribers. If you are interested and you want to find out more, I will leave the link to my Patreon right – here.