Vegan protein bars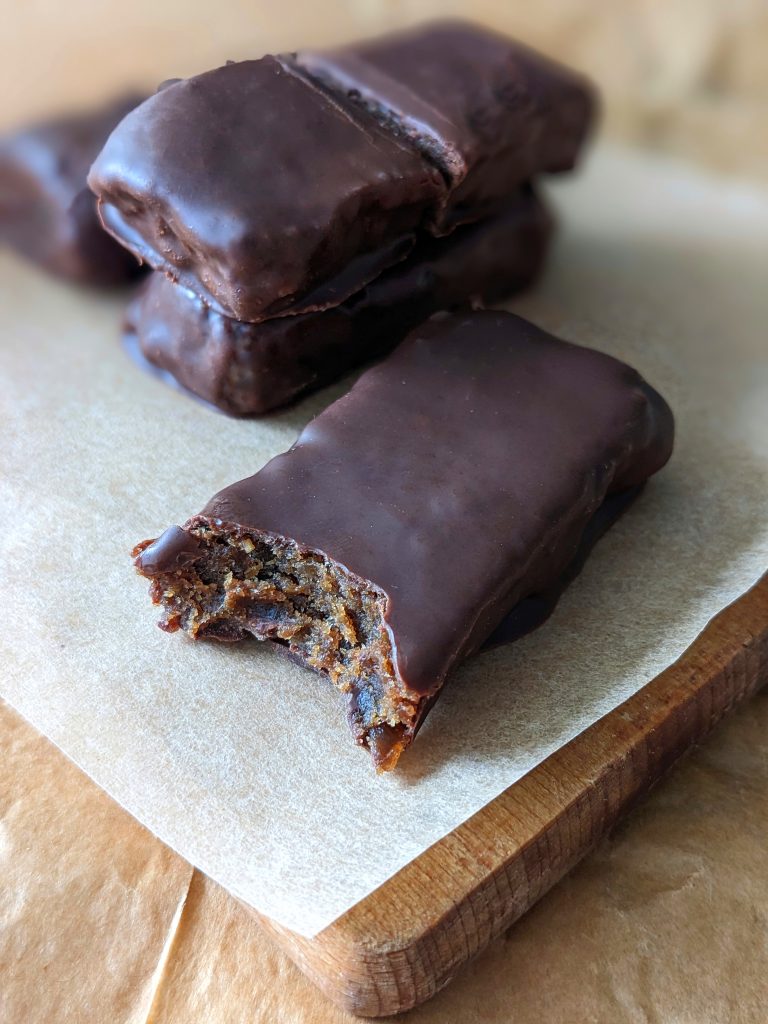 Today I have something new in store for you. At least it is new to me some of my readers might have made it before. Vegan protein bars or protein cubes are my latest obsession. I made these several times over the past month and I even broke my blender doing it. But I already bought a new one so I'm going to make them again one of these days.
These vegan protein bars probably don't have the amount of protein that you can find in regular protein bars. My priority was to make these more tasty than the regular ones, and I have succeeded. They also, for the most part, lack the bad ingredients that you can normally come across in protein bars, like glucose syrup for example. And even if you don't look to add more protein to your diet, you can make these simply because they are so damn tasty.
Some health benefits
This is a tasty dessert, but that does not mean that it can't be somewhat good for your health. The best ingredient in this recipe may be the peanut butter, and in this section I am going to tell you why that is.
Eating peanut butter actually suppresses hunger which leads to weight loss. It has the enviable combination of fiber (2.6 g per serving) and protein (7-8 g per serving) that keeps you feeling full for longer, so you end up eating less overall.
Peanut butter contains a substance called p-coumaric acid which helps in offsetting the damage done to cells associated with cardiovascular diseases. Also, peanut butter contains more unsaturated fat than saturated fat making it a fat friendly food which lowers the risk of cardiovascular and coronary heart disease.
Research also hints that it lowers the risk of cancer, protects against Alzheimer's disease and lowers the risk of diabetes. And I could write a lot more about these ingredients, but that would make this post super long.
To wrap it up, I think these are pretty good reasons to incorporate peanut butter in your meal plan. I do it as often as I can. And if you don't have an idea on how to start, I suggest you make these lovely vegan protein bars first.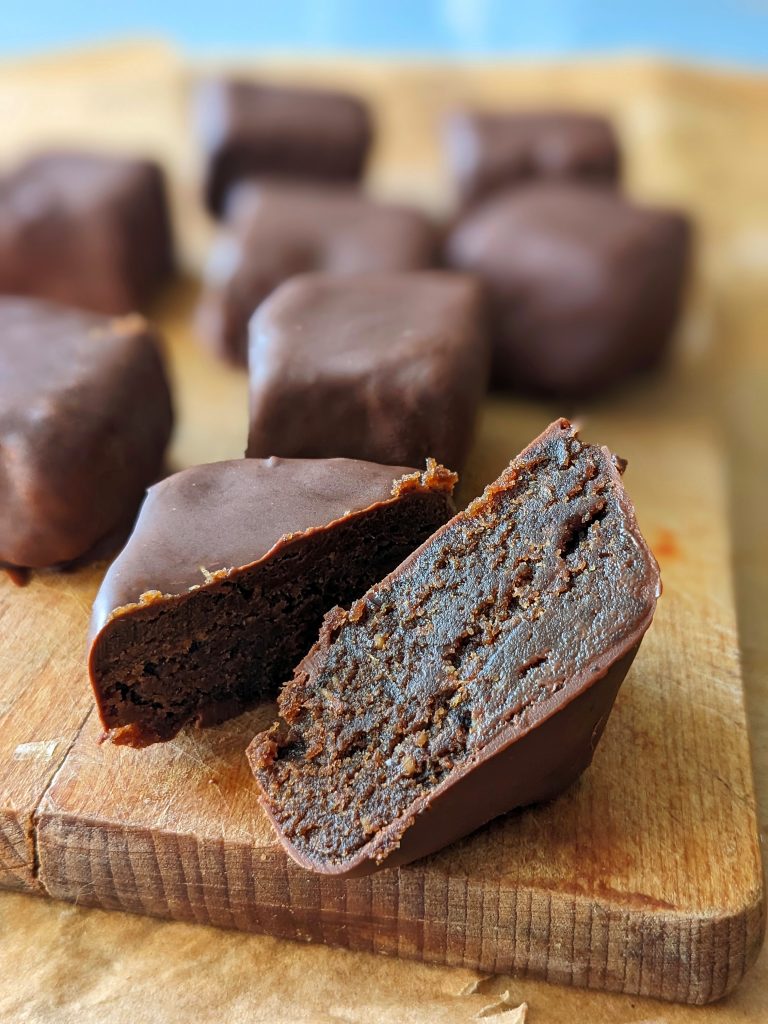 A piece of advice
This recipe is pretty easy and straightforward, but somehow there are always questions that pop up. So I'm going to try and predict those and write them down for you.
You will see that this recipe uses cocoa butter. A lot of people ask me what that is and where they can buy it but in this case you can replace it with coconut oil. In my humble opinion cocoa butter is better for this purpose because coconut oil melts really quickly on room temperature.
These protein bars can be made in any shape and size. The first time I made them I shaped them like cubes and then the second time I kind of made them into thin bars. It is up to you to decide.
For this recipe you can use any type and brand of vegan protein powder that you prefer. When you dip the bars in the chocolate make sure to shake off the excess chocolate and then place them on a sheet of parchment paper. This is necessary in order to remove them easily from the surface later on.
The measurements listed in this recipe will result in a small batch of vegan protein bars, but I don't think you need many of them since they are very satiating. I also suggest that you keep these in your fridge, maybe in an airtight container, because they can melt on room temperature.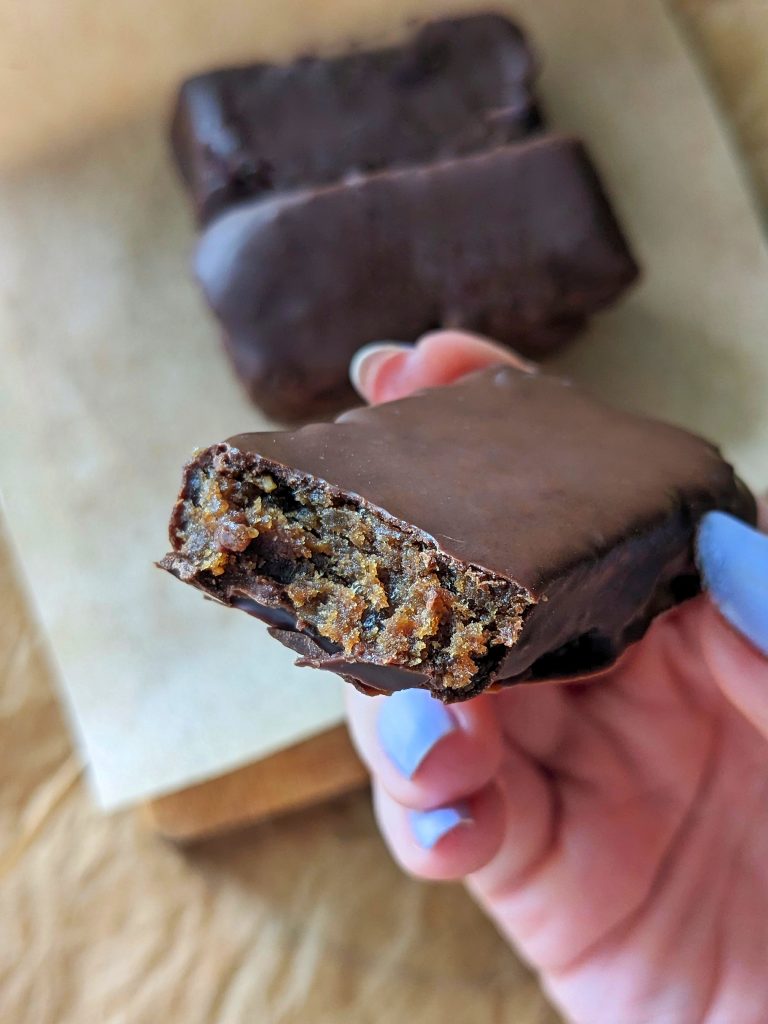 Vegan protein bars
Ingredients
200 g of dates

30 g of vegan protein powder

150 g of peanut butter

1 tbsp of cocoa powder 

100 g of dark vegan chocolate

10 g of cocoa butter
Directions
Begin by chopping the dates into smaller pieces. Soak them in hot water for about 15 minutes. Drain the water and put the dates in the blender cup. Add the peanut butter, cocoa powder, vegan protein powder and blend everything until you get a brown sweet dough. You may need to pause a few times and scrape the ingredients from the walls of the cup.
Transfer the dough to a square cake mold. Press it down with your fingers to even it out. Put it in the freezer and leave it there for about 30 minutes. 
Melt the vegan dark chocolate over a double boiler. Add the vegan cocoa butter and mix the two ingredients until they are well combined.
Take the dough out of the freezer. Cut it up with a clean sharp knife into desired shapes (bars or cubes). Droo each piece into the melted chocolate. Gently turn it over with a fork in order to cover it from all sides. Lift the piece up with the fork and let the excess chocolate drip down. Then place it on a sheet of parchment paper. Repeat this until you run out of dough pieces. 
When you are done with this, put the sheet in the fridge and let the chocolate become solid. After that, feel free to serve or store your vegan protein bars.
If you liked this recipe, make sure you check out my other recipes like:
Feel free to tell me what you think about this in the comments below, or send me the pictures of your own vegan protein bars. If you did something differently, I would also like to hear that, I'd love to see the things you come up with.
P.S. for more recipes like this and a bunch of other stuff, follow me on Instagram, @margo_drobi.
Also, I recently started a Patreon page, where you can subscribe and help me create more/better content. In return, you will get an exclusive piece of content (recipe) each month. My plan is to increase the amount of that content if I gain a few subscribers. If you are interested and you want to find out more, I will leave the link to my Patreon right – here.