Almond peanut butter cakes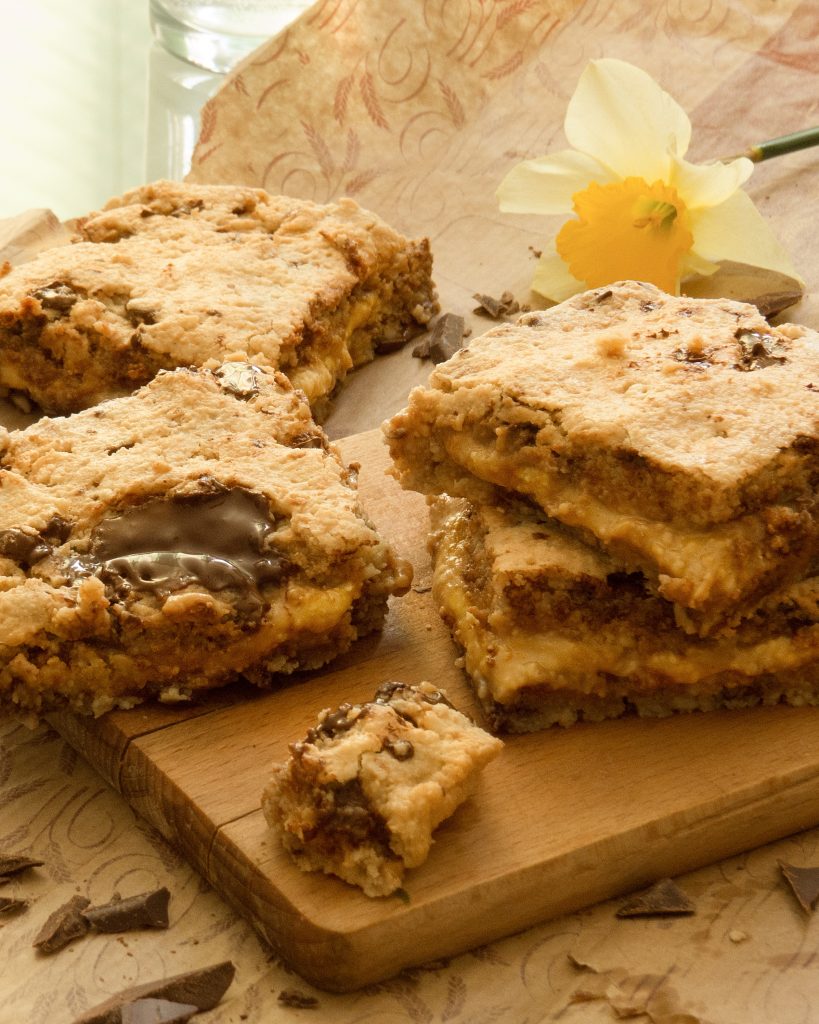 Peanut butter is one of my favorite foods, and I am always searching for new ways to use it and recipes that incorporate it. A while ago I stumbled across a similar almond peanut butter cake recipe and decided to change it up and veganize it. As a result, I got this lovely recipe that I keep coming back to.
These almond peanut butter cakes are vegan, gluten-free, fudgy, super delicious and also somewhat good for you. The taste always reminded me of macarons, so if you like those, you're in luck. You might end up with a small batch of these, but these cakes will make you full really quick. This is why I once brought a few of these with me on a really long bus drive. It's safe to say that I wasn't hungry at all thanks to them.
They are great for any occasion, and as you probably gathered from that bus drive story, you can easily store them for a longer period of time.
As always, I am going to tell you why exactly this cake can be beneficial for your health by describing some of its ingredients. And this time, there are quite a few things worth mentioning.
Some health benefits
Almonds are a great source of fiber. Eating a handful of almonds or drinking a glass of almond milk can keep your gastrointestinal tract moving and prevent constipation. Almonds can also promote healthy bacteria in your gut. This can help you digest your food and even fight off illness.
They contain a bunch of vitamins A and E, so they can be really good for your skin. In addition to giving you glowing skin, vitamin E in almonds can help your heart as well. Diets high in vitamin E are linked with lower rates of heart disease.
Almonds can help you lose weight, since eating them can eliminate your cravings for other not so healthy food. Its healthy fatty acids help strengthen hair and add texture. Not only are almonds packed with healthy fats and protein, but they're also rich in antioxidants. These plant compounds can protect your cells from oxidation and premature aging.
Peanut butter is pretty good in its own right. Eating peanut butter actually suppresses hunger which leads to weight loss. It has the enviable combination of fiber (2.6 g per serving) and protein (7-8 g per serving) that keeps you feeling full for longer, so you end up eating less overall.
Peanut butter contains a substance called p-coumaric acid which helps in offsetting the damage done to cells associated with cardiovascular diseases. Also, peanut butter contains more unsaturated fat than saturated fat making it a fat friendly food which lowers the risk of cardiovascular and coronary heart disease.
Research also hints that it lowers the risk of cancer, protects against Alzheimer's disease and lowers the risk of diabetes. And I could write a lot more about these ingredients, but that would make this post super long.
To wrap it up, I think these are pretty good reasons to incorporate these two in your meal plan. I do it as often as I can. And if you don't have an idea on how to start, I suggest you make these lovely cakes first.
A piece of advice
This really isn't a complicated recipe, but there is still a few things I would like to mention here. First of all, I recommend you use ground blanched almonds instead of almond flour from the grocery store. I don't know if this is only me, but almond flour seems kind of dry in comparison to almonds that I blend myself. Maybe I just wasn't lucky with the brands of flour that I bought, but if this is also the case for you, just put some almonds in a blender.
You can also use a bigger amount of dough for the bottom crust, and spread the top part thinner. If the upper part of the crust breaks a bit when you try to shape it, don't worry. It will still look good and tasty, maybe you'll even find that you like it that way.
Now I know that these measurements make quite a small batch, but trust me, these cakes are very satiable. However, if you feel like you need a bigger batch, you can use a larger amount of ingredients. You can also spread the dough thinner.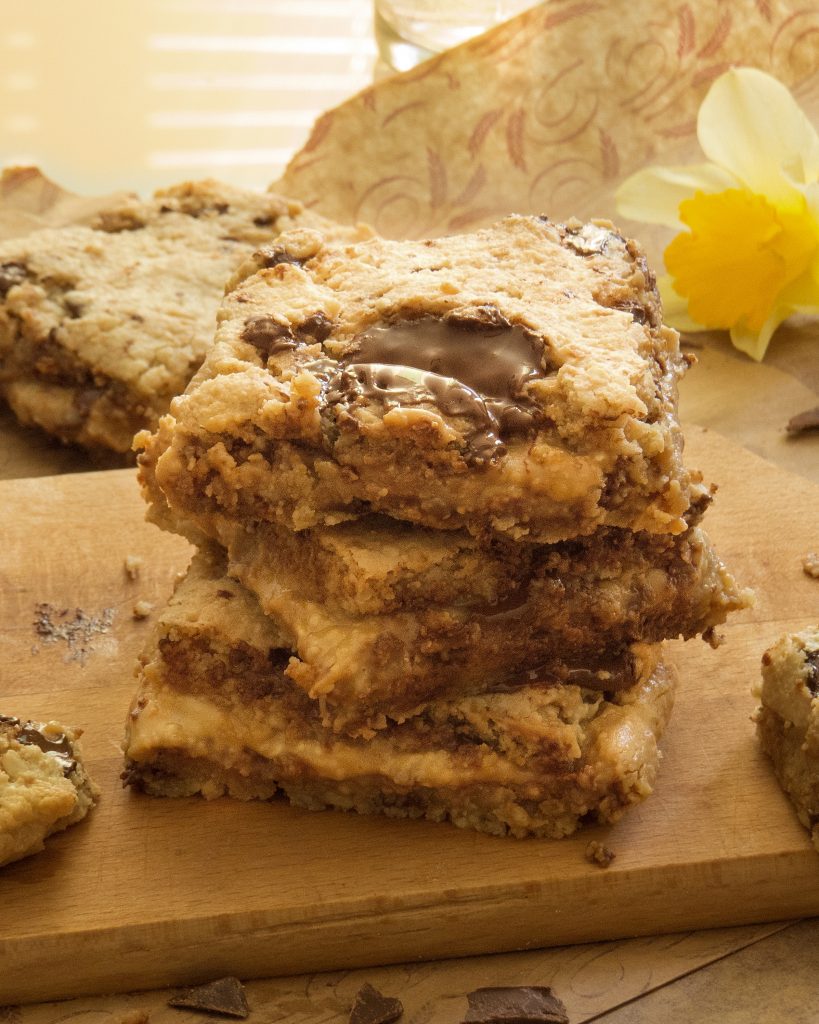 Almond peanut butter cakes
Course: Sweet
Ingredients
For the dough:

240 g of ground blanched almonds

1/2 tsp baking powder

1/2 tsp of baking soda

50 g peanut butter

2 tbsp of maple syrup

2 tbsp of coconut oil

2 tbsp of sugar

3 tbsp of soy milk

1 tsp vanilla extract

50 g of chopped chocolate or vegan chocolate chips

For the filling:

90 g peanut butter

2 tbsp of maple syrup

1 tbsp of coconut oil
Directions
Mix ground almonds, baking soda and baking powder in a deep bowl. Mix all liquid dough ingredients and add them to the dry ones. Stir until a dough forms. If the dough is too dry, add more soy milk. Add chopped chocolate to the dough and stir. In a separate bowl, mix all the ingredients for the filling.
Split the dough into two pieces, press one half of the dough down at the bottom of a baking tin lined with parchment paper (to make the bottom crust). Spread all of the filling over it. Spread the other half of the dough on top, over the filling (you can roll it out or shape it with your fingers prior to that).
Bake the almond peanut butter cakes for 10 minutes at 180 degrees Celsius. After that, allow them to cool down and cut them into squares.
If you liked this recipe, make sure you check out my other recipes like:
Feel free to tell me what you think about this in the comments below, or send me the pictures of your own almond peanut butter cakes. If you did something differently, I would also like to hear that, I'd love to see the things you come up with.
P.S. for more recipes like this and a bunch of other stuff, follow me on instagram, @margo_drobi.
Also, I recently started a Patreon page, where you can subscribe and help me create more/better content. In return, you will get an exclusive piece of content (recipe) each month. My plan is to increase the amount of that content if I gain a few subscribers. If you are interested and you want to find out more, I will leave the link to my Patreon right – here.