Zucchini with crispy capers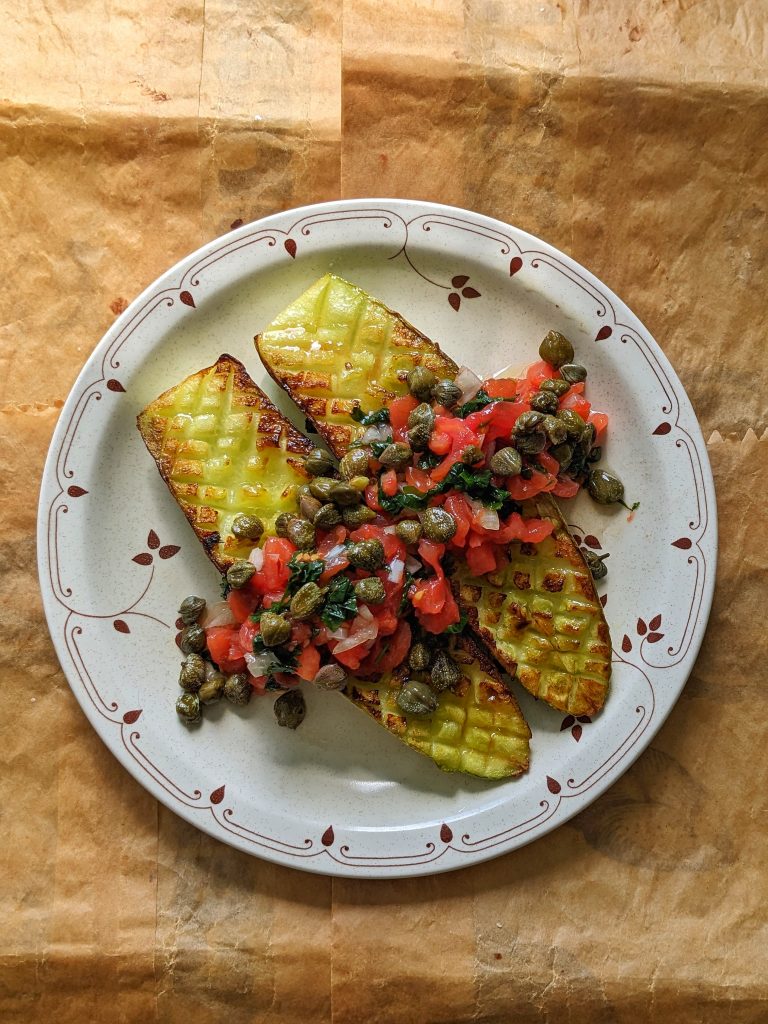 As a part of my mission to post more simple, yet healthy and delicious recipes, I bring you this. Zucchini with crispy capers and tomato sauce. This amazing vegan dish is easy and quick to prepare, and requires only a few ingredients.
I only discovered capers recently and thought they may be good for something. So here we are. Given the simplicity of this recipe, today I am going to skip the piece of advice section of the post. We can go straight to health benefits. This requires some frying and some baking, but really nothing too complicated.
I only made one zucchini, which was great as an appetizer for me. If you need more than one, increase these measurements accordingly.
Some health benefits
There are some healthy ingredients in these zucchini with crispy capers that you don't want to miss out on. For one, the zucchini itself.
It is high in the antioxidant vitamin C. Research indicates that the skin of the plant harbors the highest levels of antioxidants. Its ample vitamin A content may support your immune system. Carotenoids, such as lutein, zeaxanthin, and beta-carotene are particularly plentiful in zucchini. These may benefit your eyes, skin, and heart, as well as offer some protection against certain types of cancer, such as prostate cancer.
Overall, it contributes to healthy digestion, may reduce blood sugar levels, improve heart health, and aid weight loss. It also may have anticancer effects, improve thyroid function and research (on animal models) shows that seed extracts may help limit prostatic hyperplasia.
A lot of zucchini nutrients are in the zucchini skin, which we are not going to peel off for this recipe. These are only a few reasons you might want to treat yourself with these vegan zucchini with crispy capers from time to time.
Fresh tomatoes are low in carbs. The carb content consists mainly of simple sugars and insoluble fibers. These vegetables (or fruits) are mostly made up of water. Tomatoes are a good source of several vitamins and minerals, such as vitamin C, potassium, vitamin K, and folate. Lycopene is one of the most abundant plant compounds in tomatoes. It's found in the highest concentrations in tomato products, such as ketchup, juice, paste, and sauce. Lycopene is a strong antioxidant that can protect your body against oxidative stress and offer some protection from certain environmental toxins and chronic diseases.
Studies show that tomatoes and tomato products may reduce your risk of heart disease and several cancers. It is also beneficial for skin health, as it may protect against sunburns. Tomatoes are generally well tolerated but may cause allergic reactions in people allergic to grass pollen. Replacing sweetened drinks such as soda with tomato juice can benefit your health.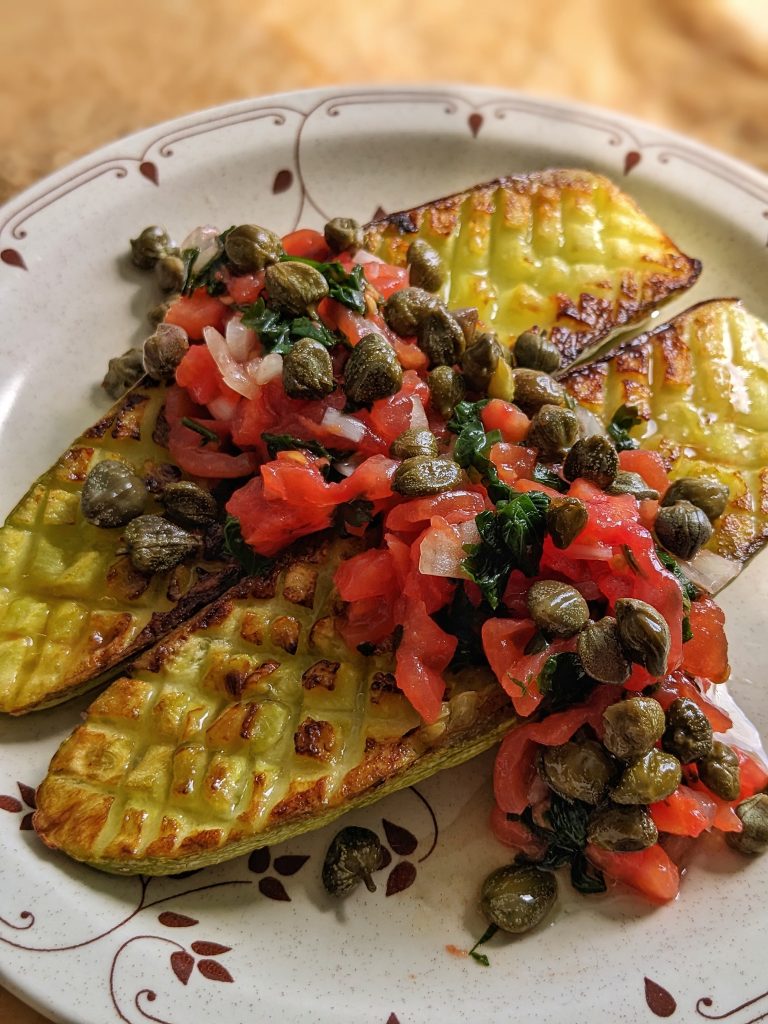 Zucchini with crispy capers
Course: Salty, Salty
Ingredients
1 medium sized zucchini

handful of cherry tomatoes

small bunch of fresh parsley

1/2 of an onion

salt

pepper

1 + 1/2 tbsp of olive oil

1/2 tbsp of apple cider vinegar

2 tbsp of capers
Directions
Cut the zucchini in half (lengthwise). Make criss cross incosions on the inside of both halves. Sprinkle them with a lot of salt and let them rest for 15 minutes.
Meanwhile, prepare the cherry tomatoes. Cut a small X on each one of them. Put them into boiling water and leave them there for about 2 minutes. Drain the water and put the cherry tomatoes into some iced water. The skin will begin to come off right away. Leave them in there for about 15 seconds. Remove the skin from each one and set them aside.
Press each half of the zucchini over the sink to remove the excess water. It will pour out when you squish it. Take a paper towel and wipe the remaining moisture off.  Hear the oven to 230 degrees Celsius (450 F). Pour about 3 tbsp if olive oil into a non-stick pan. Heat it on medium-high heat for about 3 minutes, and place the zucchini in the pan (criss-crossed side down). Fry them until they become golden brown on that side.
Turn the heat off. Flip the zucchini and place it on a piece of parchment paper along with the capers. Bake everything for about 15 minutes. Turn the oven off.
Meanwhile, chop the onion and parsley into very small pieces. Chop the tomatoes into small pieces and drain the excess liquid from them. In a small bowl mix together the onion, parsley, tomato, olive oil, vinegar and a bit of salt and pepper.
Remove the zucchini from the oven and place it on a serving plate. Spoon the tomato sauce and sprinkle the crispy capers on top of the zucchini. Serve while it's still warm.
If you liked this recipe, make sure you check out my other recipes like:
Feel free to tell me what you think about this in the comments below, or send me the pictures of your own zucchini with crispy capers. If you did something differently, I would also like to hear that, I'd love to see the things you come up with.
P.S. for more recipes like this and a bunch of other stuff, follow me on instagram, @margo_drobi.
Also, I recently started a Patreon page, where you can subscribe and help me create more/better content. In return, you will get an exclusive piece of content (recipe) each month. My plan is to increase the amount of that content if I gain a few subscribers. If you are interested and you want to find out more, I will leave the link to my Patreon right – here.