Vegan momos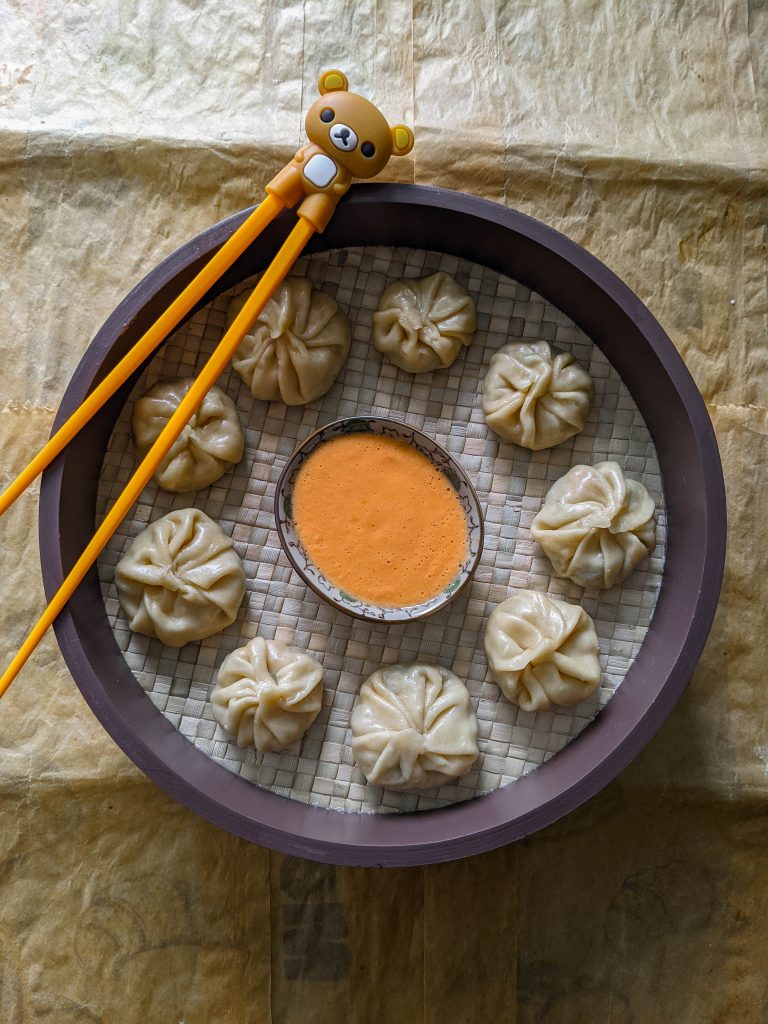 Vegan momos are dumplings that originated from Tibet. They are a popular dish in Tibet, Nepal and parts of India. A lot of countries have a version of this dish, and I previously wrote about some of them. Like the rest of them, vegan momos are delicious, juicy and usually dipped in a delicious sauce.
They are still unique and special in their own way, so I decided to write a separate post about them. Other than that, they are very easy to make, so I highly recommend them!
Some health benefits
Every time a dish contains some vegetables, you know there is going to be a health benefits section in a post. So to keep it (kind of) short, I chose only two ingredients to write about here.
Like many vegetables and fruits, scallions are mostly water. A cup of it has just 32 calories, trace amounts of fat, and no cholesterol. It also has less sugar and fewer carbs than vegetables like carrots, potatoes, and corn.
A cup of cut scallions has about 10% of the fiber you need for the whole day. Getting lots of fiber helps you feel full, keeps your cholesterol levels down, and may lower your chances for diabetes, heart disease, and other conditions.
Scallions and other similar vegetables may block cancer growth, especially in the stomach. Scientists are still not sure how. They believe that a compound called allicin, which is what gives you garlic breath, may prevent cells from turning cancerous or slow tumors from spreading.
Extracts of onions, garlic, and their relatives have long been used as medicine. They can kill bacteria, fungi, and viruses. Lab tests on certain varieties of onions showed that at high enough concentrations, some can kill or slow the growth of salmonella or E. coli.
Carrots are a particularly good source of beta carotene, fiber, vitamin K1, potassium, and antioxidants. They have some great health benefits. For example, they can help your blood pressure and cardiovascular health, your digestive health, improve bone health, and play a role in immune function and healing.
A piece of advice
I made a ton of dumpling recipes over the past two years, so making vegan momos was super easy for me. But I do understand that it will not be easy for everyone, so I decided to leave some tips and tricks here to make the process easier for you.
When preparing the wrappers, feel free to add more water if the dough is dry. But be careful and add it in small sips until the dough feels smooth. Make sure your dough is covered with a kitchen towel when you are not using it, otherwise it might dry out.
Roll the momo wrappers out very thinly with a rolling pin. I always stress out about shaping the dumplings properly, but honestly, a lot of momos I've seen online have looked less than perfect. So I decided to not stress about it too much.
If you (like myself) don't have an actual steamer, you can improvise. I took a sieve with larger holes, lined it with parchment paper and put it in a large pot of water. Make sure the water is not touching the bottom of the sieve. When the water starts to boil cover the pot with a lid.
These measurements are enough for about 14 vegan momos, but that really depends on the size of the wrappers and the amount of filling that you are using. You will probably end up with some extra tomato sauce. I used the leftovers in a pasta dish.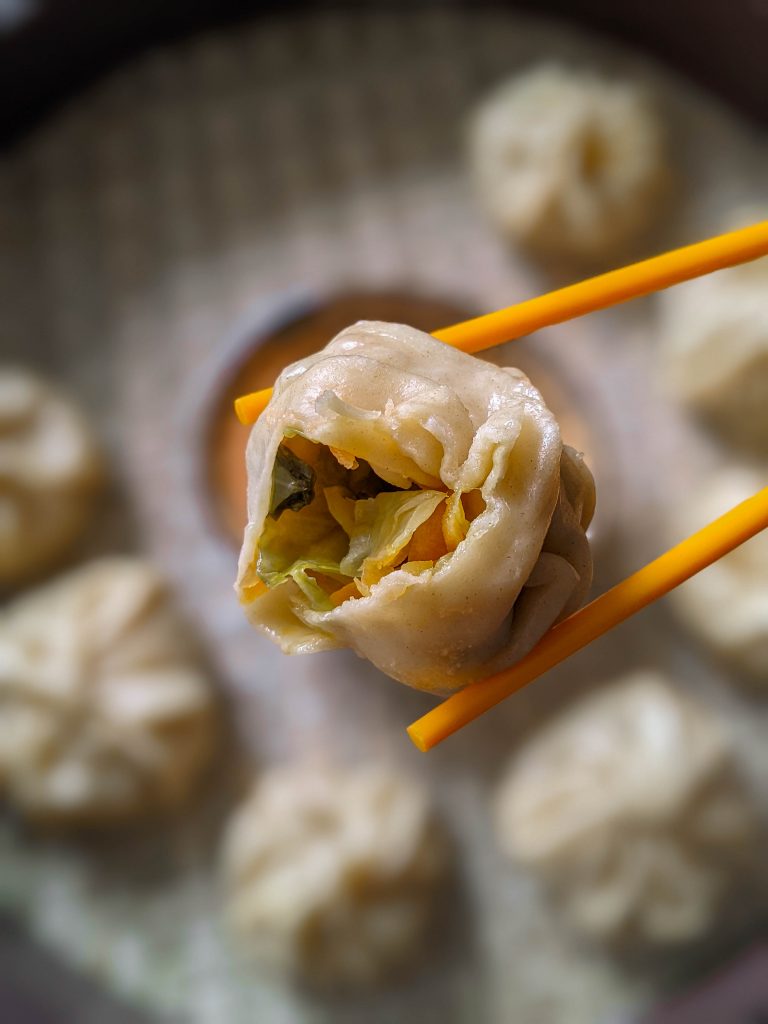 Vegan momos
Ingredients
For the wrappers:

130 g of flour

5 tbsp of water

a pinch of salt

For the filling:

a few shakes of chilli powder

2 scallions

1 thumb-sized piece of ginger

2 carrots

Cabbage (as desired)

1 tbsp of soy sauce

1 tbsp of rice vinegar

For the tomato sauce:

2 large tomatos

100 g of cashews

2 cloves of garlic

a few shakes of chili powder

1 thumb-sized piece of ginger

1 tsp of soy sauce

1 tsp of rice vinegar

1 tsp of sugar
Directions
Begin with cutting up all the veggies. Grate the ginger and carrots, chop the scallions and cabbage. Heat some oil on a non-stick pan to medium heat and sautee the scallions and the ginger for 3 minutes. Add the carrots, cabbage, chili powder, soy sauce and rice vinegar to the pan. Stir and cover with the lid. Cook everything until the veggies become soft.
To make the momo wrappers place the flour and salt in a bowl and mix. Add the water and mix everything together. Knead the mixture with your hands until a dough starts to form. Add more water if neccesary, but do it very gradually. Transfer the dough on a flat surface and knead it until it becomes smooth. Roll it into a ball, cover with a cloth and let it rest for 30 minutes.
While the dough is resting prepare the tomato sauce. Bring a pot of water to boil. Put the cashews and the tomatos in and cook them for 4 minutes. Remove from the stove and take the tomatos out first. Peel the skin and put them in a blender cup, along with the cashews and the rest of the sauce ingredients. Blend everything until you get a homogenous orange mixture. Set aside.
Divide the wrapper dough into small pieces and cover them with a kitchen cloth or a plastic wrapper. Take one piece and roll it into a ball. Gently roll it out with a rolling pin on a flat surface (very thinly). Take the wraper into your palm, place a heaping teaspoon of the filling in the middle and pleat. Pinch the dough with your fingers to close the dumpling. Repeat this process until you run out of dough pieces or the filling.
Line a steamer with some parchment paper and put the vegan momos in. Close with a lid and steam the momos on medium temperature for 12 minutes. Transfer them to a serving plate, put the tomato sauce in a serving bowl. Serve the vegan momos while they are still hot.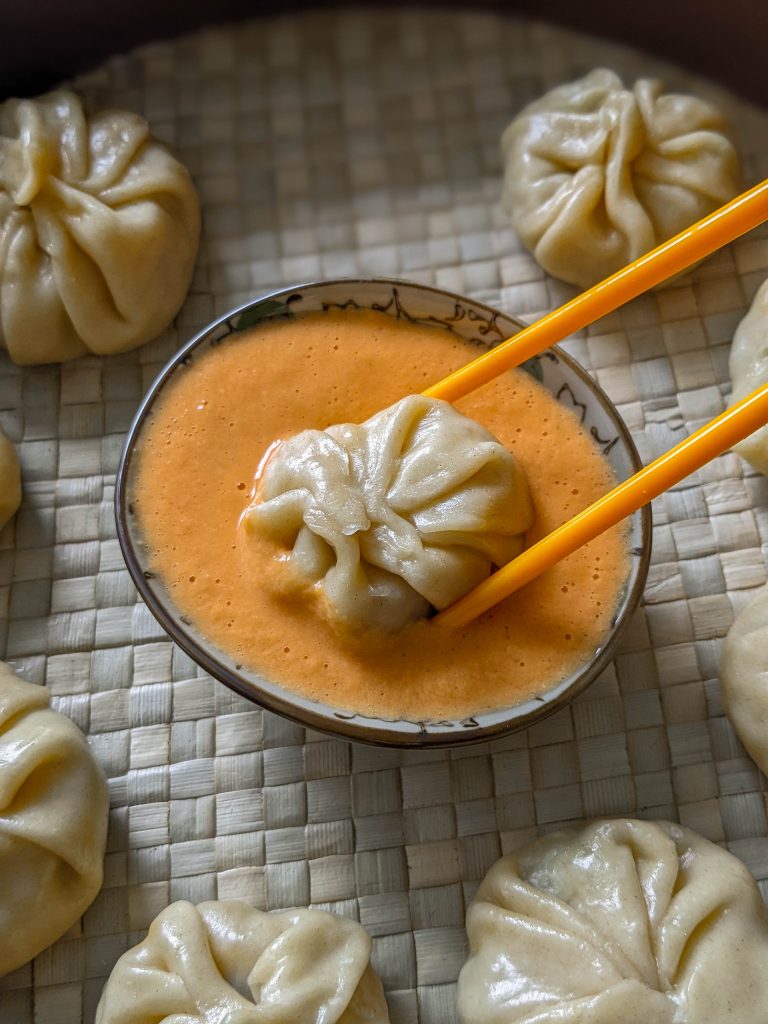 If you liked this recipe, make sure you check out my other recipes like:
Feel free to tell me what you think about this in the comments below, or send me the pictures of your own vegan momos. If you did something differently, I would also like to hear that, I'd love to see the things you come up with.
P.S. for more recipes like this and a bunch of other stuff, follow me on instagram, @margo_drobi.
Also, I recently started a Patreon page, where you can subscribe and help me create more/better content. In return, you will get an exclusive piece of content (recipe) each month. My plan is to increase the amount of that content if I gain a few subscribers. If you are interested and you want to find out more, I will leave the link to my Patreon right – here.