Red pepper pasta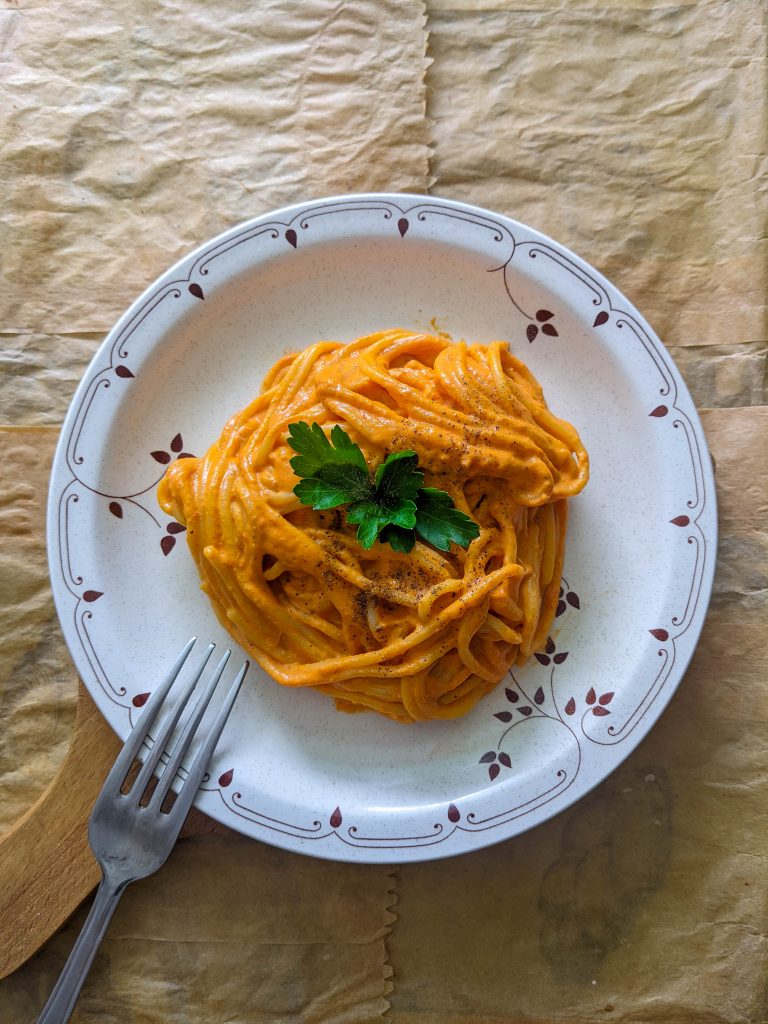 If you have been as busy as I was recently, then you are in dire need of quick and easy recipes. This vegan red pepper pasta is one of those recipes. Believe me when I say, you need this in your life.
This pasta is delicious, creamy and full of flavor. And it only requires a few basic ingredients.
I will not claim that I invented this pasta sauce. It has been all over my insta feed for months and a lot of people were making it. I am not really sure about who started the trend, but I decided to change it a little bit and make it vegan. It was way too good, so I had to share it here with you.
You can use any type of pasta that you like. I had some spaghetti at home, so that is what I cooked. I was somewhat ambitious with the amount of sauce. This could make for 2 good pasta plates, so it was way too much for just myself.
If you can't find any vegan parmesan, feel free to use some nutritional yeast. It adds a lot to the creamines of the sauce. You also do not need soy milk if you don't like it, just use any plant based milk that you want.
I am not going to go so far as to say that this is my favorite pasta sauce. Pasta alla vodka will forever hold the number one spot. But it did come pretty close, and I mean this. So I highly recommend this quick and easy red pepper pasta.
Some health benefits
Other than being super delicious, this creamy pasta sauce can also be somewhat good for you. This is why I decided to discuss the benefits of some of its ingredients.
Bell peppers are mainly made up of water and carbs, but are also a decent source of fiber. They are very high in vitamin C, with a single one providing up to 169% of the RDI. Other vitamins and minerals in bell peppers include vitamin K1, vitamin E, vitamin A, folate, and potassium.
Bell peppers contain many healthy antioxidants, including capsanthin, violaxanthin, lutein, quercetin, and luteolin. These plant compounds are associated with many health benefits. Like other fruits and vegetables, bell peppers may have many health benefits. These include improved eye health and reduced risk of anemia.
Tahini contains a variety of vitamins and minerals. It's also rich in anti-inflammatory monounsaturated fats. It is full of antioxidants, including the lignan sesamin. In animal studies, sesamin has exhibited numerous health benefits. Yet, more research in humans is needed.
Sesame seeds may decrease risk factors for heart disease and the risk of developing type 2 diabetes. Sesame oil and sesame seed extract have been shown to exhibit antibacterial qualities in test-tube and animal studies. These effects are believed to be due to the healthy fats and antioxidants they contain. However, more research is needed. Tahini contain compounds that may promote brain health and protect nerve cells, according to test-tube and animal research. It also contains compounds that may have anticancer properties.
Sesame seeds contain compounds that may protect your liver and kidneys from damage.
And as you might have noticed from the ingredient list, there are a few more healthy veggies included in this recipe, but more on them some other time. I think that these are some pretty good reasons to try and include bell peppers and tahini into your meals every now and then.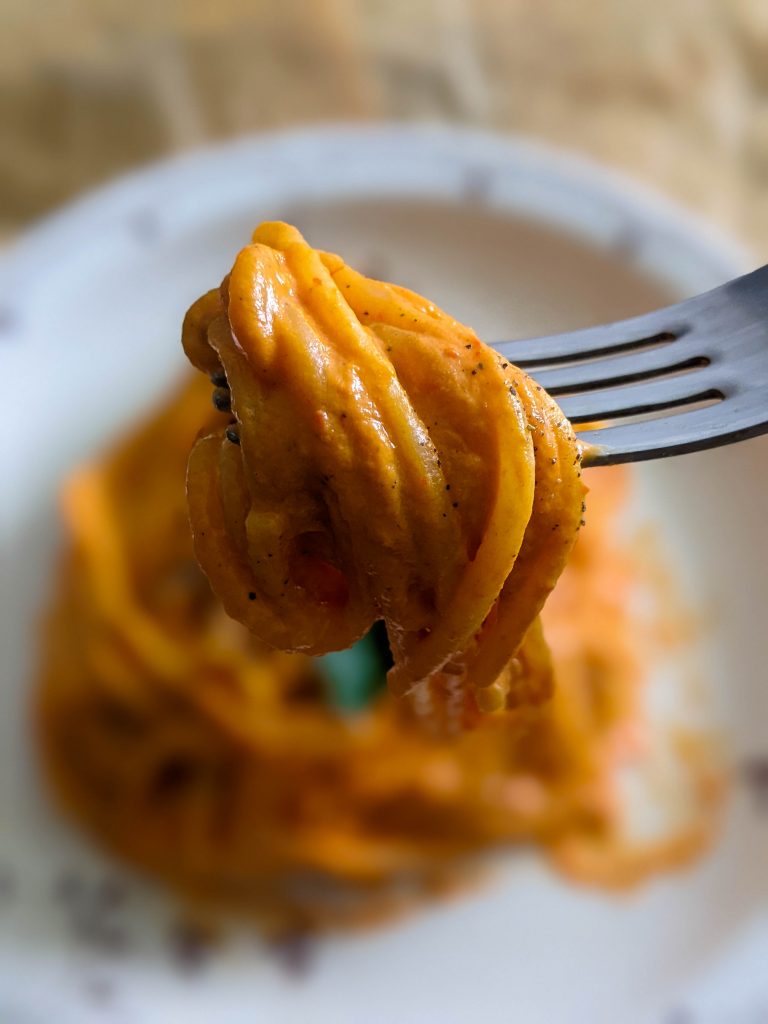 Red pepper pasta
Course: Salty
Ingredients
2 red bell peppers

1 onion

2 garlic cloves

Olive oil

3 tbsp of vegan parmesan (or nutritional yeast)

2 tbsp of tomato paste

2 tbsp of tahini

125 ml of soy milk

Pasta of your choice

Salt and pepper

Parsley for garnishing
Directions
Wash the peppers, the onion and garlic. Remove the stem and the seeds from the bell peppers. Chop the bell peppers and the onion into smaller pieces. Place them on a sheet of parchment paper along with garlic cloves. Drizzle everything with olive oil and mix in order to distribute the oil over the veggies.
Heat the oven to 220 degrees Celsius (428 F) and place the parchment paper with the veggies inside. Roast the veggies for 20 minutes. Meanwhile cook the pasta and let it sit in a small amount of cooking water.
Combine the tahini, tomato paste, soy milk and roasted veggies in a blender and blend until you get a red, creamy sauce. Transfer the sauce to a non-stick pan. Add the vegan parmesan and the cooked pasta with a splash of cooking water. Sprinkle with salt and pepper. Heat everything on medium heat and stir until the sauce thickens and the pasta is completely covered with it.
Transfer the vegan red pepper pasta to a plate (or divide between two plates), garnish with some chopped parsley and serve right away.
If you liked this recipe, make sure you check out my other recipes like:
Feel free to tell me what you think about this in the comments below, or send me the pictures of your own vegan red pepper pasta. If you did something differently, I would also like to hear that, I'd love to see the things you come up with.
P.S. for more recipes like this and a bunch of other stuff, follow me on instagram, @margo_drobi.
Also, I recently started a Patreon page, where you can subscribe and help me create more/better content. In return, you will get an exclusive piece of content (recipe) each month. My plan is to increase the amount of that content if I gain a few subscribers. If you are interested and you want to find out more, I will leave the link to my Patreon right – here