Eggplant cauliflower rolls
This is a dish that I made a vegan version of (and fell in love with) a while ago. And since I need to post a savory dish today, I decided to go with these eggplant cauliflower rolls. You can't go wrong with eggplant.
This dish is vegan, herby and covered in a very delicious tahini sauce. Frankly, I love everything about it. I am not a huge fan of tahini, but this sauce is really something else. The recipe might be one of my all time favorites when it comes to eggplant, and I would recommend it to pretty much everyone.
Some health benefits
Eggplant provides a good amount of fiber, vitamins and minerals in few calories. They are high in anthocyanins, a pigment with antioxidant properties that can protect against cellular damage.
Some animal studies have found that eggplants may improve heart function and reduce LDL cholesterol and triglyceride levels, though human research is needed. They can help promote weight loss. It can also be used in place of higher-calorie ingredients.
Eggplants contain solasodine rhamnosyl glycosides, which test-tube studies indicate may aid in cancer treatment.
Tahini contains a variety of vitamins and minerals. It's also rich in anti-inflammatory monounsaturated fats. It is full of antioxidants, including the lignan sesamin. In animal studies, sesamin has exhibited numerous health benefits. Yet, more research in humans is needed.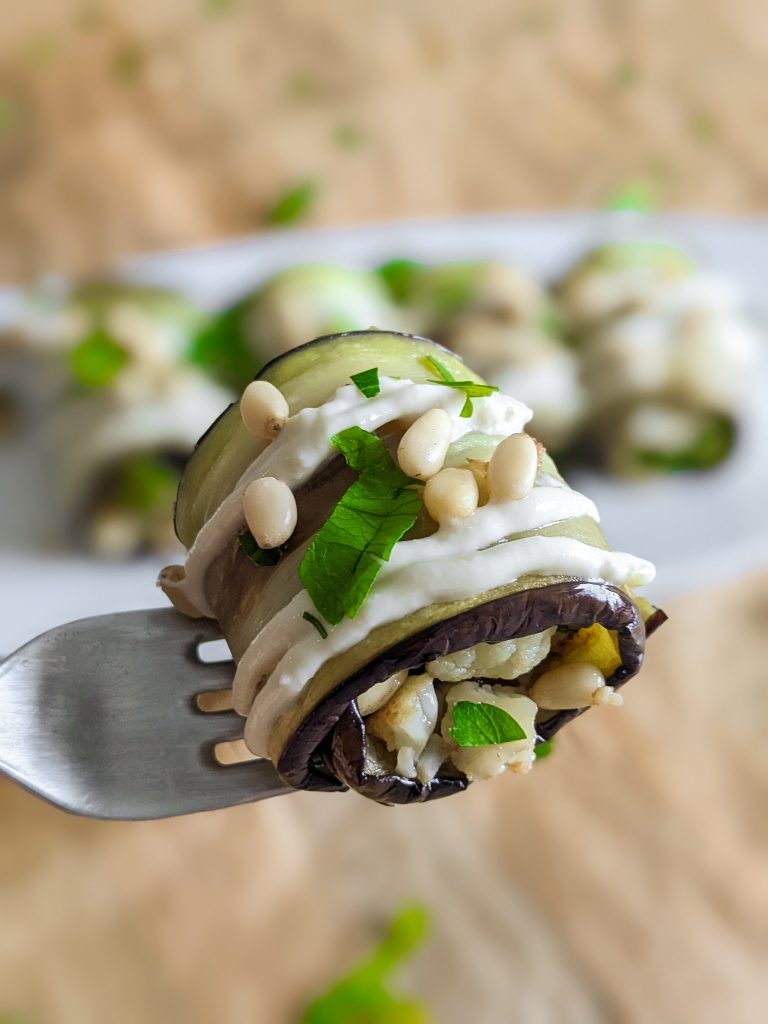 Sesame seeds may decrease risk factors for heart disease and the risk of developing type 2 diabetes. Sesame oil and sesame seed extract have been shown to exhibit antibacterial qualities in test-tube and animal studies. These effects are believed to be due to the healthy fats and antioxidants they contain. However, more research is needed. Tahini contain compounds that may promote brain health and protect nerve cells, according to test-tube and animal research. It also contains compounds that may have anticancer properties.
Sesame seeds contain compounds that may protect your liver and kidneys from damage.
And as you might have noticed from the ingredient list, there are a few more healthy veggies included in this recipe, but more on them some other time. I think that these are some pretty good reasons to try and include eggplant and tahini into your meals every now and then.
A piece of advice
Since I did my best to describe the process clearly and in detail, this section will be super short today.
The one thing I will maybe do differently the next time is steaming the cauliflower. I had no issue with cooking it in a pan, but I might try out the steaming method soon.
You should add as much of parsley and mint as you desire. I used about ¼ of a cup of each. Same goes for the pine nuts. Just make sure to leave some parsley and nuts for garnishing.
You don't have to pipe the sauce from a plastic bag, I just did it that way because it looks nice. You can just pour it or smear it on top of the eggplant cauliflower rolls.
These measurements are enough to make vegan eggplant cauliflower rolls for 2 people. If you need more than that, adjust them accordingly.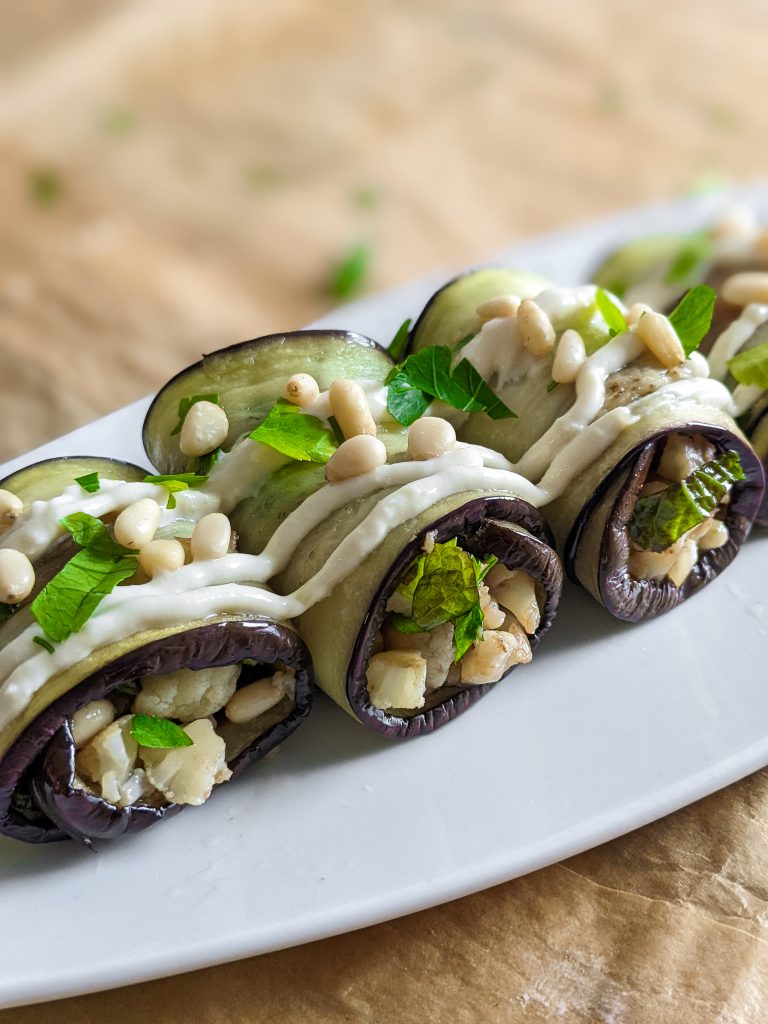 Eggplant cauliflower rolls
Ingredients
2 medium sized eggplants

2 tbsp of olive oil

salt

For the filling:

1 small cauliflower head

1 clove of garlic

½ of a purple onion

fresh parsley (as desired)

fresh mint (as desired)

pine nuts (as desired)

1 + ½ tbsp of olive oil

2 tsp of balsamic vinegar

For the sauce:

1 clove of garlic (minced)

juice from ½ of lemon

2 tbsp of tahini

1 tsp of agave syrup

a splash of water
Directions
Cut the eggplants into thin slices, lengthwise. Brush the slices with olive oil from both sides and sprinkle them with some salt. Place the slices on a sheet of parchment paper. Heat the oven to 200 degrees Celsius (400 F). Place the sheet in the oven and bake the slices for 5 minutes on each side (or until they are golden in color and soft). Take them out on a plate and set them aside.
Next, prepare the filling. Chop the cauliflower into very small pieces (almost like rice), dice the purple onion and finely chop the garlic clove. Chop the parsley and mint leaves into small pieces. Heat some oil on medium heat in a non-stick pan. Cook the chopped cauliflower in the pan until it becomes fork-tender. Add the purple onion and garlic in the pan, mix everything and transfer to a small bowl. Mix in the parsley, mint and pine nuts (as desired). Leave it in the fridge to cool down. Mix together the balsamic vinegar and olive oil, add it to the filling and mix again. Set it aside.
Now it's time to make the sauce. Mix all the sauce ingredients in a small bowl. If it becomes too thick, add a small amount of water and stir. The goal is to make it thick but not too watery.
Take one or two tablespoons of the filling, place it at the broad part of the eggplant slice and roll it (like in the pictures). Do this until you run out of the slices. Put the eggplant cauliflower rolls on a serving plate.
Transfer the tahini sauce in a plastic bag. Use a toothpick and poke a hole at the bottom of the bag. Apply light pressure to it and squeeze the sauce out over the rolls, in a desired pattern. Top the eggplant cauliflower rolls with some pine nuts and chopped parsley.
If you liked this recipe, make sure you check out my other recipes like:
Feel free to tell me what you think about this in the comments below, or send me the pictures of your own vegan eggplant cauliflower rolls. If you did something differently, I would also like to hear that, I'd love to see the things you come up with.
P.S. for more recipes like this and a bunch of other stuff, follow me on instagram, @margo_drobi.
Also, I recently started a Patreon page, where you can subscribe and help me create more/better content. In return, you will get an exclusive piece of content (recipe) each month. My plan is to increase the amount of that content if I gain a few subscribers. If you are interested and you want to find out more, I will leave the link to my Patreon right – here