Persian eggplant bake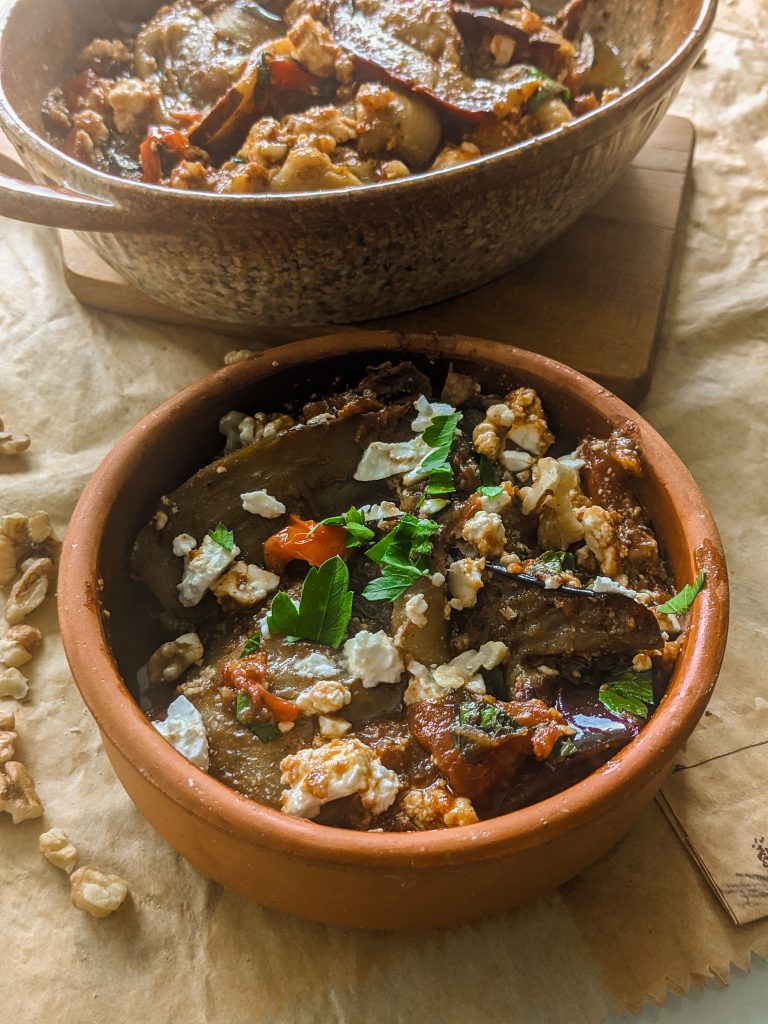 I have made a little research on Persian cuisine since my last post. Turns out that it has so many delicious recipes that I just couldn't decide on what to make next. Finally I decided to try out this Persian eggplant bake. But of course, I had to make it vegan.
This wasn't hard at all, I just had to find replacements for the honey and the feta cheese. It turned out to be a perfect blend of sweet, lemony and salty flavours. Persian cuisine is deffinitely something I will look into more, but first I have to get over the last two recipes I made. Because they were absolute perfection.
Some health benefits
Eggplant provides a good amount of fiber, vitamins and minerals in few calories. They are high in anthocyanins, a pigment with antioxidant properties that can protect against cellular damage.
Some animal studies have found that eggplants may improve heart function and reduce LDL cholesterol and triglyceride levels, though human research is needed. They can help promote weight loss. It can also be used in place of higher-calorie ingredients.
Eggplants contain solasodine rhamnosyl glycosides, which test-tube studies indicate may aid in cancer treatment.
And as you might have noticed from the ingredient list, there are a few more healthy veggies included in this recipe, but more on them some other time. I think that these are some pretty good reasons to try and include eggplant into your meals every now and then. And if you are short on ideas, why not start with this wonderful Persian eggplant bake?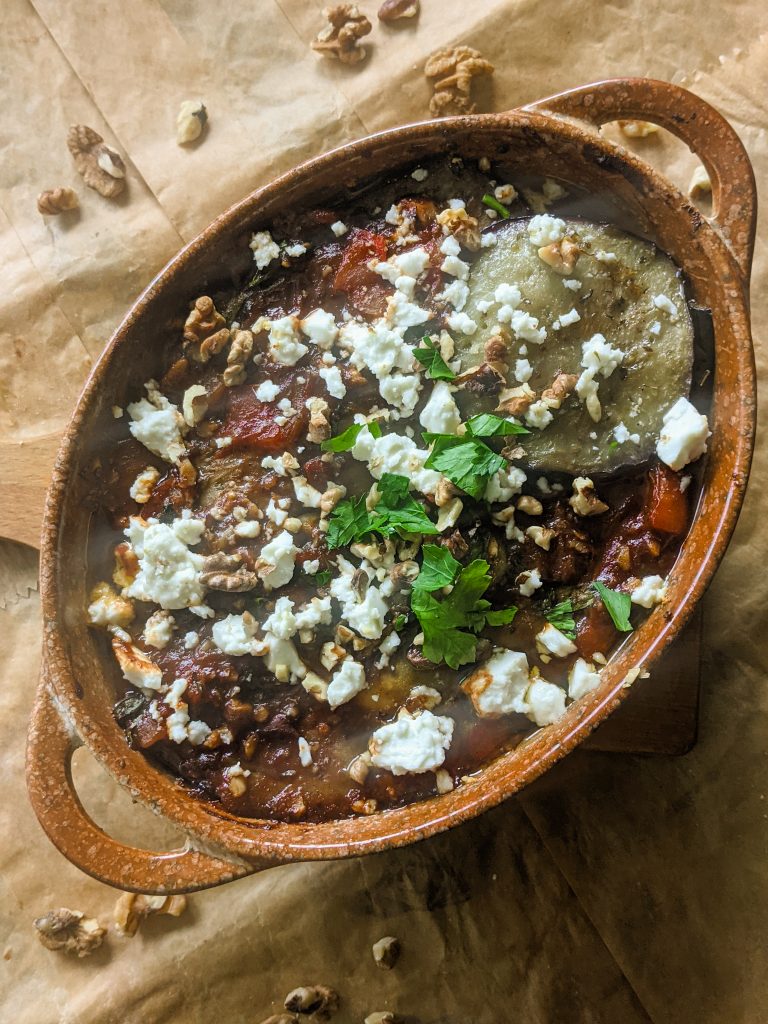 A piece of advice
This might look a bit scary at first, but don't worry. You do not need any extraordinary cooking skills to prepare this meal. And while it seems that you need a lot of ingredients, most of these are just spices and commonly used ingredients. The process is a bit lengthy, but totally worth it. And I am going to give you a few tips and tricks to make this even easier for you.
First of all, I would suggest you prepare and chop or dice all of the ingredients in advance. Since there might be a lot of batches of eggplant slices, I suggest you prepare 2 pans to cook them faster. But don't turn up the temperature too much, you want them to be completely cooked, not only charred.
This recipe calls for pomegranate molasses. If you can't find this ingredient in your local store, don't worry. You can make it at home with only 3 simple ingredients. I will leave a recipe for pomegranate molasses right – here.
Make sure you use your favorite version of vegan feta. Since I always get questions about the cheese I use, might as well write it down here. It is called Green Vie, and this is not a sponsored posed, but I wouldn't mind if they decided to reach out to me.
These measurements are probably enough for two people. If you need more than this, adjust the measurements accordingly.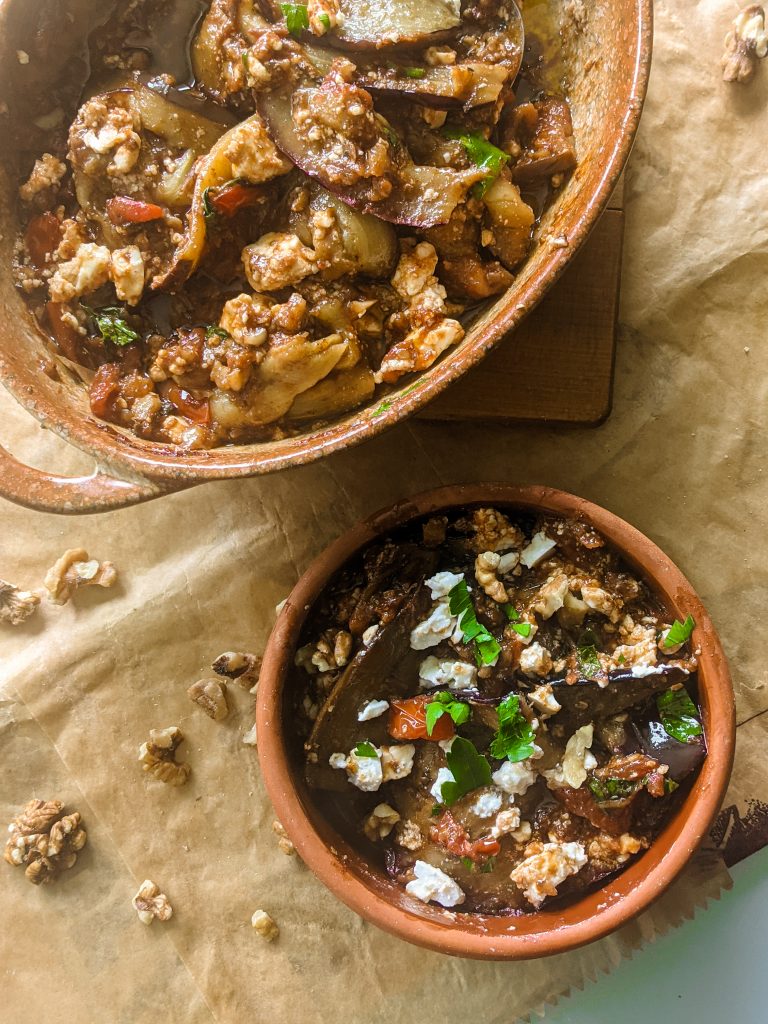 Persian eggplant bake
Ingredients
75 ml of olive oil

1 tbsp of lemon juice

2 tsp of ground cumin

1 tsp of dried oregano

3 large eggplants

2 garlic cloves (chopped)

1 tbsp of ground coriander

1 tsp of cinnamon

250 g of tomatoes (chopped)

50 g of dates (depited, chopped)

50 ml of pomegranate molasses*

1 tbsp of agave syrup (or honey for vegetarian version)

100 g of walnuts (chopped)

340 ml of passata

small bunch of parsley (chopped)

230 g of vegan feta cheese

salt

pepper
Directions
Remove the stems from the eggplants and cut them into thin slices (lengthwise). In a small bowl mix together the olive oil, lemon juice, 1 tsp of ground cumin, oregano, some salt and pepper. Brush each eggplant slice with this mixture from both sides. Heat a non-stick pan to medium heat and cook the eggplant slices in batches until they are all fully cooked and a bit charred. Put them on a plate and set aside.
Put the garlic in the same non-stick pan. Add 1 tsp of cumin and fry on medium temperature until it's fragrant. Stir in the coriander and cinnamon and cook for about 30 seconds.  Add the tomatoes, let them cook for 5 minutes and then add the chopped dates, agave syrup, pomegranate molasses and passata. Rinse out the passata bowl with 125 ml of water and add that water to the pan. Let everything simmer until it thickens (for about 20 minutes). Add 50 g of walnuts and some parsley to the pan. Cook for another 5 minutes. Remove this sauce from the heat.
Take a deep baking dish and line it with some parchment paper. Place a layer of the cooked eggplant slices at the bottom and cover it with a layer of the sauce you just cooked. Keep doing this until you are left with the half of the eggplant slices. Then, place an eggplant layer, cover it with a sauce layer and then add some crumbled vegan feta. When you reach the final layer, top it off with the remaining 50 g of chopped walnuts and the remaining vegan feta chunks.
Bake the Persian eggplant bake in the oven on 180 degrees Celsius (356 F) for 30 minutes. Or until the sauce is bubbling and the edges become crispy.
Notes
*If you can't find this ingredient in your local store, you can make it at home with only 3 simple ingredients. I will leave a recipe for pomegranate molasses right – here.
If you liked this recipe, make sure you check out my other recipes like:
Feel free to tell me what you think about this in the comments below, or send me the pictures of your own Persian eggplant bake. If you did something differently, I would also like to hear that, I'd love to see the things you come up with.
P.S. for more recipes like this and a bunch of other stuff, follow me on instagram, @margo_drobi.
Also, I recently started a Patreon page, where you can subscribe and help me create more/better content. In return, you will get an exclusive piece of content (recipe) each month. My plan is to increase the amount of that content if I gain a few subscribers. If you are interested and you want to find out more, I will leave the link to my Patreon right – here.