Vegan blackberry tart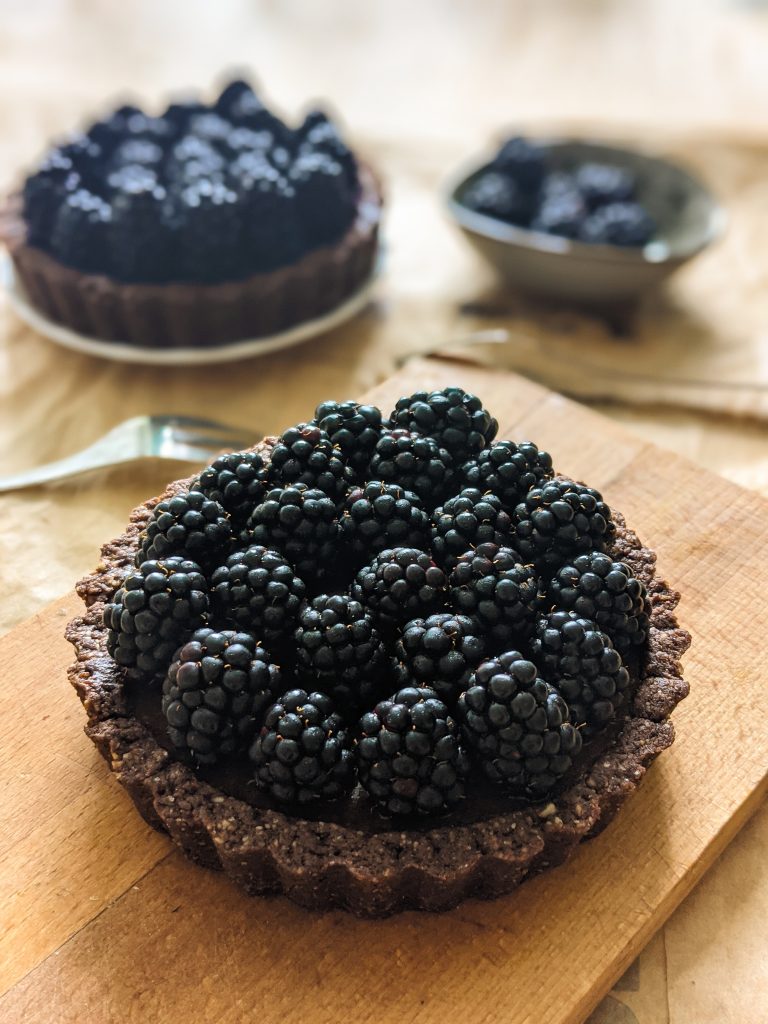 Vegan blackberry tart is probably one of the simplest and prettiest tarts I ever made. I think I already mentioned how I wanted to make a dessert with the most fruits in season this year. So I am sticking to it.
A few months ago I found a recipe book in a coffee shop. Since I had nothing better to do I started checking out these recipes. I liked the picture of a blackberry tart that looked exactly like this, but I didn't really like the recipe. So I decided to make my own blackberry tart that looks like that, but is also vegan and yummier.
And this is the result. I have to say that this is probably the best tart crust I ever made. I chose not to add agar agar, so the filling is softer than the one in my previous tarts. If you have a problem with that, feel free to add some.
And don't forget to read the next section for some extra tips and tricks.
A piece of advice
This is not like my other tart recipes, in the sense that it needs fewer ingredients and that the crust needs to be baked. I think that this time I finally made a perfect tart crust. Since I also wanted to make it as cheap as possible, I decided to leave out a few ingredients from the cream, including agar agar.
That resulted in a cream that is softer than the ones I am used to, but I didn't mind it. However, if you can't wait for this cream to set, I suggest you add ½ tsp of agar agar (mixed with some water) to the cream before it boils.
When you're in the process of shaping your crust, make sure that you poke a few holes in the bottom of the crust with a fork. If you don't the crust might rise and break while it's in the oven.
Do not try to take the crust out of the baking dish before it is completely cold. You will only break it. When the time comes for the entire tart to be taken out, use a fork for a little bit of help. Try to push it out from the edges.
When it comes to the filling, make sure that the chocolate you're using has cocoa butter on the ingredient list. Vegan butter is basically vegan margarine (if you are wondering). And feel free to use a different vegan whipped cream if you want (except for aquafaba).
Leave the vegan blackberry tarts in the fridge to set, or if you can't wait for that long, pop them in the freezer for about an hour. Let them defrost in the fridge before handling them. These measurements are enough for two small (mini) tarts. If you need more than that, make sure to adjust the measurements accordingly.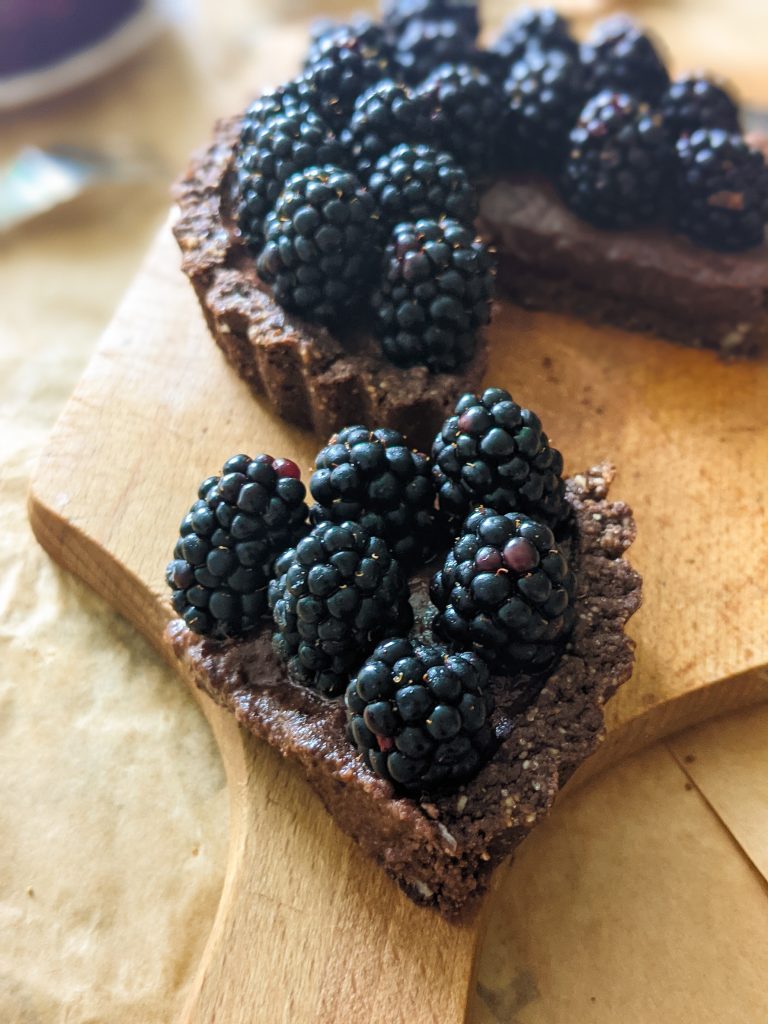 Vegan blackberry tart
Ingredients

For the crust:

40 g of peanut butter

60 g of sugar

30 ml of water

20 ml of oil

40 g of ground almonds

80 g of all-purpose flour

20 g of cocoa powder

2 pinches of baking soda

For the filling:

100 g of coconut cream (or other thick vegan whipped cream)

60 g of blackberry jam

75 g of dark chocolate

1 tbsp of vegan butter

300 g of fresh blackberries for decoration
Directions
In a deep bowl put 40 g of peanut butter, sugar, water, oil and ground almonds and mix everything. Then add the flour, baking soda and the cocoa powder. Stir until it is combined and then knead with your hands until you get a brown dough.
Divide it into 2 equal parts. Take 2 small tart baking dishes and spray them with some non-stick spray. Take one piece of the dough and use your fingers to press it into the bottom and sides of the baking dish. You should end up with a thin and even crust.
Take a fork and poke a few holes in the bottom of the crust.
Heat the oven to 180 degrees Celsius (356 F). Place the baking dishes in the oven and bake the crusts for 10 minutes. Remove them from the oven and let them cool down completely. Do not try to take the crusts out of the dishes before that.
Make the cream. Put the coconut cream and blackberry jam in a small saucepan and bring them to boil over medium heat. When the mixture starts to boil, remove it from the heat and add vegan butter and dark chocolate to the saucepan. Gently mix and let them melt.
After everything is melted and well combined, pour the mixture into 2 of the tart crusts. Leave the vegan blackberry tarts in the fridge to set, or if you can't wait for that long, pop them in the freezer for about an hour. Gently remove the tarts from the baking dishes (you can use a fork to do this). If they were in the freezer let them defrost in the fridge.
Wash the fresh blackberries. When the filling sets, put them on top of your vegan blackberry tarts and serve.
If you liked this recipe, make sure you check out my other recipes like:
– vegan matcha pistachio chocolate
– vegan chocolate raspberry tarts
Feel free to tell me what you think about this in the comments below, or send me the pictures of your own vegan blackberry tart. If you did something differently, I would also like to hear that, I'd love to see the things you come up with.
P.S. for more recipes like this and a bunch of other stuff, follow me on Instagram, @margo_drobi.
Also, I recently started a Patreon page, where you can subscribe and help me create more/better content. In return, you will get an exclusive piece of content (recipe) each month. My plan is to increase the amount of that content if I gain a few subscribers. If you are interested and you want to find out more, I will leave the link to my Patreon right – here.