Pesto eggplant slices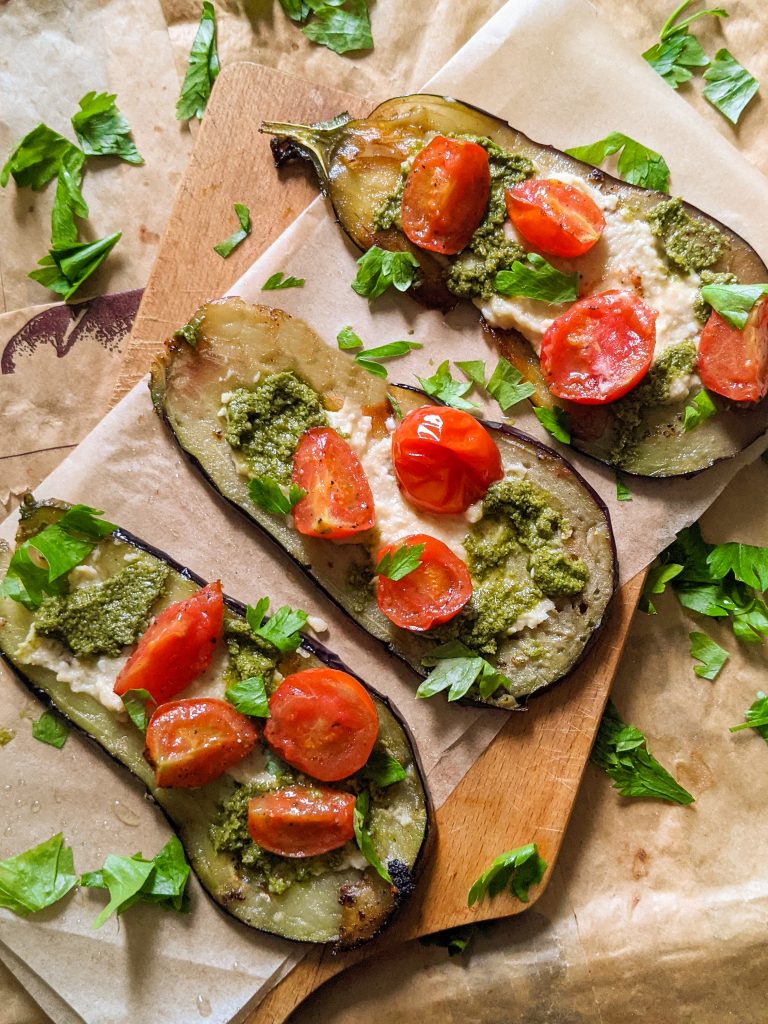 Today I am writing down a recipe for a little snack. Pesto eggplant slices are not a whole meal that will keep you full, but rather a delicious side dish.
This is not something I came up with on my own. Something similar appeared on my Instagram feed a few weeks ago. I never read the recipe or saved the image, so this is kind of my version of what I saw. If I ever come across the real deal, I'll make sure to try the recipe I got inspired by and credit the author.
However, this thing I made is beyond delicious, as you can probably tell from the ingredient list. It is also vegan and very easy to make and I highly recommend you try it out.
So keep reading the article to find some tips and tricks and health benefits of this dish.
Some health benefits
You probably noticed that this recipe has quite a few healthy ingredients. So it would be only appropriate to write a thing or two about them. I picked out two of the ingredients so that this post wouldn't be longer than it should.
Eggplant provides a good amount of fiber, vitamins and minerals in few calories. They are high in anthocyanins, a pigment with antioxidant properties that can protect against cellular damage.
Some animal studies have found that eggplants may improve heart function and reduce LDL cholesterol and triglyceride levels, though human research is needed. They can help promote weight loss. It can also be used in place of higher-calorie ingredients.
Eggplants contain solasodine rhamnosyl glycosides, which test-tube studies indicate may aid in cancer treatment.
And as you might have noticed from the ingredient list, there are a few more healthy veggies included in this recipe, but more on them some other time. I think that these are some pretty good reasons to try and include eggplant into your meals every now and then.
Fresh tomatoes are low in carbs. The carb content consists mainly of simple sugars and insoluble fibers. These vegetables (or fruits) are mostly made up of water. Tomatoes are a good source of several vitamins and minerals, such as vitamin C, potassium, vitamin K, and folate. Lycopene is one of the most abundant plant compounds in tomatoes. It's found in the highest concentrations in tomato products, such as ketchup, juice, paste, and sauce. Lycopene is a strong antioxidant that can protect your body against oxidative stress and offer some protection from certain environmental toxins and chronic diseases.
Studies show that tomatoes and tomato products may reduce your risk of heart disease and several cancers. It is also beneficial for skin health, as it may protect against sunburns. Tomatoes are generally well tolerated but may cause allergic reactions in people allergic to grass pollen. Replacing sweetened drinks such as soda with tomato juice can benefit your health.
A piece of advice
As you can tell, this recipe is very quick and easy to make. Anyone can do it. And you only need a few ingredients. But as always, I am going to write a few things in this section.
I used a medium sized eggplant for this recipe, just so it can fit the pan that I have. These measurements are just approximations, and you do not have to stick to them. I only needed a few slices, so I didn't need a lot of veggies. If you want to make more pesto eggplant slices than I did, make sure to adjust the measurement accordingly.
Your eggplant slices don't need to be super thin (they are going to shrink a bit in the pan anyways), just make sure you don't cut them in half by accident.
When they are cooked, you can leave them on a separate plate or dab them a little with a kitchen towel in order to remove the excess oil.
I used a small amount of hummus and pesto, but you can use as much as you like. Feel free to play with the ingredients and adjust them to your taste.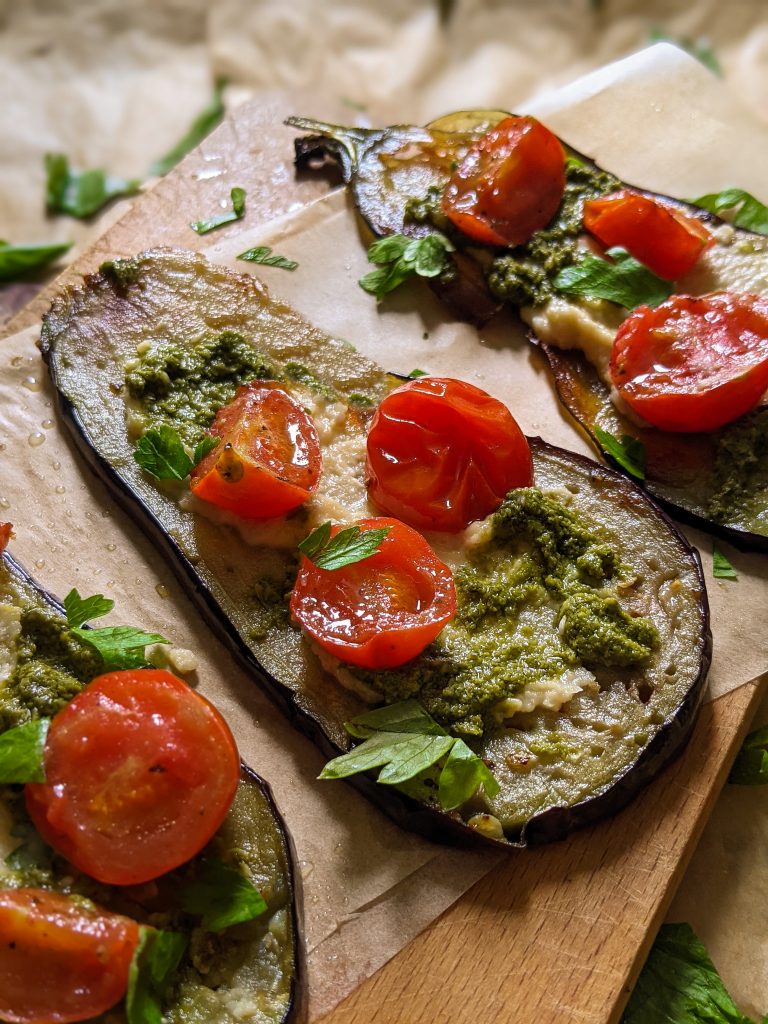 Pesto eggplant slices
Ingredients
1 medium sized eggplant

10 cherry tomatoes

salt

pepper

3 tsp of hummus

3 tsp of pesto (vegan)

parsley (small bunch)

oil
Directions
Slice the eggplant into several thin slices (lengthwise). Chop the cherry tomatoes into halves and cut the parsley into smaller pieces.
Drizzle some oil on a non-stick pan and heat it on medium heat. Place the chopped tomatoes in the pan, add a few shakes of salt and pepper. Cook them from both sides until they become soft and wrinkled. Remove them from the pan and set aside.
Place the eggplant slices in the non-stick pan, add some more oil if needed. Cook them from both sides until they become soft and fork tender. Remove the eggplant slices from the pan and place them on a plate.
Spread some hummus over each slice. Then take the vegan pesto and smear or drizzle it over the eggplant slices. Place the cooked cherry tomato halves on top of them and sprinkle everything with some parsley.
Serve the pesto eggplant slices right away.
If you liked this recipe, make sure you check out my other recipes like:
Feel free to tell me what you think about this in the comments below, or send me the pictures of your own vegan pesto eggplant slices. If you did something differently, I would also like to hear that, I'd love to see the things you come up with.
P.S. for more recipes like this and a bunch of other stuff, follow me on instagram, @margo_drobi.
Also, I recently started a Patreon page, where you can subscribe and help me create more/better content. In return, you will get an exclusive piece of content (recipe) each month. My plan is to increase the amount of that content if I gain a few subscribers. If you are interested and you want to find out more, I will leave the link to my Patreon right – here.