Vegan cheese crepes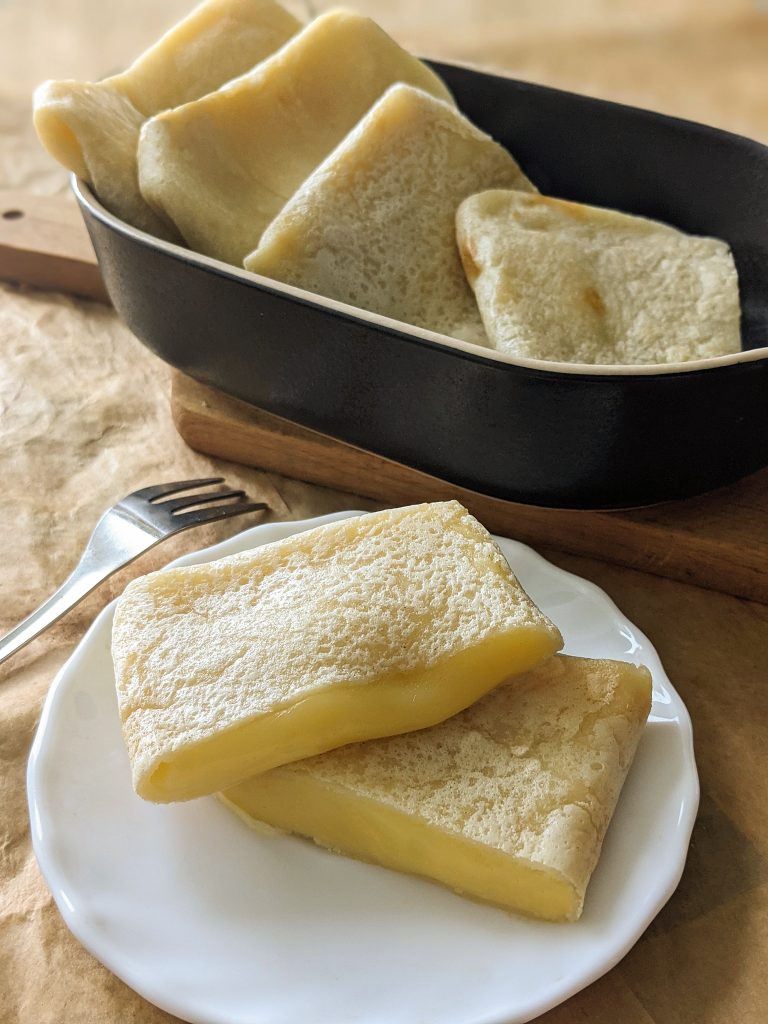 So, today I made a vegan version of something I saw somewhere on social media. I've only seen a picture of it for a few seconds, but it doesn't take a genius to create a version of that dish. These are my vegan cheese crepes.
Is this a healthy recipe? Absolutely not. I do not recommend you eat this for breakfast every day, I know I don't. But it is okay to have it once in a while. Is it more ethical than regular cheese filled crepes? Definitely. We vegans also deserve some junk food from time to time, and these delicious crepes are now one of my favorites in that category.
A piece of advice
This is a very easy recipe that requires only a few simple ingredients. However, I will still write down a few tips for people who never made anything like this and also answer a few questions that I usually get.
First I'd like to talk about the ingredients. You do not have to use soy milk, any plant-based milk wlill do. Just make sure it is not too sweet as this might affect the flavor of your vegan cheese crepes. It should also be room temperature and not straight out of the fridge. This will help you avoid lumps from forming in your batter. But if you end up with a few lumps, that's totally fine.
I never made a different version of this recipe, but my guess is that you can use a different type of flour. You can probably make them gluten-free, however I never tried this. If you do, let me know how it went.
Make sure you use your favorite vegan cheese for this recipe. I would recommend one that melts really well. Since I get this question all the time I might as well write it here, the cheese that I use is GreenVie. This is not a sponsored post, but if they ever wanted to reach out – I'm down. Also, try to use the vegan cheese that is room temperature, and not straight from the fridge. It might melt quicker that way. The cheese squares should not be too big, you should be able to close them off completely with the sides of the crepe.
I recommend you brush the pan lightly with oil as instructed in the recipe rather than pouring the oil in the pan directly. This will prevent your crepes from being too greasy. You don't have to do it before cooking every crepe, just 2 or 3 times. Just be careful not to burn your fingers in the process.
These measurements are enough for 6 medium vegan cheese crepes.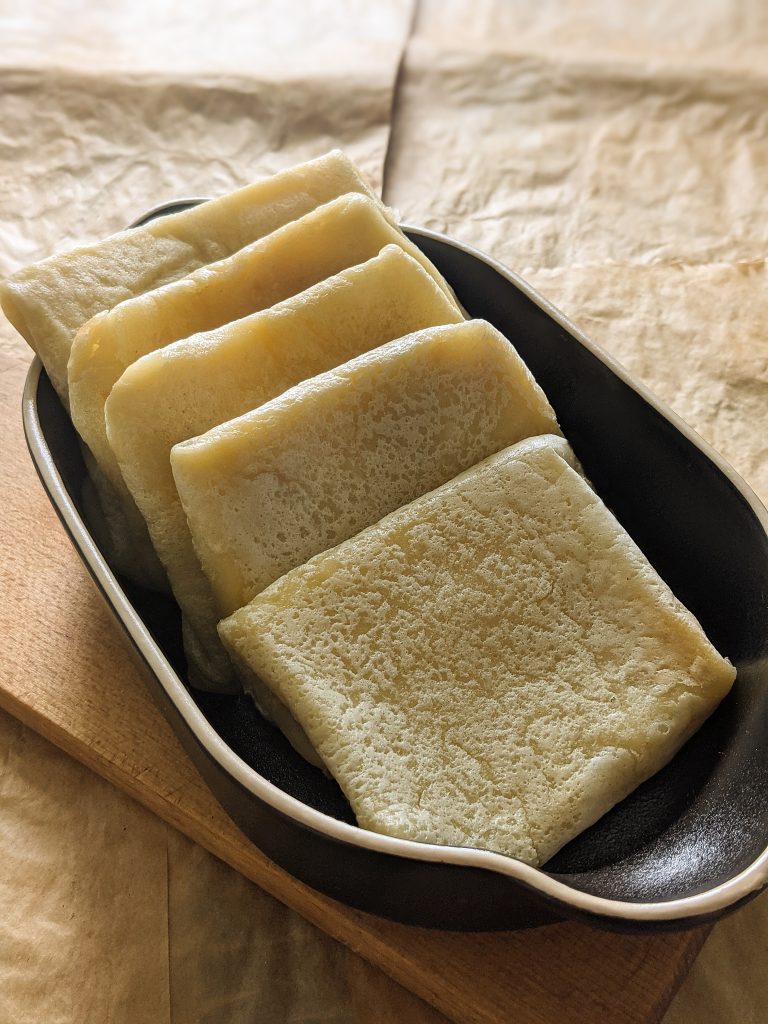 Vegan cheese crepes
Ingredients
135 g of all-purpose flour

¼ tsp of salt

245 ml of soy milk

1 tbsp of olive oil

200 g of vegan cheese
Directions
Make sure that the soy milk you are using is room temperature. Cold milk might result in lumps in your batter. Cut the vegan cheese into squares and set aside.
In a deep bowl mix the all-purpose flour and salt. Mix the soy milk and olive oil in a cup and then add them to the bowl with the flour. Mix vigorously with a wire whisk in order to prevent any lumps from forming. The batter should be slightly runnier than the regular crepe batter.
Take a non-stick pan, dip a piece of a paper towel into some oil and lightly brush the entire pan with it. Put it on a stove and heat it to medium heat. Lift the pan from the stove and pour a small amount of crepe batter into the pan (you can use a small cup as a measurement). Make a circular motion with the hand while you are holding the pan, so that the batter distributes evenly in a circle shape.
Put the pan back on the stove and let the crepe cook. When the edges get a bit crispy and start to lift from the pan, use a large spoon or a spatula to flip the crepe. Let it cook for about 30 seconds, then place the vegan cheese square in the middle of the crepe. Use a spoon to fold 4 sides of the crepe inward to close off the piece of cheese (left and right side, then the upper and lower side). Having long witch nails like myself can help in this situation. Press the folded crepe down with a spoon. This will help the cheese melt and the sides of the crepe stay in place.
Flip the crepe and press it down with the spoon again. Cook the crepe like this until the vegan cheese inside gets soft, which would mean that it has melted for the most part. Put the vegan cheese crepe on a plate. Remove the pan from the stove, lightly brush the pan with oil again and repeat the entire process until you run out of crepe batter and cheese.
These measurements are enough for 6 medium-sized vegan cheese crepes. If you need more than that make sure you adjust the measurements accordingly.
If you liked this recipe, make sure you check out my other recipes like:
Feel free to tell me what you think about this in the comments below, or send me the pictures of your own vegan cheese crepes. If you did something differently, I would also like to hear that, I'd love to see the things you come up with.
P.S. for more recipes like this and a bunch of other stuff, follow me on Instagram, @margo_drobi.
Also, I recently started a Patreon page, where you can subscribe and help me create more/better content. In return, you will get an exclusive piece of content (recipe) each month. My plan is to increase the amount of that content if I gain a few subscribers. If you are interested and you want to find out more, I will leave the link to my Patreon right – here.
And that was it for today, if you are using Pinterest make sure you follow me on there, and if you want, pin this image: