Fluffy vegan pancakes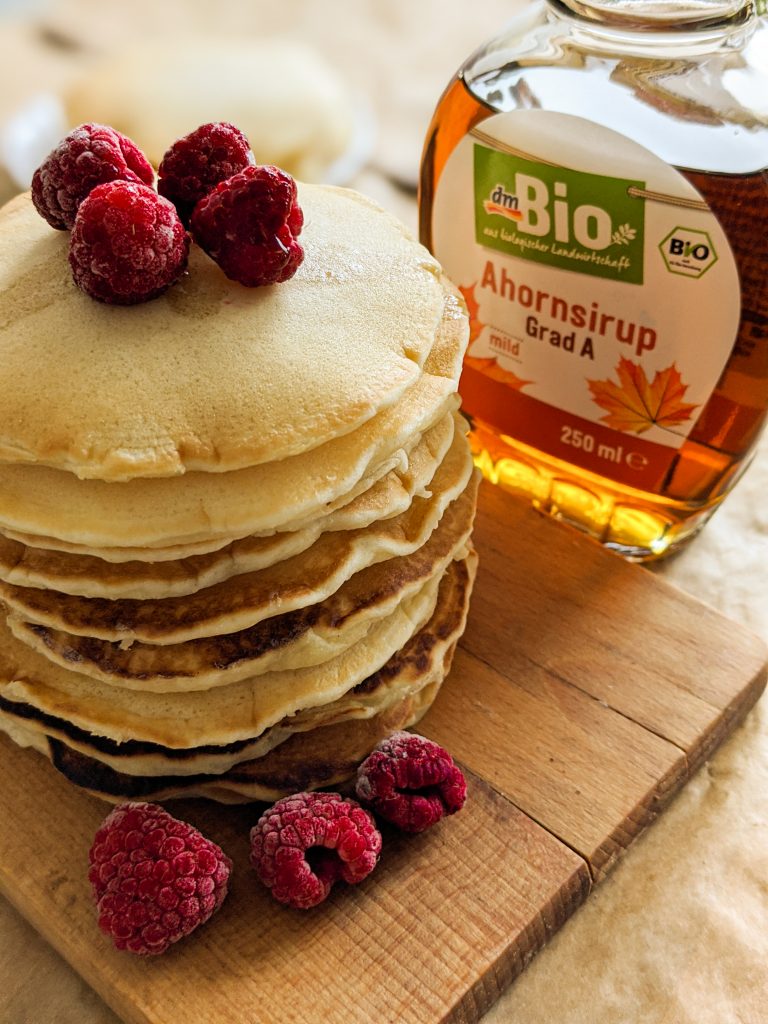 In one of my older posts (vegan pancake cereal) I mentioned that I have a go-to pancake recipe. And today I am finally writing it down. If you want to make soft, fluffy vegan pancakes, you can't go wrong with this one.
I might have mentioned that before, but I don't usually eat pancakes for breakfast. Mainly becouse they are not the healthiest option out there and because they require some time to make (which I usually don't have in the morning). But every now and then I get cravings, and if I am going to eat something unhealthy for breakfast, it better be damn good. And these pancakes most definitely are.
I have tried a lot (and I really mean a lot) of different pancake recipes in my lifetime. I'm not saying that the other ones were bad, but these fluffy vegan pancakes stole my heart, and I keep coming back to this recipe time and time again.
In almost every one of my posts, there is a section where I write about the health benefits of certain ingredients. Sadly, as you might have noticed when looking at the ingredient list, there is not a lot of benefits to be mentioned. So today I am going to skip that section in this post. The healthy thing about these pancakes is that they are egg-free and dairy-free.
The kids also like them very much. I try to watch what I eat, but from time to time, I do like to treat myself with these. A little sugar can't hurt.
A piece of advice
These are sweet pancakes, but I do think that you can make a savory version by skipping sugar. You can also make them a bit healthier that way. But if it does not bother you, you can enjoy the recipe as it is.
Every time I mention vegan butter in a post I get a lot of questions about it, and where to buy it. The truth is, it's just margarine. But just make sure it does not contain any animal products, you should always check the label when buying one (if you are vegan of course).
I could never find potato starch in my city, so I always use tapioca starch, but I just decided to put potato starch on the list so you know you can use that too.
When you mix plant-based milk and vinegar (or lemon juice), you get something called vegan buttermilk. It is mainly used for pancakes and cakes. Just make sure that you set it aside for a few minutes after you mix it (5 at least).
At first you might think that this recipe requires a lot of work, but trust me, it is super easy, and anyone can make it. These vegan pancakes are fluffy, soft, sweet and very delicious. So if you want to treat yourself, or make a tasty breakfast for someone else, this is the way to go.
Like the type of plant-based milk and sugar, the toppings are optional as well. You can serve them with maple syrup, fruit, chocolate syrup, anything you like really.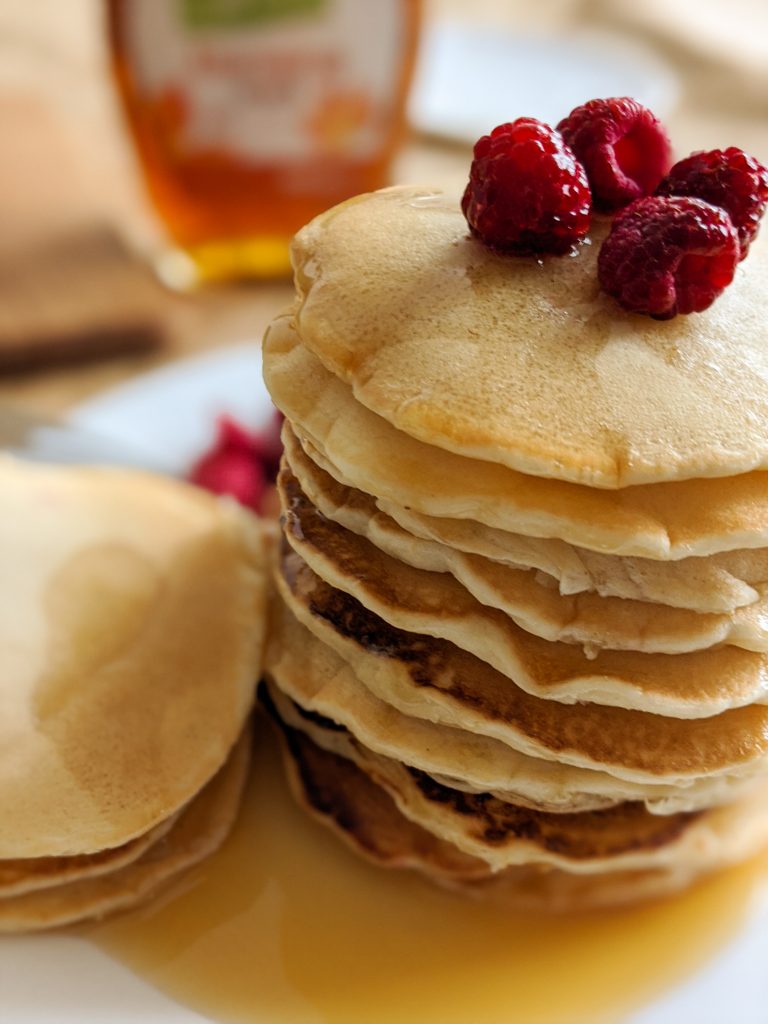 Ingredients
200 g of flour
30 g of potato or tapioca starch
50 g of sugar
pinch of salt
2 tsp of baking powder
200 ml of almond (or any other plant-based) milk
4 tsp of vinegar
20 g of melted vegan butter (or coconut oil)
50 ml of maple syrup
100 ml of water
Instructions
Mix milk and vinegar and set aside. In a deep bowl, mix flour, starch, sugar, baking powder and salt and mix well. Add melted vegan butter and maple syrup to the milk/vinegar mixture. Add the liquid ingredients to the dry ones and stir until everything is combined. Then add water and stir again briefly. Set the dough aside for 5-10 minutes. Fry pancakes in a non-stick pan over medium heat until golden brown on both sides.
Serve the pancakes with toppings of your coice. I used maple syrup and fruit.
If you liked this recipe, make sure you check out my other recipes like:
Feel free to tell me what you think about this in the comments below, or send me the pictures of your own fluffy vegan pancakes. If you did something differently, I would also like to hear that, I'd love to see the things you come up with.
P.S. for more recipes like this and a bunch of other stuff, follow me on instagram, @margo_drobi.
Also, I recently started a Patreon page, where you can subscribe and help me create more/better content. In return, you will get an exclusive piece of content (recipe) each month. My plan is to increase the amount of that content if I gain a few subscribers. If you are interested and you want to find out more, I will leave the link to my Patreon right – here.