Vegan wraps (oven-baked)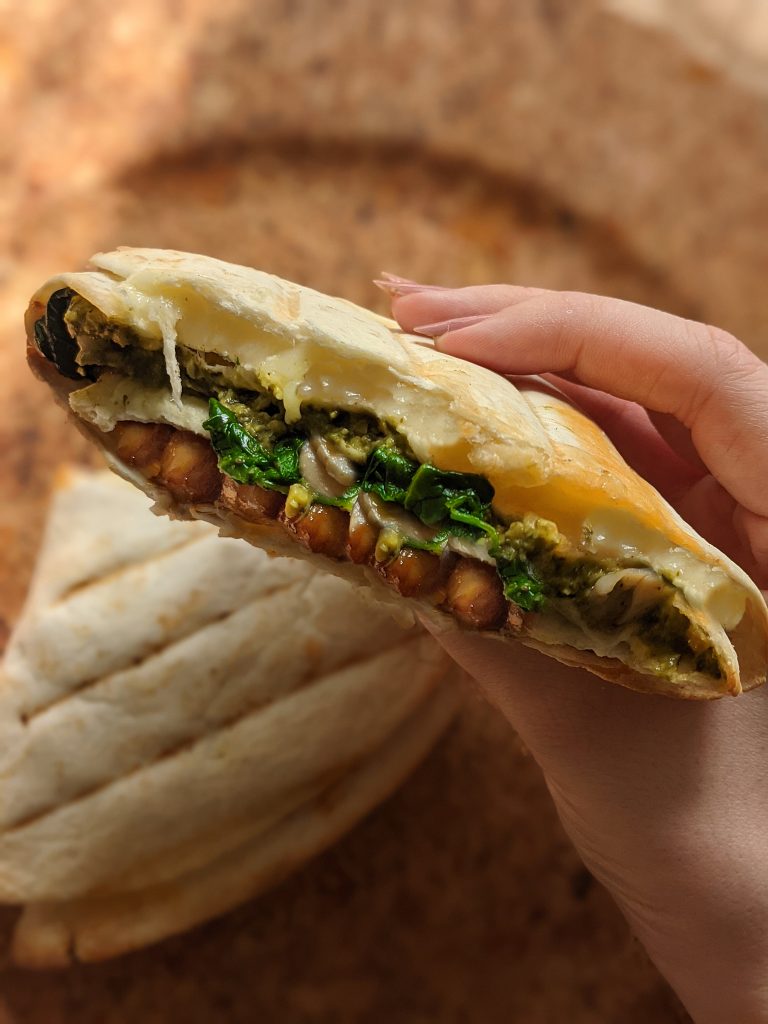 I may be a bit late to get with this trend, but in any case – here it is. A vegan wrap that I made using my favorite wrap fillings. A cheesy, crunchy and juicy vegan meal that is incredibly easy to make. You do not want to miss out on this one, so I suggest you keep reading.
Some health benefits
You can combine any ingredients you like in this recipe. But I am going to write down a few things here about the ones I chose to use.
The fiber, potassium, and vitamin C in mushrooms may contribute to cardiovascular health. They also contain a good portion of vitamin D and protein, which is a bit hard to come by if you don't eat animal products. Spinach is extremely healthy and linked to numerous health benefits. It has been shown to improve oxidative stress, eye health, and blood pressure. Spinach contains antioxidants, which fight oxidative stress and help reduce the damage it causes.
It is rich in zeaxanthin and lutein. Human eyes also contain high quantities of these pigments, which protect your eyes from the damage caused by sunlight. Additionally, several studies indicate that zeaxanthin and lutein work to prevent macular degeneration and cataracts, which are major causes of blindness. These compounds may even be able to reverse existing damage. Spinach contains two components, MGDG and SQDG, which may slow down cancer growth. It also contains high amounts of nitrates, which have been shown to help moderate blood pressure levels and decrease the risk of heart disease.
Chickpeas contain beneficial antioxidants called polyphenols. Antioxidants are compounds that fight against unstable molecules called free radicals in your body, which contribute to the development of various diseases. Research shows that it can decrease the risk of getting diabetes, improve the health of your heart, improve the immune system, and help with digestion problems. It is also said to improve hair growth. And these are only some of the reasons you might want to incorporate chickpeas in your diet. I know I will be making these vegan wraps really soon again.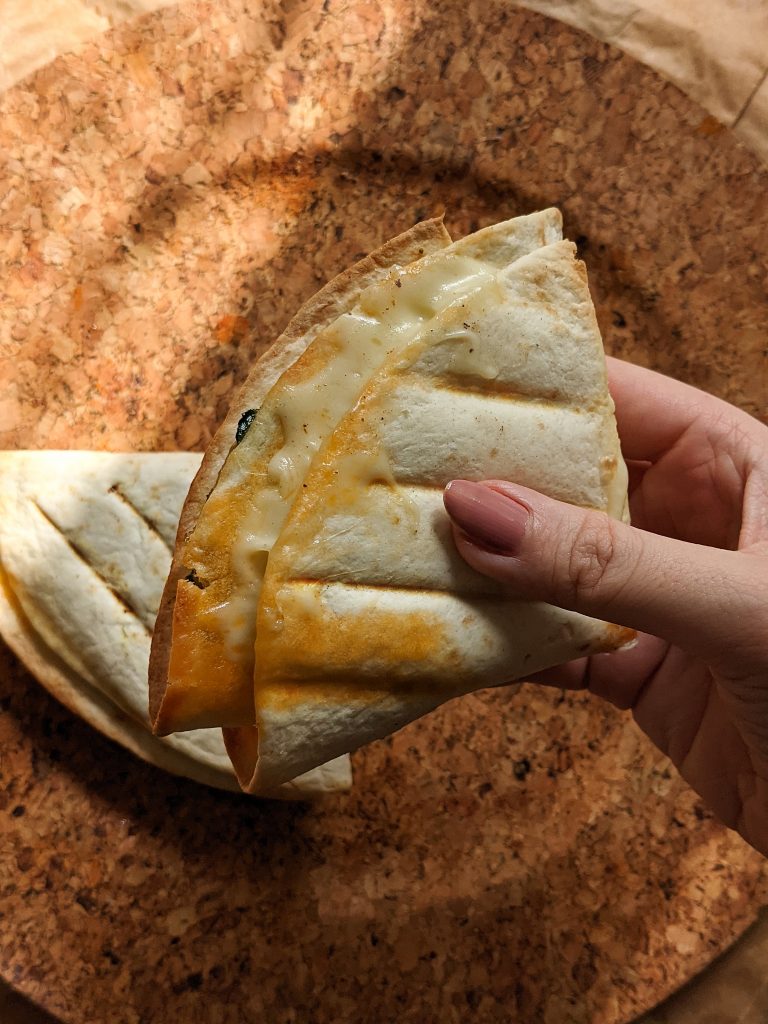 A piece of advice
This might be one of my easiest recipes yet, and I think everything is pretty clear from the instructions and the pictures. But I wouldn't be me if I didn't find something helpful to add in this section.
First I'd like to say, you do not have to stick to these fillings. I want to experiment too, so in the future I might make an avocado, hummus, beans/corn and jackfruit vegan wrap. Or something like that. You can get creative as well, just combine 4 of your favorite fillings. But I have to say, this version is quite delicious and worth a try.
Do NOT CUT the tortilla all the way in half, make sure you just cut the lower half of the circle. It would be best if you aranged the ingredients like I did in the pictures. Gently hold the mushrooms in place while you fold the first part of the tortilla.
To get the best results, find a vegan cheese that melts. I really wanted to get a small grill so I can make these on it all the time, but I don't think that would be money well spent. So I chose to cook the wraps in the oven and I have to say the results were more than satisfying. However, if you own a grill, feel free to cook the wraps on it. To avoid a mess, put a baking dish or parchment paper below the grid in the oven. If the cheese melts and starts to drip, it will fall right on it.
These measurements make about 4 small-sized vegan wraps. Adjust the measurments accordingly if you need more than that or if you are using large tortillas.
Vegan wraps (oven-baked)
Ingredients
4 tortillas

1 can of chickpeas

200 g of vegan cheese

10-12 mushrooms

green pesto

baby spinach (as desired)

barbecue sauce
Directions
Cut the mushrooms and remove the stems from baby spinach leaves. Heat a little bit of oil on a pan and cook the mushrooms on medium heat. When they become soft and the water evaporates from the pan, add the baby spinach, mix and cook for another few minutes.
Drain the water from the chickpea can. Heat a little bit if oil on a different pan and put the chickpeas in. Cook them for a few minutes on medium heat and then drizzle them with some barbecue sauce. Cook them while stirring from time to time. When they become a bit softer and are covered in barbecue sauce you can remove the pan from the heat.
Grate the vegan cheese or cut it into thin slices. Place a tortilla on a flat surface. Find a center with a knife and cut the tortilla downward like in the pictures. Divide the chickpeas, mushroom and spinach mix, pesto and vegan cheese on four sides of the tortilla. Take the right bottom side with your hand and fold it over the top right side. Then fold the two of them over the top left part, and then fold once more. Repeat this until you run out of tortillas (or the filling).
Heat the oven to 230 degrees Celsius (450 F). Place everything on the oven grid. Place small plates on top of each wrap to prevent them from unfolding (I placed small souffle ramekins). Close the oven and cook them for 6 to 7 minutes. Serve the vegan wraps while they are still warm.
If you liked this recipe, make sure you check out my other recipes like:
– vegan caramelized onion soup
Feel free to tell me what you think about this in the comments below, or send me the pictures of your own vegan wraps. If you did something differently, I would also like to hear that, I'd love to see the things you come up with.
P.S. for more recipes like this and a bunch of other stuff, follow me on Instagram, @margo_drobi.
Also, I recently started a Patreon page, where you can subscribe and help me create more/better content. In return, you will get an exclusive piece of content (recipe) each month. My plan is to increase the amount of that content if I gain a few subscribers. If you are interested and you want to find out more, I will leave the link to my Patreon right – here.
And that was it for today, if you are using Pinterest make sure you follow me on there, and if you want, pin this image: