Caramelized onion soup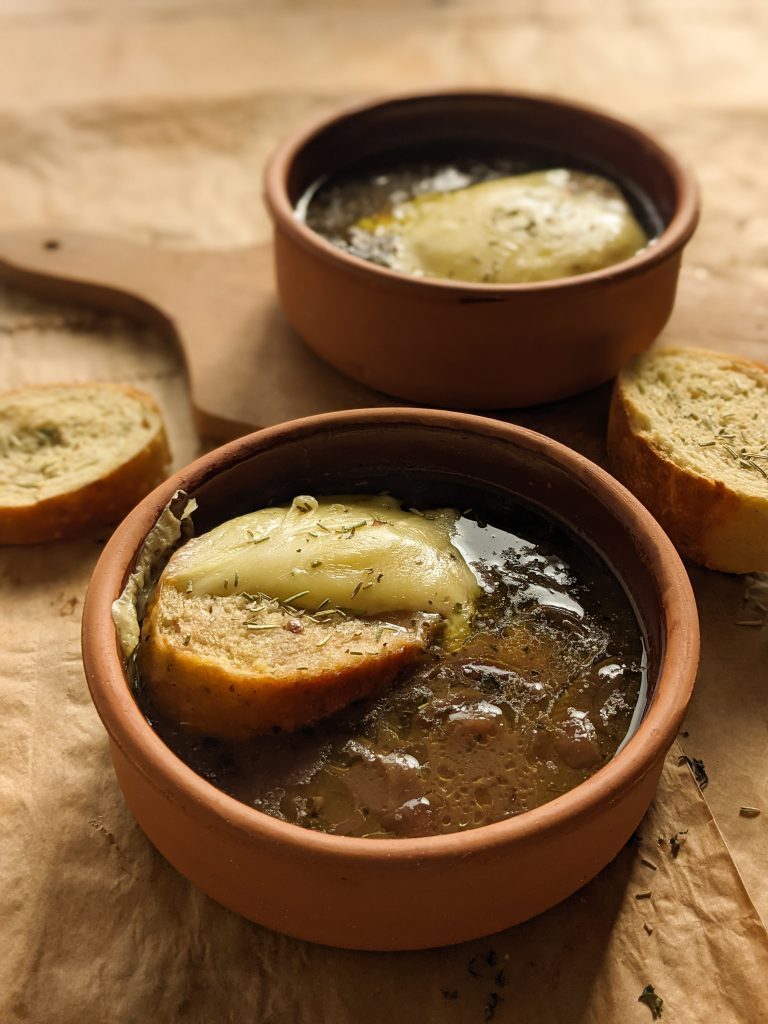 This is only the second soup recipe that I posted on my blog. So I did my best to make it special and not basic. This caramelized onion soup ended up being my favorite soup of all time.
At the beginning I was skeptical, because I am not a huge fan of onions, but boy was I wrong. This soup smells amazing, it is very soothing and delicious, and on top of that it is also vegan. As always, I wrote down some health benefits and extra advice that may be helpful.
Some health benefits
It is called an onion soup, so I guess it only makes sense for me to talk about onions in this section, at least a little bit.
Onions contain decent amounts of vitamin C, folate, vitamin B6, and potassium, which provide a number of benefits. They are rich in plant compounds and antioxidants, especially quercetin and sulfur-containing compounds. Colorful varieties, such as yellow or red ones, pack more antioxidants than white ones.
Onions have antioxidant and anti-inflammatory effects. They may lower blood sugar levels, improve bone health, and reduce the risk of several types of cancers. They can cause you to cry while cutting them, and in some people they can cause even more irritation. But if they don't bother you that much, I suggest you incorporate them into your meals. I left a few more recipes that include it at the bottom of this post.
Other healthy thing about this soup is that it is vegan. And we all need a warm and soothing meal from time to time, so why not try this one today?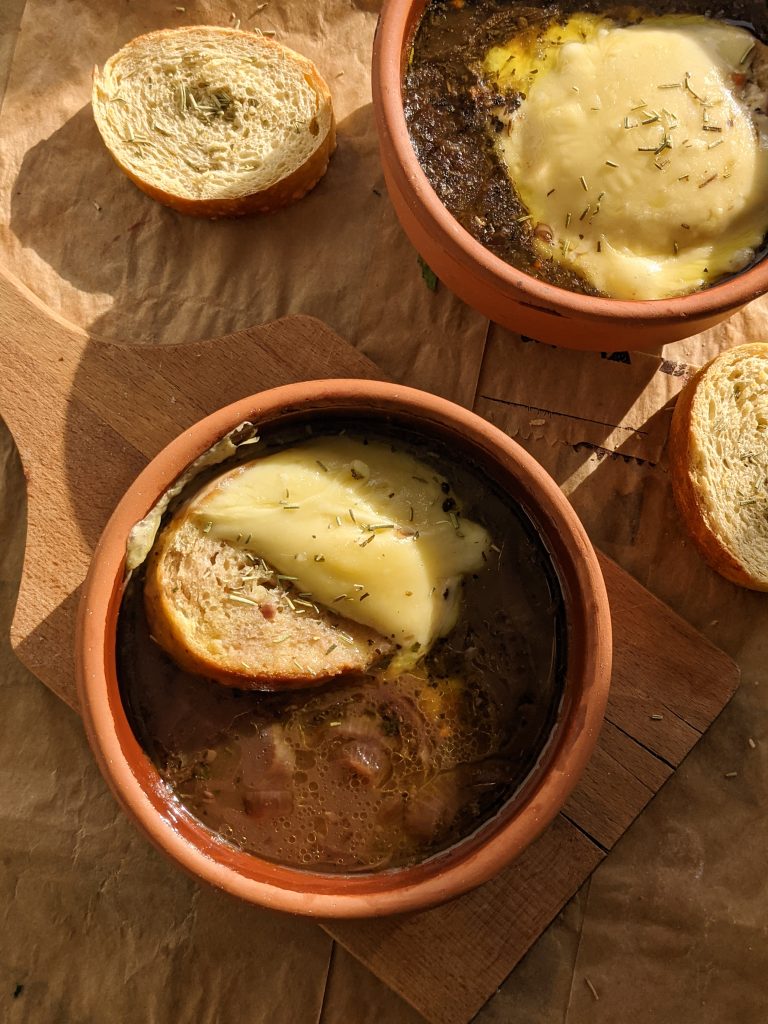 A piece of advice
There is really nothing complicated about this recipe. Other than crying a river while cutting up all these onions, you should have no problems. Caramelizing them takes a little time, but it is totally worth it, trust me.
Every time I decide to use vegan cheese in a recipe, I kind of think about making it myself. Or at least some kind of cheese sauce. But then I realize that it would probably be more affordable (and less time consuming) to just go and buy it in a store. I suggest you buy a vegan cheese that melts, it just goes very well with this recipe.
As for the veggie broth, I suggest you use one with low sodium, you don't want the soup to be too salty. Make sure you taste it towards the end of the cooking process, to see if you need to adjust the seasoning. You can switch the garlic paste with minced garlic (1-2 cloves).
In the process of caramelizing the onions, make sure you stir them very frequently so they don't burn. Follow the same rule when you add the flour to the mix. Make sure you watch the soup bowls when you put them in the oven. You don't want to burn the cheese. You can also put a sheet of parchment paper at the bottom so it doesn't drip down.
These measurements make for about 3 to 4 bowls of caramelized onion soup. If you need more than that, make sure to adjust the ingredients appropriately.
Caramelized onion soup
Ingredients
50 ml of olive oil

3 medium sized onions

1 tsp of white sugar

A pinch of cumin

Two pinches of pepper

A drop of garlic paste

2 bay leaves

1 + ½ tsp of oregano

180 ml of red wine

3 tbsp of flour

1 l of veggie broth

1 baguette

1 tsp of rosemary

200 g of vegan cheese
Directions
Cut the baguette into slices and toast them. Rub them with some rosemary and set aside. Cut the onions into circles. Take a large pot and put the olive oil in it. Heat it on medium heat. Add the onions and the sugar to the pot and reduce the heat to low. Saute (and mix very often) until they become caramelized, brown and tender. This can take up to 50 minutes.
Add the oregano and a drop of garlic paste and mix and sauté for another 30 seconds. Add the red wine to the pot, increase the heat to make it boil slightly, then reduce the heat and let it simmer until almost all of the wine has evaporated.
Stir in the flour and cook for 1 minute on low heat while stirring constantly. Add the veggie broth, pepper, bay leaves and cumin. Bring the mix to a simmer and let it simmer on low heat for 10 to 15 minutes.
Pour the soup into individual soup bowls and put a baguette slice in each one. Top the slice off with a piece or slice of vegan cheese. Heat the oven to 200 degrees Celsius (392 F) and put the soup bowls in the oven. Let the vegan cheese melt and then take them out and serve (watch it so it doesn't burn).
These measurements make about 3 to 4 caramelized onion soup portions.
If you liked this recipe, make sure you check out my other recipes like:
Feel free to tell me what you think about this in the comments below, or send me the pictures of your own vegan caramelized onion soup. If you did something differently, I would also like to hear that, I'd love to see the things you come up with.
P.S. for more recipes like this and a bunch of other stuff, follow me on instagram, @margo_drobi.
Also, I recently started a Patreon page, where you can subscribe and help me create more/better content. In return, you will get an exclusive piece of content (recipe) each month. My plan is to increase the amount of that content if I gain a few subscribers. If you are interested and you want to find out more, I will leave the link to my Patreon right – here.
And that would be all for today. If you are using Pinterest make sure to follow me on there, and feel free to pin this image: