Vegan Bao Buns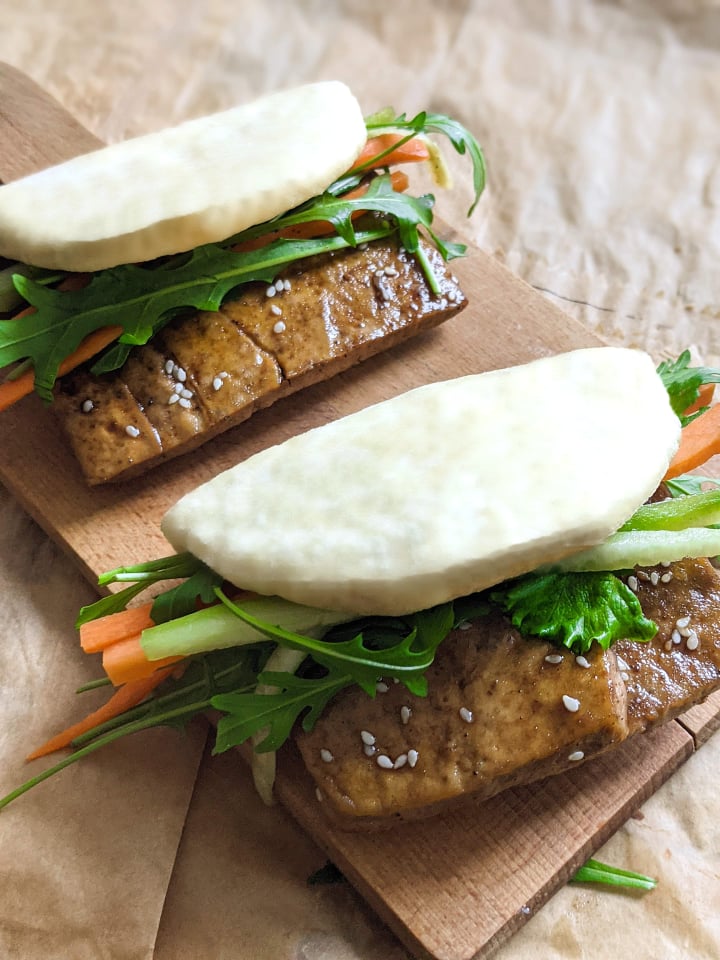 I finally came around to making these delicious, fluffy and vegan bao buns. Chances are you have seen these before, since there are a ton of recipes out there. But I highly recommend that you try this particular recipe because of the following reasons. They are completely vegan, super delicious, very fluffy, and this filling can be somewhat good for your health.
I wrote down a thing or two on that in the sections below, so make sure you check those out for some more information or additional tips and tricks.
Some health benefits
Tofu is one of the main ingredients of this dish. It is low in calories but high in protein and fat. It also contains many important vitamins and minerals.
It contains antinutrients like trypsin inhibitors and phytates. Soaking or fermenting soybeans before making tofu reduces these antinutrients, increasing its nutritional value. All soy-based products contain isoflavones, which are believed to have various health benefits.
Whole soy foods like tofu can improve several markers of heart health. This may lead to a reduced risk of heart disease. Research indicates that soy has a protective effect against breast, digestive, and prostate cancers. Tofu may have positive effects on blood sugar control, but more studies are needed to confirm this.
Carrots are a particularly good source of beta carotene, fiber, vitamin K1, potassium, and antioxidants. They have some great health benefits. For example, they can help your blood pressure and cardiovascular health, your digestive health, improve bone health, and play a role in immune function and healing.
These are only a few reasons to incorporate these ingredients into your diet. If I were to write down everything in detail this post would be very long. And if you are still not sure on how to use them, you can start by making these vegan bao buns.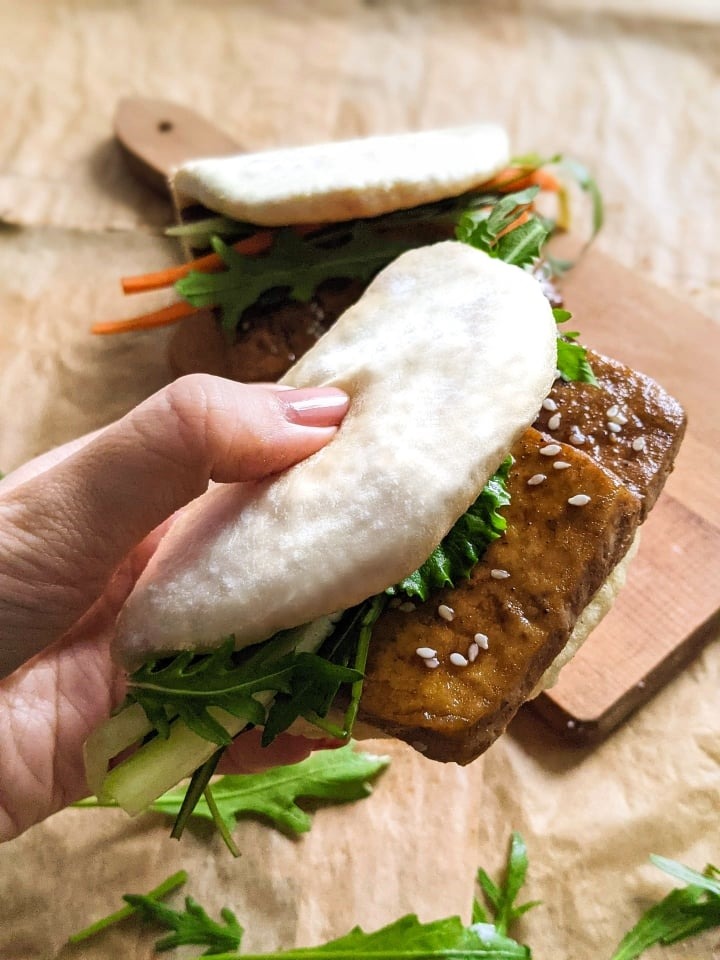 A piece of advice
This is, like most of my recipes, very easy to make. It is a bit time consuming since you have to wait for the dough to rise, but other than that, it's a piece of cake.
I suggest you chop your veggies and cook the tofu while the dough is rising. That way you can just add those to the buns as soon as they are cooked and enjoy it while it's still hot. Also, this filling is not set in stone, you can improvise with it if you want to.
You can cut out the circles of dough using a larger cake ring or cookie cutter as well.
I used an improvised steamer, but if you have one that is made for bao buns, that would be great. I made mine by putting a sieve in a large pot of water and lining it with some parchment paper. Make sure that the water does not touch the bottom of that sieve (or steamer rack), it might ruin your dough. Wrap the lid in a kitchen towel and cover everything. This will prevent the condensed water from dropping on top of the buns.
These measurements make about 4 to 5 vegan bao buns. If you need more than that, adjust the measurements properly.
Vegan Bao Buns
Ingredients
For the dough:

230 g of flour

2 + 1/4 tsp active dry yeast

3 tsp of sugar

3 tsp of oil

100 ml of warm soy milk (unsweetened)

For the filling:

1 pack of tofu

thinly sliced carrots

thinly sliced cucumber

parsley

other vegetables as desired

For the sauce:

3 tbsp of soy sauce

2 tbsp of wok sauce

1 tsp of sugar

some pepper

some water
Directions
Add the yeast and sugar to the warm milk, let it sit for 5 minutes. Add this mixture and oil to the flour. Mix well and knead with your hands for a few minutes (add more milk / flour if needed). Make a dough ball and let it sit (covered) in a warm place for about 15 minutes.
Roll out the dough on a flat floured surface. With a jar lid or smaller bowl, divide the dough into circles. Roll each circle into an oval shape, brush the surface with some oil and fold as shown in the picture (oily side inward).
Let the bao buns rise for another 45 minutes.  Put them in a steamer lined with some parchment paper and steam for 12 minutes at maximum heat. Water from the pot should not touch the grid on which the buns are placed, otherwise the dough will be sticky. Cut the tofu into several slices and fry on a small amount of oil on a non-stick pan over medium heat until it turns golden brown on both sides. Cook the sauce in the same pan for a few minutes, add the tofu and cook it in the sauce on both sides until it has absorbed most of it.
Put the tofu and sliced vegetables in the vegan bao buns. These measurements make about 4 to 5 buns. Enjoy!
If you liked this recipe, make sure you check out my other recipes like:
Feel free to tell me what you think about this in the comments below, or send me the pictures of your own vegan bao buns. If you did something differently, I would also like to hear that, I'd love to see the things you come up with.
P.S. for more recipes like this and a bunch of other stuff, follow me on Instagram, @margo_drobi.
Also, I recently started a Patreon page, where you can subscribe and help me create more/better content. In return, you will get an exclusive piece of content (recipe) each month. My plan is to increase the amount of that content if I gain a few subscribers. If you are interested and you want to find out more, I will leave the link to my Patreon right – here.
And that would be all for today. If you are using Pinterest make sure to follow me on there, and feel free to pin this image: