Winter dream cakes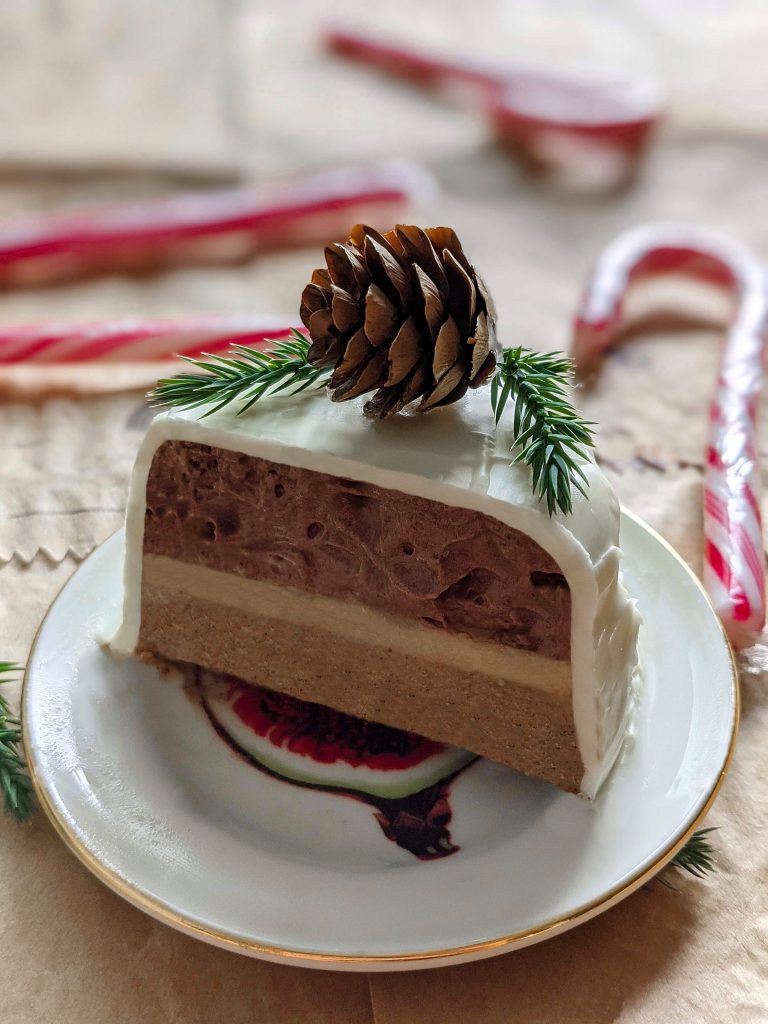 This is the last recipe for this year, and probably the last festive recipe that I will post in the near future, but I am going out with a bang. I call these winter dream cakes. There are probably a few desserts with the same name, but I just didn't know what else to call it.
These cakes are the ultimate holiday dessert. I decided to incorporate the most common winter cake flavors and make these three layered, delicious tiny cakes. The bottom layer is a cookie crust with cinnamon, ginger and cardamom, the middle layer is just marzipan and the third layer is a fluffy chocolate mousse. All of this is covered with vegan white chocolate and topped off with a festive decoration.
I know it's a bit late, but I highly recommend this one. It does not even have to be holiday season, this will always be delicious.
A piece of advice
I am going to be honest with you, this recipe is rather time consuming and not the easiest cake to make. But it is well worth your time, especially if you are a fan of Christmas cookie flavors. There are a few things in this process that I would like to point out so I can make this recipe slightly easier for you and also to help you avoid any mistakes.
First of all, for those of you who don't know, aquafaba is the water from a can of chickpeas. This is something you can not whip too much with a mixer, it only gets fluffier and better. So don't stop until you get stiff peaks.
Before you start folding in the aquafaba, make sure that the chocolate mix has cooled down. Do it gradually and gently, do NOT overmix, because you might ruin it that way.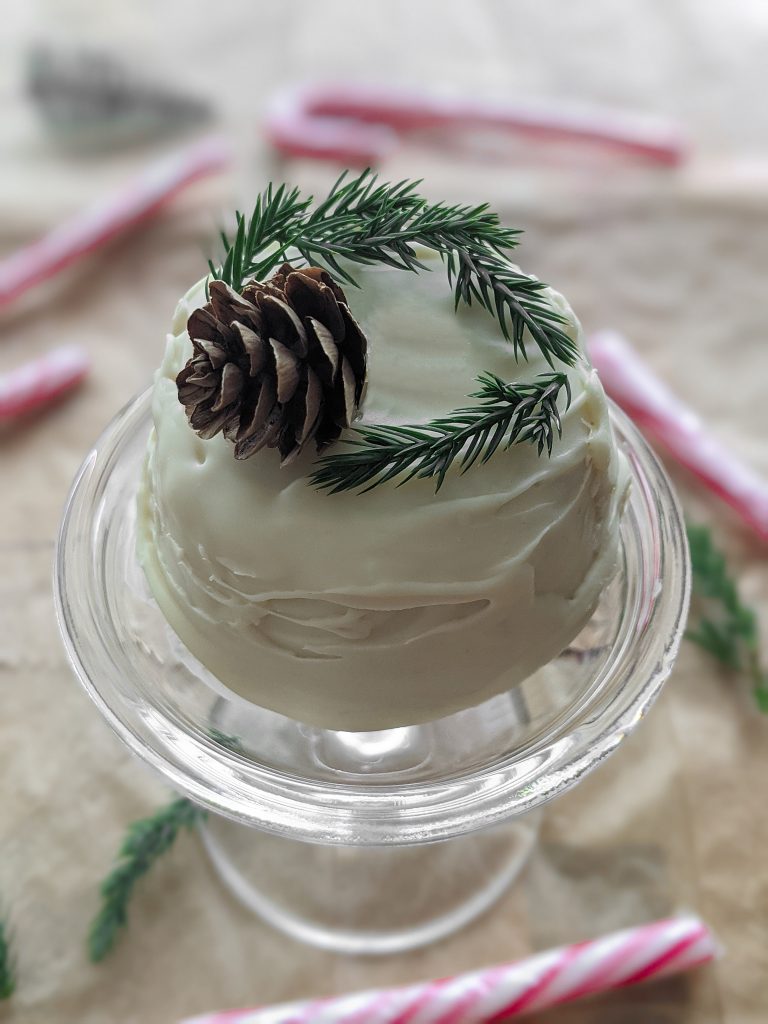 You can add a pinch of cinnamon and ginger powder to the cookies if you feel like it. You also may not need all of the melted margarine, or you might need a bit more, this depends on the brand of cookies that you use, so prepare for that.
Gently press the marzipan down with your fingers to avoid damaging the mousse layer. This goes for the cookie layer too.
The white chocolate will become solid pretty quick, so if you want a nicely shaped cake, you must work fast. Mine ended up being a bit messy, but I kind of like it this way. I decorated it with some pine cones and branches. These measurements make five to six winter dream cakes.
Winter dream cakes
Ingredients
150 g of dark chocolate

120 g of coconut cream

150 ml of aquafaba

200 g of marzipan*

180 g of speculaas cookies (or Lotus biscoff cookies)

80 g of margarine

300 g of vegan white chocolate
Directions
Chop the dark chocolate into small pieces. Put the chocolate and the coconut cream in a bowl and melt it over a double boiler. Mix the two together, when everything is melted and combined remove from the double boiler and let it cool down.
Put the aquafaba in a separate bowl. Mix it with a mixer on high speed until stiff peaks form. You should be able to turn over the bowl without the aquafaba falling out.
When the chocolate mix has cooled down completely, add a bit of aquafaba in and gently combine everything. Add the aquafaba gradually and fold it in very gently, but do not mix it too much. If you do that the mousse will deflate, so be careful.
When everything is combined, fill one half of the silicone molds with the chocolate mousse. Put the molds in the freezer and freeze for about 2 hours. Meanwhile, prepare the rest of the layers.
Roll the marzipan with a rolling pin, and use a glass to cut out 5-6 circles (the glass should almost be the same size as the molds). When the mousse is completely frozen, gently put the marzipan circles in the molds over the mousse layer. Return the molds to the freezer.
Put the cookies in the blender and blend until all of the large pieces are gone. Melt the margarine over low heat and gradually add it to the cookies while mixing, until you are able to form a dough. Take the molds out of the freezer and gently press the cookie mix over the marzipan to form the last layer (crust). As soon as you do that return the molds to the freezer and let the crust set. This should not take too long.
Melt the vegan white chocolate over a double boiler. When the crust is solid, pop the cakes out of the molds and place them on a sheet of parchment paper. Pour the white chocolate over each cake and even it out with a spoon or a spatula. You must work quick if you want it to be even, since the chocolate will become solid in the matter of seconds.
Leave the winter dream cakes in the fridge overnight.
Notes
*If you want to make your own marzipan from scratch, follow the recipe for marzipan bombons below.
If you liked this recipe, make sure you check out my other recipes like:
Feel free to tell me what you think about this in the comments below, or send me the pictures of your own winter dream cakes. If you did something differently, I would also like to hear that, I'd love to see the things you come up with.
P.S. for more recipes like this and a bunch of other stuff, follow me on Instagram, @margo_drobi.
Also, I recently started a Patreon page, where you can subscribe and help me create more/better content. In return, you will get an exclusive piece of content (recipe) each month. My plan is to increase the amount of that content if I gain a few subscribers. If you are interested and you want to find out more, I will leave the link to my Patreon right – here.