Vegan marzipan bombons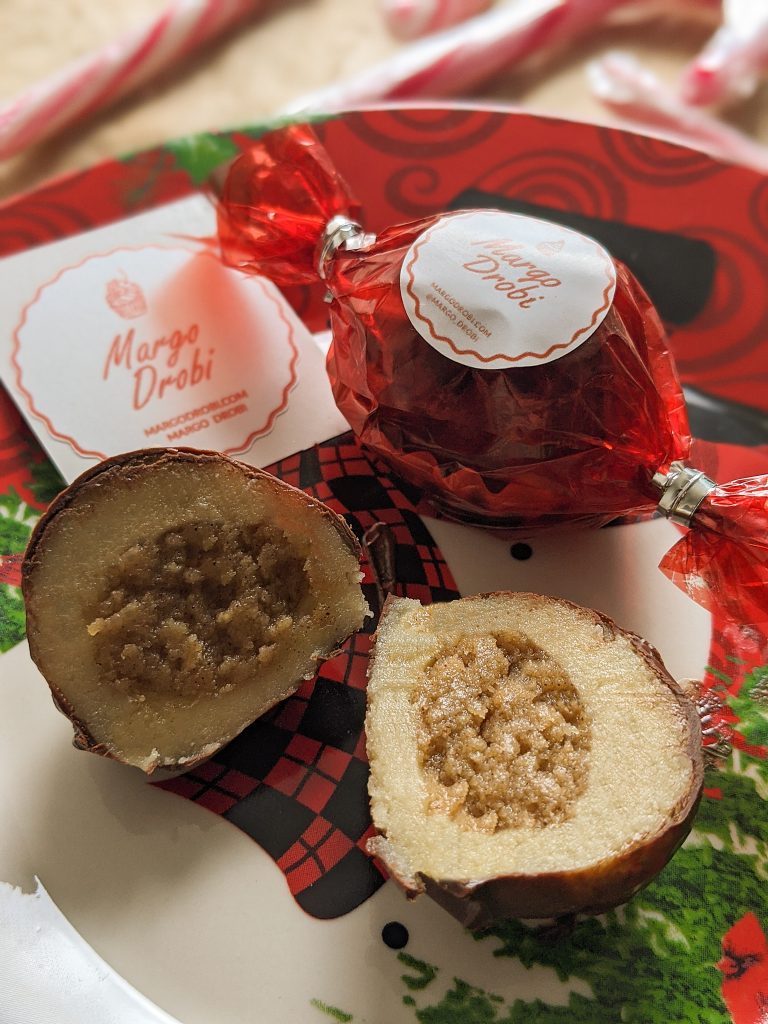 Last week I made these vegan marzipan bombons for a Sarajevo Food Dictionary project.  Basically, a few food blogger ladies and I threw together some sweet Christmas/New Year's gifts that could be purchased through SFD. And In case you missed it, I am going to write down the recipe for my part of the gift, so you can make it yourself at home.
Some health benefits
Almonds are a great source of fiber. Eating a handful of almonds or drinking a glass of almond milk can keep your gastrointestinal tract moving and prevent constipation. Almonds can also promote healthy bacteria in your gut. This can help you digest your food and even fight off illness.
They contain a bunch of vitamins A and E, so they can be really good for your skin. In addition to giving you glowing skin, vitamin E in almonds can help your heart as well. Diets high in vitamin E are linked with lower rates of heart disease.
Almonds can help you lose weight, since eating them can eliminate your cravings for other not so healthy food. Its healthy fatty acids help strengthen hair and add texture. Not only are almonds packed with healthy fats and protein, but they're also rich in antioxidants. These plant compounds can protect your cells from oxidation and premature aging.
I don't know about you, but I think that these are some pretty good reasons to try and incorporate more almonds into your diet. I know that I will. And if you lack for ideas, you can start with these lovely vegan Mozartkugeln.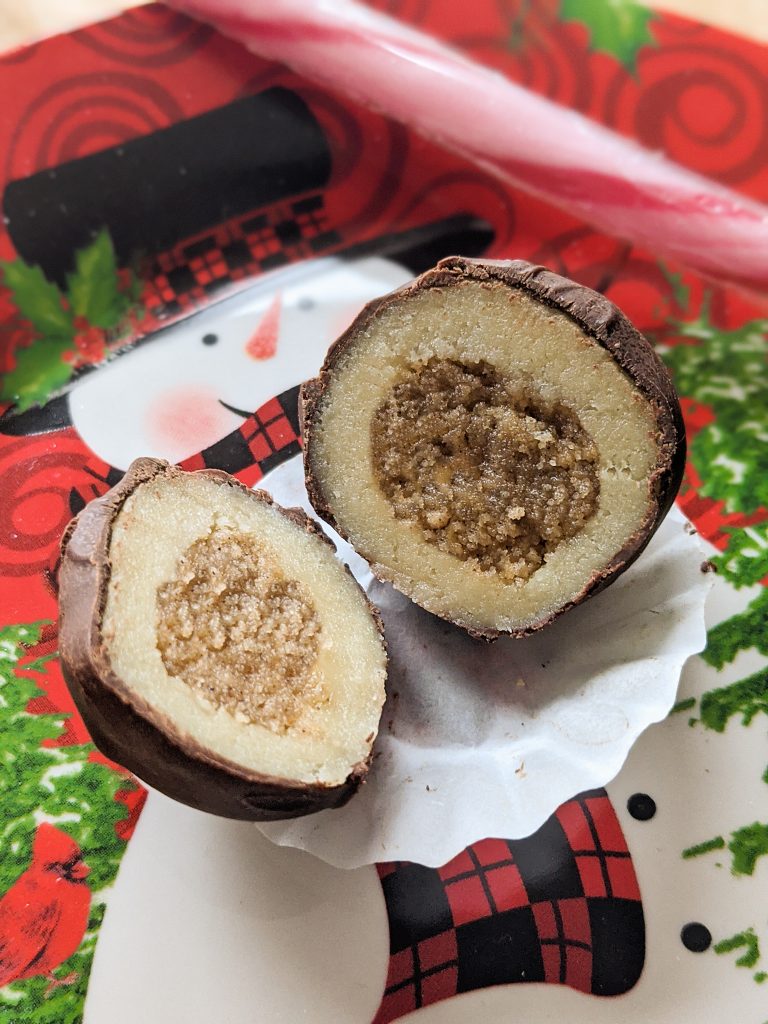 A piece of advice
I am going to use this section mainly to write about the hardest part of any praline/bombon recipe there is – chocolate tempering. If you want your bombons to be shiny, stay edible for a long time and have a nice snap when you bite into them, you need to temper your chocolate. There are several ways of doing this, but since I do not own a tempering machine, microwave or this special cocoa butter for tempering, I have to use the seeding method.
First of all, make sure you are using REAL chocolate. That means it must contain cocoa butter, so read the label. Ideally, your chocolate should contain between 32-38% of fat. You can NOT temper chocolate with no cocoa butter. You will also need a candy thermometer.
Chop or grate your chocolate so it will melt quickly and easily. Set one third of chocolate aside, and put the rest of it into a plastic bowl. Bring a pot of water to boil, remove it from the stove and put the plastic bowl with the chocolate in it. The plastic bowl should not touch the water. Be careful not to get any water mixed with your chocolate. This is important. Mix the chocolate, and when chocolate has melted and reached the temperature of 46 degrees Celsius (115 F), remove it from the double boiler and gradually add the remaining one third of chocolate while mixing all the time, until it melts.
Keep mixing your chocolate constantly, and when the temperature drops to 35 degrees C (95 F), add some more grated chocolate to the mix (the last of it) to cool it down a bit more. When the chocolate temperature drops down to 26 degrees C (79 F), do a little test. Smear 1 teaspoon of the chocolate on a piece of parchment paper and put it in the fridge for 5 minutes. If after 5 minutes the chocolate has hardened, is shiny and has a nice snap – it is tempered. Return your chocolate bowl to the double boiler and heat it back up to 29 degrees Celsius (85 F), so it will be easier to work with. Do not heat it too much, you might ruin all the cocoa butter crystals by doing that.
And that is it, you are ready to dip your bombons in!
Vegan marzipan bombons
Ingredients
400 g of blanched almonds

8 tbsp of agave syrup

70 g of speculaas cookies (or Lotus biscoff cookies)

a pinch of cinnamon

a pinch of ginger powder

60 g of margarine

200 g of dark chocolate
Directions
Put the blanched almonds in a blender and blend until no large pieces are left. Add the agave syrup and blend again, until you get a sort of a thick, somewhat sticky dough. Then your marzipan is ready. Transfer it to a bowl and set aside.
Clean the blender and put the spekulas cookies, cinnamon and ginger powder in it. Blend until no large pieces remain. Melt the margarine on low heat and gradually add it to the cookies while mixing, until you get a mixture that you can easily shape.
Roll 20 cookie balls and put them in the fridge. Divide the marzipan into 20 equal pieces. The marzipan balls should be larger than the cookie balls. Flatten the marzipan ball with your palms, put a cookie ball in the middle of it and close it off with marzipan (gently, try not to trap any air inside). Set them aside.
Grate or chop the chocolate into small pieces. Melt it over the double boiler and cover the vegan marzipan bombons with it. If you want to save the bombons for later, you might have to temper your chocolate. Otherwise they will turn white and bumpy. For tempering details refer to the piece of advice section of this post.
When you covered your bombons you can keep them in the fridge for the chocolate to harden faster.
It is best to keep them in the fridge in an airtight container.
If you liked this recipe, make sure you check out my other recipes like:
Feel free to tell me what you think about this in the comments below, or send me the pictures of your own vegan marzipan bombons. If you did something differently, I would also like to hear that, I'd love to see the things you come up with.
P.S. for more recipes like this and a bunch of other stuff, follow me on instagram, @margo_drobi.
Also, I recently started a Patreon page, where you can subscribe and help me create more/better content. In return, you will get an exclusive piece of content (recipe) each month. My plan is to increase the amount of that content if I gain a few subscribers. If you are interested and you want to find out more, I will leave the link to my Patreon right – here.