Gingerbread muffins with salted caramel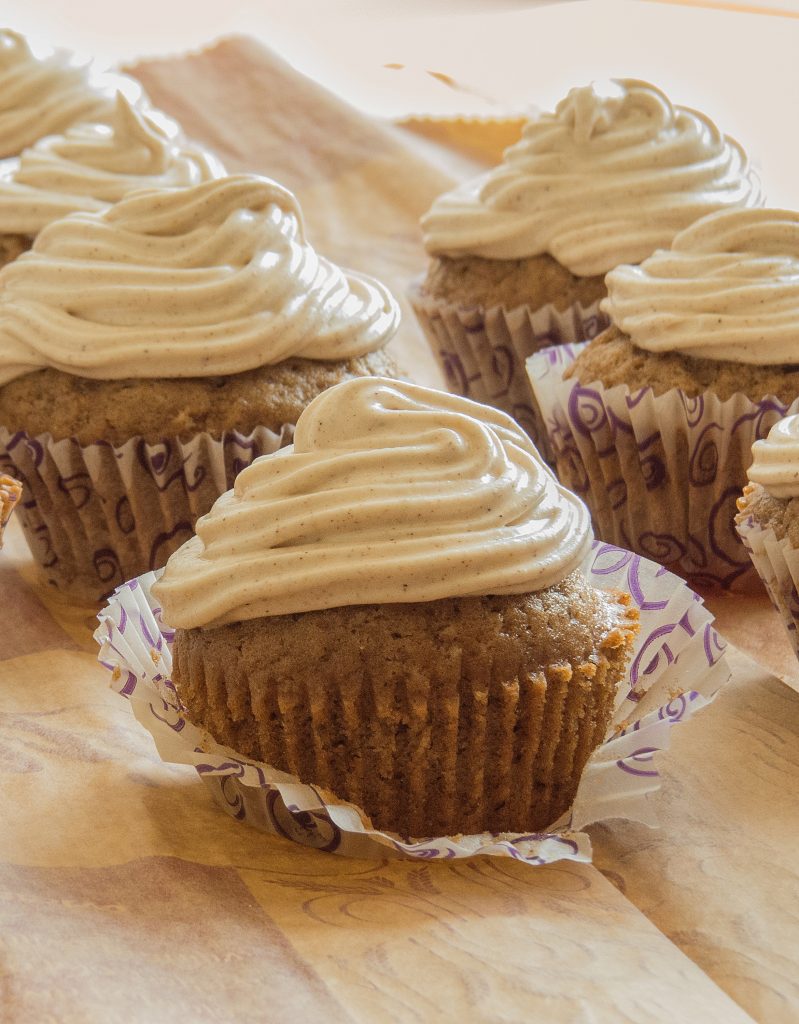 In my gingerbread men cookies post I mentioned that there are these gingerbread muffins with salted caramel that I sometimes make. The muffin dough is pretty similar. The salted caramel frosting is what makes these muffins really special.
A few posts ago I raved about these gingerbread cookies I tried in Prague and I mentioned that they have a fluffy texture of a muffin. Today I am writing down that muffin recipe, but with a small (but important) twist. My family really loved these, and they are quite picky when it comes to sweets.
And it is probably one of my favorite Christmas desserts as well. These gingerbread muffins are vegan, sweet, soft and super easy to make. They smell amazing because of all the spices in them, and the salted caramel frosting makes them even better. However, if you are not a salted caramel fan, you can leave out the frosting and enjoy these muffins as they are. They will still be very delicious.
The recipe is pretty simple and it does not require any crazy ingredients. However, it is not gluten-free and it does contain a great deal of sugar. So if you are gluten-free or want to watch you are trying to slim down a bit, this may not be the right choice for you.
But if (like me) you want to spoil yourself these days, this is the perfect treat for you.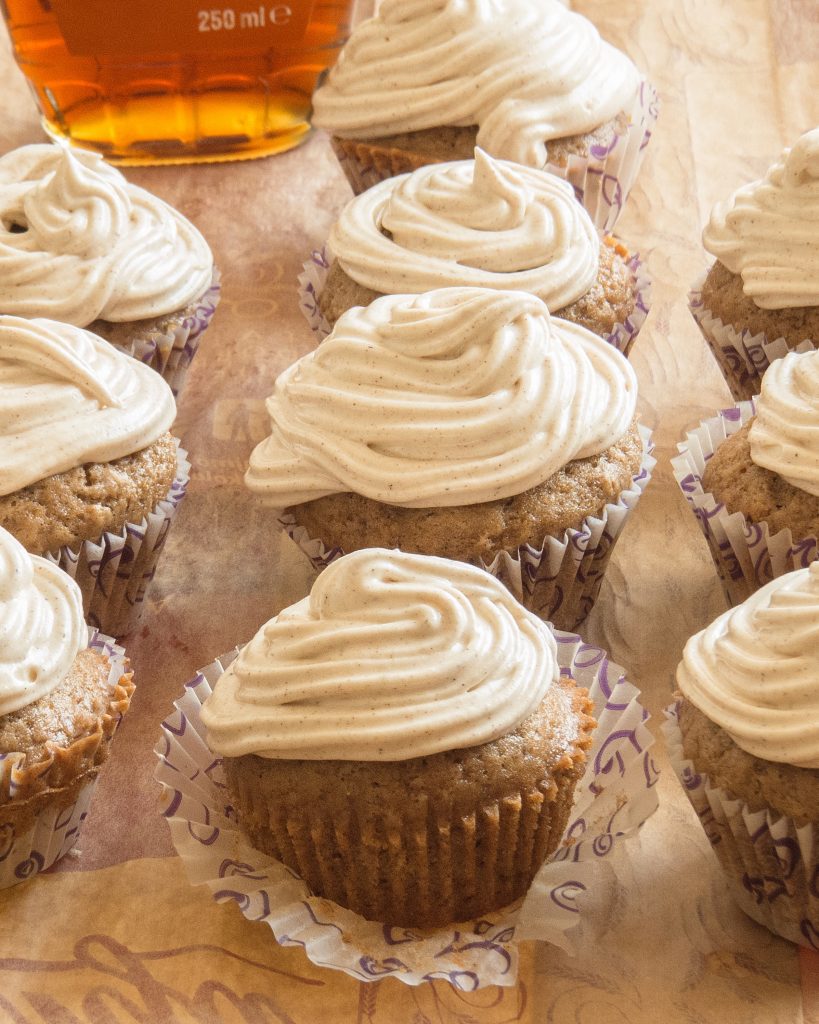 A piece of advice
This recipe is pretty easy, if you ever made cupcakes you won't have any problems with it. But just in case there are a few beginners reading this post, I will write down a few tips and tricks.
First of all, you can use any plant based milk that you want, it does not have to be almond milk. Also, don't forget to grease the paper muffin molds, either with a non-stick spray or regular oil. That way the dough will not stick to the paper molds when you try to eat them and they will look much better. Make sure you are using fresh ingredients (for example baking powder/soda). If they have been sitting in your pantry for a while, this might affect your final results.
When you mix plant-based milk and vinegar, you get something called vegan buttermilk. It is mainly used for pancakes and cakes. Just make sure that you set it aside for a few minutes after you mix it (5 at least).
When mixing the liquid and solid ingredients together, make sure that you don't overmix, it is better to just combine them. To be sure that the gingerbread muffins are baked, poke them with a toothpick. If it comes out clean, you're good to go. If not, let them bake for a few more minutes.
Let the gingerbread muffins cool down before you pipe the icing with a piping bag. You can use any nozzle you want. In this case I improvised by poking a small hole in a zip-lock bag. Icing is optional as well if you want to avoid all that sugar. You will not get the salted caramel taste, but they will still be delicious.
These measurements make about 10 muffins, but that also depends on the size of your baking tray.
Gingerbread muffins with salted caramel
Course: Sweet, Sweet
Ingredients

For the muffins:

190 g of flour

90 g of brown sugar

1/2 tsp of baking soda

1/2 tsp baking powder

1 tsp of cinnamon

1 tsp of cocoa powder

1/2 tsp of ginger powder

1/2 tsp of ground nutmeg

1/4 tsp of ground cloves

10 tbsp of maple syrup

10 tbsp of almond milk

5 tbsp of oil

2 tbsp of apple cider vinegar

2 tsp of vanilla extract

For the frosting:

115 g of melted vegan butter

115 g of vegan cream cheese

150 g of powdered sugar

5 tbsp of maple syrup

1 tsp of salt

1 tsp of vanilla extract

1 tbsp of almond milk (or any non-dairy milk)

1 tsp of cinnamon

1/2 tsp of ginger powder

1/2 tsp of ground nutmeg

1/4 tsp of ground cloves
Directions
First prepare the muffins. Mix the milk and apple cider vinegar in one small bowl and set aside. Put all the dough ingredients in a deep bowl and mix them together.
Add the other liquid ingredients to the milk/vinegar mixture and then mix them with the dry ingredients. Mix only until the ingredients are combined (not too much). If necessary (if the dough is too thick) add more almond milk and maple syrup to the dough.
Put the paper muffin molds in the muffin tray and spray them with non-stick spray. Pour the dough into molds. Heat the oven at 180 degrees Celsius and bake for 20 minutes. Then take the muffins out of the oven and let them cool down.
Combine all the frosting ingredients in a big and clean bowl and mix with a mixer until you get a creamy/fluffy structure. After the muffins cooled down, decorate them with the frosting using a piping bag.
Keep the gingerbread muffins with salted caramel frosting in the refrigerator.
If you liked this recipe, make sure you check out my other recipes like:
Feel free to tell me what you think about this in the comments below, or send me the pictures of your own gingerbread muffins with salted caramel. If you did something differently, I would also like to hear that, I'd love to see the things you come up with.
P.S. for more recipes like this and a bunch of other stuff, follow me on Instagram, @margo_drobi.
Also, I recently started a Patreon page, where you can subscribe and help me create more/better content. In return, you will get an exclusive piece of content (recipe) each month. My plan is to increase the amount of that content if I gain a few subscribers. If you are interested and you want to find out more, I will leave the link to my Patreon right – here.