Vegan Hokkaido lasagna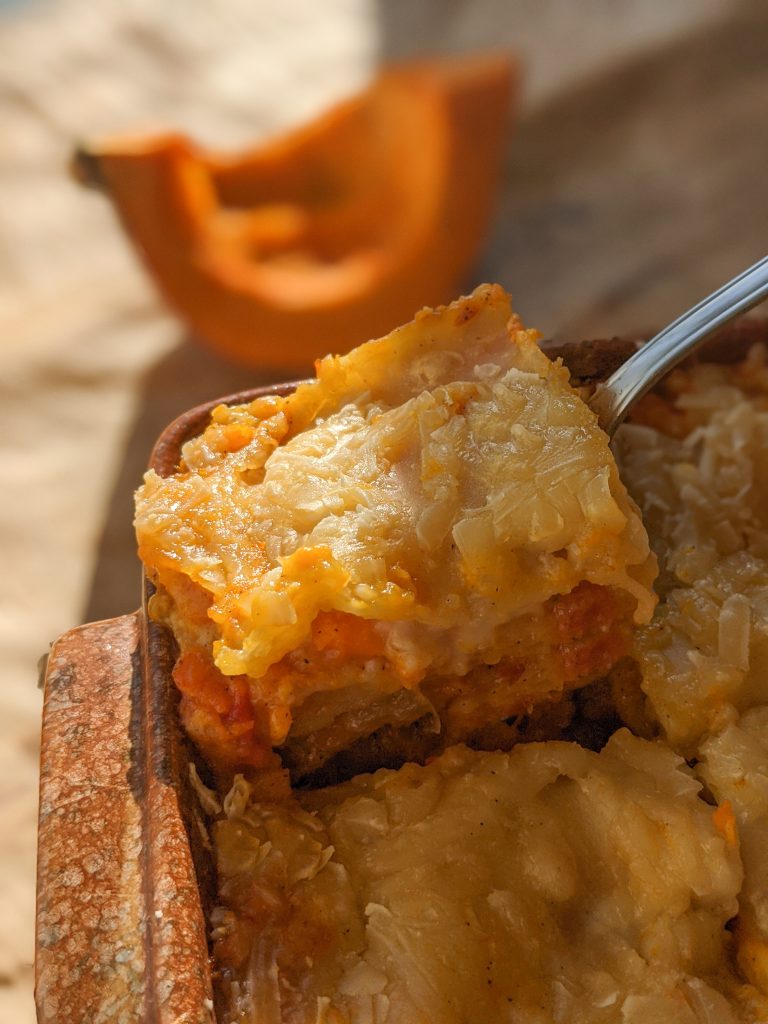 I have realized that I haven't made any pumpkin recipes this fall. I mainly used butternut squash for my autumn recipes. But it is still not too late to change this, and what better way to do that than with this amazing vegan Hokkaido lasagna recipe.
A friend of mine has sent me a picture of their Hokkaido lasagna recently and it seemed like a very good idea. I had to change a bunch of things to make them vegan, but I think I did a pretty good job.
The main reason I avoided this pumpkin is the fact that it is not as easy to cut up and peel like butternut squash for example (I am so weak). But in the end I managed to do this pretty quickly and the rest of the recipe was a piece of cake.
Other than being vegan and super delicious, this lasagna can also be very good for you. I highly recommend this dish (if you are not allergic to some of the ingredients of course). Besides, I think we can squeeze in a few more autumn recipes before we start baking Christmas cookies.
Some health benefits
Hokkaido pumpkin is rich in vitamins A, B, C and contains minerals such as: calcium, magnesium, phosphorus, potassium, beta-carotene. This pumpkinis a real vitamin bomb.
The healing effects of Hokkaido pumpkin are miraculous. It helps heal diseases of the pancreas, spleen and stomach problems, but it also helps ease disorders of kidneys and heart problems. It has diuretic effects and its ingredients can expel nematodes, pinworms and roundworms.
Eating Hokkaido pumpkin is also very suitable for diabetics. Roasted Hokkaido seeds help ease problems with the prostate. Hokkaido pumpkin is suitable as part of the weight loss diet for its low energy content, high contents of fibre and detoxifying effect.
There are a bunch of recipes that incorporate this pumpkin, and you can find a lot of them with a simple google search. A variety of dishes can be made with it, both sweet and savory (I have been told that Hokkaido fries are delicious). But since you are already here, you might as well start with this super delicious vegan Hokkaido lasagna.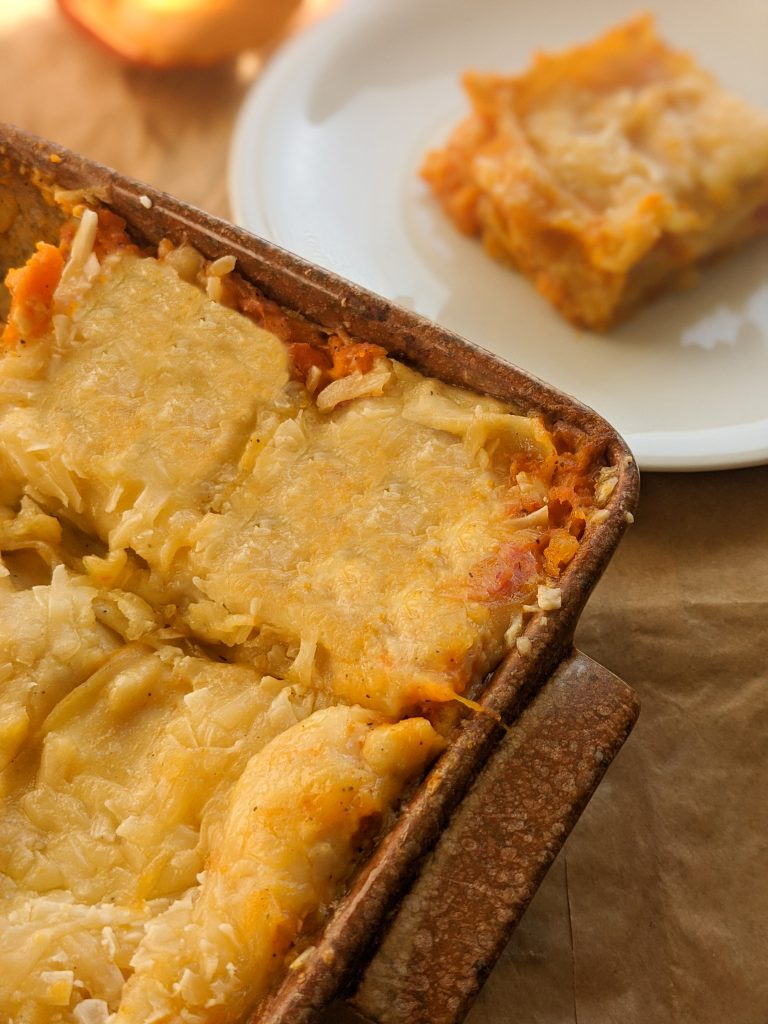 A piece of advice
This is a pretty easy and straightforward recipe with no crazy ingredients. But as always, I will leave a few notes here just in case you need some additional help.
There are a few kinds of vegan cooking cream out there, you can use any one of them. My favorite is soy cooking cream. I used vegan mozzarella, but you can also use any vegan cheese you want.
The milk you are using does not have to be soy milk either, just make sure it is not sweet. You can use any plant-based milk you like. Some lasagna sheets have eggs in them, so be careful while shopping (if you are vegan that is). And find the ones that don't need to be pre-cooked.
While cooking the vegetables, lift the lid and check on them from time to time. It is cooked when the Hokkaido pumpkin is just fork tender. When preparing the bechamel sauce, make sure you stir it constantly to prevent any lumps.
My baking dish was kind of smaller at the bottom, so the two lasagna sheets overlaped slightly. I just put some bechamel sauce in the part where they touched so they would stick together and cook easier.
Vegan Hokkaido lasagna
Ingredients
300 g of Hokkaido pumpkin

1 large tomato

1 small onion

70 ml of vegan cooking cream

1 tsp of cornstarch

½ tsp of salt

½ tsp of pepper

25 g of margarine

25 g of all-purpose flour

370 ml of soy milk

a pinch of salt and pepper

250 g of grated vegan cheese

lasagna sheets

oil
Directions
Peel and clean the Hokkaido pumpkin. Cut the pumpkin, tomato and onion into small cubes. Sautee the pumpkin and the onions in a large saucepan. Add the tomatoes to the pan, and close with a lid. Cook the veggies until the pumpkin becomes fork tender.
Add the cooking cream, salt and pepper and mix everything well. Cook for a few more minutes. Remove the pan from the stove. Next, prepare the bechamel sauce.  
Melt the margarine in a non-stick pan (on medium heat). Slowly mix in the flour. Add the soy milk gradually while mixing with a wire whisk. Bring the mix to boil whie stiring, to prevent lumps from forming. Add a few shakes of salt and pepper.  When it has thickened a bit, remove from the stove.
Line a baking dish with some parchment paper. Smear some bechamel sauce on the bottom. Put two lasagna sheets one next to the other and put some Hokkaido sauce and some vegan cheese on them. Put some bechamel sauce on top of that again. Place  another 2 lasagna sheets on top of that and repeat everything until you reach the top of the baking dish.
Top off the last two lasagna sheets with the bechamel sauce and a thick layer of cheese.
Bake the vegan Hokkaido lasagna on 180 degrees Celsius for 40 minutes. Cut it into cubes and serve while it is still warm.
If you liked this recipe, make sure you check out my other recipes like:
– vegan meatballs in butternut sauce
– vegan yaprak sarma (stuffed grape leaves)
Feel free to tell me what you think about this in the comments below, or send me the pictures of your own vegan Hokkaido lasagna. If you did something differently, I would also like to hear that, I'd love to see the things you come up with.
P.S. for more recipes like this and a bunch of other stuff, follow me on instagram, @margo_drobi.
Also, I recently started a Patreon page, where you can subscribe and help me create more/better content. In return, you will get an exclusive piece of content (recipe) each month. My plan is to increase the amount of that content if I gain a few subscribers. If you are interested and you want to find out more, I will leave the link to my Patreon right – here.