Vegan meatballs in butternut sauce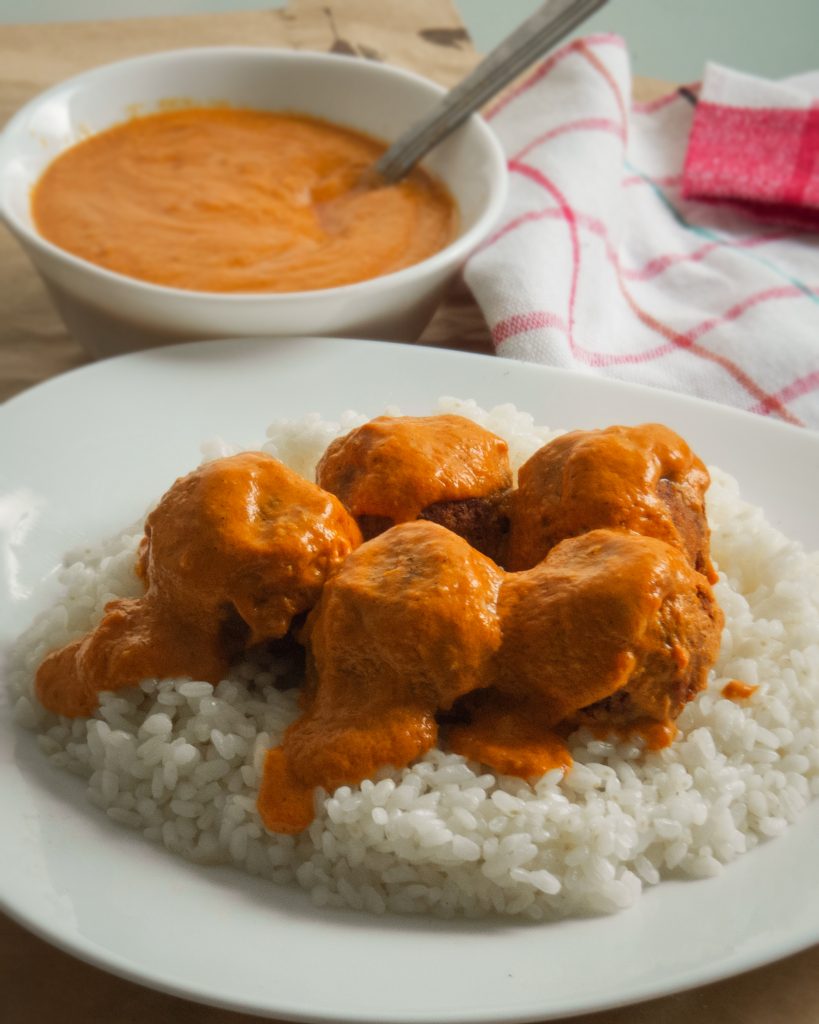 Fall is already here, and that means it is time to start making food with butternut squash or pumpkin. Luckily, those are some of my favorite recipes, and I am eager to start sharing them with you. Today on the menu I have vegan meatballs in butternut sauce.
This butternut squash and tomato sauce is something I already used in an older recipe. And since it is really good, I wanted to incorporate it into more autumn recipes. In this instance, I combined it with m favorite vegan meatball recipe. And it turned out wonderful.
These vegan meatballs are soft, super delicious and can also be very good for you. There are great ingredients in both the sauce and the meatballs. And as you probably know, they can be super healthy. Today I decided to write down a few interesting facts about two of those ingredients.
Some health benefits
Black beans are effective at reducing the rise in blood sugar after a meal compared to other high-carb foods, such as rice and bread. The iron, phosphorus, calcium, magnesium, manganese, copper, and zinc in black beans all contribute to building and maintaining bone structure and strength. The fiber, potassium, folate, vitamin B6, and phytonutrient content of black beans, coupled with its lack of cholesterol, all support heart health. This fiber helps lower the total amount of cholesterol in the blood and decrease the risk of heart disease.
Selenium is a mineral that is not present in most fruits and vegetables but can be found in black beans. It plays a role in liver enzyme function and helps detoxify some cancer-causing compounds in the body. Additionally, selenium may prevent inflammation and decreases tumor growth rates.
Butternut squash is low in calories but high in fiber and many nutrients, including vitamin A, vitamin C, magnesium, and potassium. It can help with weight loss. The high antioxidant content of butternut squash may reduce your risk of certain conditions, including heart disease, lung cancer, and mental decline.
Butternut squash can be added to a wide variety of both sweet and savory recipes, such as stews and pies. There are a lot of recipes out there that utilize this delicious plant.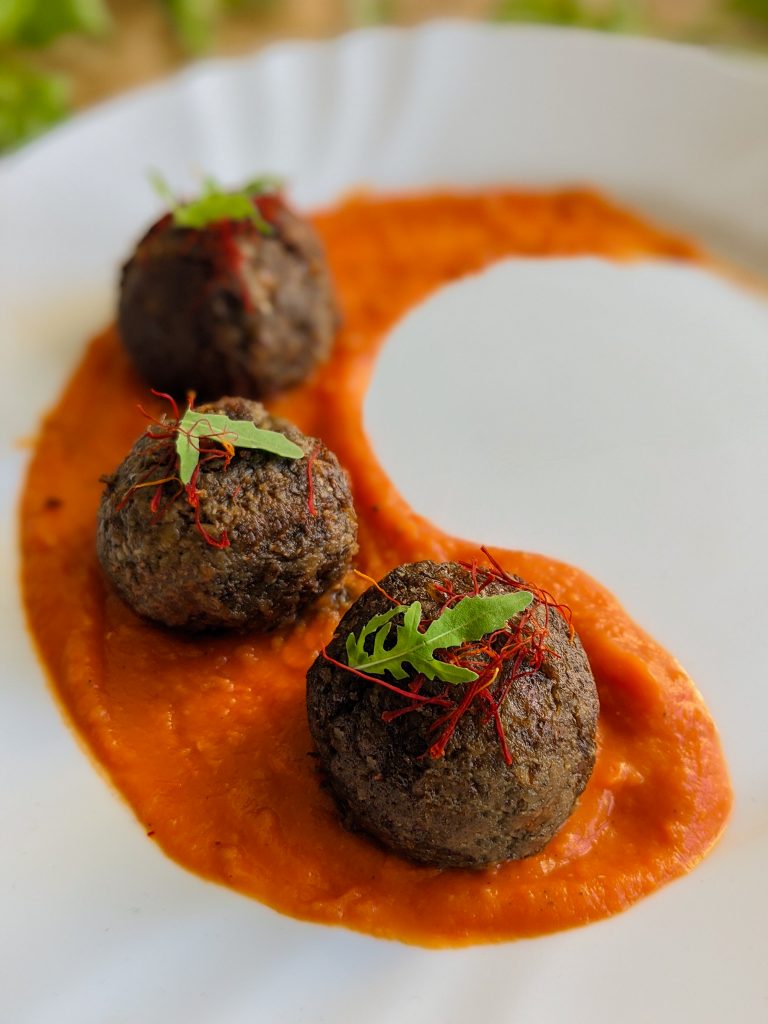 A piece of advice
This recipe is pretty straight forward, so there is not a lot for me to say here. So I'm just gonna go ahead and mention a few basic things.
When you blend the meatball ingredients you can stop every now and then to scrape down the mixture from the walls of a blender cup. Prepare a small bowl of water so you can dip your hands in it before shaping the balls. This way you will prevent the mix from sticking to your fingers.
Ground flax seeds and water mixture are usually called flax egg. They are often used to hold everything together in vegan baking. So don't skip that when you prepare the meatballs.
For a more rich and creamy sauce you can blend some soaked cashews with the rest of the sauce ingredients. Before you put the sauce in the blender, make sure it has cooled down.
You can serve this over some rice, mashed potatoes, quinoa, or with some veggies. Or you can just eat them like this, they are fine on their own as well.
In one picture I decorated mine with some saffron and salad. But feel free to leave that out if you want. It is completely up to you.
Vegan meatballs in butternut sauce
Course: Salty
Ingredients

For the meatballs:

230 g of black beans (1 can, drained)


35 g of sunflower seeds


45 g of oats


60 g of tomato paste


2 garlic cloves, minced


2 tbsp of ground flax seeds


half of brown onion, chopped


1/2 tbsp powdered onion powder


1/2 tsp red paprika


A pinch of salt and pepper

For the sauce:

1 can of tomatoes


50 g of chopped brown onion


100 g butternut squash (or Hokkaido pumpkin)


1 tsp of thyme


few shakes of pepper


salt


olive oil
Directions
Mix the ground flax seeds with 3 tbsp of water and set aside for 5 minutes. Mix all the ingredients for the meatballs and put them in a blender. Blend well and transfer into a bowl. Shape 12 to 15 balls with your hands.
Fry them in a non-stick pan over medium heat on all sides for 8 to10 minutes. Put them on a baking tray lined with some parchment paper, and bake in an oven preheated to 200 degrees Celsius for 20 minutes.
Chop the butternut squash into small cubes. Sautee onions on some olive oil on medium heat for a few minutes. Add some salt and chopped butternut squash. Cook for 5 minutes, add some pepper, tomato and thyme.
Wait for the mixture to boil, cover the pan with a lid, and turn off the heat (or reduce to the lowest temperature). Cook for 30 minutes. Put the mix in a blender and blend well, until you get a creamy orange sauce.
Serve the vegan meatballs in butternut sauce with some rice, mashed potato, or simply on their own.
If you liked this recipe, make sure you check out my other recipes like:
– quinoa/chickpea bites in butternut sauce
– vegan broccoli mustard pizza
Feel free to tell me what you think about this in the comments below, or send me the pictures of your own vegan meatballs in butternut sauce. If you did something differently, I would also like to hear that, I'd love to see the things you come up with.
P.S. for more recipes like this and a bunch of other stuff, follow me on Instagram, @margo_drobi.
Also, I recently started a Patreon page, where you can subscribe and help me create more/better content. In return, you will get an exclusive piece of content (recipe) each month. My plan is to increase the amount of that content if I gain a few subscribers. If you are interested and you want to find out more, I will leave the link to my Patreon right – here.