Yaprak sarma (stuffed grape leaves)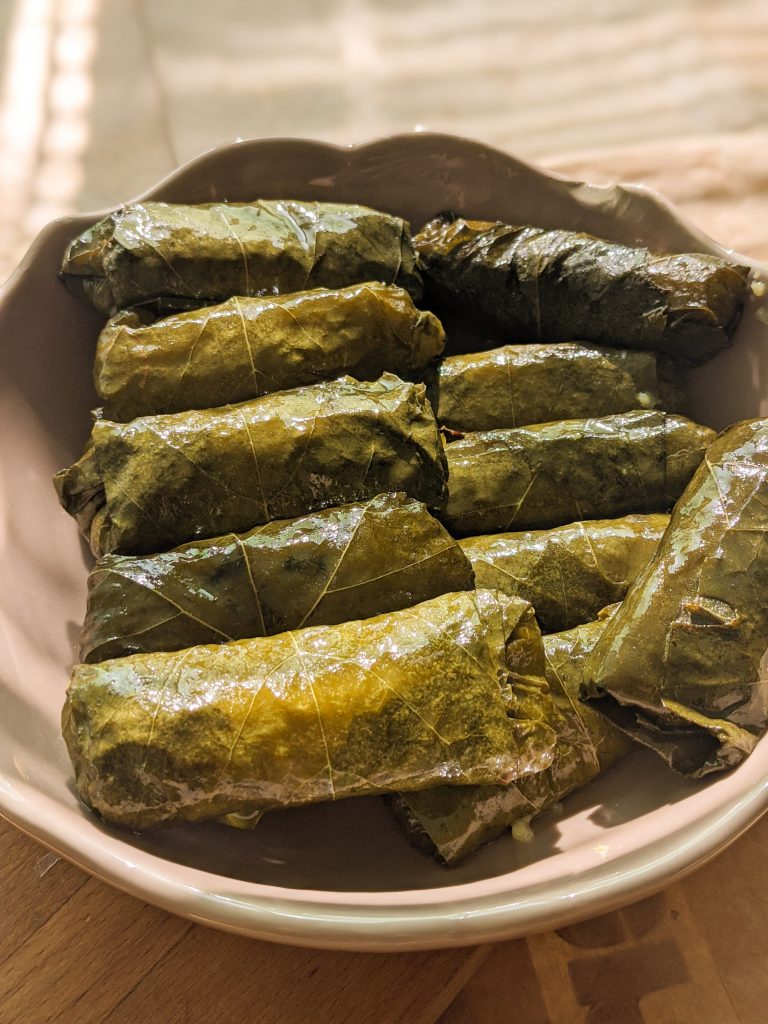 Since I was I child I thought that yaprak sarma (stuffed grape leaves) were a traditional Bosnian dish. Then I figured that it might be Turkish, which makes a lot of sense. And then the other day I read that it originated in Greece, which has a similar cuisine.
Be that as it may, this is a very popular dish in Bosnia. Usually it is made with ground beef and rice, but there is also a vegan version that my mom used to make. And today I am writing down that vegan version.
If you are willing to experiment, you can make vegan ground beef like I did in my sogan sarma recipe. I will test that version myself as soon as possible.
This dish is usually made in spring/summer, so I might be a little late with this recipe. But in case you have grape leaves stored or you know a store that sells them – you're in for a treat!
Some health benefits
Grape leaves possess anti-inflammatory properties. People with inflammation problems such as tonsillitis, arthritis and chronic gastritis may find grape leaves to be helpful. It contains omega-3 fatty acid as well as antioxidant which are responsible for inflammation process.
Grape leaves have low glycemic load. This makes a perfect diet for diabetic patients to manage blood glucose level. Also it contains high dietary fiber which lowers blood glucose level. They have high content of dietary fiber which helps to promote digestive function and absorb nutrients.
These leaves consist of mineral such as zinc that helps to repair and protect intestinal mucosa. They have ample amounts of Vitamin C that is known to enhance immune system. It stimulates antibodies in alert mode to combat bacteria and viruses in the body. Availability of Vitamin C helps to combat free radicals in the body. It acts as an antioxidant that prevents the body from various diseases.
Grape leaves also contain calcium which is vital for formation of bones. It helps to strengthen the bone and makes it healthy.
And these are only some of the reasons that these ingredients can be good for you. There's a lot more to cover here, but my post would be too long in that case. To be quite frank with you, I am not aware of many other ways that you can use these leaves. So the best thing I can recommend to you is this delicious yaprak sarma.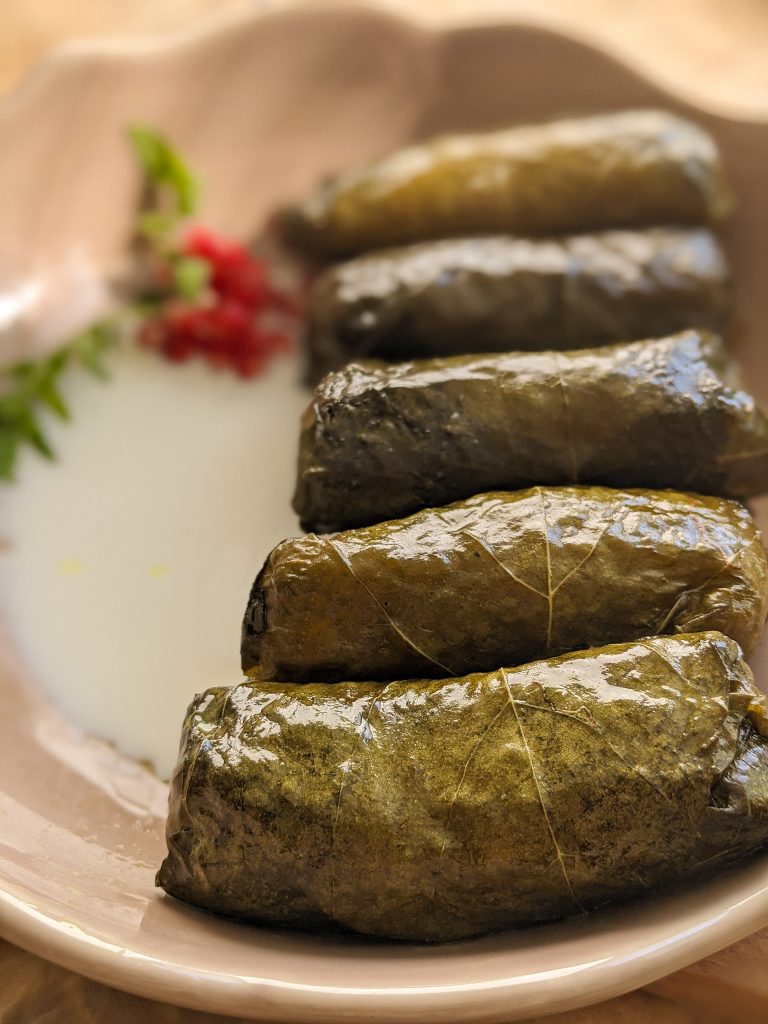 A piece of advice
For some reason, I always thought that this would be super difficult to make, and that you need some experience to get it right. But it turned out to be surprisingly easy.
This is a dish that is usually made in spring or summer time with fresh leaves. I got my grape leaves from a friend, and I think that you can find them on certain fruit markets. I also heard that they can be bought bottled or canned, but I've never seen those in stores.
These are rolled kind of like a burrito, you fold the sides inward and then roll them down the middle. Since these leaves are not circle shaped, you might have to tuck the edges in with your fingers.
I know that oil free recipes are popular among vegans nowadays, but my advice is, don't forget to add oil before cooking this dish. It will make it super juicy.
When you cook yaprak sarma, try to put a plate on top of them, cause they might unfold during cooking. My pot was really small, so I improvised with 2 small plates. You can lay these rolls one on top of the other , they will cook just fine.
Yaprak sarma is also a very popular cold dish. So you can store some of it for later and serve it cold. Some people say that it's even more delicious that way.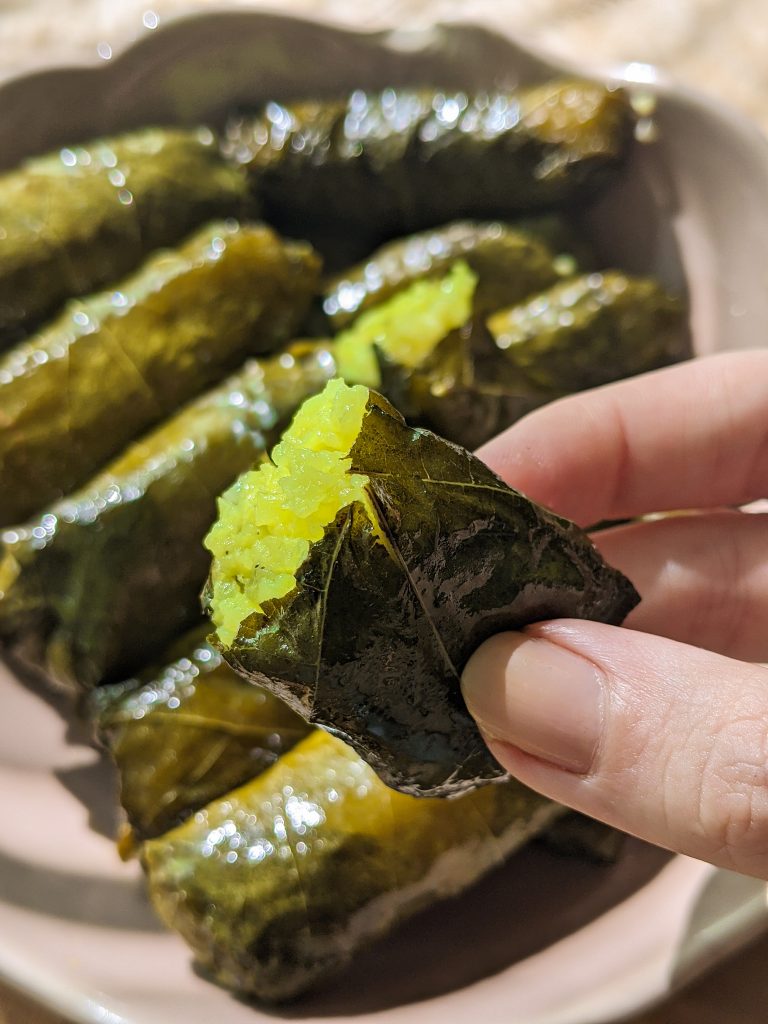 Yaprak sarma (stuffed grape leaves)
Course: Salty
Ingredients
15-20 medium sized grape leaves (plus a few spare ones)

2 tbsp of lemon juice

50 ml of oil

1 tsp of sugar

½  tsp of salt

½ tsp of pepper

a pinch of turmeric

160 g of rice

170 ml of water

1 small onion

2 tbsp of fresh parsley

 ½ tsp of fresh mint
Directions
Bring a pot of water to boil. Add the grape leaves and cook them for about 4 minutes.  Rinse them with cold water, drain and set aside.
Sautee the chopped onion on medium heat. Add the rice and the spices and put water in the pan. Mix everything, bring the water to boil, reduce the heat to low and cover with a lid. Cook for about 10 minutes. Remove from the stove
Take each grape leaf and put it on a flat surface. Take some rice filling and put it in the middle of the leaf. Fold the sides inward, and roll it down the middle. When you are done, take some spare grape leaves and line the bottom of the pot.
Place all the yapraks in the pot (one on top of the other if need be). Pour the lemon juice and oil over them. Place a plate (face down) on top of them so they don't unfold while you cook them. Pour boiling water over the yapraks, enough to cover them.
Bring the water to a boil again, cover the pot with a lid, reduce to low or medium heat and cook for 40 minutes.
You can serve them while they're warm, but they are also lovely when served cold.
If you liked this recipe, make sure you check out my other recipes like:
Feel free to tell me what you think about this in the comments below, or send me the pictures of your own vegan yaprak sarma (stuffed grape leaves). If you did something differently, I would also like to hear that, I'd love to see the things you come up with.
P.S. for more recipes like this and a bunch of other stuff, follow me on instagram, @margo_drobi.
Also, I recently started a Patreon page, where you can subscribe and help me create more/better content. In return, you will get an exclusive piece of content (recipe) each month. My plan is to increase the amount of that content if I gain a few subscribers. If you are interested and you want to find out more, I will leave the link to my Patreon right – here.