Vegan broccoli mustard pizza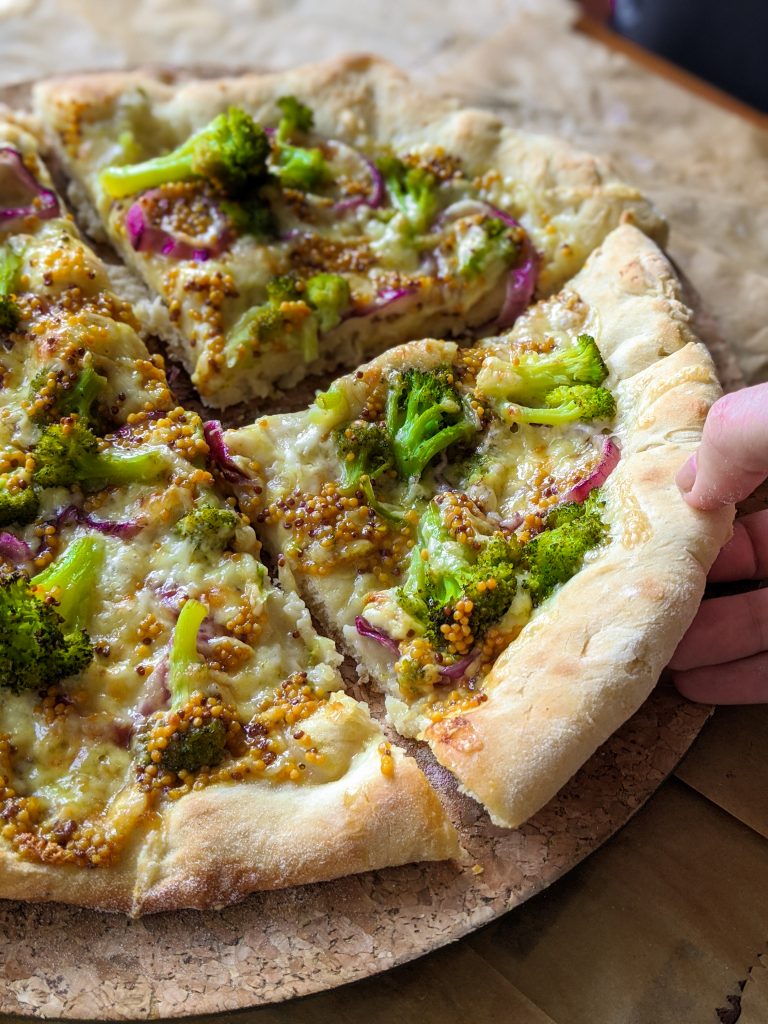 The other day, my friend and I were discussing the food we were eating back in college. She told me about this pizza she used to make, with broccoli, mustard and honey. This seemed like a very interesting combination to me, so I made her describe the process to me briefly. And so I decided to make a vegan broccoli mustard pizza for myself.
Since I wanted to make this recipe fully vegan, I replaced the honey with maple syrup. I also added some vegan cheese. The result was amazing and I decided to share it with you.
This pizza is super delicious and the recipe is very easy to follow. Besides, some of the topping ingredients can be very good for you. As always, I am going to discuss that briefly in this post.
Some health benefits
Broccoli is a rich source of multiple vitamins, minerals and fiber. Different cooking methods may affect the vegetable's nutrient composition, but broccoli is a healthy addition to your diet whether cooked or raw.
Multiple studies have shown that cruciferous vegetables, such as broccoli, may have a cancer-preventative effect, though more research is needed.
Eating broccoli may lower blood sugar and improve diabetic control. This is likely related to its antioxidant and fiber content. Research indicates that broccoli may help reduce various heart disease risk factors and prevent heart tissue damage.
Eating broccoli may support bowel regularity and healthy gut bacteria, though more research is needed. Broccoli provides an excellent source of vitamin C, a nutrient known to support healthy immune response.
Sulforaphane, a compound found in broccoli, may be able to slow the aging process. More human research is needed to better understand this function.
And mustard is also worth mentioning here. Mustard is rich in glucosinolates and powerful antioxidants, both of which promote health and may protect against various diseases.
Mustard seeds are packed with compounds like myrosinase, which prevents the growth of cancer-causing cells in the body. I also watched a podcast where some doctor claimed that sulforaphane (from broccoli) and myrosinase from mustard seeds do anti-aging wonders when combined. But that is something I still have to look into.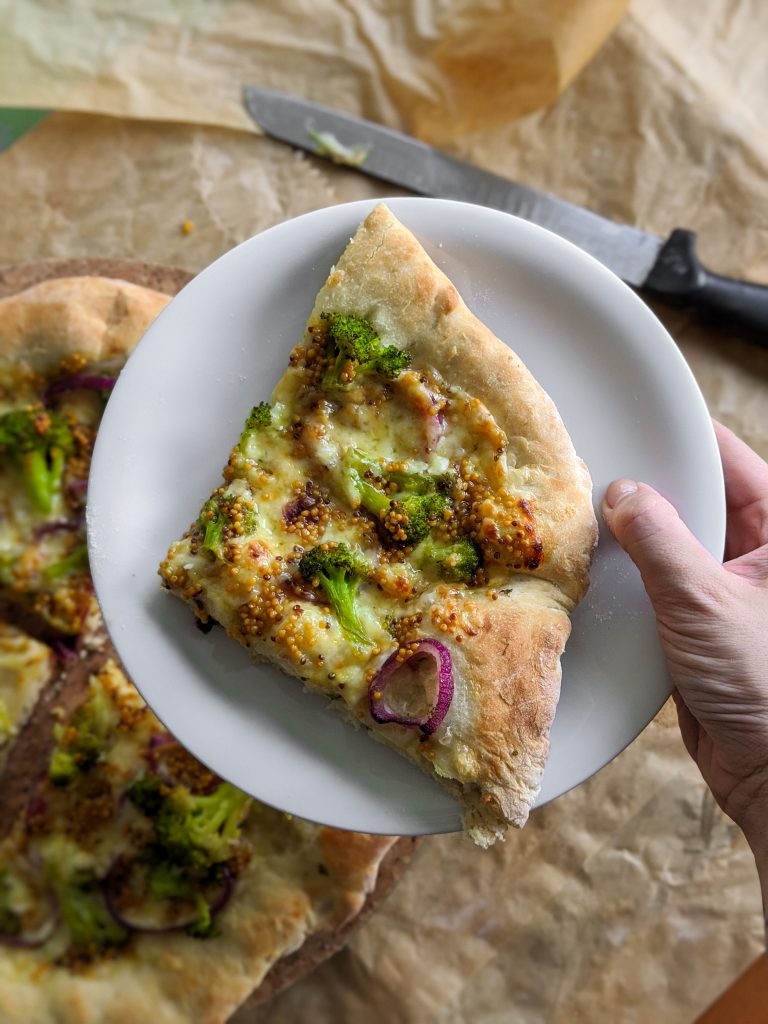 A piece of advice
Even if you never made a pizza dough from scratch, you won't have any problems with following this recipe. However, if you are running short on time, or can't be bothered, you can always purchase frozen pizza dough and just follow the recipe for the toppings.
I understand that it might be hard to find a good vegan mozzarella cheese that melts (depending on where you live), so you can just use any vegan cheese that works for you. I also think that vegan gouda would work well with this.
When mixing all the dough ingredients together, make sure that you don't use hot water, but only slightly warm. These measurements are enough for 1 pizza dough. If you need more than that, adjust the ingredient amounts accordingly. Try to roll the dough into a thin crust with a rolling pin.
Do not replace the pickled mustard seeds with regular mustard. I tried this and it didn't really work, since the mustard taste was too intense. If you try to do that anyway, make sure you use a very small amount of mustard.
I baked this pizza on some parchment paper, but if you don't have any, you can use a regular baking dish.
Vegan broccoli mustard pizza
Course: Salty
Ingredients
For the dough:

200 g of all-purpose flour

1 tsp of salt

100 ml of warm water

10 g of active dry yeast

2 tbsp of warm water

1/2 tsp of sugar

1 + 1/2 tbsp of olive oil

For the topping:

50 g of grated vegan mozzarella

1 small purple onion

300 g of fresh broccoli

60 g of pickled mustard seeds

2 tbsp of maple syrup
Directions
Mix the active dry yeast and sugar with 2 tbsp of warm (not hot) water. Set aside for 5 minutes. In a deep bowl mix flour, salt, olive oil, the yeast and 100 ml of warm (not hot) water.
Mix everything together, and when a dough begins to form start to knead with your hands. If it is too sticky, gradually add more flour. Knead until you get a smooth dough.
Cover it and set it aside for about 30 minutes. Meanwhile, prepare the topping.
Cut the onion into circles and the broccoli into small pieces. Bring a pot of water to boil. Cook the broccoli for 5 minutes and drain the water. Heat some olive oil in a non-stick pan and fry the onions on medium heat for a few minutes. Add the broccoli to the pan and cook for 5 minutes (mix occasionally).
In a small bowl mix the mustard seeds and maple syrup. Put the dough on a well floured surface, form a ball shape and press it down with your hand. Roll it out with a rolling pin into a large, thin pizza dough. Brush the dough with some olive oil.
Sprinkle half of the grated vegan mozzarella on top of the dough. Put the broccoli/onion mix on top off it and sprinkle the remaining mozzarella over it. Pour the mustard/maple syrup sauce over everything.
Bake the pizza in the oven for 10 minutes on 250 degrees Celsius.
If you liked this recipe, make sure you check out my other recipes like:
Feel free to tell me what you think about this in the comments below, or send me the pictures of your own vegan broccoli mustard pizza. If you did something differently, I would also like to hear that, I'd love to see the things you come up with.
P.S. for more recipes like this and a bunch of other stuff, follow me on instagram, @margo_drobi.
Also, I recently started a Patreon page, where you can subscribe and help me create more/better content. In return, you will get an exclusive piece of content (recipe) each month. My plan is to increase the amount of that content if I gain a few subscribers. If you are interested and you want to find out more, I will leave the link to my Patreon right – here.