Crispy cauliflower gnocchi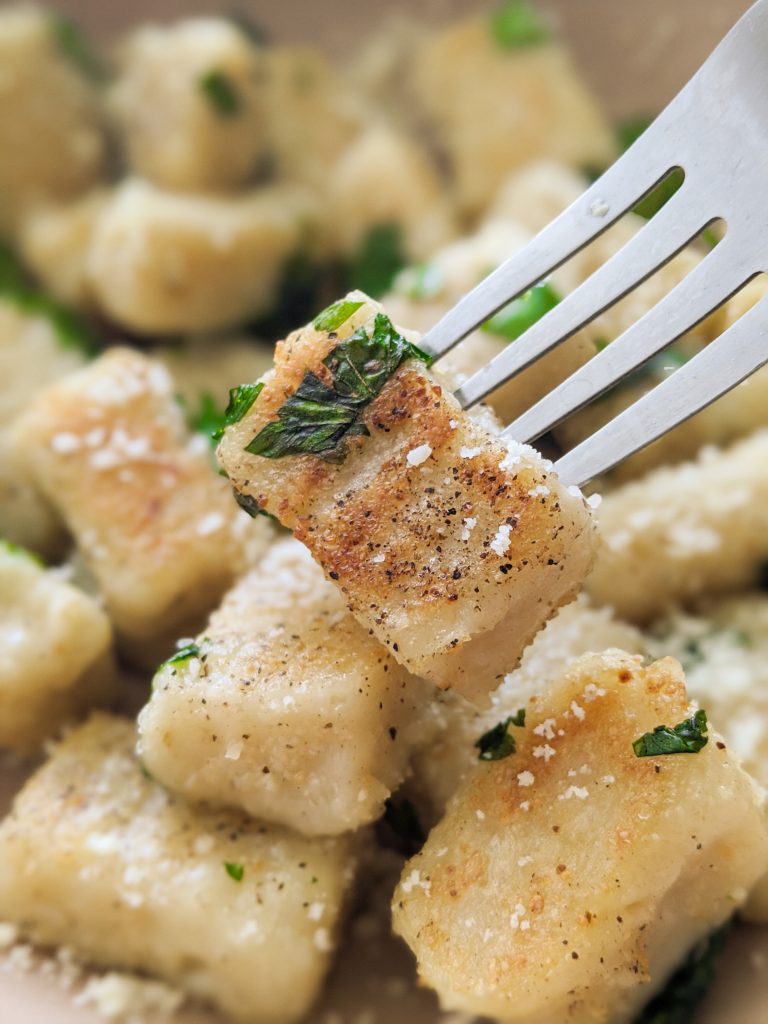 For a really long time I've seen people talking about Trader Joe's cauliflower gnocchi on the internet. I never tried them, and I probably never will since I live in Europe. But this only motivated me to try and make my own vegan crispy cauliflower gnocchi.
This was not difficult at all, since I am used to making sweet potato gnocchi, the recipe only needed a few adjustments. These gnocchi are crispy on the outside and very soft on the inside. I actually think that this is my favorite gnocchi recipe yet, and I am going to try it with different seasoning and sauces.
Other than that, they can be very good for you, and you can also make these gluten free if that's what you prefer.
Some health benefits
Cauliflower is very low in calories and high in vitamins. In fact, cauliflower contains some of almost every vitamin and mineral that you need, like vitamin C, K, B6, folate, potassium and others. It is very high in fiber, there are 3 grams of fiber in one cup of cauliflower, which is 10% of your daily needs. Cauliflower is a great source of antioxidants, which protect your cells from harmful free radicals and inflammation. It is very high in choline, an essential nutrient that many people are deficient in.
Cauliflower has made it's way into all kinds of dishes, from pizza crust, gnocchi to sushi, and for good reason. It can help you lose weight, boost your immune system and some studies even show that it fights aging. Furthermore, it improves cardiovascular health, helps with digestion, impoves bone health and had anti-cancer potential. The fact that may also interest you is that it improves the health of your hair and nails.
And those are just some of the benefits of including it in your diet. Cook it in a soup, include it in your pizza, veggie bowl, or, you know, make these cauliflower gnocchi.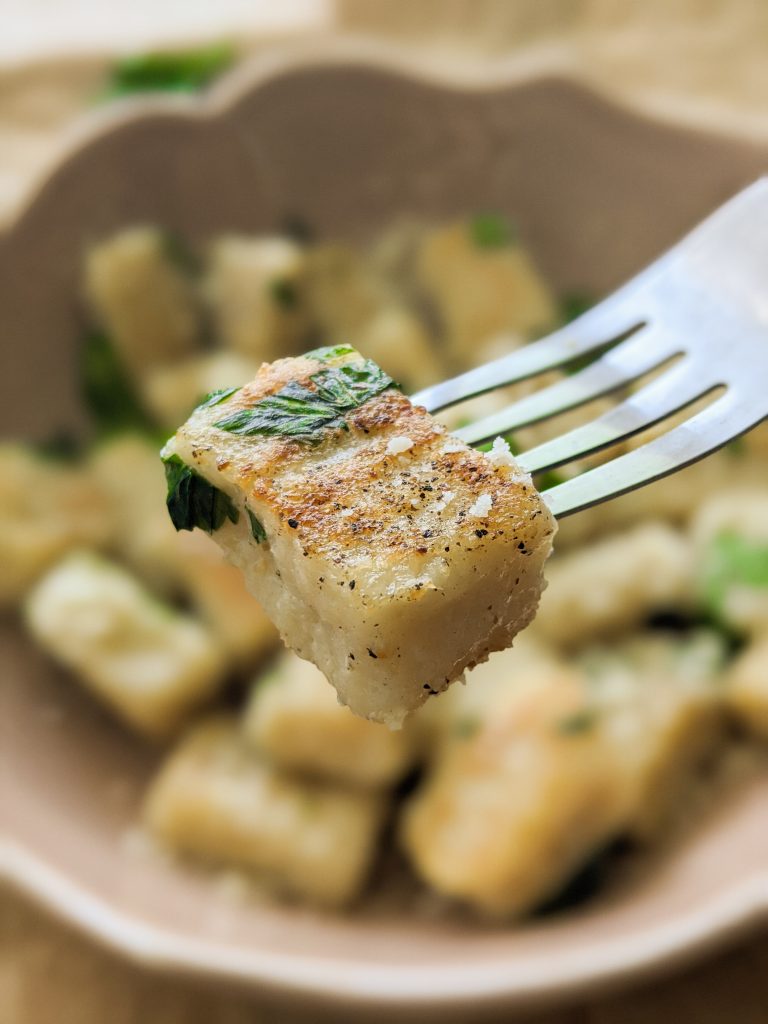 A piece of advice
If you ever made gnocchi from scratch, you already know that the process is very easy. The same is true for this recipe, but I will still leave a few tips that can help you. Especially if you are a beginner.
First of all, if you get a really sticky dough, don't worry about it. You just need a well floured surface to roll it into a log and you will be fine.
To shape them, you can gently press them down with a fork, or roll it over them. You don't have to fry them if you don't want them to be crispy. Just cook them and serve with any type of sauce that you prefer. For mine I chose some vegan parmesan and a few shakes of pepper and garlic powder.
When you fry the gnocchi on some olive oil, make sure that they are not sitting on top of one another. You need to fry them on both sides. And if you can, try to leave some space between them.
For a gluten free version you can replace all purpose flour with rice flour.
If you don't want to eat them all at once, you can freeze them. After shaping them, put them on a piece of parchment paper (leave some space between them), and put them in the freezer. After 2 hours you can put them all together in a zip-lock bag and store them in the freezer.
Crispy cauliflower gnocchi
Ingredients
400 g of cauliflower

120 g of all purpose flour (or rice flour)

40 g of tapioca starch

½ tsp of salt

3 tbsp of olive oil

pepper

garlic powder

parsley

vegan parmesan (optional)
Directions
Wash the cauliflower and cut it into smaller pieces. Put them on a steamer rack above a pot of boiling water, cover with a lid and steam for 15 minutes, until they are fork tender (you can improvise this, you don't need to have a steamer).
Remove them from the stove and let them cool off a bit. Press them down to squeeze out the excess water from the cauliflower. If the steamer rack holes are too big you can put them in a cheesecloth while you do this.
Put the cauliflower in a blender along with salt and 2 tablespoons of olive oil. Blend until you get a puree. Mix this puree with rice flour and tapioca starch. Mix them with a fork so you can destroy any remaining cauliflower clumps.
Transfer a part of the dough onto a well floured surface and roll it into a thin log. Cut the log into smaller pieces with a knife (depending on your desired size of the gnocchi). Press them gently down with a fork.
When you shaped all of your gnocchi, bring a pot of water to boil. Put them in and cook them until they rise to the surface. Drain the water.
Heat 1 tablespoon of olive oil on a non-stick pan. Put the gnocchi in a pan, season with some pepper, garlic powder and add some parsley. Fry them on each side until they get slightly golden brown.
Serve the cauliflower gnocchi with some vegan parmesan.
If you liked this recipe, make sure you check out my other recipes like:
Feel free to tell me what you think about this in the comments below, or send me the pictures of your own vegan cauliflower gnocchi. If you did something differently, I would also like to hear that, I'd love to see the things you come up with.
P.S. for more recipes like this and a bunch of other stuff, follow me on instagram, @margo_drobi.
Also, I recently started a Patreon page, where you can subscribe and help me create more/better content. In return, you will get an exclusive piece of content (recipe) each month. My plan is to increase the amount of that content if I gain a few subscribers. If you are interested and you want to find out more, I will leave the link to my Patreon right – here.