Zucchini burger patties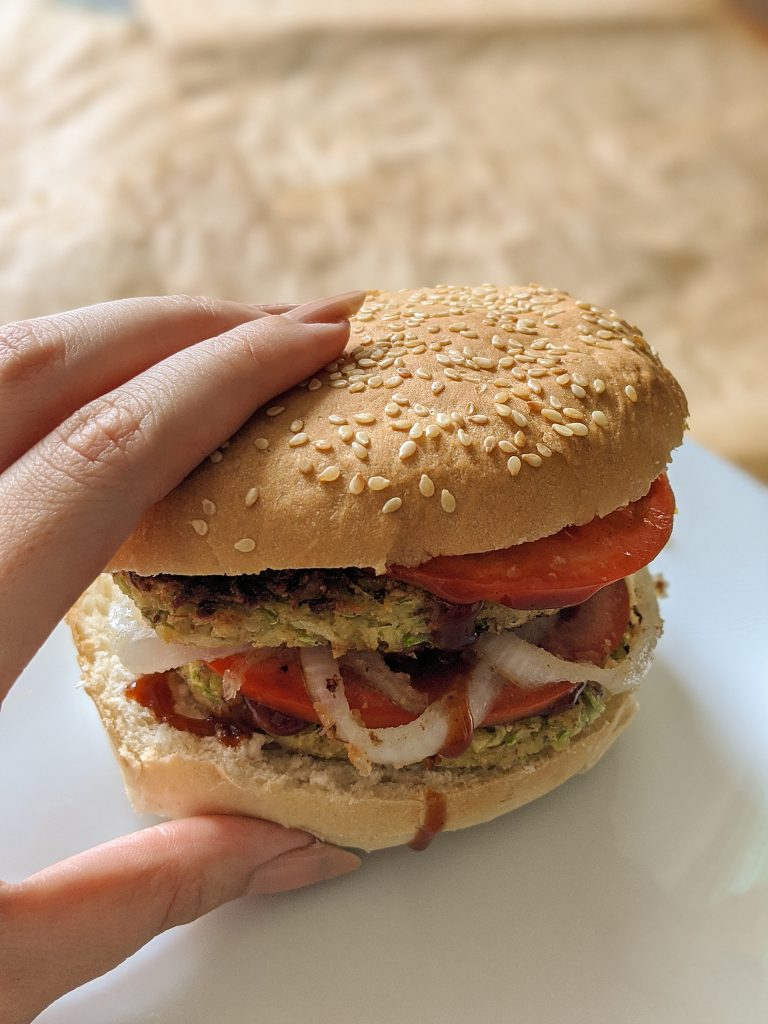 Burger patties for vegans and vegetarians are rather easy to come by nowadays. And while you may not eat them every day, it might be useful to try and make some healthier and cheaper versions at home. The easiest version I ever tried are these zucchini burger patties.
Vegan "meat" can get very expensive and may not be the healthiest thing for vegans to eat. I may make an exception at a barbecue, but generally I try to avoid it. But every now and then you will want to make a sandwich or a burger with a healthier and cheaper patty. I used to cook soy steaks and then coat them in mustard and fry them. That was (as you can probably imagine) a long process.
But recently, my friend sent me a recipe for zucchini patties that I decided to modify. I just kept the besan/zucchini base and changed the rest of the stuff to my liking. And the spices make these really delightful.
And aside from being really delicious, these patties can also be super healthy. And I am going to write down why that is.
Some health benefits
Chickpea flour is high in protein content, fibers and micronutrients, while being low in carbohydrates and calories. Half a cup of chickpea flour contains 11 grams of protein, 5 grams of nutrients like folate, iron, magnesium and zinc.
92 grams of chickpea flour packs slightly more folate than you need in a day.
Chickpeas contain beneficial antioxidants called polyphenols. Antioxidants are compounds that fight against unstable molecules called free radicals in your body, which contribute to the development of various diseases.
Research shows that it can decrease the risk of getting diabetes, improve the health of your heart, improve the immune system, and help with digestion problems.
It is also said to improve hair growth. And these are only some of the reasons you might want to incorporate chickpea flour in your diet. I know I will be making this one really soon again.
Zucchini is also pretty amazing in it's own right. It is high in the antioxidant vitamin C. Research indicates that the skin of the plant harbors the highest levels of antioxidants. Its ample vitamin A content may support your immune system.
Carotenoids, such as lutein, zeaxanthin, and beta-carotene are particularly plentiful in zucchini. These may benefit your eyes, skin, and heart, as well as offer some protection against certain types of cancer, such as prostate cancer.
Overall, it contributes to healthy digestion, may reduce blood sugar levels, improve heart health, and aid weight loss. It also may have anticancer effects, improve thyroid function and research (on animal models) shows that seed extracts may help limit prostatic hyperplasia.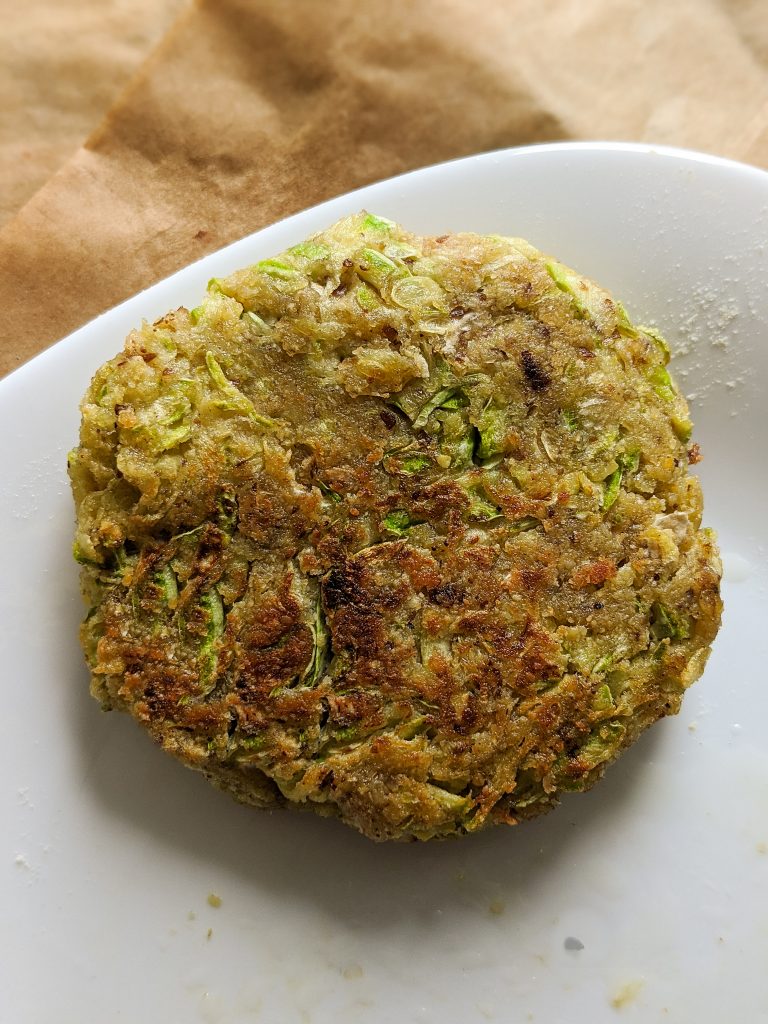 A piece of advice
One thing I would like to mention is, don't skip the flaxseed and water mixture. This is also called a flax egg since it is used as an egg replacement in vegan baking. You need to use this to bind everything together.
To really get the benefits of eating zucchini, grate and use all of it including the skin. Just make sure to wash it before that. Don't remove every drop of water from grated zucchini, you will need it to combine the zucchini well with the rest of the ingredients.
When forming the patties with your hands the dough tends to stick to your fingers. So you might want to dip your hands into water before handling the dough. But if you don't have a problem with a tiny bit of mess, you don't have to do that.
If you are vegan, make sure you read the label on the burger bun packaging. A lot of brands are in fact not vegan, so pay attention to that.
Other ingredients that I included in this burger can be changed, that is up to you. You can add mushrooms, green salad, vegan cheese, different types of sauce, whatever you like. And you don't even have to make a burger, you can try them with a side of rice or quinoa with veggies.
You will get about 4 zucchini patties with these measurements. If you need more, adjust the measurements accordingly.
Ingredients
For the patties:
1 medium zucchini
1 tsp of salt
1 tbsp of ground flax seed
3 tbsp of water
1 tbsp of lemon juice
½ tsp of cumin
55g of chickpea flour
a few shakes of garlic powder
a few shakes of pepper
For the burger:
1 onion
1 tomato
vegan burger buns
barbecue sauce
Instructions
Mix the ground flax seed with water and set it aside.
Wash the zucchini well and grate it. Put it in a bowl and add the salt. Massage the salt into the zucchini for a few minutes and remove the excess water from the bowl. In a separate bowl mix the chickpea flour, cumin, garlic powder and pepper. Mix them with the zucchini and add lemon juice and flax egg.
Form patties with your hands and fry them on medium heat until they turn golden-brown on each side.
Cut the onion into rings and fry them for a few minutes on medium heat. Slice the tomato. Put them on the lower burger bun together with the zucchini burger patties and top them off with barbecue sauce.
If you liked this recipe, make sure you check out my other recipes like:
– chickpea/spinach balls in orange/ginger sauce
Feel free to tell me what you think about this in the comments below, or send me the pictures of your own zucchini burger patties. If you did something differently, I would also like to hear that, I'd love to see the things you come up with.
P.S. for more recipes like this and a bunch of other stuff, follow me on instagram, @margo_drobi.
Also, I recently started a Patreon page, where you can subscribe and help me create more/better content. In return, you will get an exclusive piece of content (recipe) each month. My plan is to increase the amount of that content if I gain a few subscribers. If you are interested and you want to find out more, I will leave the link to my Patreon right – here.