Vegan strawberry cupcakes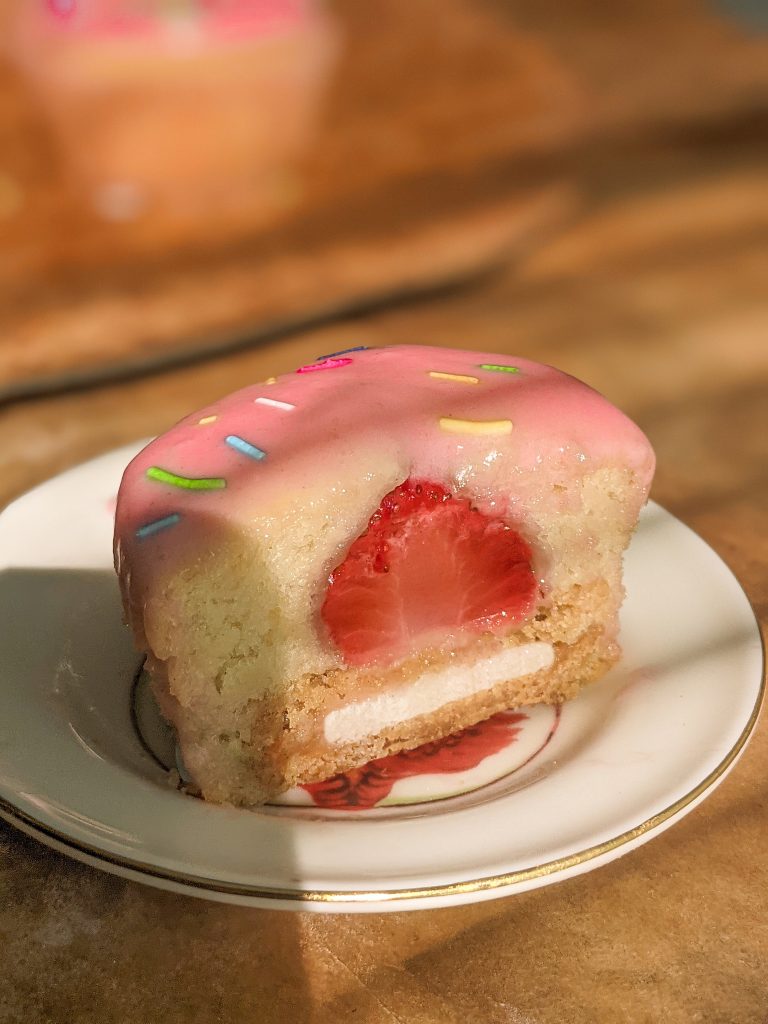 I recently watched a few episodes of a Netflix show called Nadiya bakes. The recipes on the show were not vegan, but they still gave me a few ideas. One of them were these vegan strawberry cupcakes.
The things I took from that recipe were the ingredients "hidden" in the cupcakes, the fresh strawberry and the golden Oreo cookie at the bottom. I did not make the strawberry buttercream that she made. Hers contained strawberry ice cream, and I failed to find a vegan one in the stores. Maybe I will try that some time in the future. But for now I am going to stick to my regular buttercream icing that I mentioned in a previous post.
And while this may not be the healthiest cupcake in the world, it sure is delicious and full of surprises. The strawberry is a really nice touch and the Oreo cookie gives it a bit of a crunch, which is really nice. If you want to avoid the icing, that is fine too, the vegan strawberry cupcakes will be just as delicious without it.
A piece of advice
This recipe is pretty easy, if you ever made cupcakes you won't have any problems with it. But just in case there are a few beginners reading this post, I will write down a few tips.
First of all, you can use any plant based milk that you want. Also, don't forget to grease the paper muffin molds. That way the dough will not stick to the paper when you try to eat them.
When mixing the liquid and solid ingredients together, make sure that you don't overmix, it is better to just combine them. To be sure that they are baked, poke them with a toothpick. If it comes out clean, you're good to go.
Cut off the tops of strawberries so they don't roll around in the muffin mold. If the bottom is flat it will keep them in place. Put each strawberry in the middle on top of each Oreo, and pipe or gently pour the cupcake batter around them. Don't fill the molds to the top, the dough will rise in the oven, so leave some space at the top. If the strawberry tops end up sticking out, that is fine. I suggest you use small to medium size strawberries, so they don't take up all of the space in paper molds.
The color of your icing will depend on the red beet powder that you are using. Mine was kind of pink, but I have seen some red ones in the past, so you might end up with a darker color.
If you can't find or afford red beet powder, you can always use food coloring (a smaller amount). Just be careful with the red food coloring, most of the brands that you can find in the stores are not vegan.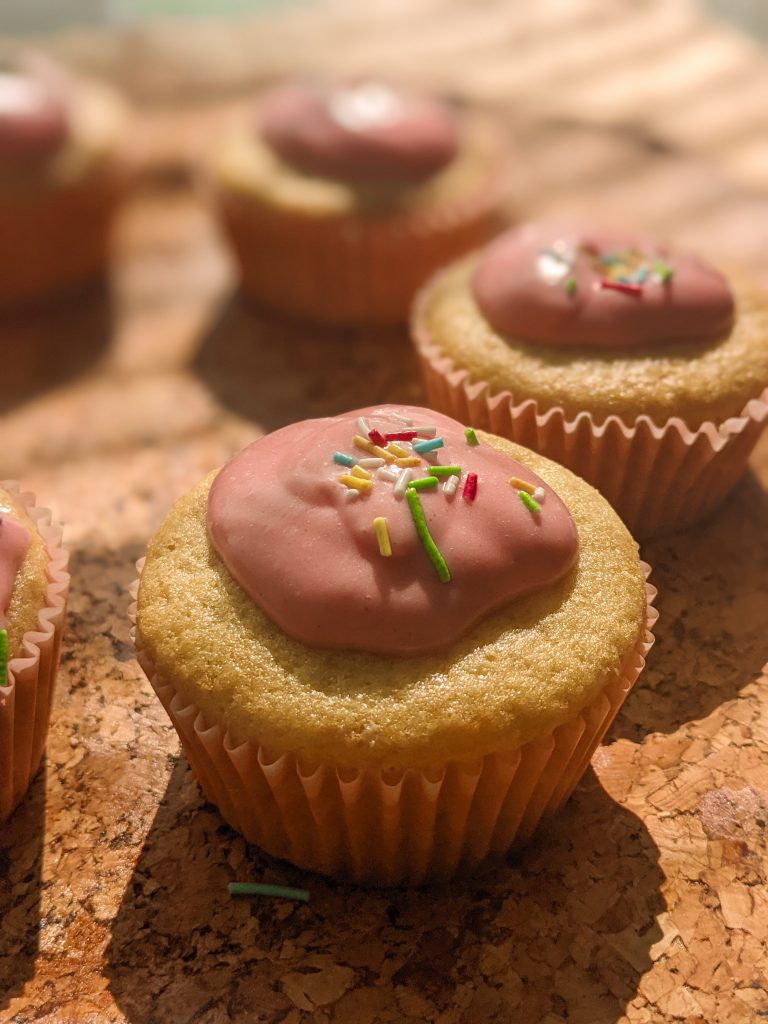 Vegan strawberry cupcakes
Ingredients
130 g of flour

100 g of granulated sugar

1 tsp of baking powder

1/2 tsp of baking soda

180 ml of plant-based milk

1 tsp of apple cider vinegar

1 tsp of vanilla extract

6 medium size strawberries

6 golden Oreo cookies

For the icing:

200 g of vegan margarine

50 g of vegan cream cheese

1 tsp of vanilla extract

225 g of powdered sugar

2 tsp of red beet powder

sprinkles (optional)
Directions
Mix all dry ingredients in a single bowl. In the separate bowl mix the almond milk and apple cider vinegar and set it aside for a few minutes (this way they will form buttermilk).
Add the vanilla to the buttermilk and mix all of this with the dry ingredients. Stir everything briefly until it is combined, but not too much so you don't lose the bubbles.
Place the muffin paper molds in a muffin tray and spray them with non-stick spray. Place an Oreo cookie at the bottom, cut off the tops of the strawberries and put them in the middle on top of the cookies. Pipe or pour the dough into molds, around the strawberries, and bake the cupcakes in the oven for 20 minutes on 180 degrees Celsius (356 F).
Meanwhile, prepare the icing. Put the margarine in a large bowl. Mix it with a mixer on low speed until it gets smooth and lighter in color. Add the vegan cream cheese and mix until the two are combined.
In a separate bowl mix together powdered sugar and red beet powder. Add them to the margarine/cream cheese bowl along with vanilla, and mix with a mixer on high speed until you get a smooth pink buttercream.
Put the buttercream in a piping bag with a nozzle. Twist the open end of the bag and keep a steady pressure on it with your hand while piping. Pipe the icing in any way you want. I chose to spread a thin layer on top of the cupcakes and add some sprinkles, just because I didn't feel like eating a bunch of margarine that day.
You can serve the vegan strawberry cupcakes right away, or keep them in the fridge.
If you liked this recipe, make sure you check out my other recipes like:
– almond peanut butter cupcakes
Feel free to tell me what you think about this in the comments below, or send me the pictures of your own vegan strawberry cupcakes. If you did something differently, I would also like to hear that, I'd love to see the things you come up with.
P.S. for more recipes like this and a bunch of other stuff, follow me on Instagram, @margo_drobi.
Also, I recently started a Patreon page, where you can subscribe and help me create more/better content. In return, you will get an exclusive piece of content (recipe) each month. My plan is to increase the amount of that content if I gain a few subscribers. If you are interested and you want to find out more, I will leave the link to my Patreon right –here.