Vegan chocolate truffles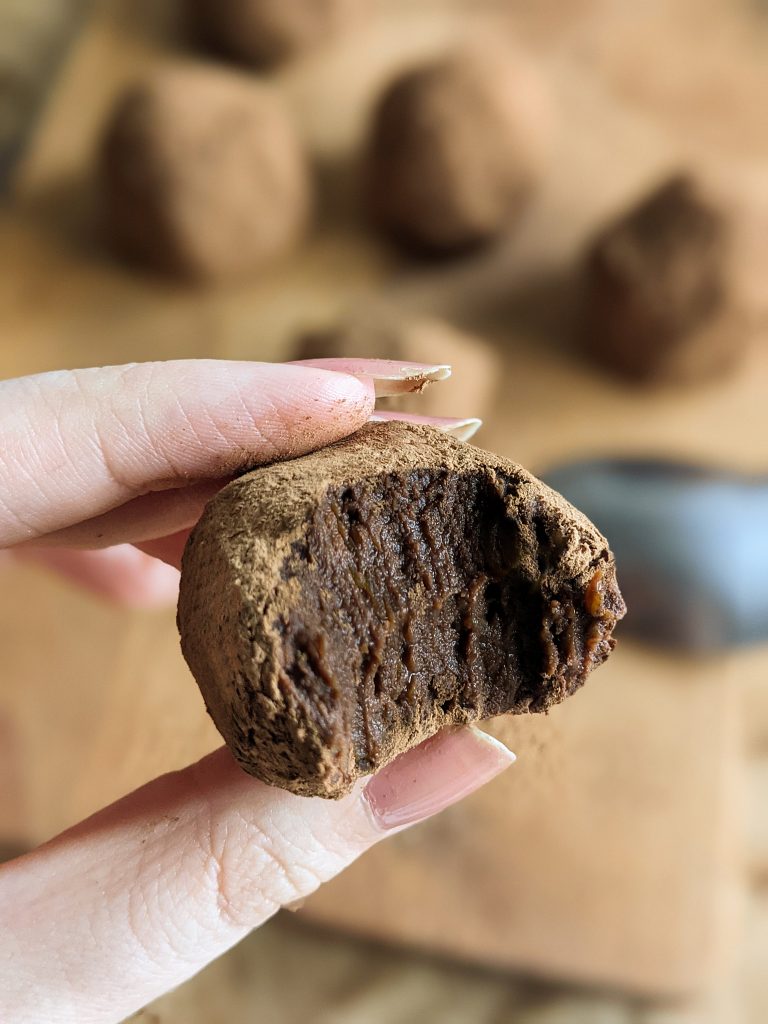 Today I have for you one of those desserts that is on the healthier side. These vegan chocolate truffles are both sweet and bitter, they are gluten-free and contain a small amount of sugar. And on top of that, they are absolutely delicious, and super easy to make.
This dessert is made with a vegetable that can be used in both sweet and savory recipes – butternut squash. That is a veggie that you can benefit from, and if you want to know how, then keep reading.
Some health benefits
Other than being gluten-free and vegan, this recipe contains a cool ingredient that I have talked about before – butternut squash.
Butternut squash is low in calories but high in fiber and many nutrients, including vitamin A, vitamin C, magnesium, and potassium. It can help with weight loss. The high antioxidant content of butternut squash may reduce your risk of certain conditions, including heart disease, lung cancer, and mental decline.
Butternut squash can be added to a wide variety of both sweet and savory recipes, such as stews and pies. There are a lot of recipes out there that utilize this delicious plant.
By the way, I think you can replace the squash with Hokkaido pumpkin, which is pretty amazing in its own right.
Almonds are a great source of fiber. Eating a handful of almonds or drinking a glass of almond milk can keep your gastrointestinal tract moving and prevent constipation. Almonds can also promote healthy bacteria in your gut. This can help you digest your food and even fight off illness.
They contain a bunch of vitamins A and E, so they can be really good for your skin. In addition to giving you glowing skin, vitamin E in almonds can help your heart as well. Diets high in vitamin E are linked with lower rates of heart disease.
Almonds can help you lose weight, since eating them can eliminate your cravings for other not so healthy food. Its healthy fatty acids help strengthen hair and add texture. Not only are almonds packed with healthy fats and protein, but they're also rich in antioxidants. These plant compounds can protect your cells from oxidation and premature aging.
A piece of advice
This is already a pretty easy recipe, but as always, I am going to leave a few tips for you that might be very helpful.
First of all, I am going to tell you how I steamed the chopped butternut squash on an improvised steamer. I took a sieve with larger holes, transferred the squash in it and put it in a large pot of water. Make sure the water is not touching the bottom of the sieve. When the water starts to boil cover the pot with a lid.
When you mash the squash, make sure that no chunks are left, just a fine puree. Otherwise these chunks are going to appear in your truffles, and you don't want that. When you heat the puree, make sure to mix frequently so it doesn't burn. You can also use peanut butter instead of almond butter in this recipe. Keep the dough in the freezer as long as it takes for it to become thick enough. When you are able to roll a truffle with your fingers, you are good to go.
Use a generous amount of cocoa powder so you can roll all of the vegan chocolate truffles in it. These measurements make like, a bunch of truffles, I did not count them all, I apologize.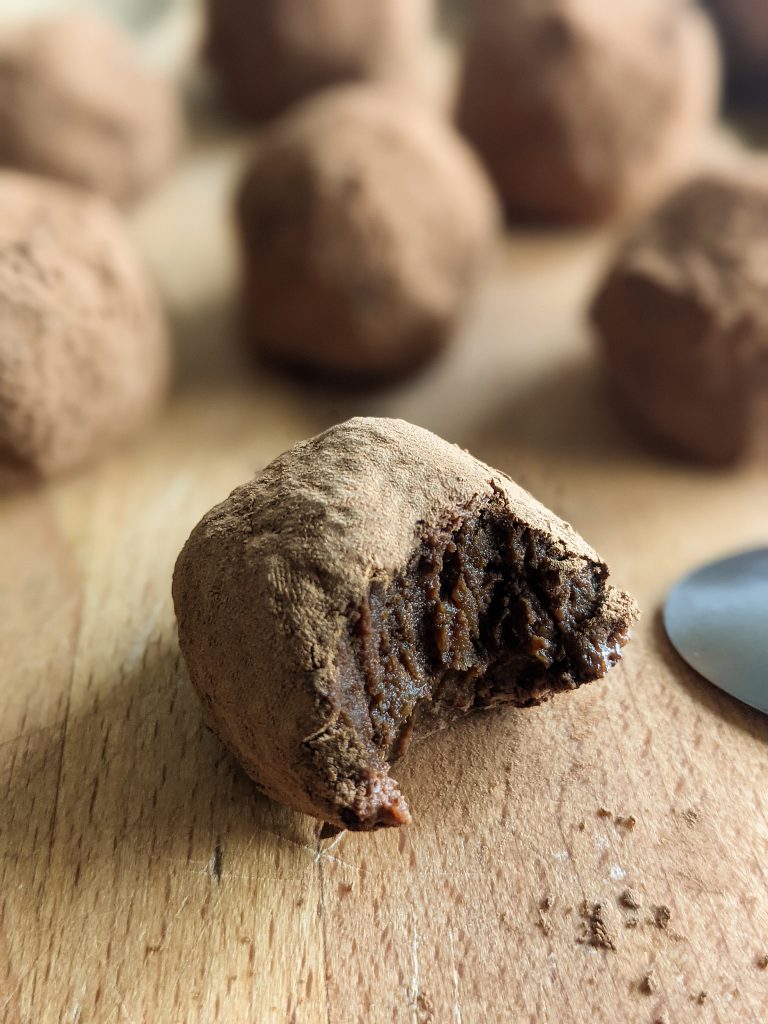 Vegan chocolate truffles
Course: Sweet
Ingredients
320 g of butternut squash

50 ml of soy cooking cream

300 g of vegan dark chocolate

70 g of almond butter

cocoa powder
Directions
Peel the butternut squash and cut it into small cubes. Cook it in a steamer for 10 to 15 minutes (until it becomes fork tender). Remove the butternut squash from the steamer and transfer it to a bowl. Mash it into a puree with a potato masher. Make sure that no chunks are left behind, you don't want them to end up in your truffles.
Pour the soy cooking cream in and mix well. Transfer it to a saucepan and heat on medium heat for a few minutes while mixing frequently. Turn the heat off. Break the dark chocolate into pieces and add it to the saucepan along with almond butter. Stir everything until the chocolate is melted and everything is well combined.
Transfer the mixture into a bowl. Put it in the freezer and leave it there for about 2 hours. Or long enough that you can roll the truffles from pieces of this mixture. Put the cocoa powder in a separate bowl. Take a piece of this truffle dough, roll it in a ball with your palms and the roll it around in cocoa powder. Keep doing this until you run out of dough.
When you are done, keep your vegan chocolate truffles in your fridge, or serve them right away.
If you liked this recipe, make sure you check out my other recipes like:
Feel free to tell me what you think about this in the comments below, or send me the pictures of your own vegan chocolate truffles. If you did something differently, I would also like to hear that, I'd love to see the things you come up with.
P.S. for more recipes like this and a bunch of other stuff, follow me on Instagram, @margo_drobi.
Also, I recently started a Patreon page, where you can subscribe and help me create more/better content. In return, you will get an exclusive piece of content (recipe) each month. My plan is to increase the amount of that content if I gain a few subscribers. If you are interested and you want to find out more, I will leave the link to my Patreon right – here.
And that was it for today, if you are using Pinterest make sure you follow me on there, and if you want, pin this image: