Matcha crêpe cake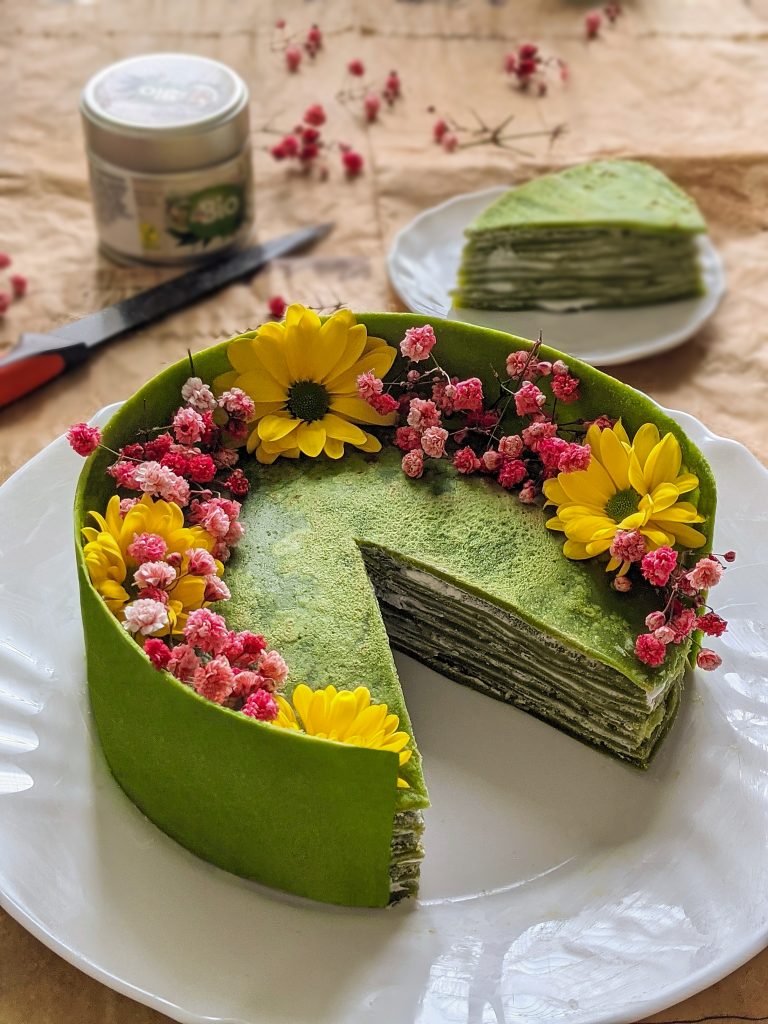 I have finally decided to make a vegan version of this Japanese dessert. Matcha crêpe cake is basically a bunch of matcha crêpes stacked on top of one another with some type of filling between them. Crêpes were my favorite food when I was a kid, so this cake is absolute heaven for me. There are plenty of versions of this dessert out there, but this is the one that I like best.
I highly recommend it, and if you want to know about the easiest way to make it, then keep reading this post.
A piece of advice
Even though this seems like a lengthy process, you can make things much easier for yourself by not making the chocolate ring. Without it, this recipe is much more simple in my opinion. However, there are still a few things that I can tell you to make this process even easier.
You can add some more matcha to the filling and spread it around the assembled cake in the end if you want. Your batter may end up with some lumps, and these will not look good when you cook it. I like to pour the entire batter through a sieve placed on top of a different bowl. That way the lumps will stay on the sieve and you can either break them up or throw them away.
Grease your pan very lightly, you don't want to end up with fat and greasy crêpes. I like to take a piece of paper towel, dip it into some oil and brush the pan with it, so I suggest you do that. Just be careful not to burn your fingers.
Finding a good vegan pre-made whipping cream will also save you some time and money. These measurements make a small matcha crêpe cake, so double them if you need a big one.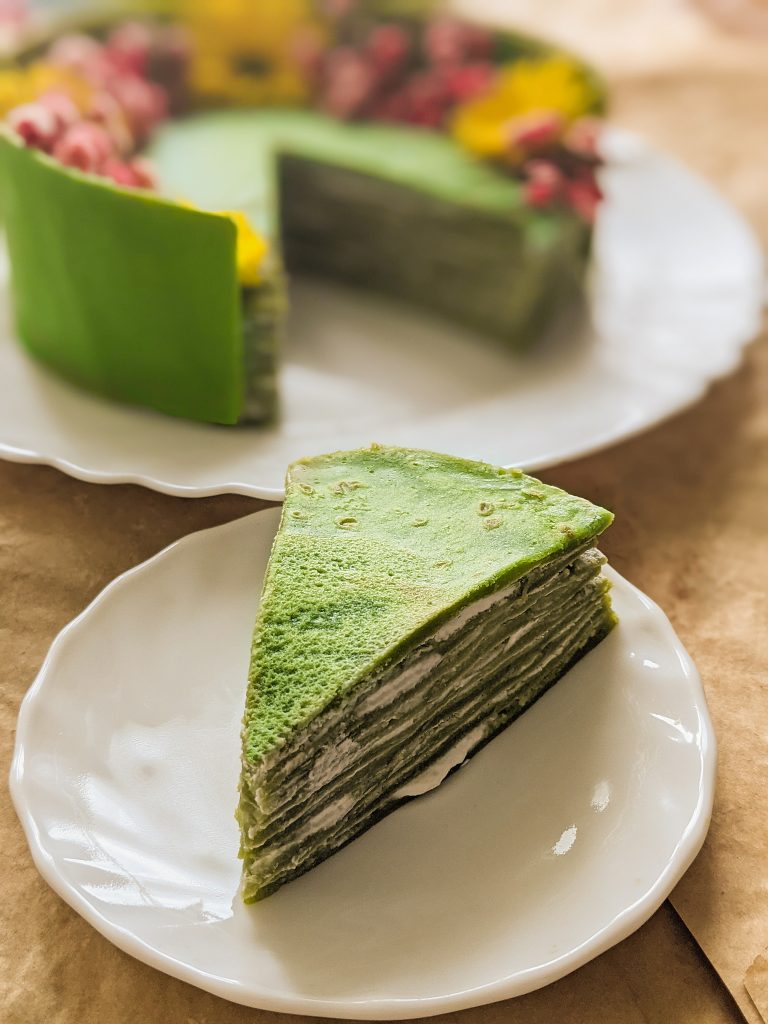 Matcha crêpe cake
Ingredients
230 g of all-purpose flour

1 tbsp of matcha powder

2 tbsp of corn starch

3 tbsp of coconut oil

3 tbsp of rice syrup (or maple syrup)

350 ml of plant-based milk

For the filling:

Vegan whipped cream

OR

300 g of coconut cream

100 g of vegan cream cheese

200 g of powdered sugar

For the chocolate ring (optional):

70 g of cocoa butter

30 g of soy milk powder

30 g of powdered sugar

2 tsp of matcha powder
Directions
First make the crêpes. In a deep bowl mix the flour, corn starch and matcha powder. You can sift the matcha in through a sieve to avoid lumps from forming. Add the coconut oil, rice syrup and the plant-based milk to the bowl and mix well, until you get a liquid batter. Try to break down any lumps that may form.
Heat a non stick pan with a very small amount of oil on medium heat. Remove it from the heat, pour the small amount of the batter on the pan and roll it to spread the batter evenly. Put the pan back on the stove and cook the pancake until the edges start getting crispy, then flip it and cook for a bit on the other side. The first crêpe should be bigger than the rest. You should cook 9 to 10 of crêpes in total.
If you are making the whipping cream with these listed ingredients, put them in a clean deep bowl and mix with a mixer on high speed until you get a thick cream.
Place a large piece of plastic wrap in a shallow bowl. Cut the parchment paper into 2 strips and arrange them in a plus shape on a plate. Put the largest crêpe on top of that and spread some whipped cream on it. Then put another crêpe on top of that. Continue doing this until you run out of crêpes.
Take the parchment paper strips by all 4 ends and transfer the cake into the shallow bowl (on top of the plastic wrap. Take the ends of the wrap and twist them together to close the cake off. Put it in the fridge and leave it there for about 2 hours to set. Meanwhile, prepare the chocolate cake ring for decoration (if you want to).
Follow my matcha pistachio chocolate recipe for the chocolate tempering instructions. Find a round baking dish that is slightly bigger than your matcha crêpe cake.  Cut out a strip of parchment paper (as long as you need the ring to be), put it on a flat surface and pour the chocolate over it. Scrape the edges with a knife. Put the strip in the fridge for a minute, just to thicken up a bit. Take the strip, fold it in a half circle and put it in the baking dish along the side so it can keep the shape. Put the baking dish in the fridge. The chocolate should harden in matter of minutes.
After 2 hours remove the crêpe cake from the fridge, remove the plastic wrap, flip it so the largest crêpe is on top and remove the parchment paper strips. Remove the chocolate ring VERY carefully from the dish, remove the parchment paper. Gently place it around the cake. If the cake is too wide for the ring, cut the edge off with a knife. Cut the matcha crêpe cake and serve it.
If you liked this recipe, make sure you check out my other recipes like:
– vegan matcha pistachio chocolate
Feel free to tell me what you think about this in the comments below, or send me the pictures of your own matcha crêpe cake. If you did something differently, I would also like to hear that, I'd love to see the things you come up with.
P.S. for more recipes like this and a bunch of other stuff, follow me on Instagram, @margo_drobi.
Also, I recently started a Patreon page, where you can subscribe and help me create more/better content. In return, you will get an exclusive piece of content (recipe) each month. My plan is to increase the amount of that content if I gain a few subscribers. If you are interested and you want to find out more, I will leave the link to my Patreon right – here.
And that was it for today, if you are using Pinterest make sure you follow me on there, and if you want, pin this image: