Vegan potato candy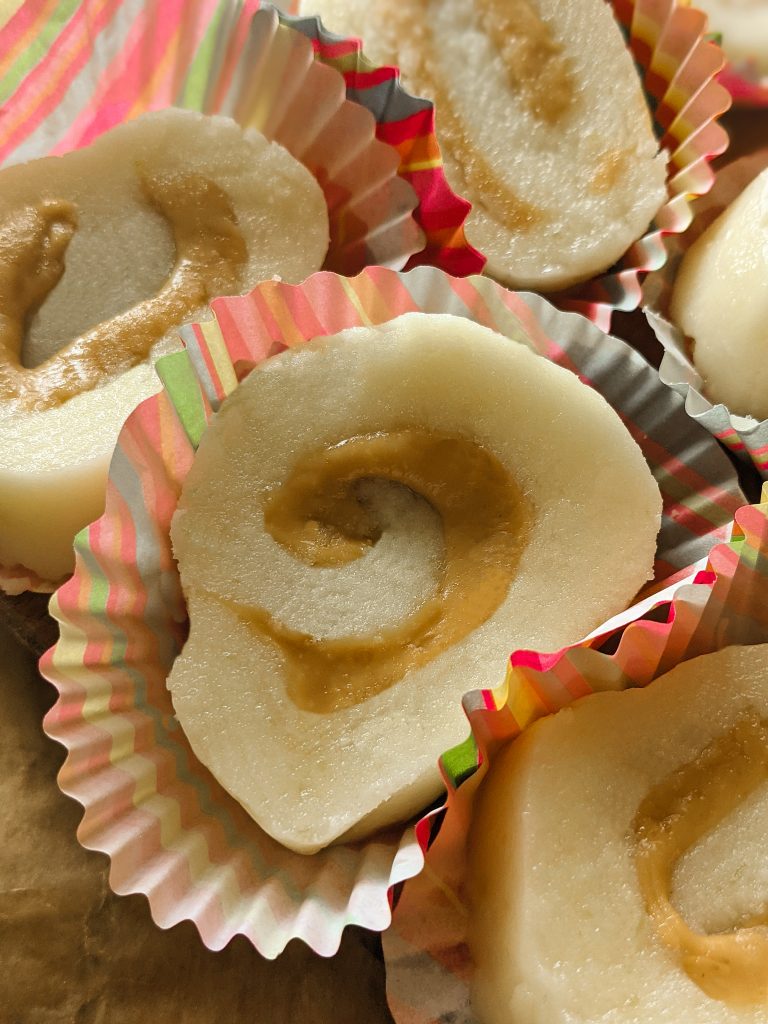 My research of holiday traditions has this time led me to America. I am sure that most Americans are familiar with this vegan potato candy that I am going to talk about today, but for me this is something entirely new.
If my sources are correct, this candy has originated in the United States of America durring the Great Depression, when people had to get creative with very few ingredients. It is mainly made around holidays, which is the main reason I chose to make this recipe now.
You might be sceptical about the potato in this recipe, but trust me, you won't even know it is there. And it serves as a perfect binder for the dough. Also, the combination of peanut butter and sugar has always been one of my favorite things (and the reason why I like Reese's cups so much).
It was not all that difficult to make this recipe vegan, I just had to use plant based milk instead of the regular one. I noticed that some people add butter to the dough, but I really think that there is no need for that.
The only healthy ingredient in this recipe is the peanut butter. Potato candy contains a riddiculous amonut of sugar so it would be pointless for me to try and write down anything for the health benefits section of the post. This vegan potato candy is really unhealthy, but it is super fun to make and also very cheap. In any case, the holidays are coming up, so we are bound to indulge in a dessert or two.
A piece of advice
As you have probably noticed, this recipe is very easy and requires only a few basic ingredients. However, I have to write down a few things that I have learned along the way, so you won't make the same mistakes that I did.
First of all, you do not have to use soy milk, any other plant based milk will do just fine. And make sure that you buy creamy peanut butter, so that you can easily and evenly spread it over the dough.
The potato is cooked when it becomes fork tender. After you cook it, make sure it cools down completely before you mash it into a puree. If you use a hot potato, it will melt down all of the powdered sugar, and you will not be able to gather everything into a dough.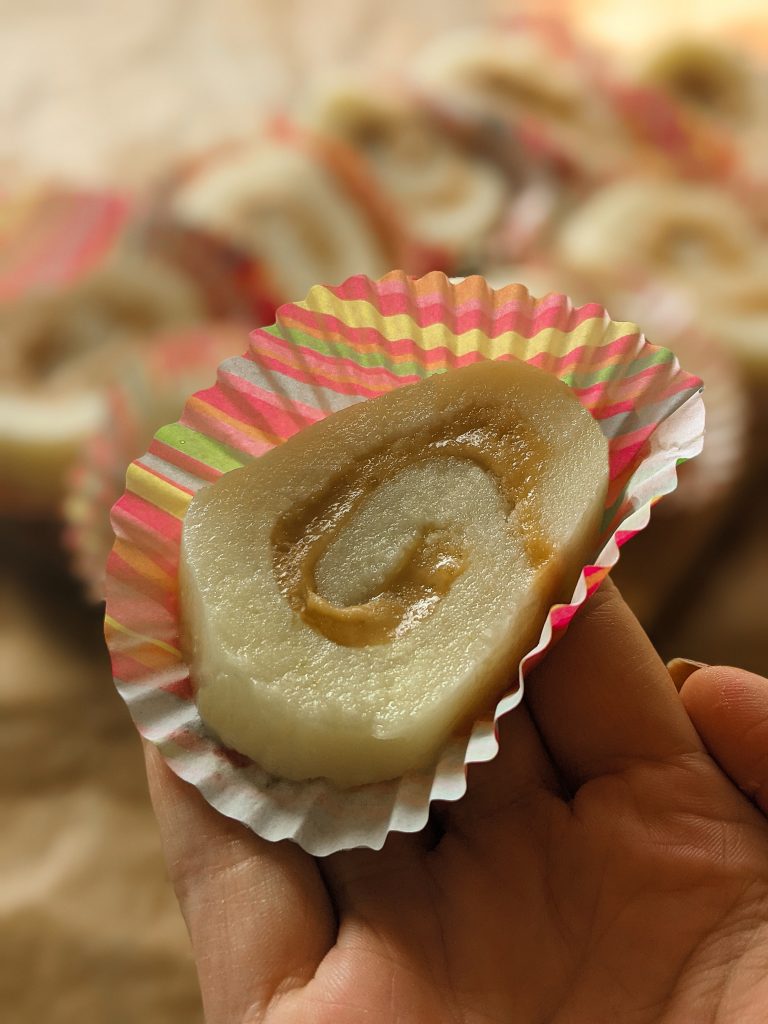 After you mix in 1 cup of sugar with a mixer, stir in the remaining sugar with a spoon. Do this gradually until you get a dough that you can shape into a ball. My advice is to buy more powdered sugar than you need. Just in case you need more of it to form a dough, plus you will need some of it for dusting. You can generously dust the dough and the rolling pin.
Gently and slowly roll the dough by lifting one side of the parchment paper and using it as a guide. It will be very easy to cut the candy into individual pieces once it is frozen. You can keep it for about a week in the fridge. Just store them in an airtight container. I have placed them into small paper cups, but you don't need to do that if you don't have any.
Vegan potato candy
Ingredients
1 large russet potato

1 tbsp of soy milk

1 tsp of vanilla extract

770  g of powdered sugar + more for dusting

200 g of creamy peanut butter

3 sheets of parchment paper
Directions
Peel the potato and cut it up into chunks. Steam it for about 15 minutes on medium high heat. Remove from the steamer and let the potato cool completely. Put the potato chunks in a large bowl and mash it into a puree with a potato masher. Make sure that no chunks are left behind.
Add the soy milk and vanilla extract to the mashed potato and mix with a mixer on medium speed for 2 minutes. Add about 130 g of powdered sugar to the bowl and mix until everything is combined. After that, gradually stir in the remaining sugar, 1 cup at a time. Do this until you get a dough that you can shape into a ball.
Dust the dough ball with some powdered sugar. Put it on a sheet of parchment paper and roll it out with a rolling pin. Cut it out into a rectangle with a knife. Dust it with more powdered sugar, put another piece of parchment paper over it and flip the dough to the other side. Gently remove the upper piece of paper.
Spread the peanut butter over the dough. Now it's time to roll the dough up. Do this by using the parchment paper as a guide. Lift one side of the parchment paper and follow it by rolling the dough as you lift the paper. Wrap the candy roll up into the parchment paper and put it in the freezer.
Freeze it for one hour and then cut it up into pieces. Keep the vegan potato candy in an airtight container in the fridge.
If you liked this recipe, make sure you check out my other recipes like:
– Danish rice pudding (ris a la mande)
Feel free to tell me what you think about this in the comments below, or send me the pictures of your own vegan potato candy. If you did something differently, I would also like to hear that, I'd love to see the things you come up with.
P.S. for more recipes like this and a bunch of other stuff, follow me on Instagram, @margo_drobi.
Also, I recently started a Patreon page, where you can subscribe and help me create more/better content. In return, you will get an exclusive piece of content (recipe) each month. My plan is to increase the amount of that content if I gain a few subscribers. If you are interested and you want to find out more, I will leave the link to my Patreon right – here.